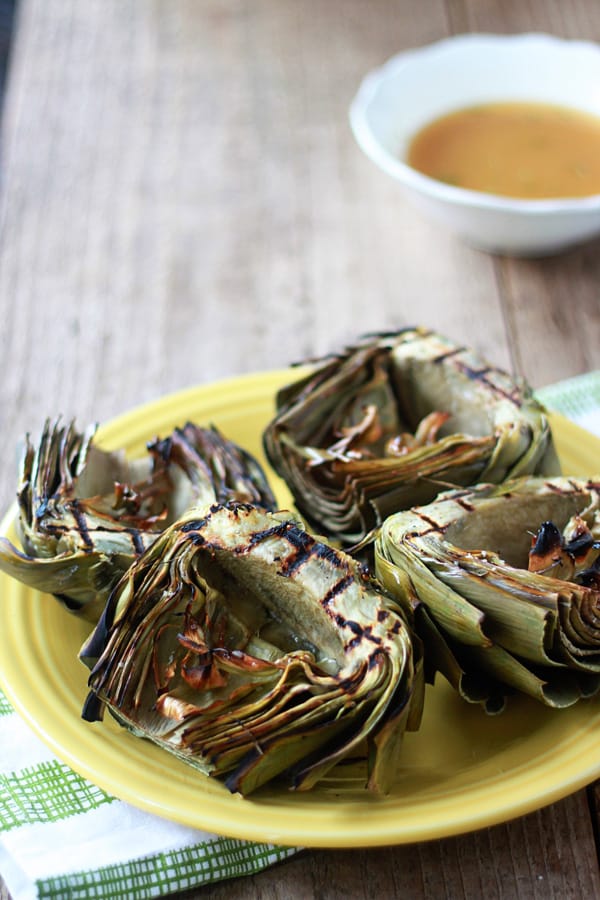 Oh, happy day. Well, more than a day ... happy season. The time for grilling is upon us, and I, for one, could not be happier.
There's just something completely awesome about grilling. Meals get simpler, the kitchen stays cleaner, the sun shines down on you, and it's just darn impossible not to smile.
And contrary to sometimes-popular belief, there are loads of delicious grilling options for vegetarians! Yep. It's a good time of year.
When the weather officially warms, one of the first things I love to throw on the barbecue is artichokes. They're the perfect warm-up to the glorious grilling season that lies ahead.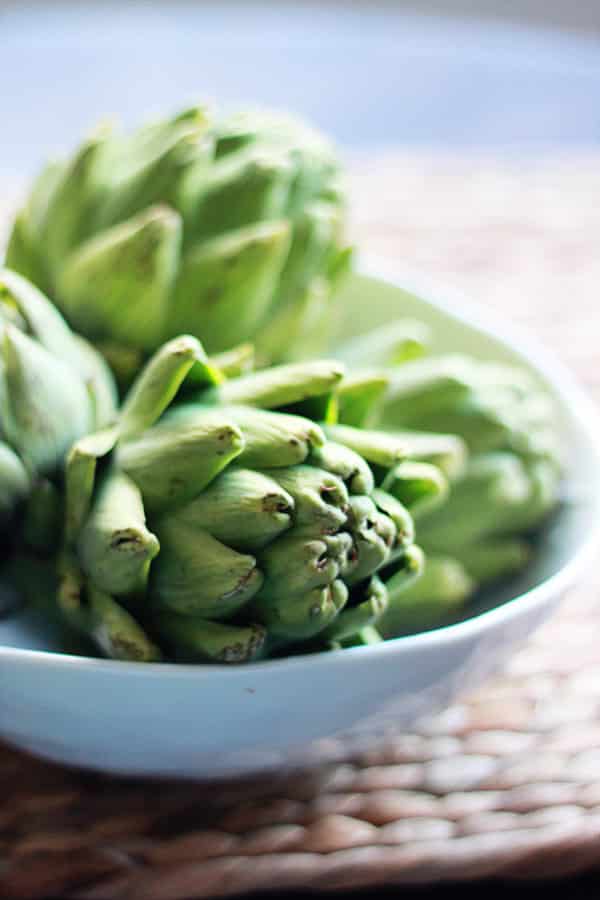 While I'm a fan of all sorts of dipping sauces for artichokes, I realized recently that I was a little short on butter-less or mayo-less options. So I thought I'd develop a healthy-fat-based dipping sauce instead--and it just happens to be vegan, too!
The sauce (really more of a flavored olive oil), is very simple. First, you make rosemary-infused olive oil (so, so easy), then you blend that with sweet roasted garlic, a bit of Dijon mustard, a light squeeze of lemon juice, and a bit of kosher salt.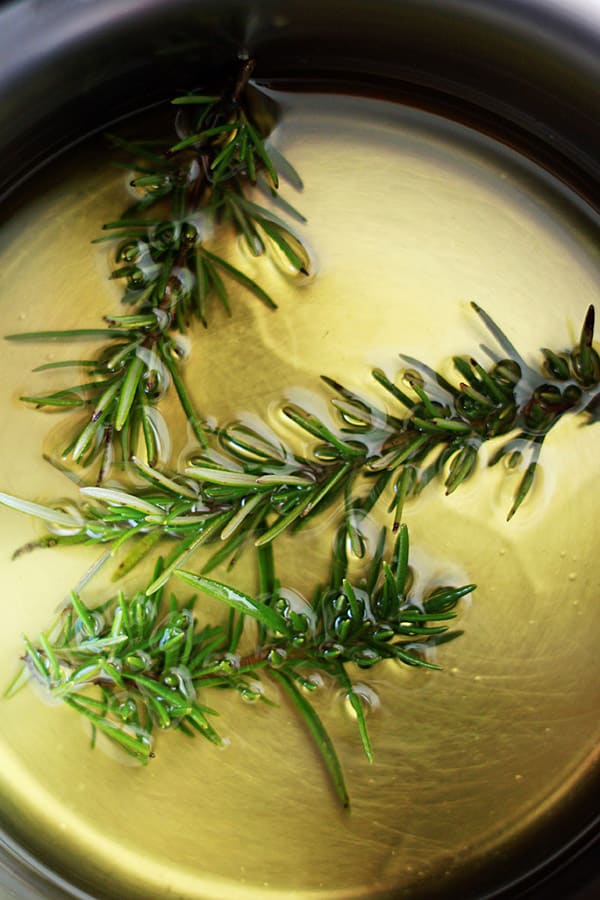 The result is a wonderful, garlicky dip that's, actually, surprisingly reminiscent of butter.
The bits of roasted garlic tend to sink to the bottom, so every once in awhile, you have to give the dip a stir with a leaf you're dipping in there. Which means you might end up with a lot of the dipping oil on that particular piece.
Bummer.
Not.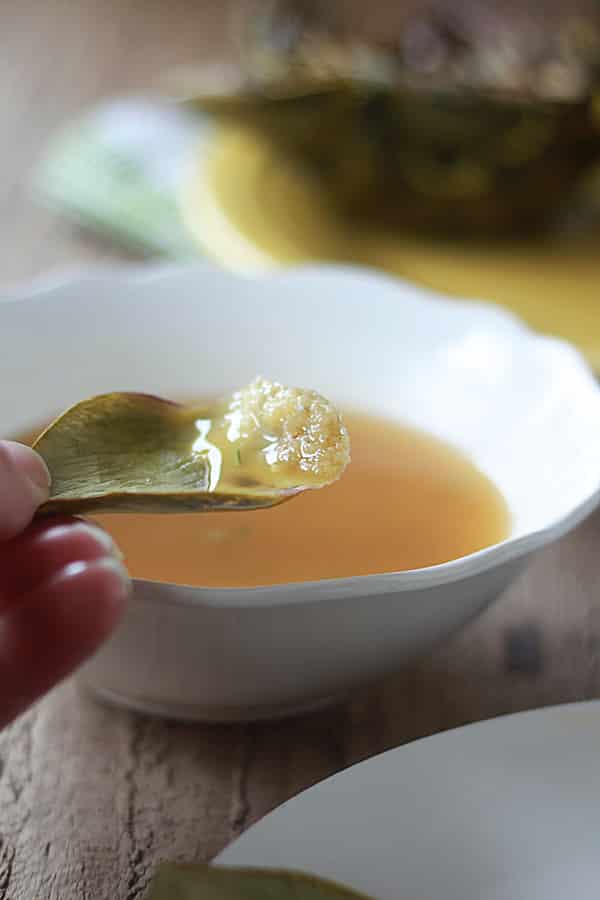 Grilled artichokes take a little more effort than just plain steamed, but it's so worth it. You still have to steam them first, but then you cut them in half, scrape out the fuzz, brush on some oil (this recipe makes use of some of the leftover rosemary olive oil for brushing), sprinkle with a bit of salt, and then grill. A few extra steps, but doable, right?
The result is a party-worthy, incredible-looking appetizer or side dish that's infused with that wonderful smoky flavor that grills magically impart.
Another thing that's nice about serving these to a crowd is the option to steam them a few hours beforehand, then put them in the fridge until grilling time.
Ahhh. Hello, grilling season! It's so, so nice to see you once again.
Recipe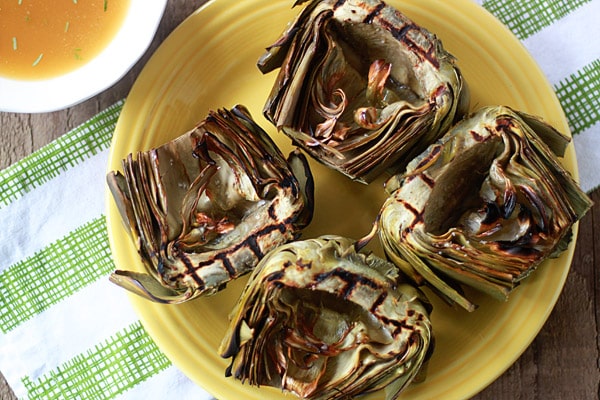 Servings:
4
artichoke halves
Ingredients
Instructions
Prepare and steam the artichokes. Use kitchen scissors to snip off the tips of the leaves, and then cut off the stem and about ½ inch of the top with a sharp knife. Rinse well under cold water. Place the artichokes in a large pot filled with two inches water. Add the lemon slice and bay leaf. Bring to a boil over high heat, then reduce to a simmer and cover, continuing to boil until tender, 30-40 minutes. Remove from water and set aside to cool.

While the artichokes are steaming, make the rosemary olive oil and roast the garlic. To make the rosemary olive oil, pour the oil into a small saucepan set over medium heat. Add the rosemary sprigs. Bring just to a boil, then remove from heat. Let sit for 5 minutes. Remove the rosemary and discard it.

To roasted the garlic cloves, preheat the oven to 375º F. Place the unpeeled cloves in a shallow baking pan or pie dish and drizzle with 1 teaspoon of olive oil. Toss to coat and cover pan with foil. Bake for 20-25 minutes, until garlic is soft. Remove from oven and let cool enough to handle.

Make the dipping sauce. Squeeze the roasted garlic into the bowl of a food processor and discard the garlic skins. Add ½ cup rosemary olive oil, lemon juice, Dijon mustard, and salt. Blend until pureed, about 30 seconds. Pour into a small serving bowl and set aside.

To grill the artichokes, preheat grill to approximately 500ºF. Using a sharp knife, cut the artichokes in half. With a spoon, scrape out just the fuzzy, hairy center of the artichoke, leaving the leaves and heart. Brush well with some of the remaining rosemary olive oil. Place cut-side down on the grill and cook until the artichokes darken with grill lines, about 3 minutes. Use tongs to rotate a quarter turn; cook for another minute or two. Remove from heat and allow to cool for 2-3 minutes. Serve with dipping oil.
Notes
If you have leftover rosemary oil, it's perfect for dipping crusty bread or tossing with pasta and roasted vegetables.
Nutrition
Serving:
1
artichoke half
Calories:
765
kcal
Carbohydrates:
9
g
Protein:
2
g
Fat:
82
g
Saturated Fat:
11
g
Polyunsaturated Fat:
9
g
Monounsaturated Fat:
60
g
Sodium:
215
mg
Potassium:
268
mg
Fiber:
4
g
Sugar:
1
g
Vitamin A:
40
IU
Vitamin C:
11
mg
Calcium:
42
mg
Iron:
1
mg
Craving more veg-friendly recipes?
Shop our collection of vegetarian and vegan cookbooks, including our new Vegan Thanksgiving and Vegan Christmas cookbooks!