This week's meatless meal plan kicks off with sweet potato burritos that are smothered in avocado salsa verde and it ends with a vegan fettuccine alfredo with a creamy sweet potato sauce--although you will never guess it's made with sweet potatoes! I've also lined up two 30 minute recipes for the middle of the week because anytime you can get dinner on the table in half an hour or less, it's a good thing. From burritos and tacos to curry and pho, this week is going to be an adventure for your family's taste buds!
Monday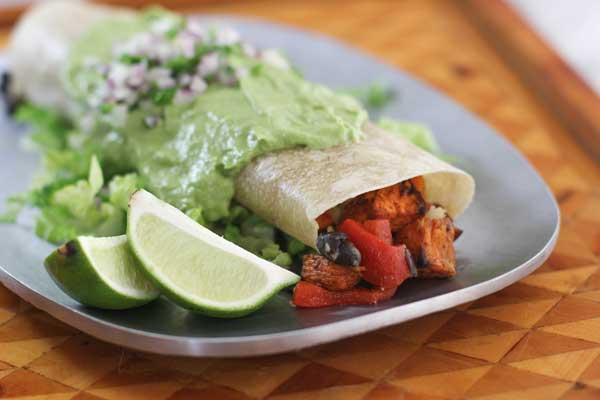 Sweet Potato Burritos Smothered in Avocado Salsa Verde from Cookie & Kate // It's no secret here that I'm a huge fan of all things Mexican and Tex-Mex. These burritos were such a huge hit in our house that I've received requests for a replay this week. We all loved the fact that the sweet potatoes were tossed with hot smoked paprika for a little kick! And I was able to use the extra salsa verde in a simple side of chips and dip. Take that, Chipotle! If you're on a gluten-free diet, you'll need to use large brown rice tortillas in place of whole wheat. Just be sure you steam them in the microwave before you wrap them, or they'll split.
Tuesday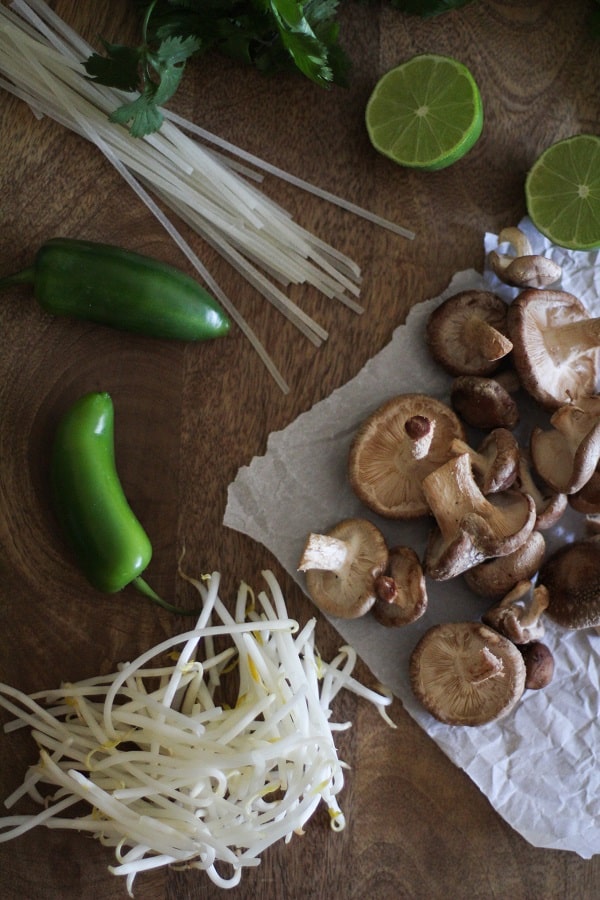 30-Minute Vegetarian Pho from Oh My Veggies // As soon as I saw the images of this vegetarian pho pop up, I immediately knew it must be in my next meal plan. I mean, seriously, did you see that picture? Totally drool-worthy. The fact that you can pull it all together in 30 minutes is a total bonus! My family goes wild for anything ginger flavored, so this recipe naturally caught my eye. If you're on a gluten-free diet like we are, you can check out my recipe for gluten-free hoisin sauce and add those ingredients to your shopping list to use in place of the store-bought version.
Wednesday
30-Minute Coconut Curry from Minimalist Baker // My husband loves curries that have LOTS and LOTS of saucy broth. If you remove the coconut quinoa, this one has so much broth that it could be a soup--but who can resist coconut quinoa?! This curry was great for our family, because by itself, the flavors are pretty mild and mellow--perfect for our kids' palates. For our portions, Todd and I like to kick it up a few notches with lots of Sriracha and lime juice.
Thursday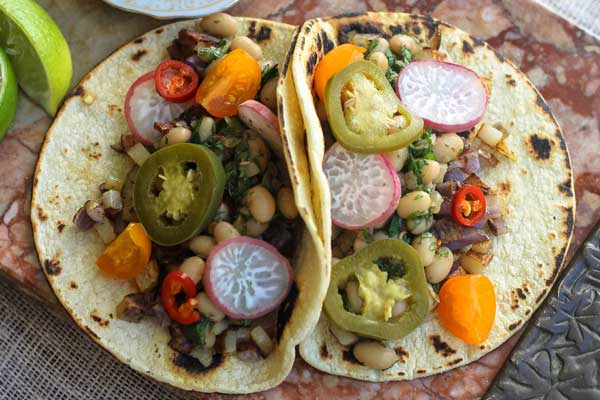 White Bean & Potato Tacos from Beard and Bonnet // These tacos are on a regular rotation in our house. They appear at our dinner table at least once a month, if not more. I mean, what can be easier than pan-frying potatoes and spicing up a can of white beans? I like to serve these with a simple side salad tossed with a store-bought vinaigrette, which I've included in your shopping list.
Friday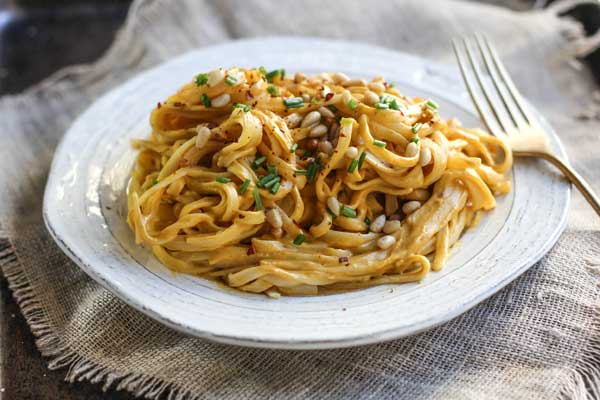 Sweet Potato Vegan Alfredo from Love and Lemons // Don't let this dish's name or ingredients fool you--this does not taste like sweet potato. Maybe it's the fresh rosemary or the balsamic vinegar and tomato paste combo that masks the sweet potato flavor, but all I can tell you is that this pasta received eight thumbs up at our dinner table--and everyone went back for seconds. Even our daughter, who isn't the biggest sweet potato fan, couldn't tell they were in there! The cashews blend with the roasted sweet potato to create a sauce that is so luxuriously creamy and silky smooth you'll swear there's dairy in it. This recipe calls for gluten-free brown rice fettuccine, but if you are not on a gluten-free diet, you can use regular fettuccine noodles.
Tips for this week's plan
Roast the sweet potatoes for Monday's dish on Saturday or Sunday. Let cool completely, then store them in an airtight container in the refrigerator for super easy meal prep Monday evening.
You'll likely have a few leftover veggies (broccoli, peppers, carrots, and maybe even potatoes) from the week. Toss them with olive oil and a few sprigs of fresh rosemary then roast in the oven for a delicious side to serve with Friday night's pasta.
The tacos call for pickled jalapeños and radishes for serving; we left them off the shopping list, but feel free to add them back on if you like.
The meals on Monday and Tuesday are earlier in the week because both mushrooms and avocados have a shorter shelf life than other fruits and veggies. If you feel like the mushrooms will go bad before the avocado does, you can swap days.
To quickly ripen an unripe avocado, simply place it in a brown paper bag at room temperature with the bag rolled tightly shut. It should ripen in three or four days. If your avocado needs an extra nudge because it's rock hard, try placing an apple and/or banana in the bag with it. Apples and bananas produce more ethylene gas and will help speed up the ripening process.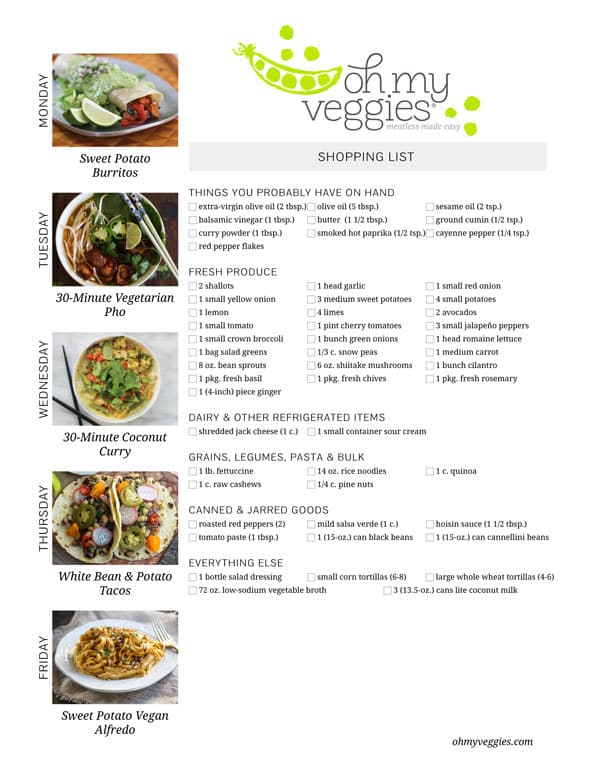 Click here for a printable version of this week's meatless meal plan and shopping list, then click on the links above to print out each recipe. Now you're set for the week!