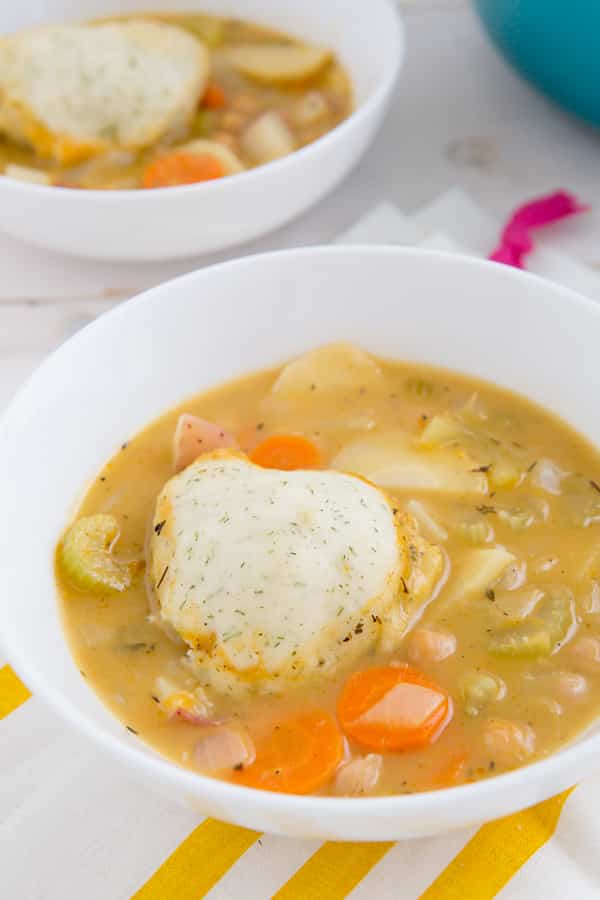 A few months ago, someone asked me if I had a recipe for a vegetarian version of Chicken and Dumplings. There are a lot of dishes on my mental list of things to make meatless, but that's one that I never really thought about, mostly because I've never had Chicken and Dumplings before. I forgot about it for a while, then I happened to see a Chicken and Dumplings recipe on Martha Stewart's website and thought maybe I'd give this whole Chicken and Dumplings thing a try. Minus the chicken, of course.
The big honkin' question when you're making a meat-based recipe meatless is, "What will I replace the meat with?" I thought about using seitan, but I decided to go with chickpeas because I remembered that Thrifty Veggie Mama had used them in a vegetarian Chicken and Dumplings recipe too and chickpeas are more readily available than seitan. So we have dealt with the main obstacle!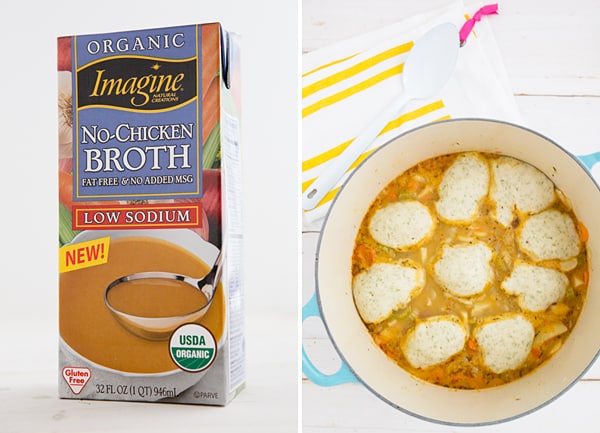 Making a recipe vegetarian isn't always just about switching out one ingredient for another though. For the Martha Stewart recipe I was adapting, I knew a lot of the flavor would come from the chicken, so I needed to add more flavors to the pot to keep the finished dish from being bland. I usually substitute vegetable broth for chicken broth, but in recipes where the chicken broth is a main component, I will sometimes use vegetarian chicken broth, either from the carton or from bouillon cubes. I decided to do that here; I also took some ideas from a Chicken and Dumplings recipe on Saveur and added white wine, extra thyme, and a bay leaf. The Saveur recipe included bacon too; I liked the idea of adding a little smokiness to the stew, so I included a half teaspoon of smoked paprika. This is enough to give the finished dish a subtle, smoky flavor without it being, "Oh, hey, you added smoked paprika to this!"
Chris and I aren't fans of peas, so I took those out and added a parsnip and red potatoes instead. The chickpea-and-veggie stew is prepared in a big Dutch oven and once it comes to a boil, you drop spoonfuls of dumpling batter onto the top. When you put the lid on the Dutch oven, the dumplings will steam in the pot; 20 minutes later, your veggies are tender, your dumplings are firm and puffy, and you have a big pot of comfort food to keep you warm and full.
Recipe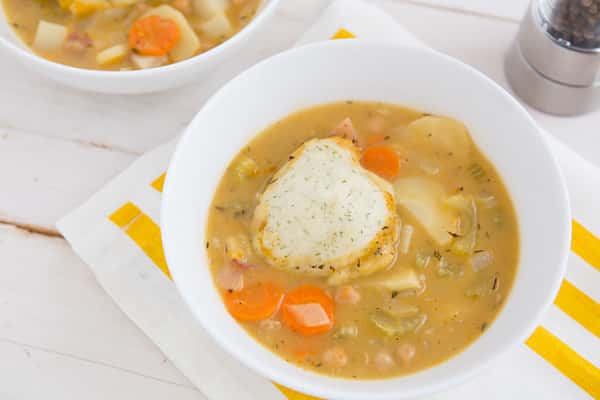 Ingredients
3

tablespoons

butter

1

onion

diced

2

cloves

garlic

minced

3

medium carrots

peeled and sliced

1

large parsnip

sliced

2

small red potatoes

diced

3

ribs celery

sliced

1

teaspoon

dried thyme

2

dried bay leaves

1

cup

all-purpose flour

divided

1 ¾

teaspoons

baking powder

½

teaspoon

salt

¾

teaspoon

dried dill weed

or 2 tablespoons fresh dill

½

cup

+ 2 tablespoons milk

½

cup

white wine

3

cups

vegetable broth

1

15-ounce can chickpeas (or 1 ½ cups cooked chickpeas)

½

teaspoon

smoked paprika
Salt and pepper

to taste
Instructions
Melt the butter in a large Dutch oven over medium heat. Add the onion, garlic, carrots, parsnip, potatoes, celery, thyme, and bay leaves. Cook, stirring occasionally, until the onions are translucent, 5-8 minutes.

While the veggies are cooking, whisk together ¾ cup flour, baking powder, salt, and dill in a medium bowl. Use a fork to gradually stir in ½ cup of milk. The batter should be slightly thicker than pancake batter and drop easily from a spoon; if it's too thick, add the additional milk 1 tablespoon at a time. Set aside.

Sprinkle the remaining flour over the veggies and stir to coat; cook for 30 seconds. Pour in the white wine and cook until evaporated, about 2 minutes. Add the broth, chickpeas, paprika and salt and pepper to the Dutch oven; bring to a slow boil, stirring occasionally, then reduce the heat to low. Drop the dumpling batter into the pot in heaping tablespoonfuls. You should have enough batter for 8-10 dumplings--be sure to keep them evenly spaced because they'll expand as they cook! Cover the Dutch oven and simmer for 20 minutes, or until the potatoes are tender and the dumplings are firm. Remove the bay leaves before serving and season with additional salt and pepper, if needed.
Nutrition
Calories:
312
kcal
Carbohydrates:
61
g
Protein:
8
g
Fat:
2
g
Saturated Fat:
1
g
Polyunsaturated Fat:
1
g
Monounsaturated Fat:
1
g
Cholesterol:
4
mg
Sodium:
1267
mg
Potassium:
956
mg
Fiber:
7
g
Sugar:
11
g
Vitamin A:
8255
IU
Vitamin C:
21
mg
Calcium:
217
mg
Iron:
3
mg
Craving more veg-friendly recipes?
Shop our collection of vegetarian and vegan cookbooks, including our new Vegan Thanksgiving and Vegan Christmas cookbooks!
This post was originally published on February 12, 2014.