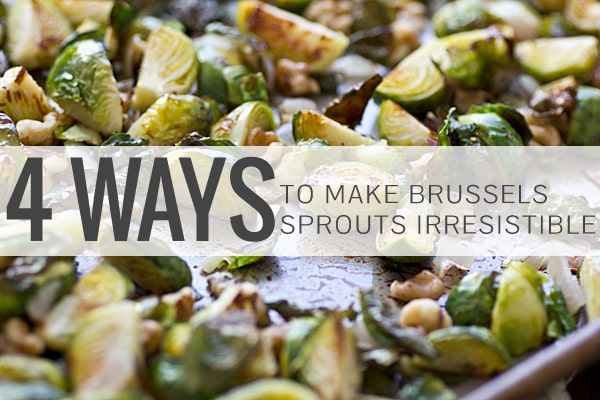 We all probably have an unflattering mental image of Brussels sprouts from our childhoods—putrid green, over-boiled blobs offending our plates and our palates. So what's different about the heinous Brussels sprouts of yesteryear vs. today's glorious green orbs? We finally learned how to cook them, that's what! Boiling the dickens out of Brussels sprouts only highlights everything that can be not-so-great about the cruciferous veggie (that bitter sulfur taste in particular). Blech. Luckily, there are lots of other (delicious!) ways to prepare Brussels sprouts so that they're not only edible, but downright irresistible. Here are four of our favorite ways.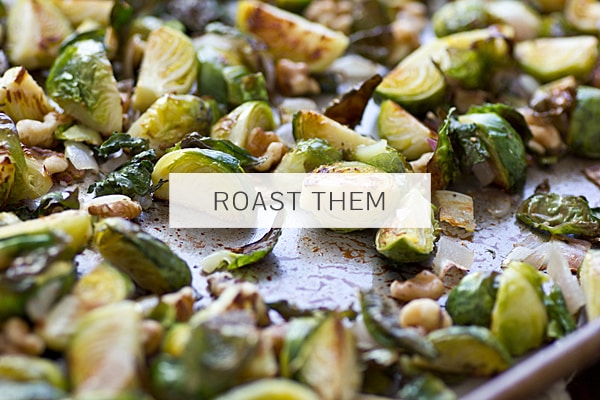 Roast them. Oven-roasted Brussels sprouts are seriously incredible. They're mild-tasting, the outer leaves start to get gloriously crispy and they sport dreamy caramelized little areas here and there. Yum.
My favorite method is possibly the simplest. Peel off the outer layer of leaves, rinse well, then toss with a little olive oil and sprinkle with salt. Spread them in a single layer on a rimmed baking sheet and bake, stirring every 10 minutes or so, at 400°F until golden brown and tender all the way through, about 30 minutes. If some of your sprouts are larger than others, cut them in half so that they all cook up at the same rate. Another option to help them cook evenly, if you have a little more time and patience, is to cut a small "X" in the stem-end of the Brussels sprout before cooking.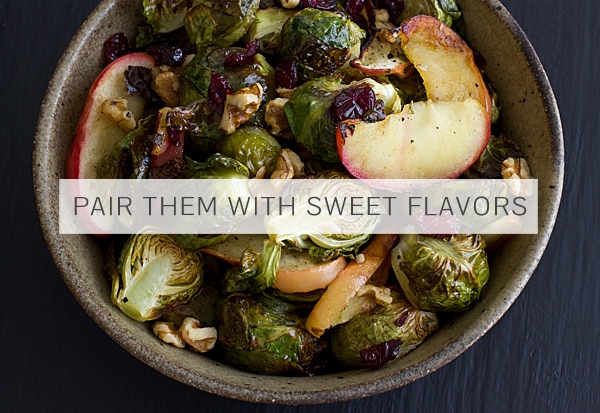 Pair them with sweet flavors. A touch of sweetness helps to counteract any lingering bitterness the sprouts may still have. Drizzle a little honey over the top of your cooked sprouts, or roast them with a touch of pure maple syrup along with the oil. They couple up wonderfully with fruits like red grapes, pomegranate seeds and - a particularly favorite duet - apples.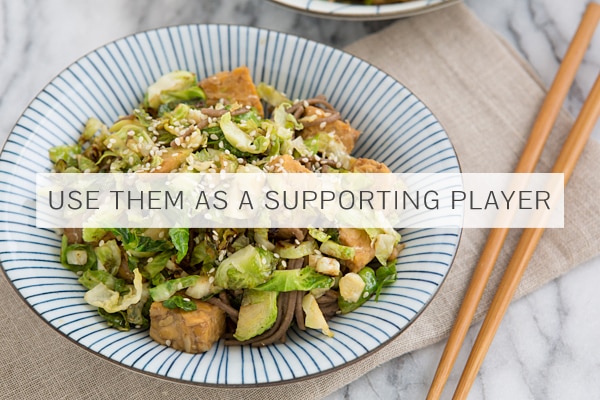 Use them as a supporting player. Include Brussels sprouts in something that's already delicious, and you've got delicious times two! And once again - bonus - the other flavors will help counteract any bitterness that might still be left in the sprout after cooking. Shred them and top a pizza with them. Roast other veggies along with them, toss with Parmesan and serve over polenta. Add them to a stir fry. The sky's the limit!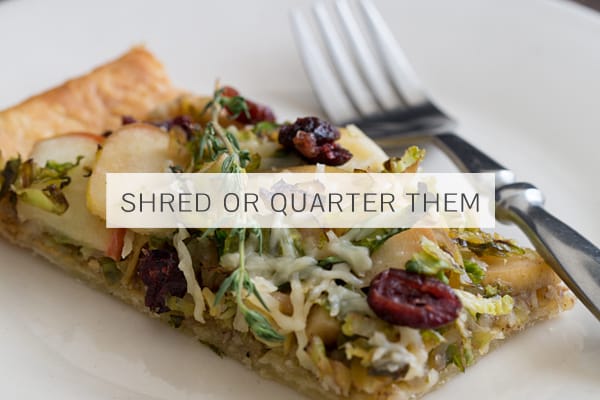 Shred or quarter them. Cutting Brussels sprouts down - by either quartering or shredding - is a terrific way to elevate them to their full potential. When they're smaller, they cook faster and more evenly, helping eliminate the dreaded sulfur taste. Quartered sprouts are perfect for quick-roasting, or I like to shred or quarter them, then saute in an olive oil-coated pan until tender. Season them with a little salt and you've got a perfectly legit (and, yes, irresistible) dinner on your hands.
This post was originally published on October 7, 2014.