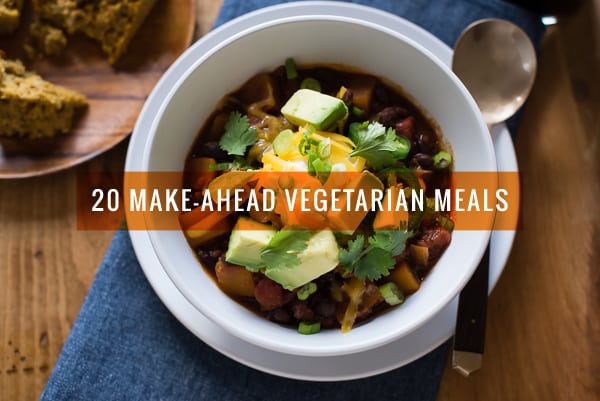 The magic of make-ahead dinners is that when time is of the essence, they feel like lifesavers. They are lifesavers. Whether you're prepping for a month-long, all-consuming work project or helping stock a friend's freezer for when her imminent triplets (!!!) arrive, these 20 Make-Ahead Vegetarian Meals help fill the dinner table in no time at all.
Slow Cooker Butternut Squash Chili with Porter
One of our favorite tips for make-ahead meals is to freeze the components of a slow cooker recipe BEFORE cooking it. This comforting beer-enhanced bowlful lends itself perfectly to the method.
Caramelized Onion, Goat Cheese & Herb Pie
This lighter-than-quiche savory pie from The View from Great Island is packed full of fresh herbs and creamy goat cheese. Best of all, it can be made ahead of time and frozen for an easy meal any time you want it.
Tempeh Tacos
If you miss ground beef taco filling, these Tempeh Tacos will be your new favorite taco recipe. Make the filling up to a week in advance and refrigerate it or freeze it for up to 2 months.
Meatless Zucchini Enchilada Casserole
Layers of zucchini take the place of tortillas in this veggie-heavy enchilada casserole from Flavor Mosaic. It can be made ahead and kept in the fridge until ready to bake, and leftovers are fabulous.
Cheese & Roasted Vegetable Baked Manicotti
Loads of roasted veggies stuffed into pasta tubes and covered in cheese? Heck yes! Assemble ahead of time and either refrigerate or freeze and you're good to go.
Curried Carrot, Apple & Peanut Soup
This stunning curry-spiced soup from The Law Student's Wife brings loads of flavor and two make-ahead options -- refrigerate for up to 5 days or freeze for 3 months.
Make-Ahead Breakfast Quesadillas
Breakfast for dinner strikes again! These hearty make-ahead quesadillas are perfect for the freezer, and even though they're officially a breakfast recipe, they're also pretty perfect for dinner too.
Easy Refried Bean & Cheese Burritos
Make a huge batch of these simple bean and cheese burritos from Kitchen Treaty and freeze them for easy-peasy dinners down the road. Prefer less cheese and more veggies? They're easy to customize and make your own.
Vegetable Baked Ziti
Zucchini and mushrooms bulk up traditional baked ziti for a freezer-friendly, satiating dinner. Pure comfort, right here.
Cauliflower Mac & Cheese
This lightened-up macaroni and cheese from The Lemon Bowl is a rich-tasting, kid-friendly make-ahead option. Just prep the components ahead of time then assemble right before baking.
Broccoli Parmesan Meatballs
This reader favorite can be made in big batches and frozen for future spaghetti and meatball dinners. We also love using them for meatball subs!
White Mushroom Lasagna
Wow unexpected company when you pull this pan of gloriousness out of the oven. The View from Great Island brings us this decadent cheesy lasagna that can be assembled and either refrigerated or frozen before baking. Life just got infinitely better.
Mediterranean Calzones
Calzones are quite possibly the perfect food for freezing. After you've assembled them, wrap them in plastic wrap and stick them in a freezer bag. To heat the calzones, you'll just need to add a few minutes to the original cooking time.
Baked Quinoa Falafel Sandwiches
What's better than the brilliance of falafel made with quinoa? The fact that you can make them ahead of time and freeze them for these scrumptious vegan sandwiches anytime you want them. Connoisseurus Veg shows you how.
Greek Farro Salad
Fresh veggies, hearty farro and an irresistible dressing. We'd be happy to dine on this delicious dish from Cookie Monster Cooking any day of the week! Just make ahead and refrigerate.
Chipotle Black Bean Quinoa Burgers with Sweet Corn Relish
Next time you're making veggie burgers, double the recipe and freeze the extra patties for later! Baking or pan-frying them in a small amount of oil will help them hold together before you freeze them.
 Vegetable & Quinoa Stuffed Zucchini
Zucchini boats filled to the brim with satisfying fare -- loads of veggies and quinoa to boot. Taste, Love, and Nourish brings us this easy dish that can be assembled up to two days ahead of time.
Creamy Spinach & Cheese Green Chile Enchiladas
Packed to the brim with spinach, these tasty enchiladas from Two Peas and Their Pod can be assembled ahead of time and refrigerated or frozen until ready to bake. Especially perfect for new parents!
One Skillet Vegetarian Quinoa Fajitas
Not only do these fantastic fajitas from Cook the Story use only a single skillet, much of the work can be done ahead of time. Less dishes AND can be made in advance? Win win.
Sloppy Lentil Sandwiches
A batch of these sloppy lentils will last in the fridge for several days or even longer in the freezer. All you need to do is heat, serve and spoon onto a crusty sandwich roll.