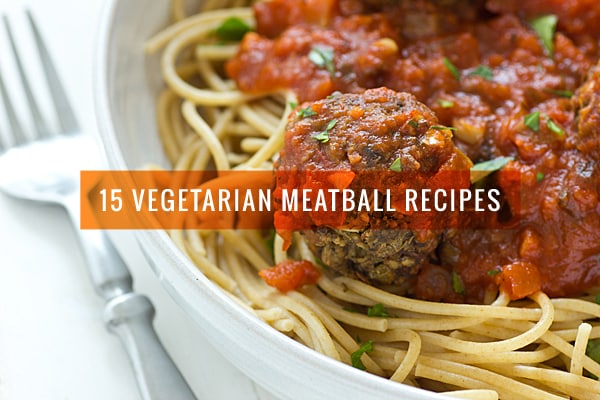 Are they vegetarian meatballs? Or no-meatballs? Or faux meatballs? Or veggie balls? No matter what you call them, having one go-to (not-)meatball recipe is essential for every vegetarian cook. While you can buy them at the grocery store, many brands of meat-free meatballs are highly processed, with long lists of ingredients--who needs that when you can make your own with ingredients like beans, nuts and vegetables?
Lentil Mushroom Meatballs
These meatballs are about as close in flavor to the real thing as you can get using whole food ingredients.
Lemon Feta Chickpea Meatballs
Pair these Greek-inspired meatballs from Amuse Your Bouche with pasta and sautéed veggies tossed in olive oil.
Tempeh Meatballs
Simple Vegan Blog shares a recipe for tempeh-based meatballs in curried tomato sauce.
Eggplant Spinach Meatballs
Eggplant, spinach and ricotta cheese make these meatballs perfect for pairing with marinara.
Black Bean Meatballs
Light Orange Bean's meatless meatball recipe includes black beans, oats and walnuts.
Meatball Bahn Mi
Description: Chili paste and soy sauce add an Asian flair to these meatballs from Connoisseurus Veg.
Sweet and Sour Tempeh Meatballs
The classic party appetizer, made meatless!
Meatball Sliders
She Likes Food uses these white bean, kale and brown rice meatballs to make vegetarian sliders.
Quinoa Meatballs
Quinoa and lentils make these meatballs from Simply Quinoa a great source of protein.
Sweet Potato and Kale Balls
If you're in the mood for a different kind of meatless meatball, this recipe from Neurotic Mommy might be just what you're looking for!
Spicy Black Bean Meatballs
Who said meatballs need to be Italian? We love this Mexican-inspired version in burritos and wraps.
Italian Wedding Soup
Eggplant-based meatballs are the pièce de résistance in this hearty soup from Eats Well With Others.
Teriyaki Meatballs
Yup, It's Vegan uses seitan to make a convincing meatless meatball.
Broccoli Parmesan Meatballs
This gluten-free vegetarian meatball recipe uses ground almonds in place of breadcrumbs.
Cannellini Bean and Broccoli Rabe Meatballs
The best thing about vegetarian meatballs? They let you get creative, like this recipe that uses broccoli rabe from Connoisseurus Veg.