Whether you have a major sweet tooth or you're more of the savory type, everyone loves a good fondue. These 6 great vegan fondue recipes will have you dipping in no time!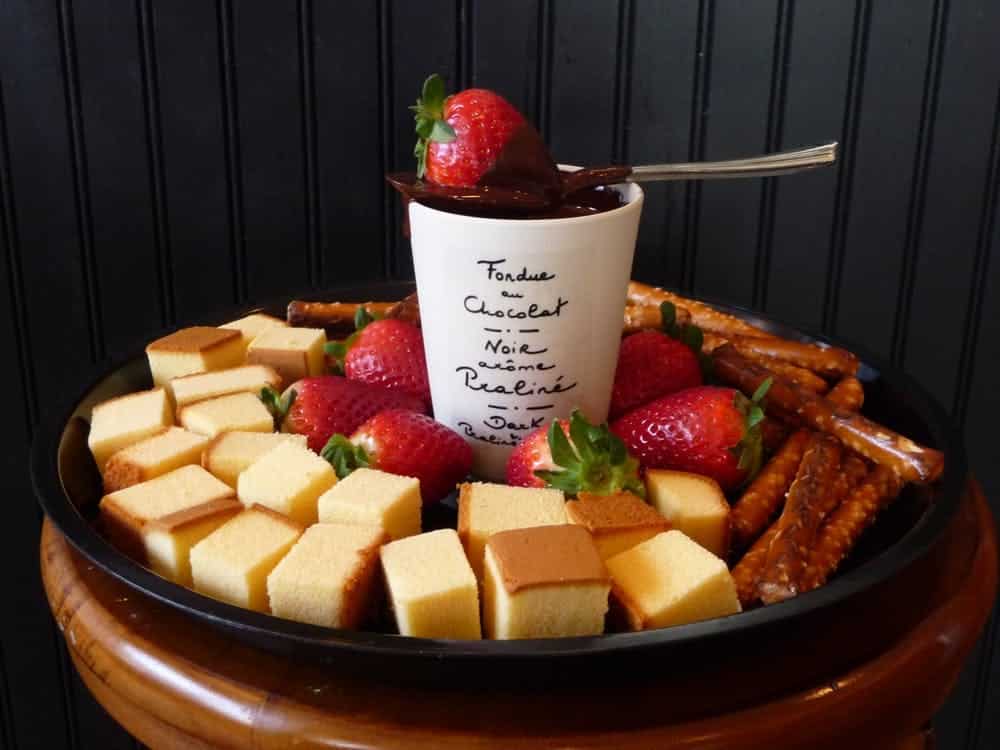 I'll bet you thought you'd have to give up fondue when you went vegan. But that's just wrong—you're not done dipping yet! Turns out there are several genius ways to create rich, gooey veganized fondue that are perfect for your girls' night, date night, or even appetizers with the family.
Be sure to have an assortment of dippers on hand:
crisp veggies
crackers
pretzels
your favorite cubed breads
fruits (apple slices are DIVINE in most fondues)
nuts (the larger they are, the better they'll dip)
Time to get dipping!
Vegan Fondue with Hummus and Cashews
As you can guess from the name, this Vegan Fondue with Hummus and Cashews uses cashews and hummus to create its delicious flavor. You'll need to soak the cashews first (the same goes for most vegan fondue recipes), which requires a few hours. Make sure to skim through the instructions for this fondue at least one full day ahead of when you want to serve it.
Quick & Easy Vegan Fondue
If you're not a hummus fan, this Quick & Easy Vegan Fondue is for you! It requires cashews and plenty of nutritional yeast—but no hummus. As a bonus, this recipe only takes 20 minutes from start to finish!
Vegan Cheese Fondue
Here's another fondue with cashews. But this Vegan Cheese Fondue also features summer squash and a splash of wine. Yum!
Cashew-less Vegan Queso
Although not technically fondue, this Cashew-less Vegan Queso is great for if you're tired of cashews. Made with eggplant and almond milk, this tasty dip will dazzle! Have a variety of dippers on hand for this queso—including your favorite tortilla chips.
Chickpea Fondue
This Chickpea Fondue mixes protein-packed chickpeas with a variety of spices. Don't hesitate to double up on this recipe—it'll go fast!
Vegan Chocolate Fondue
When you're ready for dessert, heat up this decadent Vegan Chocolate Fondue! Use fruit dippers like grapes, strawberries, kiwi, and apple slices with this sweet fondue. You could also try making some indoor s'mores by dipping graham crackers and vegan marshmallows!
For even more chocolate fondue fun, make a couple batches of this Vegan Chocolate Fondue with lighter and darker chocolates. Then blend the batches together decoratively or keep them separate to let each person dip as they wish. Kids love this chocolate fondue, and it also works great as a topping for vegan ice cream or as a filling for vegan pastries!