This creamy Vegetarian Tomato Risotto is infused with flavor from a San Marzano tomato broth.  It just might be better than your grandma's risotto!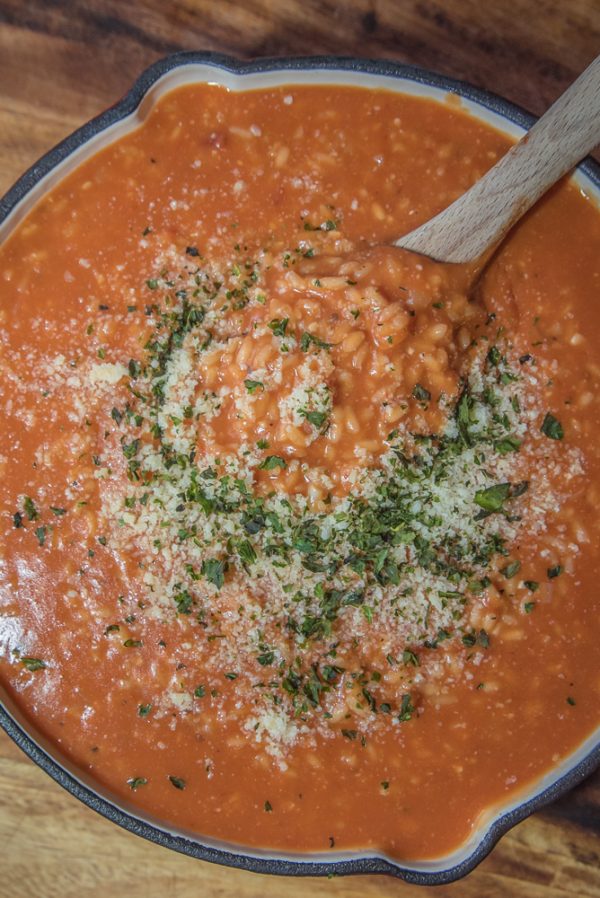 Coming from Italian heritage, risotto is a dish that is near and dear to my heart. For me, risotto is right up there with mac and cheese or tomato soup in terms of comfort food. It's soupy deliciousness reminds me of holidays past, and makes me want to curl up in front of the fireplace.
Of course, like many iconic Italian dishes, there is much debate about the "right" way to prepare tomato risotto (or any kind of risotto). Should it be soupy or firm? Al dente or tender? Served in a bowl or in a plate? Can it be made with vegetarian stock? Let the opinions roll.
I tend to agree with Serious Eats on the key points. Risotto should be soupy. Or maybe saucy is a better word. When you spoon it onto your plate, it should spread out on its own accord. If it stands up in a pile, you've overcooked it! Lots of people refer to it as a "self saucing" dish for this exact reason. And of course, I've always made mine with vegetable broth, just like this vegetarian tomato risotto.
Risotto comes in many variations, but they all depend on a high starch, short grain rice. These types of rice are best suited for risotto, as they can absorb a lot of liquid and release starches to help hold the dish together. The most common varieties of risotto rice are arborio and carnaroli.

Let's make Vegetarian Tomato Risotto!
Risotto really is not a hard dish to make - it's essentially just a simple rice dish. But it is pretty time consuming - it can easily take an hour or more to get it fully cooked. And it needs a lot of babysitting. Making this vegetarian tomato risotto is one time where I set up my iPad in the kitchen with some entertainment, and just keep stirring.
The real secret to this tomato risotto is the cooking liquid. Rather than a basic broth, I blend my vegetable stock with San Marzano tomatoes in a big kitchen blender. Actually cooking the rice directly in the tomato broth infuses so much more flavor than if you simply stirred the tomatoes into the dish.
If you have the time for making your own homemade vegetable stock, it's really worth the effort. But if not, store bought vegetable broth is totally fine.
When you first start the risotto, make sure to saute the rice for a few minutes in some butter or olive oil before you add the broth. It helps the rice to release the starches and you get a much better final result.
As I mentioned above, I like my risotto to be nice and soupy. You might prefer yours to be a little firmer or more al dente, and that is fine too. There's no wrong way to cook this! The key is stir often and taste often. My vegetarian tomato risotto took about an hour to cook to my liking. I bet this would be amazing with some Dill Soda Bread to soak up the extra sauce! Have fun!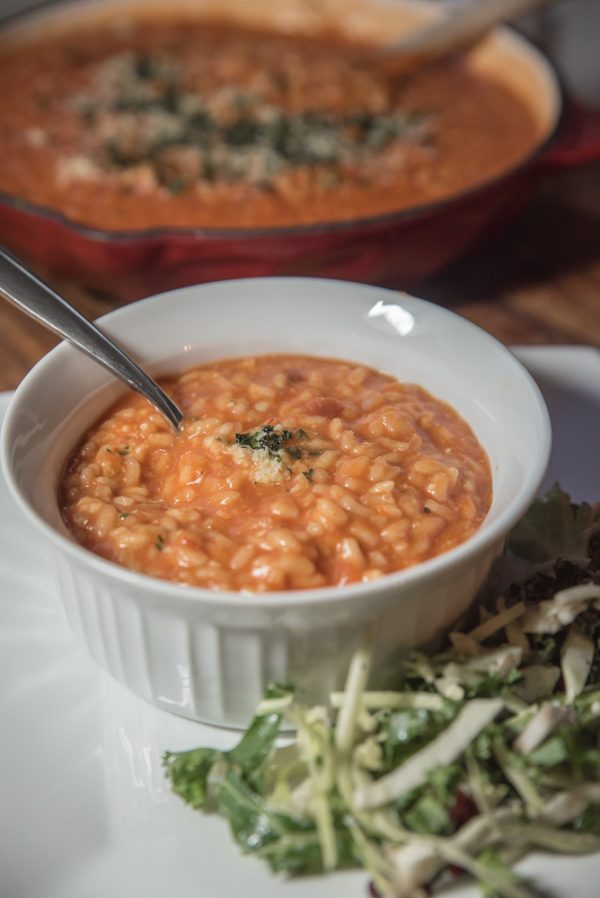 did you make this recipe?
I'd love to see! Share your photo on Instagram and use the hashtag #deliciouseveryday for a chance to be featured or share it on my Facebook page. 
And don't forget to follow Oh My Veggies on Pinterest, Facebook and Instagram for all of the latest news and competitions.
want more delicious recipes?
Subscribe to the Delicious Everyday weekly newsletter. It's FREE! And as a thank you for signing up, I'll also send you my guide to pantry essentials for delicious everyday meals.
Recipe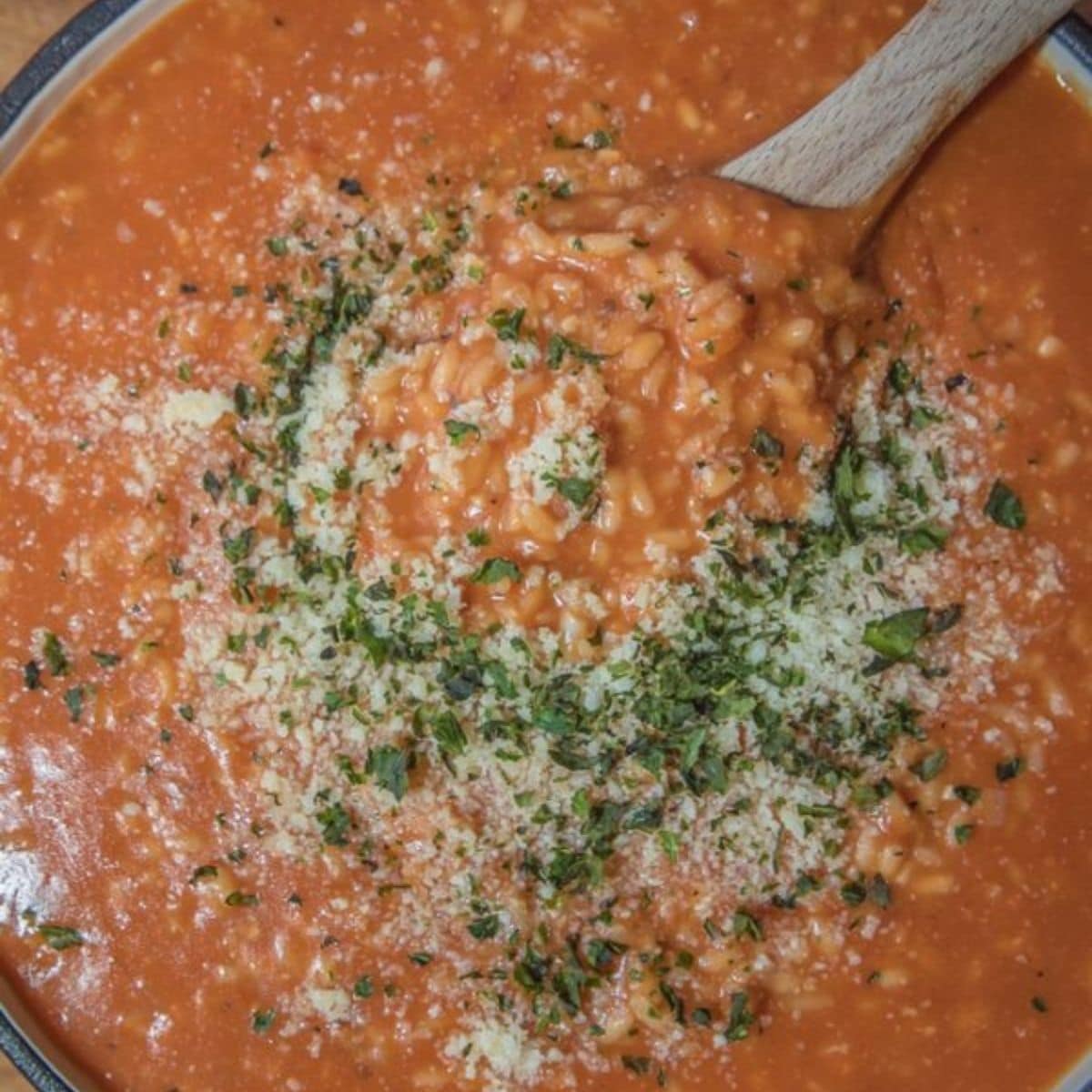 Ingredients
28

oz

San Marzano Tomatoes

crushed or whole

6

cups

vegetable stock

1

onion

sweet, peeled and chopped

2

cloves

garlic

peeled and minced

3

tbsp

butter

2

cups

Arborio Rice

1

cup

parmesan cheese

plus extra for topping

2

tbsp

basil

fresh or freeze dried
Instructions
Start by preparing the tomato-vegetable stock. In a large blender, puree the San Marzano tomatoes and vegetable broth. Work in batches if your blender is not large enough. Set aside.

In a large pot, heat 1 tbsp of the butter. Add onion and cook for 3-4 minutes, until starting to turn golden.

Add the garlic and cook for additional 30 seconds.

Add the Arborio rice. Stir to coat with the butter. Cook for 3-4 minutes, until just lightly toasted. Stir constantly to prevent burning.

Turn heat to medium-low. Add ¼ cup of the tomato-vegetable stock and stir slowly until fully absorbed.

Continue to add liquid into the rice in small increments, about ¼ cup at the time. Each time you add liquid, slowly stir the risotto until the stock is fully absorbed into the rice. It is a slow process - it will take you 45-60 minutes to get all the liquid into the risotto!

Hint: If you go to quickly and feel like you need additional liquid, just use some extra plain vegetable broth or even a bit of water.

Taste the risotto when you think it's done. If it's not tender (to your preference) yet, cook longer. Continue adding liquid so the risotto retains a slightly soupy quality.

When the risotto is cooked to your liking, stir in the remaining butter and the Parmesan cheese. Season with salt and pepper.

Serve garnished with basil and extra parmesan cheese.
Nutrition
Calories:
418
kcal
Carbohydrates:
68
g
Protein:
12
g
Fat:
10
g
Saturated Fat:
6
g
Cholesterol:
26
mg
Sodium:
1433
mg
Potassium:
480
mg
Fiber:
4
g
Sugar:
8
g
Vitamin A:
1140
IU
Vitamin C:
14
mg
Calcium:
252
mg
Iron:
4.7
mg
Craving more veg-friendly recipes?
Shop our collection of vegetarian and vegan cookbooks, including our new Vegan Thanksgiving and Vegan Christmas cookbooks!