Slow cooker soup, stew and chili recipes need to be a part of every vegetarian's repertoire! So bust out that slow cooker and get ready to eat your way through these delicious vegetarian crock pot meals.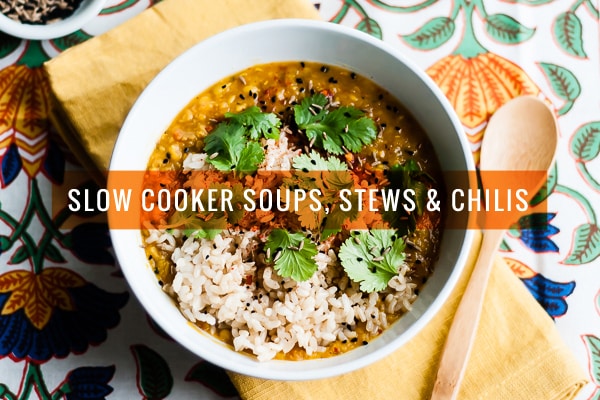 Who doesn't love vegetarian crock pot meals? Soups and stews are perfect for making in a slow cooker. Unlike a lot of other foods, they benefit from a long and slow cooking time — by the time they're done, the vegetables are tender, the flavors are melded, and you have a practically effortless dinner waiting for you. If you don't eat meat, it can be a little bit tricky to find vegetarian crock pot soup and stew recipes because so many of them are based around tenderizing tough cuts of meat, so we've done the work for you!
Here are 17 satisfying vegetarian crock pot soups, stews, and chilis to keep you warm and full this fall:
our 17 favorite vegetarian crock pot soup, stew & chili recipes
Recipe Title: Slow Cooker Butternut Squash Soup
Description: This creamy pureed squash soup from Two Peas & Their Pod is even better with Maple Roasted Chickpeas on top — perfect for fall!