Slow cooker soup, stew and chili recipes need to be a part of every vegetarian's repertoire! So bust out that slow cooker and get ready to eat your way through these delicious vegetarian crock pot meals.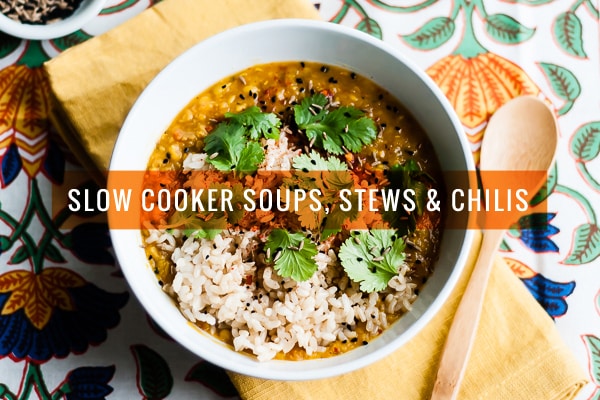 Who doesn't love vegetarian crock pot meals? Soups and stews are perfect for making in a slow cooker. Unlike a lot of other foods, they benefit from a long and slow cooking time -- by the time they're done, the vegetables are tender, the flavors are melded, and you have a practically effortless dinner waiting for you. If you don't eat meat, it can be a little bit tricky to find vegetarian crock pot soup and stew recipes because so many of them are based around tenderizing tough cuts of meat, so we've done the work for you!
Here are 17 satisfying vegetarian crock pot soups, stews, and chilis to keep you warm and full this fall:
Slow Cooker Butternut Squash Soup
This creamy pureed squash soup from Two Peas & Their Pod is even better with Maple Roasted Chickpeas on top -- perfect for fall!
Slow Cooker Quinoa White Chili with Roasted Poblanos
Miss white chicken chili since going vegetarian? This quinoa version will hit the spot!
Slow Cooker Italian Vegetarian Bean Soup
Don't skip the crusty bread when serving up this hearty bean soup from Around My Family Table!
Chipotle Black Bean and Quinoa Crock-Pot Stew
Get double the protein with black beans and quinoa in this stew from Tasty Yummies
Slow Cooker Corn and Red Pepper Chowder
Corn chowder is usually made with a hefty dose of dairy, but our version is vegan -- and it's still rich and creamy!
Crockpot Vegetarian Chili with Farro
Farro gives this vegetarian crockpot chili from Cookie Monster Cooking a meaty texture without the ground beef.
African-Inspired Vegetarian Crockpot Soup
Kalyn's Kitchen serves up an African-inspired slow cooker soup made with peanut butter, brown rice, and lentils.
Red Lentil Dal
Cafe Johnsonia shows how to make perfect dal in the slow cooker.
Slow Cooker Vegetarian Gumbo
Serve this veggie-packed gumbo over a plate of brown rice or whole grains for a filling dinner.
Crockpot Pumpkin Red Lentil Chili
Pumpkin isn't just for pies and lattes! Kare from Kitchen Treaty puts it to use in chili too.
Slow Cooker Winter Ratatouille
As if the ratatouille wasn't delicious enough on its own, Eats Well With Others serves it over homemade goat cheese polenta. Yes!
Chard, Lentil & Potato Slow Cooker Soup
If you like lentil soup, you'll love this version made with potatoes and Swiss chard!
Slow Cooker Vegan White Bean Stew
This white bean stew from Cafe Johnsonia makes 10-12 servings, which is good news because it freezes beautifully!
Make & Freeze Slow Cooker Veggie Tortilla Soup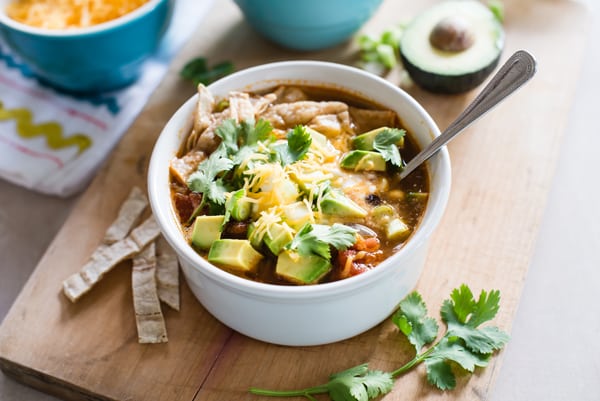 This vegetarian version of tortilla soup is perfect for freezing!
Crockpot Black Bean & Brown Rice Soup
This hearty black bean soup from Kitchen Treaty will keep you warm and full on even the coldest winter night.
Chili Polenta Pot Pie
Slow cooker Fire Roasted Chili is topped with a polenta crust to make these Tex Mex pot pies.