These vegan empanadas are packed with healthy flavor from fresh spinach, sweet potatoes, and coconut curried chickpeas, all wrapped up in a flaky crust. What's not to love?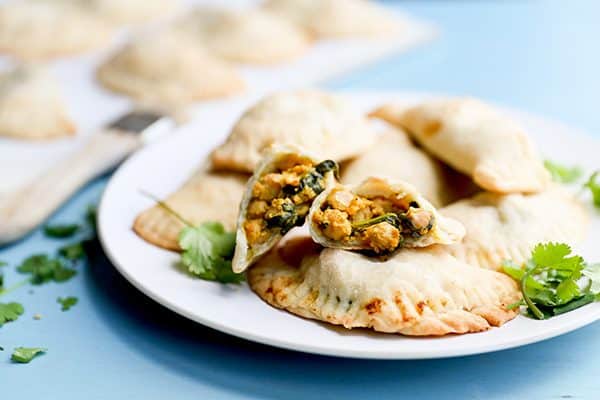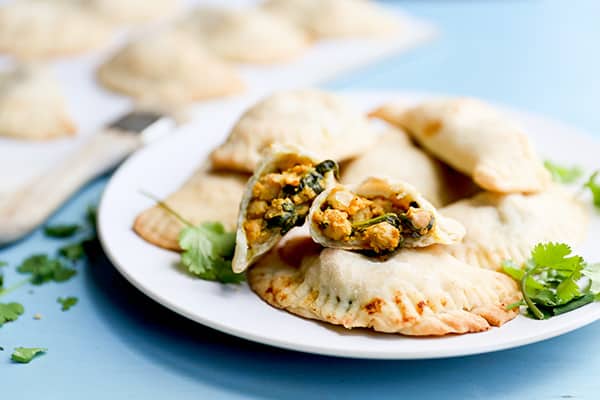 With the Super Bowl right around the corner, I've got game day snacks on my mind. In fact, I'd say the snack table is probably the ONLY thing I'm thinking about with regards to organized sports.
Admittedly, I could care less about the actual game. Instead, you'll usually find me lurking around the food and beverages, blissfully munching and sipping my way through the minutes of the game.
Maybe looking up at the television once or twice if other people in the room seem to be particularly aroused by a certain play or commercial. It's just never been my cup of tea.
Game day snacking can be challenging if you have any kind of dietary restriction(s). Or if you're simply trying to eat a bit healthier. There is usually a lot of heavy, fried foods involved.
Not that I'm complaining, per se. But it's certainly nice to have options. So that's why I created these vegan empanadas. 
And now I'd like to formally declare here that empanadas may just be the ultimate game day snack.
No plates or silverware are required to consume these cute little hand pies. And they are surprisingly hearty and satisfying. Even those with the biggest of appetites will totally dig these empanadas!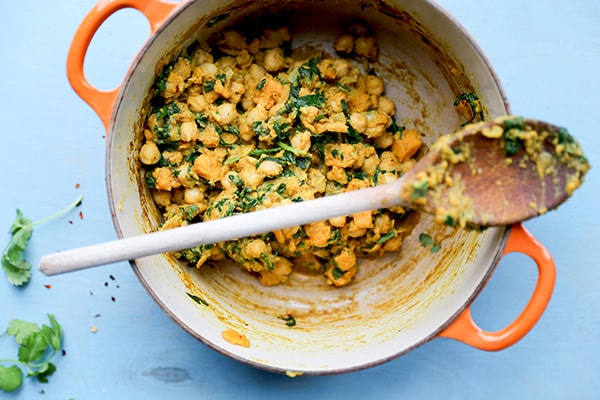 To make them vegan, I adapted this recipe and used a combination of light coconut milk (make sure to buy the canned stuff and whisk it well before using it in recipes!) and coconut oil for the dough.
I used a little bit of light coconut milk in the filling, too. So yes, there is a slight coconut flavor to these empanadas, but it's not overpowering and these empanadas certainly aren't sweet.
Personally, I love how well coconut and curry play together in savory applications.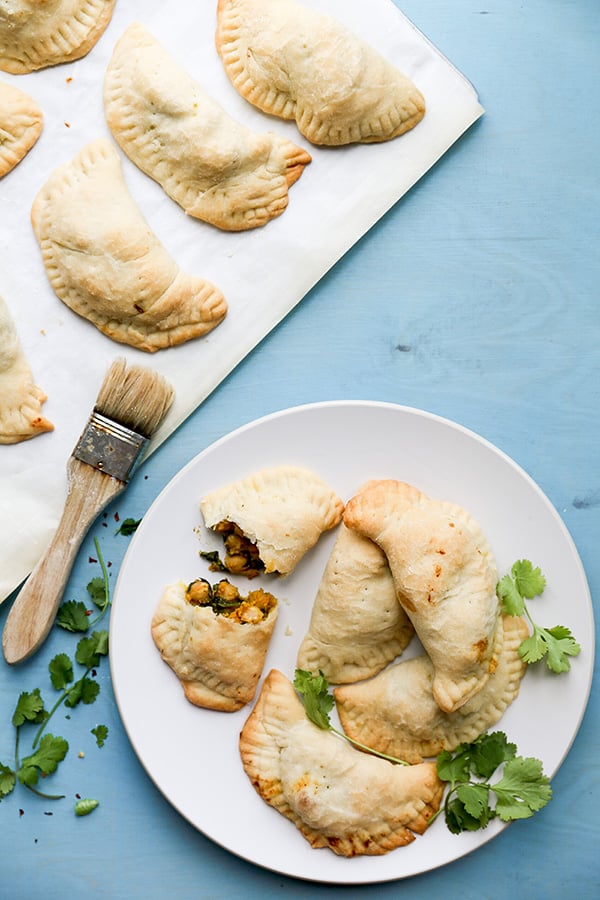 Filling, folding and shaping the empanadas can take a couple of tries to get the hang of, but it's not a particularly hard process. Don't overly concern yourself with trying to make them perfect.
I think their somewhat rustic appearance is all part of the charm! And try to resist the urge to overfill them, so the filling doesn't spill out everywhere.
If you're having trouble folding the empanadas and making a firm seal, then you've probably added too much filling to the center.
Recipe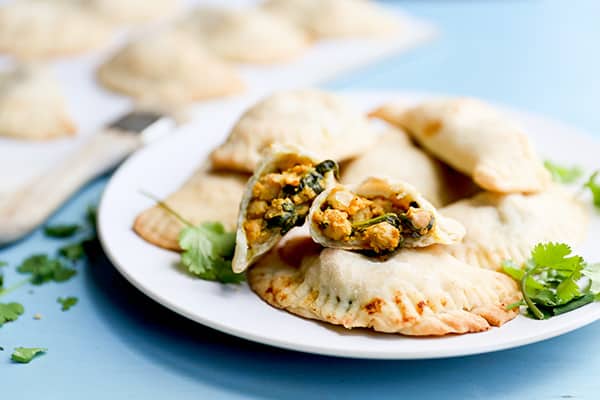 Ingredients
For the Dough:
1

cup

canned light coconut milk

¾

cups

melted virgin coconut oil

plus more for brushing the dough

1

envelope

2 ¼ teaspoons active dry yeast

2 ½ - 3

cups

all-purpose flour

plus more for rolling out the dough
For the Filling:
2 ½

cups

peeled and diced sweet potatoes

about 2 medium sweet potatoes

⅓

cup

peeled and diced shallots

about 2 medium shallots

2

garlic cloves

peeled and minced

½

cup

canned light coconut milk

1 ½

teaspoons

curry powder

2

cups

chopped fresh spinach

1

16-ounce can chickpeas, drained and rinsed

¼

cup

fresh cilantro

roughly chopped

1

teaspoon

salt

½

teaspoon

ground nutmeg

¼

teaspoon

crushed red pepper flakes
Instructions
In a small saucepan, warm the coconut milk over medium heat until it's just starting to simmer, about 2 minutes. Pour the warmed coconut milk into the bowl of your stand mixer. Add the coconut oil and whisk to combine the two liquids. Then take the temperature of the liquid mixture. Once it's cooled to a temperature between 105-115°F, whisk in the active dry yeast. Let the mixture sit for 10 minutes at room temperature.

After 10 minutes, start slowly adding in 2 ½ cups of the flour, mixing on low speed with the dough hook attachment. Once the flour is completely incorporated, turn your mixer up to medium speed and beat the dough for 5 minutes. The dough will look shiny and moist, but it shouldn't be sticky to the touch. If the dough is sticky or too wet, add additional flour, incorporating in about 2 tablespoons at a time, until the dough reaches the right consistency. You shouldn't need more than an extra ½ cup of flour.

Using your hands, shape the dough into a ball and then place it back in your mixing bowl. Cover the bowl loosely with a thin towel and let the dough rise in a warm spot in your house for 1 hour.

Meanwhile, make the filling. Add the sweet potatoes, shallots, garlic, coconut milk and curry powder to a medium saucepan. Cover and bring the mixture to a simmer over medium heat. Cook, stirring occasionally so it doesn't burn on the bottom, until the sweet potatoes are very soft and the liquid is absorbed, about 12 minutes. Stir in the spinach and cook until wilted, about 2 minutes, using a wooden spoon to lightly mash the sweet potatoes while your stir. Fold in the chickpeas, cilantro, salt, nutmeg and red pepper flakes. Remove the saucepan from the heat and set it aside.

Preheat your oven to 425°F. Line two baking sheets with parchment paper and set aside.

Punch down the risen dough and remove it from your mixing bowl. On a well floured surface, use your hands to roll the dough out into a long, thin log. Cut the dough into 20 equal-sized pieces. Then shape the dough pieces into balls. Working with a couple dough balls at a time, use a rolling pin to roll the balls out into 3 ½ to 4-inch circles. Prick the surface of the dough circles several times with the tines of a fork. Then brush the edges with a little water. Place a rounded tablespoon of filling in the center of each dough circle. Then fold the dough in half, pressing the seams together with your fingers. Transfer the empanadas to your parchment paper-line baking sheets. Then use the tines of a fork to further press together the seams. Continue working until all the empanadas have been formed.

Transfer the baking sheets to your preheated oven and bake the empanadas for 15 minutes. Remove the baking sheets from the oven and brush the tops of the empanadas with some melted coconut oil. Then return the baking sheets to your oven, rotating the sheets as you do so, and bake for an additional 3 minutes. The tops of the empanadas should be lightly browned.

Remove the baking sheets from your oven and allow the empanadas to cool for about 10 minutes on their baking sheets. Then using a spatula, transfer the empanadas to serving dishes. Enjoy while still warm.

Empanadas are best when eaten fresh from the oven. But they can be made several hours in advance, if necessary, and re-warmed briefly in your oven before serving.
Nutrition
Calories:
227
kcal
Carbohydrates:
31
g
Protein:
4
g
Fat:
10
g
Saturated Fat:
8
g
Polyunsaturated Fat:
1
g
Monounsaturated Fat:
1
g
Sodium:
142
mg
Potassium:
129
mg
Fiber:
2
g
Sugar:
1
g
Vitamin A:
2663
IU
Vitamin C:
2
mg
Calcium:
16
mg
Iron:
2
mg
Craving more veg-friendly recipes?
Shop our collection of vegetarian and vegan cookbooks, including our new Vegan Thanksgiving and Vegan Christmas cookbooks!