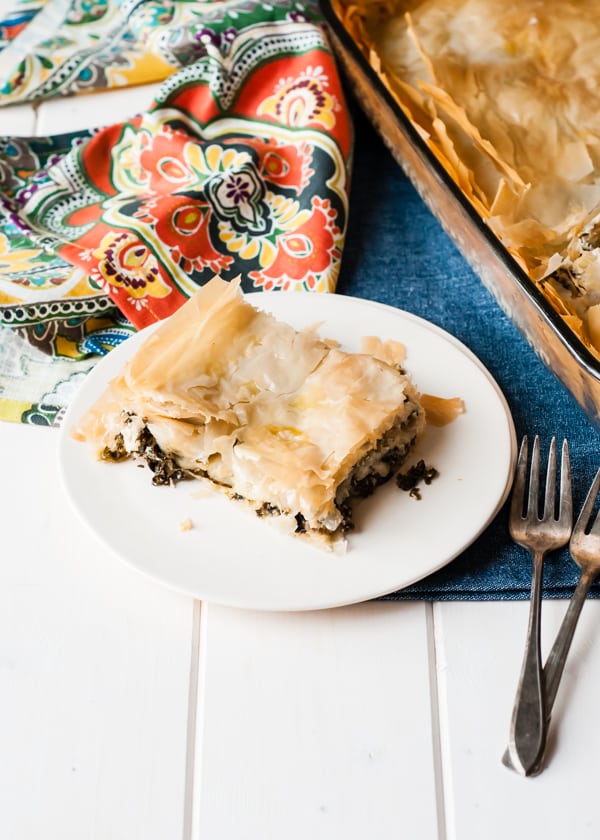 Photos by Lindsey Johnson
If you're a vegetarian, you shouldn't have much trouble finding suitable Greek food. Sure, plenty of meat-centric entrees come to mind when you think of Greek cuisine, but the Greeks are also all about their veggies: stuffed grape leaves, the ever-popular Greek salad and--my personal favorite--spanakopita are all (typically) vegetarian.
If you follow a vegan diet, though, that's another story. The Greeks are also all about eggs and cheese. This can be a bit of a bummer; I know it was for me when I started cutting these ingredients out of my diet. Spanakopita was my go-to meal at some favorite diners. (Seriously, it's layers of flaky pastry stuffed with spinach and feta--a pie that you eat as a meal.)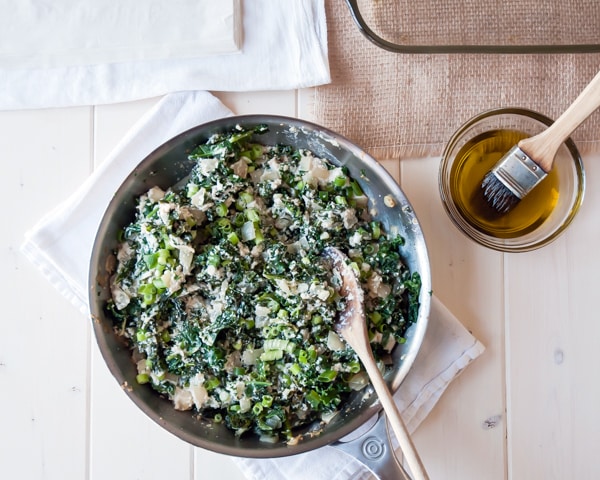 You'd be hard-pressed to find a vegan spanakopita while dining out. This spanakopita recipe is totally vegan, but not lacking at all in the richness of conventional versions of the dish. Even though feta is a crumbly cheese, it melts during baking, so a creamy blended cashew cheese works perfectly as a stand-in. A little lemon juice adds some tang, and a coating of olive oil between each pastry sheet gives it that delicate flaky texture spanakopita eaters adore.
Another twist on this version of the recipe: it uses kale in place of spinach. "Spanakopita" translates to "spinach pie." I couldn't find a Greek translation for "kale pie." (Does anyone reading this speak Greek?) Maybe that means they don't eat a whole lot of kale in Greece. That's okay though; this kale spanakopita is as delicious as it is nontraditional, with just a touch of tartness and a hearty texture.
Recipe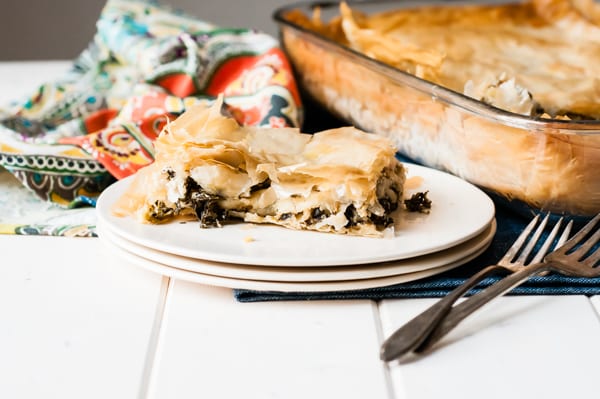 Ingredients
Instructions
Prepare the Cashew Feta
Drain the cashews, place them in a food processor and blend to a thick paste, stopping to scrape down the bowl occasionally. Add the lemon juice and soy or almond milk. Process again until smooth and set aside.
Prepare the Kale Filling
Add about 2 inches of water to a large saucepan and bring it to a boil. Lower heat to medium, add the kale and cover. Steam the kale until it's completely wilted, removing the lid and stirring about every 2 minutes, cooking for a total of 6-8 minutes. Transfer the kale to a colander to drain.

Pour all of the water out of the saucepan, wipe it dry, and return it to medium heat on the stove.

Heat the olive oil in the saucepan. Add the onion and sauté until softened, about 5 minutes. Add the garlic and continue to sauté until fragrant, about 1 minute. Return the kale to the saucepan, and add the lemon juice, green onions, salt, pepper and cashew feta. Toss a few times to get everything well mixed, then remove from heat.
Prepare the Spanakopita
Preheat oven to 400°F.

Use some of the olive oil to grease a 9 x 9 or 9 x 13-inch pan. Arrange a sheet of phyllo in the bottom of pan. Brush the entire top surface of the phyllo sheet with olive oil.

Layer a second sheet over the first, and then brush the second sheet with olive oil in the same manner. Repeat this for 8 phyllo sheets, making sure to firmly (but gently) press down on each sheet to work out air bubbles. If using a 9 x 9-inch pan, tuck the excess phyllo down along the sides of the pan, or fold over top.

After 8 sheets are layered, distribute half of the kale filling over the phyllo. Arrange 8 more sheets of phyllo over the filling, brushing each with olive oil as described above.

Distribute the second half of the kale filling over the phyllo. Arrange the last 8 sheets of phyllo and remaining olive oil over the second filling layer, in the same manner as described above, making sure to brush the surface of the top phyllo sheet with olive oil.

Bake for 20-25 minutes, or until golden brown on top. Cut into 6 to 8 squares and serve.
Notes
While preparing the spanakopita, keep your phyllo covered with a damp dish towel, as the sheets will dry out quickly otherwise.
A 9 x 13-inch baking dish is the easiest way to go with this, because that's pretty close to the dimensions of most phyllo sheets. I prefer a 9 x 9-inch pan though, because it results in a thicker spanakopita that holds up better during cutting.
Nutrition
Calories:
3643
kcal
Carbohydrates:
606
g
Protein:
85
g
Fat:
91
g
Saturated Fat:
20
g
Polyunsaturated Fat:
14
g
Monounsaturated Fat:
51
g
Sodium:
5769
mg
Potassium:
1082
mg
Fiber:
23
g
Sugar:
4
g
Vitamin A:
1010
IU
Vitamin C:
15
mg
Calcium:
165
mg
Iron:
38
mg
Craving more veg-friendly recipes?
Shop our collection of vegetarian and vegan cookbooks, including our new Vegan Thanksgiving and Vegan Christmas cookbooks!