Trying to figure out what to eat in the weeks leading up to the holidays is always tough, but this week's meal plan focuses on easy, healthy meals that will give you the energy to push through all the holiday prep while allowing you to make room for all of the indulgence that is to come. Between a richly spiced lentil soup, a hearty three-bean chili, and a vegetarian bolognese that is made entirely out of pantry ingredients, this week's meal plan is legume-rich and full of hearty fall favorites.
Here's this week's meatless meal plan:
Monday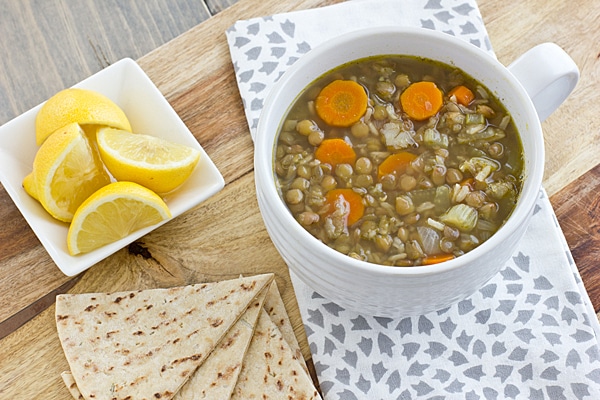 Middle Eastern Lentil and Rice Soup // I always love starting off the week by cooking up a big pot of a hearty soup that I can eat my way through. There is something really comforting about knowing that I have a few nights' dinners and even a few lunches stored away in the fridge, ready and waiting for me. This spiced lentil soup is both gluten-free and vegan, and it will keep you warm on those cold fall nights.
Tuesday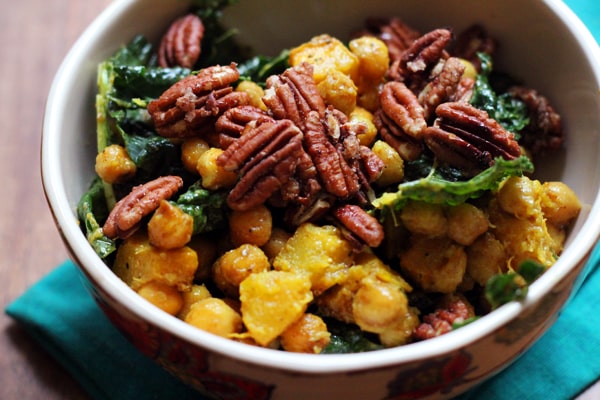 Kale Salad with Butternut Squash, Chickpeas, and Tahini Dressing from Foodiecrush // Hearty salads are some of my favorite kinds of dinners and this definitely fits the bill. Curry spiced roasted butternut squash and chickpeas are tossed with hearty kale and spiced pecans to make a fall salad that is big on flavor! If you have leftovers from Monday, serve it tonight for a soup-and-salad dinner.
Wednesday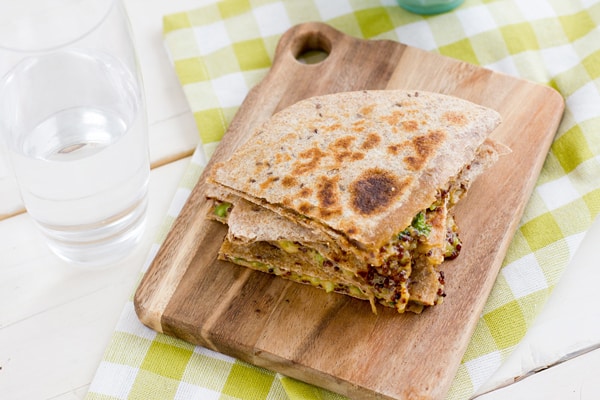 Broccoli Quinoa Quesadillas // A fiesta on a Wednesday? Sounds good to me! Stuffed with broccoli, quinoa and a handful of cheddar, these quesadillas are as delicious as they are good for you.
Thursday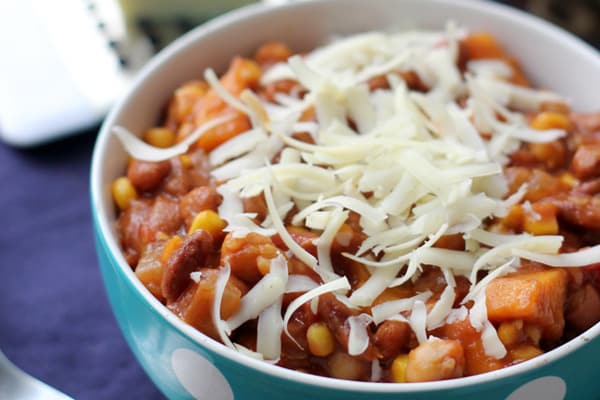 Spicy Three-Bean and Corn Chili from Eats Well With Others // Curling up with a big bowl of chili is one of my favorite fall pastimes, and this three-bean chili is veggie-stuffed with just the right amount of spice.
Friday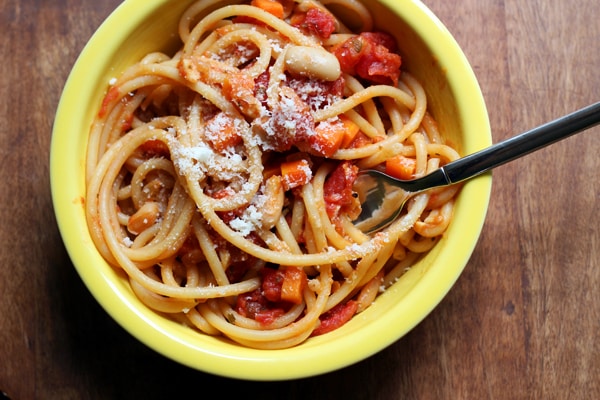 Spaghetti with Cannellini Bean Bolognese from Blogging Over Thyme // This vegetarian bowl of pasta comfort is just as hearty as its meaty namesake...and bonus that it's made entirely from pantry ingredients!
Tips For This Week's Plan
Between the lentil soup and the chili, you will have tons of leftovers that can be eaten as midweek lunches or as supplements to the kale salad, if you feel like that isn't filling enough.
You might be able to find candied pecans at Trader Joe's or another grocery store. If you can't find them in the store, Foodiecrush links to a recipe from Gimme Some Oven here. If you decide to make them, you'll need to add those ingredients to the list. Note that the recipe makes 6 cups of pecans, but you only need ½ cup for the salad, so you'll have lots of leftovers!
Make the candied pecans (if you're not using store-bought) and roasted butternut squash for the kale salad ahead of time so that when it comes time to eat, all you have to do is mix up the dressing and toss everything together.
Though the chili recipe calls for dried beans, you can substitute one can each of chickpeas, black beans and pinto beans to make it more weeknight-friendly. Or prepare the dried beans ahead of time so they are ready to go when you make the chili!
Chili toppings aren't included in the meal plan, but feel free to top with whatever you like: shredded cheese, sour cream, olives and pickled jalapenos are some of my favorites.
Vegetable broth can be substituted for the white wine in the pasta sauce if alcohol just isn't your thing.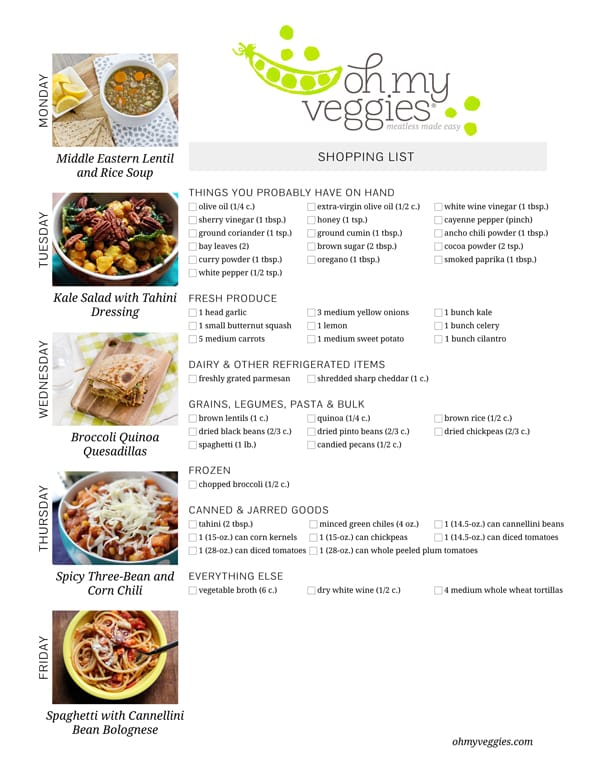 Click here for a printable version of this week's meatless meal plan and shopping list, then click on the links above to print out each recipe. Now you're set for the week!
Find more dinner ideas from our Meatless Meal Plan archives.