The holidays are fast approaching, meaning sweets, treats and heavy meals galore are soon to adorn our plates. The anticipation makes me want to get in as much healthy eating as I can. At the same time, the weather is chilling, fires are lighting and daylight is waning. Some comfort food would certainly be welcome, so this week's meal plan is all about hearty, healthy comfort recipes, with a little extra spice to warm you up. Bonus: the spices in these recipes are bound to fill your house with an array of amazing aromas throughout the week.
Here's this week's meatless meal plan:
Monday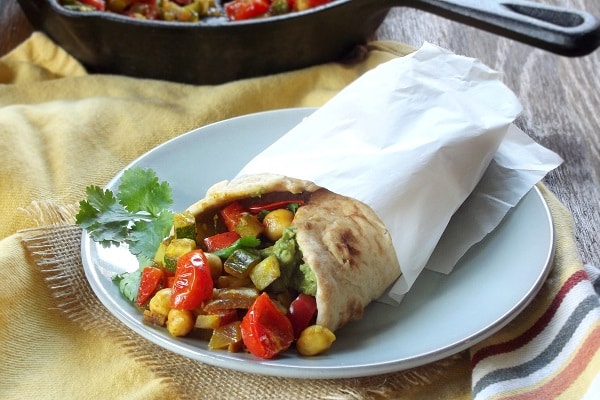 Curry Roasted Vegetable and Avocado Naan-wiches from Naturally Ella // Curry-spiced veggies are briefly roasted and then stuffed into naan loaves spread with avocado mash. These hearty sandwiches are almost too easy to put together.
Tuesday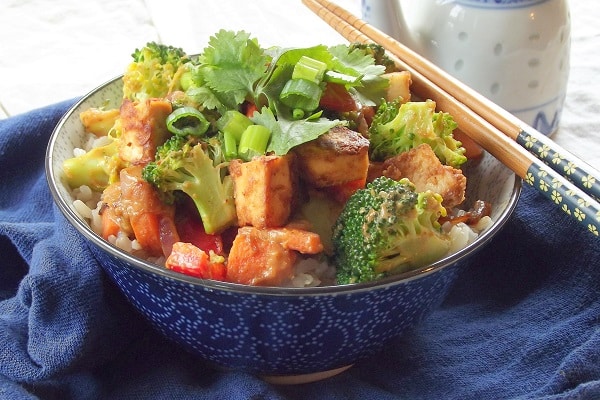 Broccoli Pepper Stir Fry with Ginger Peanut Sauce from My Darling Vegan // Rich peanut sauce transforms tender-crisp stir-fried veggies and baked tofu into a warm bowl of exotic veggie goodness. Ginger gives the peanut sauce a mild kick that's sure to warm you up.
Wednesday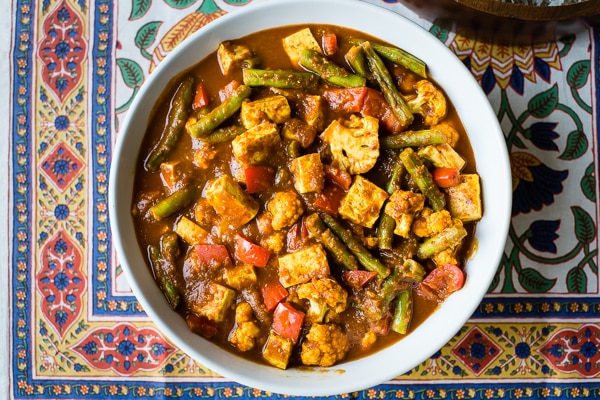 Tofu Vindaloo // Tofu and veggies simmer away in a spicy tomato-based sauce in this vegan twist on an Indian classic. This one packs some spice; be sure to have some rice or naan on hand to soak up the sauce.
Thursday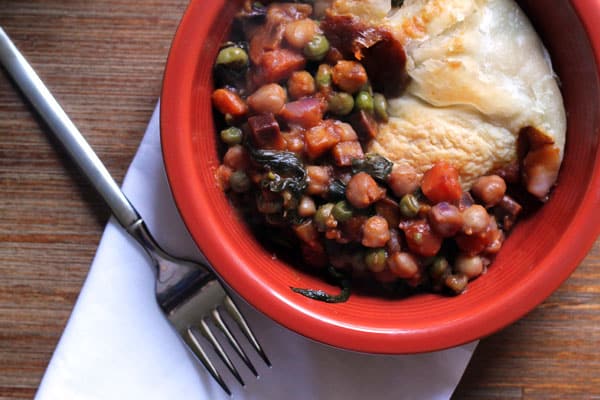 Easy Chickpea Pot Pie // Is there anything more comforting than a pie you eat for dinner? These pot pies are loaded with seasonal veggies and chickpeas, so you can take comfort in knowing that you're eating a pie filled with (delicious) good-for you stuff!
Friday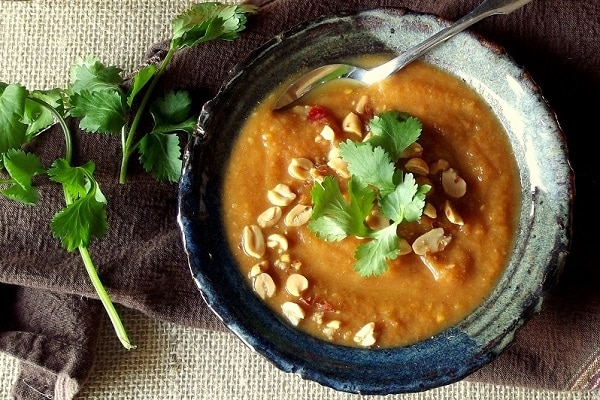 Gingery Carrot Stew with Peanuts and Cilantro from Connoisseurus Veg // North African spices, fresh cilantro and roasted peanuts make this stew more than meal-worthy. This soup thickens over time, so you may want to make a big batch and serve leftovers over the weekend.
Tips for this Week's Meal Plan
You should have about a cup of chickpeas left over from Monday's nann-wich recipe. Not sure what to do with them? Roast or pan-fry them for a tasty snack! Kare at Kitchen Treaty's got you covered here and here. Both recipes call for a full can, so just make sure to adjust the amounts of the rest of the ingredients accordingly. If you go this route, you'll need to add the ingredients to the list, but you probably have almost all of them in your pantry already.
The red onion is used for both Monday's and Tuesday's recipes, so make sure to save the remaining half after you make the naan-wiches.
Naan is only listed as an ingredient in Monday's recipe, but it would go well with just about any of the dishes – it could even replace the rice in Tuesday's and Wednesday's meals. We've included rice in the shopping list for both days, but feel free to get extra naan instead - just make sure it will last that long!
If you do opt to go with rice, make all of it on Tuesday so you have leftovers on Wednesday.
We left the toppings off the list for Tuesday's stir fry, so be sure to add whatever toppings you'd like to your shopping list.
You'll have about a half package of tofu left over from the stir fry, so if you don't expect to use it soon, tofu freezes exceptionally well.
You can make the entire meal plan vegan if you use vegan puff pastry in Thursday's Chickpea Pot Pies. Vegan commercial brands are generally pretty easy to find.
Fresh cilantro makes multiple appearances in this meal plan. Seek out a healthy looking bunch, so it stays fresh until the end of the week.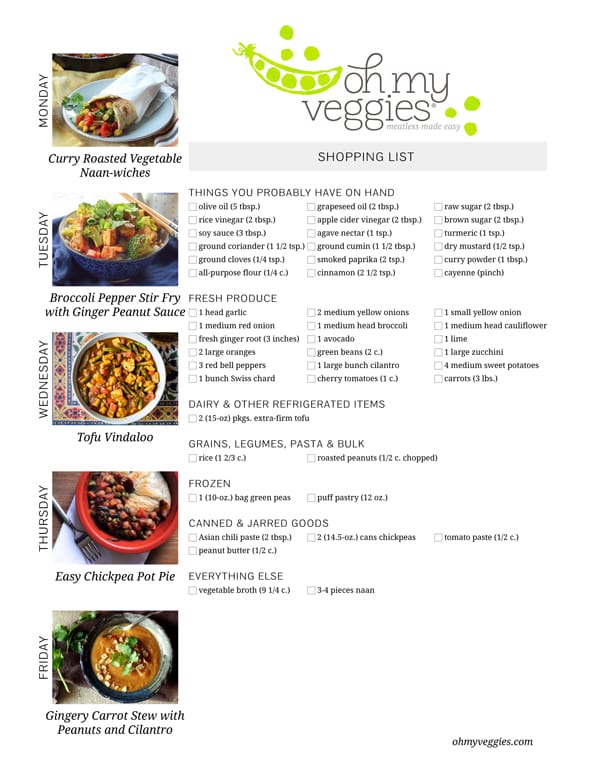 Click here for a printable version of this week's meatless meal plan and shopping list, then click on the links above to print out each recipe. Now you're set for the week!
Find more dinner ideas from our Meatless Meal Plan archives.