This week starts out with salad and ends with pizza -- because pizza is the best way to end the week, isn't it? Especially when it's a pizza topped with barbecue sauce and crispy tofu. That's a pizza that says "Hello weekend!" We've also got a chickpea salad with grilled corn, cheesy quesadillas filled with veggies and homemade cilantro pesto, and Thai sweet potato nachos. Everything is better with peanut sauce!
Here's this week's meatless meal plan.
Monday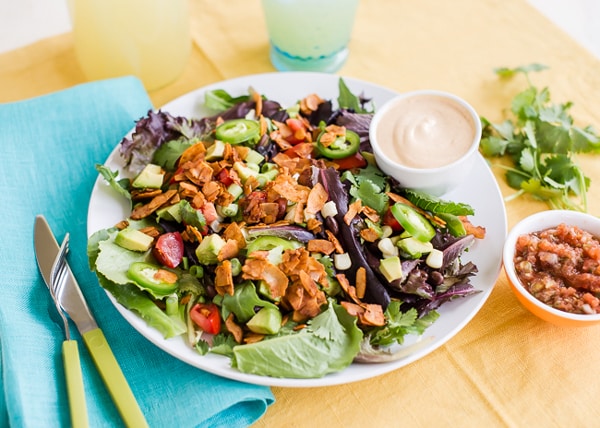 Vegan Southwest BLT Salad from Henry Happened // What's the best thing about this salad? The smoky coconut bacon? The zesty dressing? The fresh sweet corn? It's impossible to choose! I'm pretty sure this is going to be your new favorite salad.
Tuesday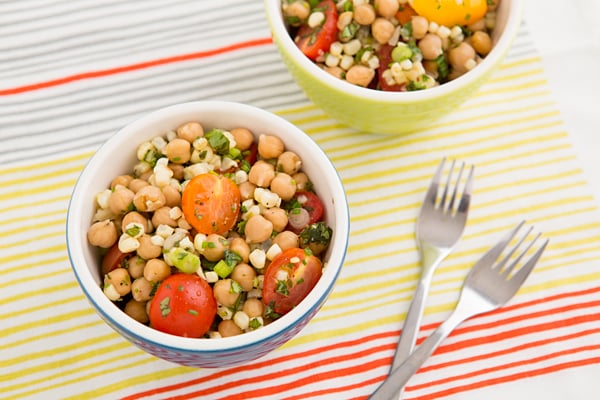 Summer Chickpea Salad with Honey Garlic Lime Vinaigrette from How Sweet It Is // There are many chickpea salads out there, but the sweet, garlicky dressing on this one takes it over the top. And hooray -- more corn!
Wednesday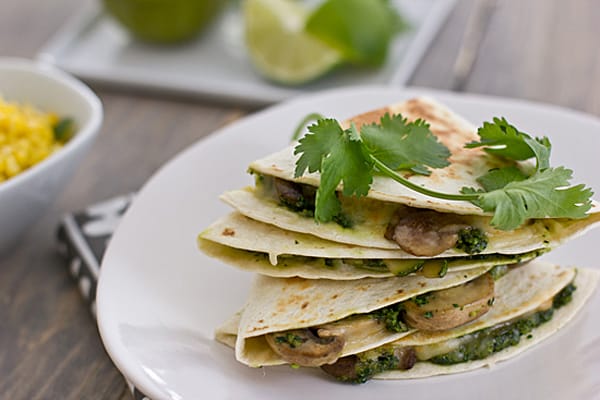 Mushroom Zucchini Quesadillas with Cilantro Pesto from Oh My Veggies // You could serve these quesadillas with salsa on the side, but you don't really need it because they're packed with flavor thanks to a generous layer of cilantro pesto.
Thursday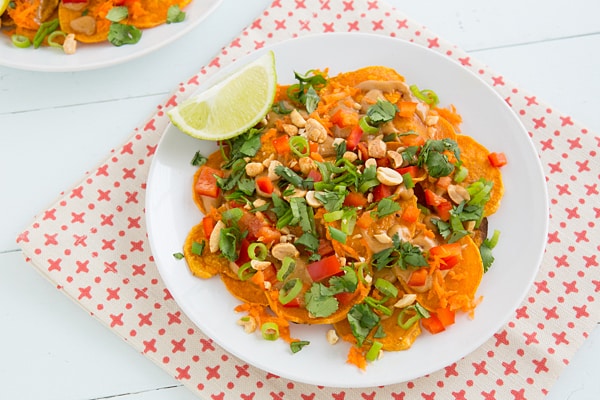 Thai Sweet Potato Nachos from Oh My Veggies // Did you know that in Thailand, they make nachos with sweet potatoes and peanut sauce? No, they don't, that's a lie. But these Thai-inspired nachos are still a winner, even if they're not authentic.
Friday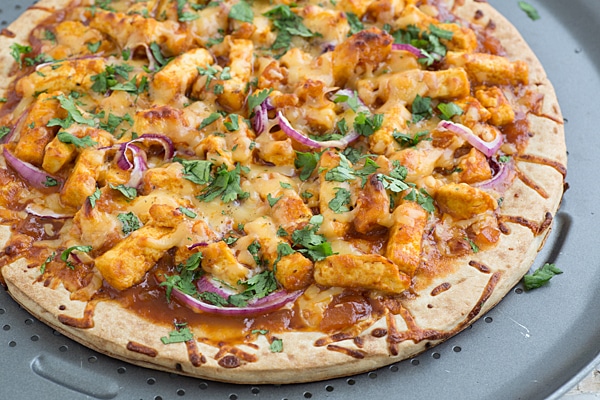 Barbecue Tofu Pizza from Kitchen Treaty // Barbecue and pizza, together at last! You worked hard this week, so sit back and enjoy a slice of pizza. Don't sit too far back though, that's a choking hazard.
Tips for This Week's Plan
Fresh corn doesn't last very long! Grill all 4 ears on Monday -- use half of the grilled corn for the BLT salad and the other half for Tuesday's chickpea salad.
Don't have an outdoor grill? No worries! An indoor grill or grill pan will work just fine for grilling the corn. Just make sure to shuck your corn first.
You'll have extra tortillas -- cut them into strips, brush them with oil, and bake them in the oven as an addition to Monday's salad.
There's a lot of lime juice in this week's recipes! Instead of buying a separate lime for zesting, just zest one of the ones you've already bought for the pesto.
The coconut bacon is so good, you'll probably want to use all of it on your BLT salad! But if you've got extra, we're posting a recipe later this week that calls for it (spoiler alert: it's a dessert!), or you can give our Strawberry Salad with Coconut Bacon recipe a try.
The crispy tofu recipe that tops the pizza calls for vegetable or canola oil, but grapeseed or any other high smoke point cooking oil works too.

Click here for a printable version of this week's meatless meal plan and shopping list, then click on the links above to print out each recipe. Now you're set for the week!

Find more dinner ideas from our Meatless Meal Plan archives.