from I have always loved perusing the internet for new food sites to swoon over and knowing that I have this meal plan to work on each month has made the hunt even more fun for me. Besides flavor, I look for ease of preparation, diversity of ingredients, and color when I am hunting recipes to share. Who wants to eat a week's worth of brown meals? Not this girl! This week's meal plan is by far my best yet. Lots of fun flavors and bright colors, from some of my favorite meal inspiration spots on the internet. Let's dig in!
Monday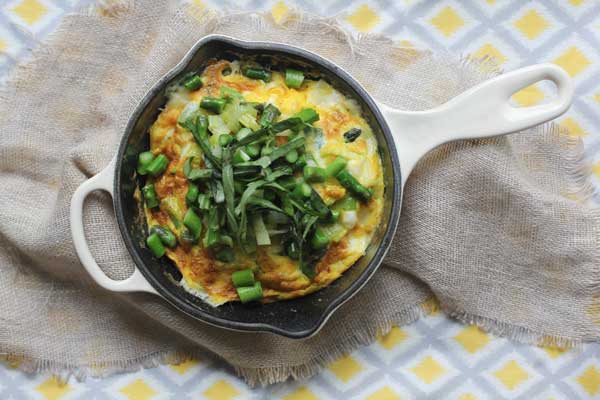 Asparagus & Leek Frittata from Tasty Yummies // Every week the most beautiful farm fresh eggs are delivered straight to my door so I'm always looking for new recipes to showcase them. As soon as I saw this fritatta, I knew it was destined for my dinner table. Asparagus and leeks are a match made in heaven and when you add Fontina and Parmesan cheese into the mix, well that takes this frittata from being delicious to downright decadent. I always reserve a heaping ¼ cup of the cooked veggies from the pan before adding the eggs and add them back on top with fresh herbs like basil and parsley after the fritatta comes out of the oven. It's not a must do, I just like the way it looks on the dinner table.
Tuesday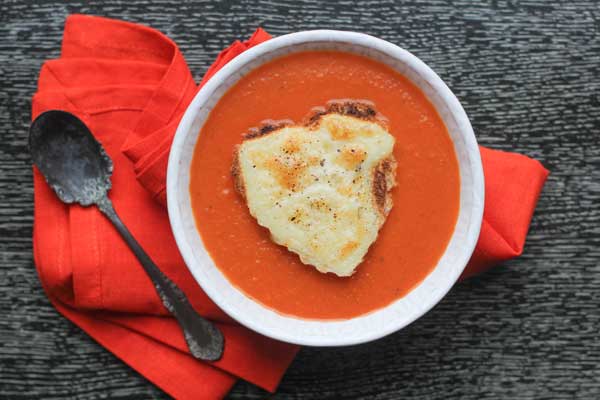 Tomato Soup and Grilled Cheese Toasts from Aida Mollenkamp // Let me start by saying that this soup is going to blow your mind! Fresh squeezed orange juice and cinnamon set this soup apart from the rest. Since we are on a gluten-free diet I used gluten-free sandwich bread for my grilled cheese toasts.
Wednesday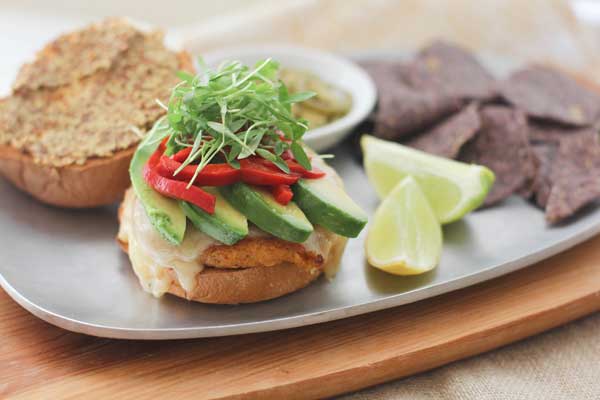 Sweet Potato Burgers from What's Gaby Cooking // Just looking at this picture makes me wish I had another one of these sweet potato burgers! I pulsed crispy brown rice cereal a few times in the food processor as a gluten-free substitute for the panko--if you eat a gluten-free diet too, you'll want to add crispy brown rice cereal to the shopping list if your grocery store doesn't sell gluten-free panko. Serve these burgers with a side salad and your favorite chips.
Thursday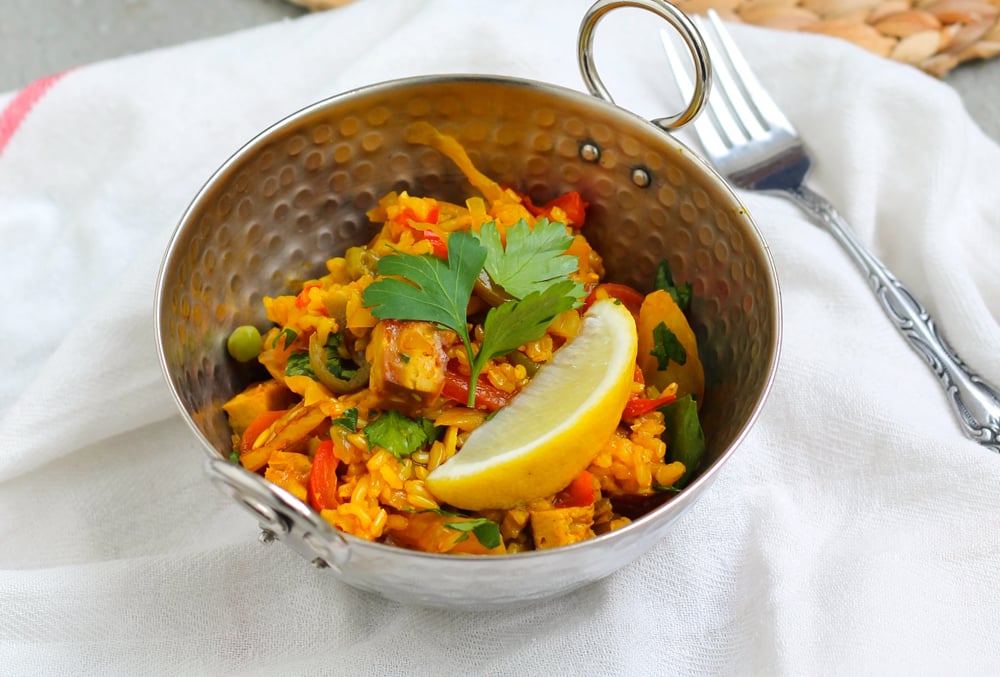 Vegan Paella With Smoked Tofu // This vegan paella may not be totally traditional, but I promise you what it lacks in authenticity it more than makes up for in flavor. I've replaced the classic Calasparra rice with short-grain brown rice to turn out a more healthful paella. Cubes of smoked tofu take the place of the traditional chorizo to keep things vegan, and a blend of peppers, carrot, fennel, and peas pack some good nutrition into this one-pan meal.
Friday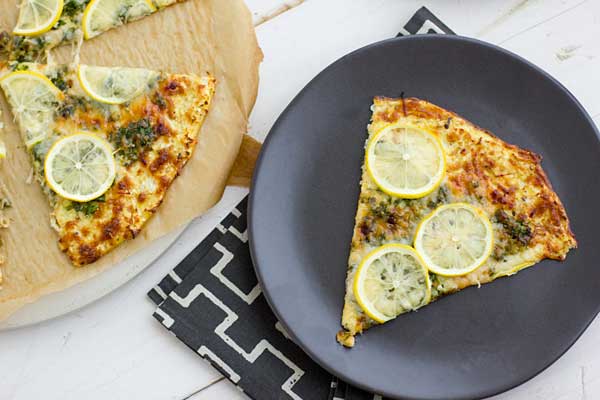 Lemon Gremolata Pizza from Oh My Veggies with Cauliflower Pizza Crust from Your Lighter Side // I must admit I was a little skeptical of lemons on pizza, but man was this good! I am a huge fan of cauliflower pizza crust because I can sneak more veggies into my kids' dinners. I served this pizza with salad.
Tips for This Week's Plan
I added a bagged salad mix and salad dressing to the shopping list. A light salad rounds out the veggie burger and pizza dinners.
Good news: the tomato soup freezes and reheats beautifully! So if you have leftovers, know that you can pop them in the freezer for later. (Or maybe you'll want to double the recipe!)
I shared my tips for making the perfect fritatta on Potluck last year. If this is your first frittata rodeo, you might want to check it out!
Leftover paella makes a great stuffing for bell peppers.
Saffron threads aren't available at every grocery store and they can be a little pricey too! Feel free to leave them out of the paella--no worries, it will still be tasty.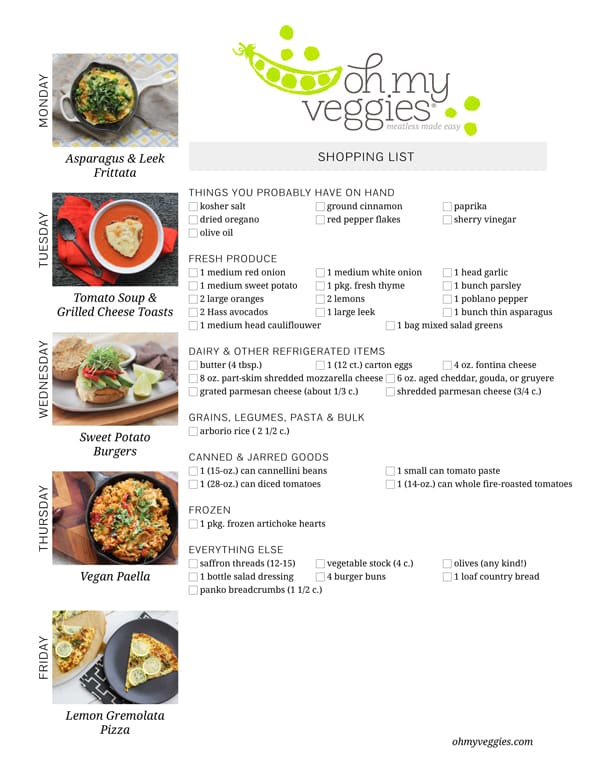 Click here for a printable version of this week's meatless meal plan and shopping list, then click on the links above to print out each recipe. Now you're set for the week!