These Slow Cooker Smoky Refried Black Beans are super versatile! Serve them up on tostatas with some tasty toppings for a full meal.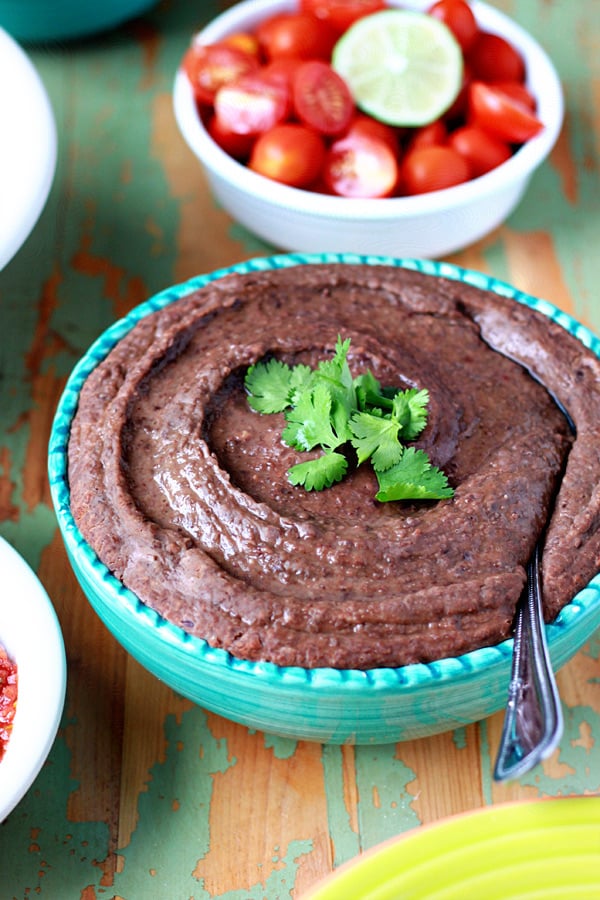 Jump to:
Refried beans may not be the most attractive foodstuff on the planet, but when they are done well, taste firmly trumps looks. They're often made with lard, but as a vegetarian, that's a no-go. So these lard-free refried beans cooked in the Crock Pot are basically my best friend.
The version I'm sharing here, Slow Cooker Smoky Refried Black Beans, is a twist on that base recipe. It turns a plain ol' bag of dried black beans and a few smoky spices into pure bean bliss. All you need is your slow cooker, an immersion blender, and 15 minutes of hands-on time!
With tostadas and these easy refried black beans, the possibilities are endless! Try setting out a tostada spread, inviting over all your friends, and doing tostada night, DIY style?
How to Make Slow Cooker Smoky Refried Black Beans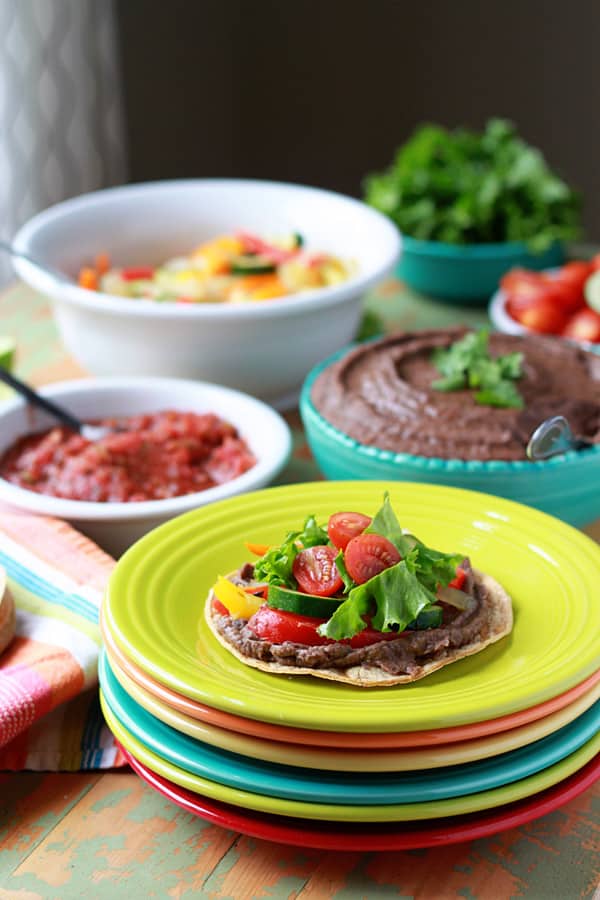 Cook dry beans overnight.
Rinse beans.
Add spices.
Cook beans again.
Check liquid level and puree beans.
Cook beans a bit longer and adjust consistency.
Season and serve beans.
Full directions for how to make Slow Cooker Smoky Refried Black Beans are in the printable recipe card below.
Slow Cooker Smoky Refried Black Beans FAQs
How should I serve these refried beans?
So what can you do with your brand spankin' new batch of refried black beans after you've slow-cooked them up? You can top a scoop with melty cheddar cheese for an instant lunch, mix them with rice and salsa for an easy burrito filling, or spoon them onto tortilla chips and sprinkle with cheese for simple nachos. Serve your refried beans smeared onto crisp corn tortillas and topped with whatever toppings you prefer. This list should get you started:
shredded lettuce or other fresh greens
sautéed veggies, I like onions, bell peppers, and zucchini sautéed with a bit of oregano
sweet corn
roasted squash or other hearty veggies
diced avocado or guacamole
diced tomatoes or halved cherry tomatoes
fresh cilantro leaves
salsa
pico de gallo
shredded cheddar cheese, or pepper jack
crumbled queso fresco, or cotija or feta
Can you freeze these refried beans?
You can easily bag up your extra beans and freeze them for later. I suggest freezing them into serving sizes so you can easily thaw one serving without thawing all of them.
Recipe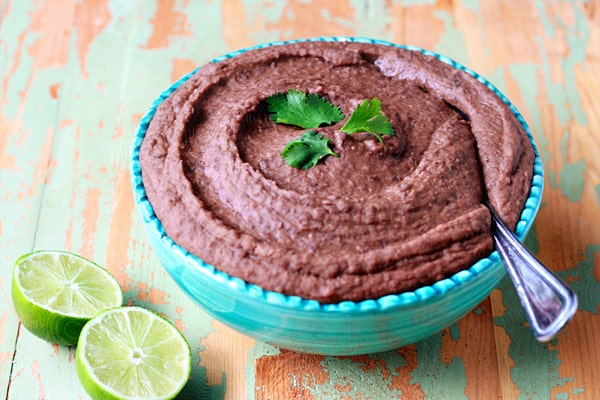 Instructions
Rinse the beans and pick through them, discarding any debris. Place the beans in a 3-quart or larger slow cooker and fill it with water to about 2–3 inches above the beans. Cover and let sit overnight, or for 8–12 hours.

Pour the beans into a colander to discard the soaking water. Rinse and return the beans to the slow cooker.

Add the vegetable broth, olive oil, garlic, onion powder, cumin, chili powder, smoked paprika, and salt. Stir.

Cook on low for 8–10 hours or until the beans are cooked through.

Turn the slow cooker off and remove the lid to allow the beans to cool slightly.

Before pureeing, check the liquid level. Slow cookers can vary, so if you find that the liquid is still above the level of the beans when it comes time to puree them, you may want to skim a little of the liquid and reserve it for thinning later on.

With an immersion blender or by working in batches with a high-powered blender or food processor, carefully puree beans until your desired consistency is reached (you might like your beans to be 100% smooth, or chunky with a few beans still left whole).

Turn the slow cooker back on the low setting and let beans cook for another 30 minutes to thicken.

Check the consistency; if the beans are too thick, add additional vegetable broth and stir. If they're too thin, let them sit and cook for a little longer.

Taste and add additional salt if needed and squeeze half a lime over the beans right before serving, if desired.
Notes
To freeze: Allow the beans to cool, then freeze them in a large freezer bag or airtight plastic container. When you're ready to eat the beans again, take them out of the freezer and let them thaw in your refrigerator. If you've frozen the beans in a microwave-safe plastic container, you can use the thaw setting on your microwave to thaw them. Once thawed, cook the beans on the stovetop on medium heat until heated through or microwave in a microwave-safe container, stirring every 2–3 minutes, until heated through.
Nutrition
Calories:
233
kcal
Carbohydrates:
32
g
Protein:
11
g
Fat:
8
g
Saturated Fat:
1
g
Polyunsaturated Fat:
1
g
Monounsaturated Fat:
5
g
Sodium:
1007
mg
Potassium:
450
mg
Fiber:
10
g
Sugar:
2
g
Vitamin A:
660
IU
Vitamin C:
2
mg
Calcium:
48
mg
Iron:
3
mg
Craving more veg-friendly recipes?
Shop our collection of vegetarian and vegan cookbooks, including our new Vegan Thanksgiving and Vegan Christmas cookbooks!