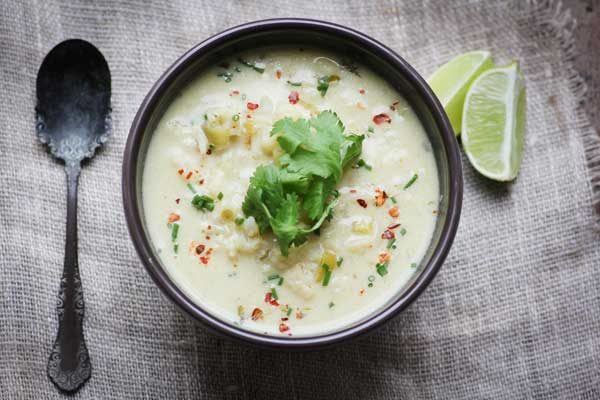 These mouth-watering recipes all have one delicious ingredient in common -  freshly roasted cauliflower. Therefore, in order to prepare any of them, you'll need to have that handy first. So grab some cooking oil (we like olive) and toss a little in a bowl with your chopped cauliflower and favorite spices (we like garlic, salt and pepper - but not too much). Then place in your 400 degree (Fahrenheit) oven on a baking tray for around 30 - 40 minutes (turning once) or until golden brown. Once this step is complete, you're ready to create some of these tasty soup blends for lunch, a side dish/appetizer or even as a main dish for dinner. Note: some of these have additional veggies to roast with the cauliflower, so read ahead and see what else needs to go in the oven as well.
This is the simplest version to try first, although it requires a blender and large pot for two separate steps - but you're guaranteed the creamiest, smoothest results. Serve with warm garlic bread or homemade croutons.
Yep, you'll need additional roasted butternut squash to add to the mix for this one, and once again a blender for the final product. Delicious, nutritious and colorful in your bowl!
Thick, rich and topped with melted cheese (try grated white cheddar, or a vegan substitute), this one's great for a cold or rainy evening at home.
This is another one more for vegetarians than vegans (it calls for full fat dairy milk - or you could try substituting with coconut cream).  It's easier to make than it sounds, but you'll need an immersion blender for best results (or just blend up portions of it in a regular blender one at a time).
Completely vegan, divinely fragrant, smooth and topped with roasted chickpeas. Serve this one in your nicest bowls.
Cajun blackening spices give this one its kick, with a choice of homemade or store bought spice blends included. Add the spice carefully as it tends to be on the warm side!
It takes only an hour from start to finish with this one - and it's protein and vitamin-rich bursting with the lentils and other veggies.
Toss a little asparagus in for the roasting step with this version - and sprinkle some pistachios on top for garnish at the end. This one is pretty and superb to serve guests!