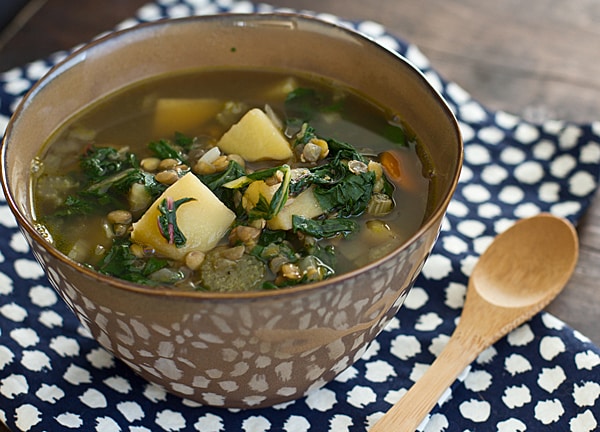 Our vegan meal plans are 5-day menus that serve a family of 4 — or less if you don't mind leftovers! Click on each of the meal links below to get printable recipes, then print the meal plan and shopping list at the bottom of this post.
Here's this week's vegan meal plan:
Monday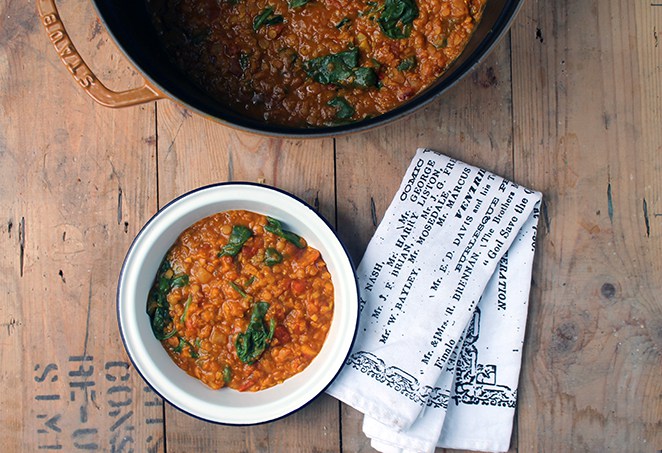 Red Lentil Dahl // This Indian-inspired lentil stew cooks up easily in one-pot and is perfect served over basmati rice.
Tuesday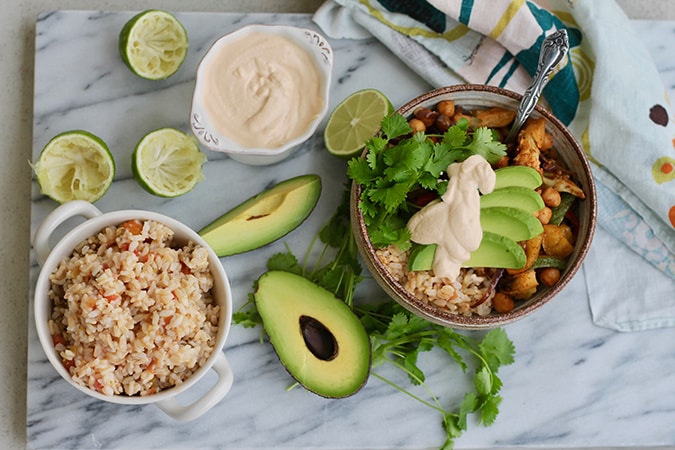 Vegan Sheet Pan Fajita Bowls with Spicy Chickpeas and Cauliflower // The veggies and chickpeas for these bowls bake up together in the oven, making this a delicious meal that comes together in a cinch.
Wednesday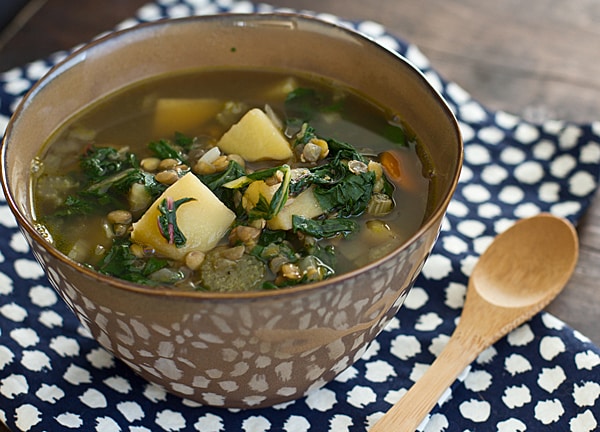 Chard Lentil & Potato Slow Cooker Soup // With chunks of potatoes and protein-packed lentils, this cozy soup is hearty enough to make a meal of.
Thursday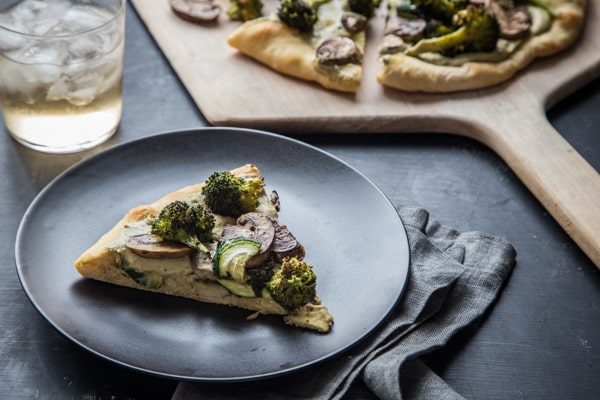 Roasted Vegetable & Pesto White Bean Hummus Pizza // Top your pizza with creamy hummus and you'll find you don't need cheese or sauce.
Friday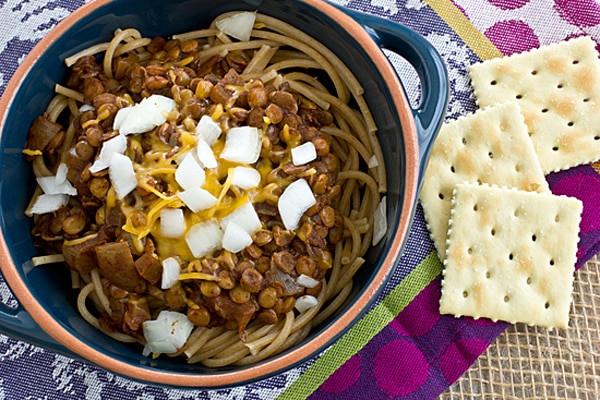 Vegan Cincinatti Chili // Lentils are a great replacement for meat in this flavorful vegan chili that gets served over spaghetti.
Printable Meal Plan & Shopping List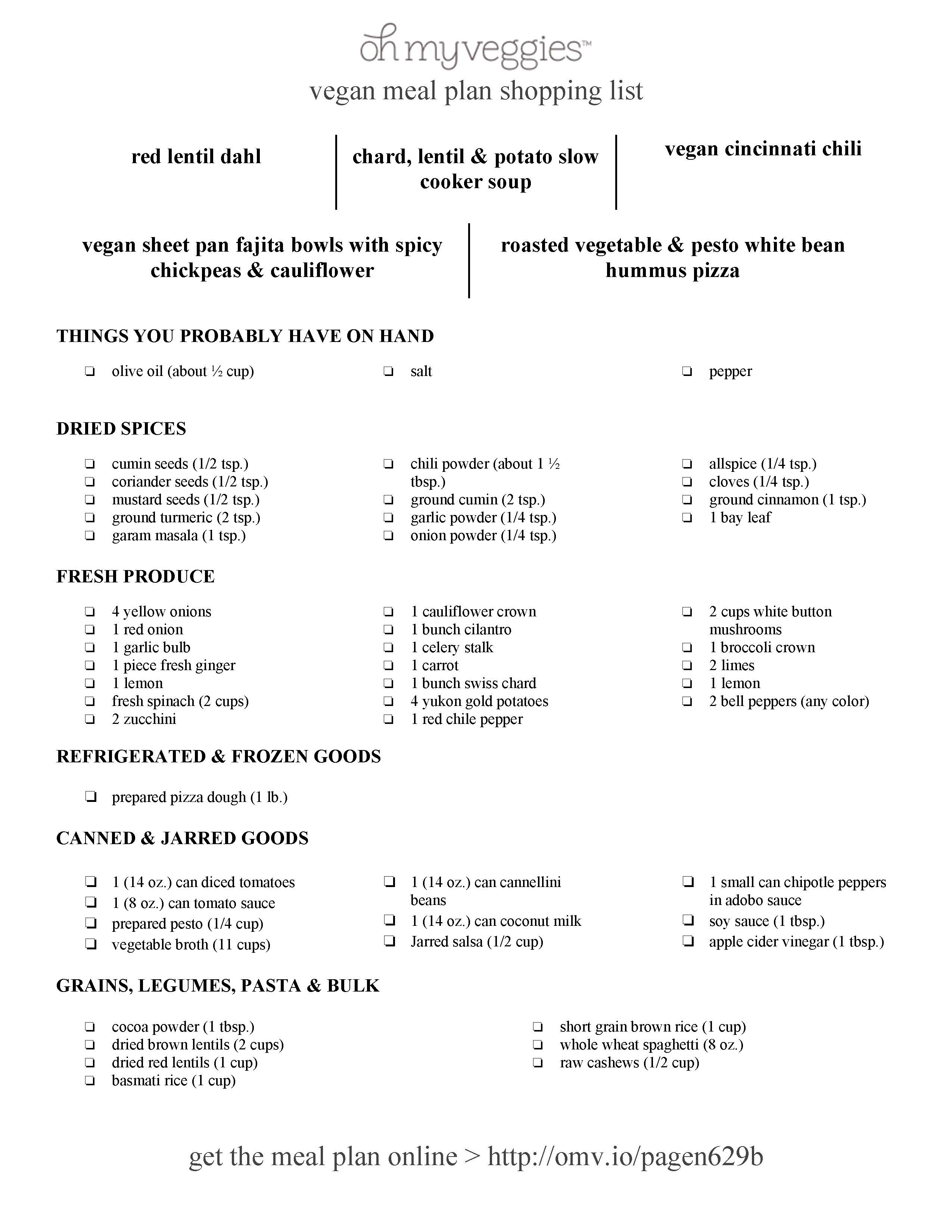 Tips for This Week's Vegan Meal Plan
Save the second half of your onion from Tuesdays fajitas as a topper for Friday's chili.
Add any other chili toppers you like to the list for Friday — vegan cheese, avocado, or cashew sour cream would all work.
Some stores carry white bean pesto hummus similar to the one used for Thursday's pizza. If you can find one and would like to use it instead of making your own, go ahead — you'll need about 2 cups.
There are two kinds of rice on this week's meal plan (brown and basmati), but feel free to pick your favorite and swap it out in one of the recipes.
You'll probably have some leftover chipotle peppers and adobo sauce. Seal them up and freeze them for later!
Amore is a popular vegan brand of pesto you can use for Thursday's pizza.
Click here for a printable version of this week's vegan plan and shopping list.
Find more dinner ideas from our Meatless Meal Plan archives.