This Vegan Cincinnati Chili puts a plant based twist on this cult classic dish. Whole wheat spaghetti is loaded up with a homemade lentil chili and topped with onions and vegan cheese. Yum!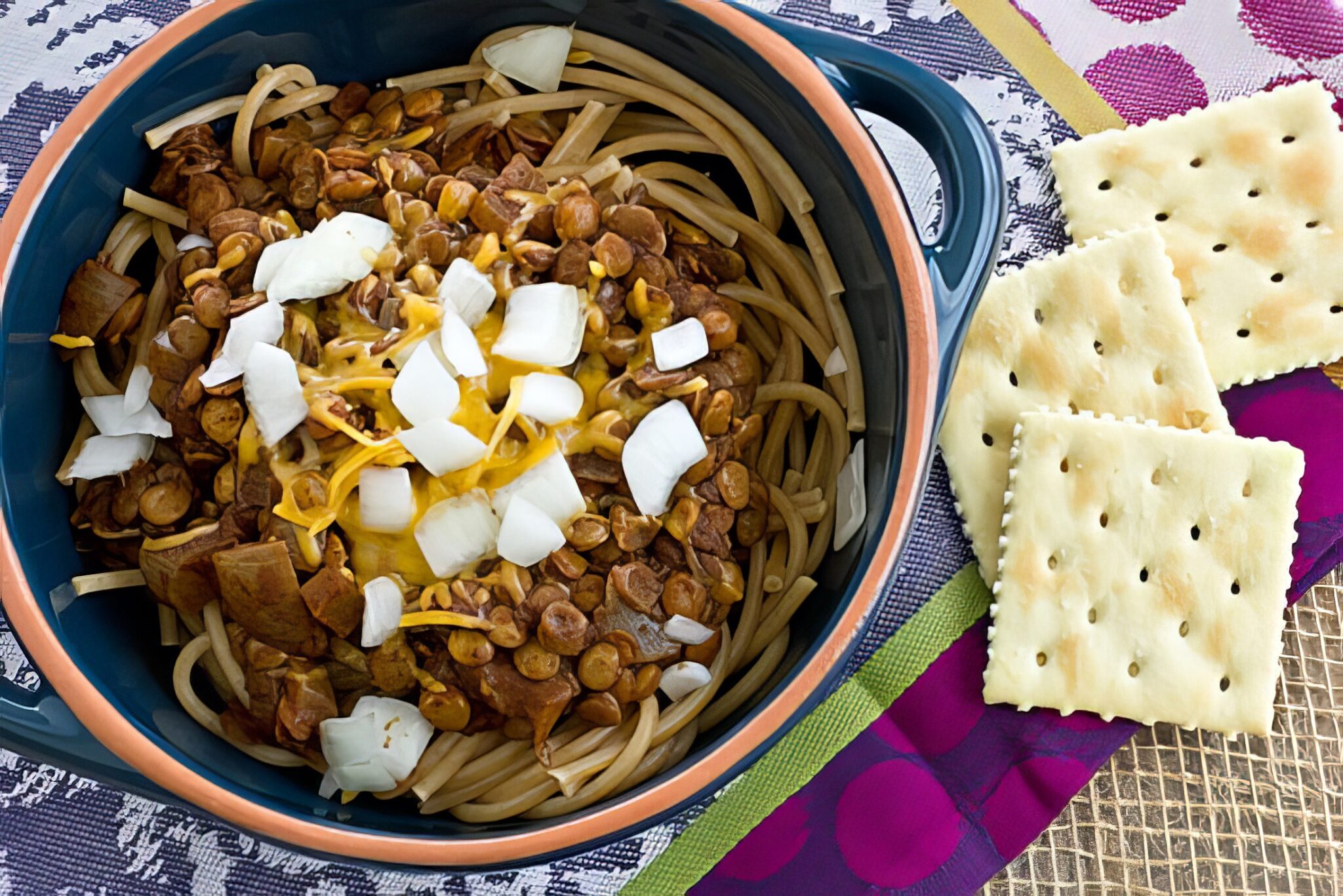 Chili with chocolate in it is one of those things that sounds so wrong, it just has to be right. The first time I heard about Cincinnati chili, I thought it sounded pretty gross.
Chili with cocoa powder? And spaghetti?! But then I realized that mole sauce has many of the same flavors as Cincinnati chili and I love that, so maybe these crafty Ohioans were onto something after all.
We used to live near a restaurant that sold vegan Cincinnati chili and it was always something that we meant to try, but never got around to doing. And then the restaurant closed. So I finally resolved to make my own vegan Cincinnati chili recipe. And it did not dissapoint!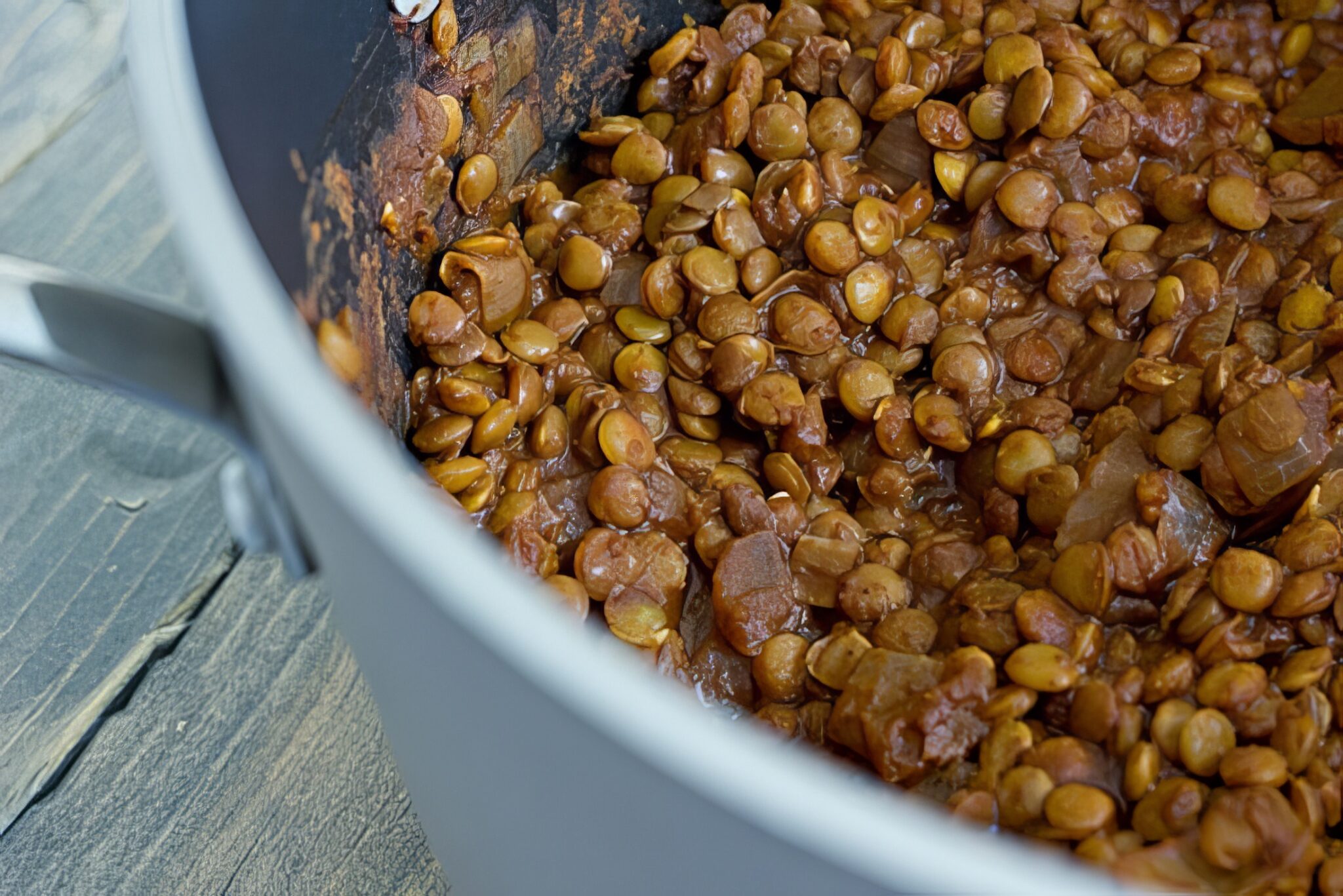 Jump to:
Vegan-izing Cincinnati Chili
The easy way take the meat out of this recipe would be to use those soy crumbles they sell in the freezer case at most grocery stores. When I first stopped eating meat, I heavily relied on all those frozen soy meat substitutes.
But they're highly processed using some questionable chemicals like hexane and they're made with genetically-modified soy. And, to be honest, I don't eat meat because I don't like meat, so I don't really feel the need to eat products that look, taste, and feel like meat, you know?
(The only meat substitute I regularly use is Field Roast. I love yoooou, Field Roast! And if you ever need a recipe developer, call me!)
Anyway! I decided to use lentils instead, since I know lentils are great in all kinds of vegetarian chili recipes. I was a little bit nervous that they'd fall apart while cooking as lentils sometimes do, but they stayed intact. And wow, I wish I had started making this vegan Cincinnati chili recipe years ago - the spices and addition of cocoa powder make the sauce reminiscent of mole.
It's like mole with slightly less assertive flavors, I guess. And lentils, well, lentils are good in everything, right? They're also way (way) cheaper than those frozen soy meat substitutes, making this recipe budget-friendly too.
More Tasty Recipes
If you love this vegan Cincinnati chili, be sure to check out these other delicious meatless ideas:
Recipe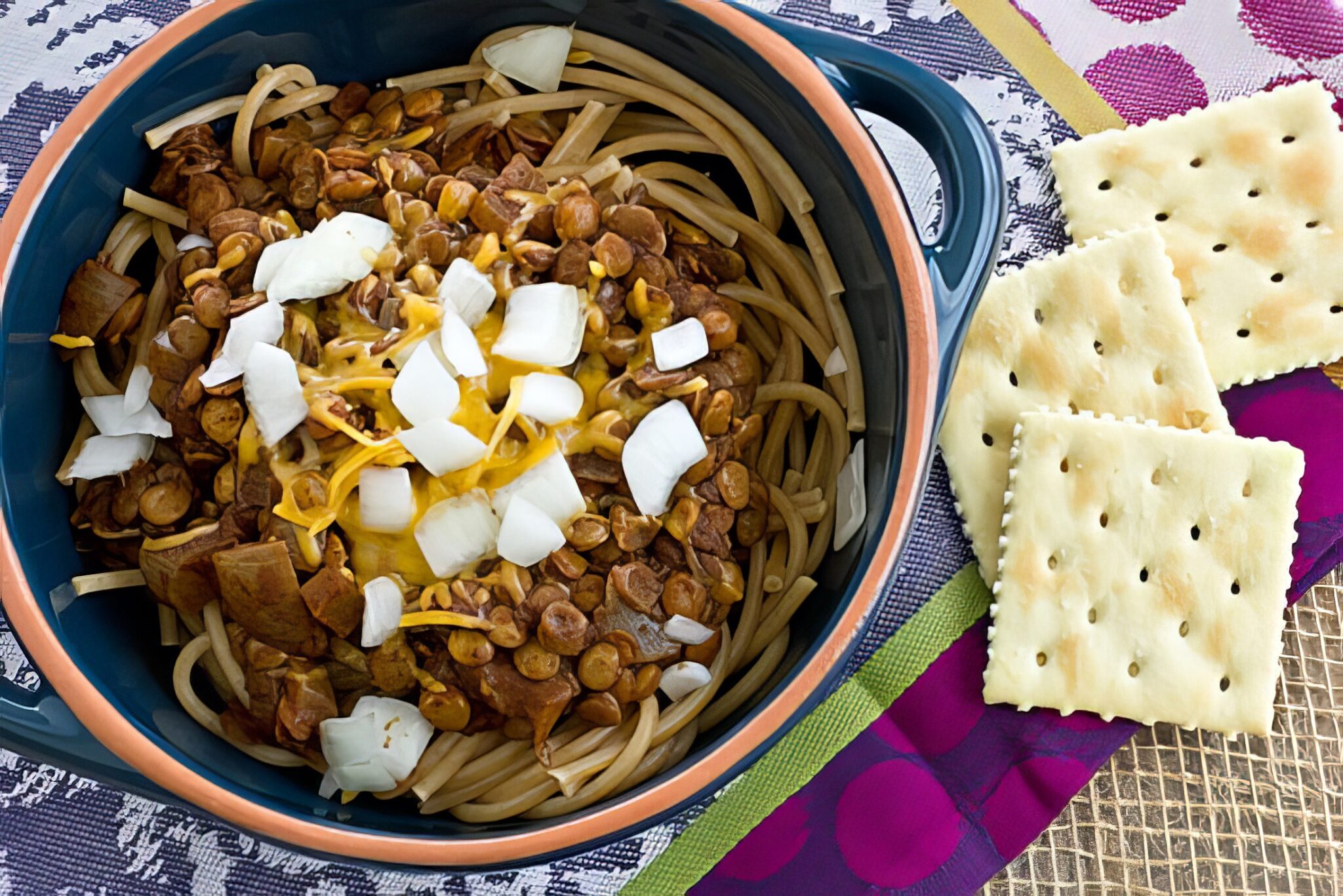 Instructions
Heat olive oil in a large pot over medium-high heat. Add onion and cook 3 minutes, or until softened, stirring often. Add chili powder through paprika; stir to coat and cook 1 minute.

Add vinegar, broth, tomato sauce, and lentils. Bring to boil. Reduce heat to medium-low. Simmer partially covered for 30 minutes (or until lentils are tender), stirring frequently.

Serve over whole wheat spaghetti and garnish with onion, cheese, and crackers.
Nutrition
Calories:
462
kcal
Carbohydrates:
87
g
Protein:
25
g
Fat:
4
g
Saturated Fat:
1
g
Polyunsaturated Fat:
1
g
Monounsaturated Fat:
2
g
Sodium:
1017
mg
Potassium:
949
mg
Fiber:
20
g
Sugar:
6
g
Vitamin A:
1285
IU
Vitamin C:
10
mg
Calcium:
89
mg
Iron:
8
mg
Craving more veg-friendly recipes?
Shop our collection of vegetarian and vegan cookbooks, including our new Vegan Thanksgiving and Vegan Christmas cookbooks!