This vegetarian shiitake mushroom gravy is so packed with flavor from fresh shallots and rich shiitake mushrooms, no would ever guess that it's entirely plant based! This is perfect served over mashed potatoes or homemade biscuits.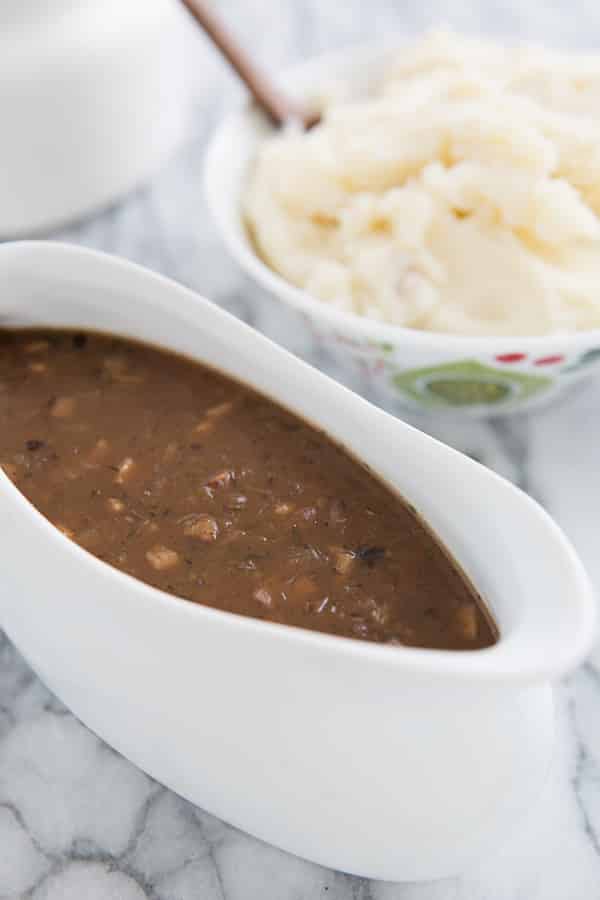 I had a pretty big freak-out over this post because I realized that I didn't have a gravy boat right before I was ready to start photographing it.
In my head, I had a gravy boat. But in reality? No gravy boat. I found an article on gravy boat alternatives from The Kitchn, which was helpful, but while I could definitely serve gravy in a water pitcher, I couldn't really photograph it in one because that would be weird, right? There's nothing like a big, tall pitcher of thick, refreshing gravy. Pour me a glass, please!
So I sent my husband to Target to buy me a gravy boat. He took pictures of each one they had in the store and I picked one out. Now I have a gravy boat for all my future gravy servin' needs. Crisis averted!
So if you too are a vegetarian that does not own a gravy boat, know that you can serve your gravy in a water pitcher or, failing that, send your better half to Target.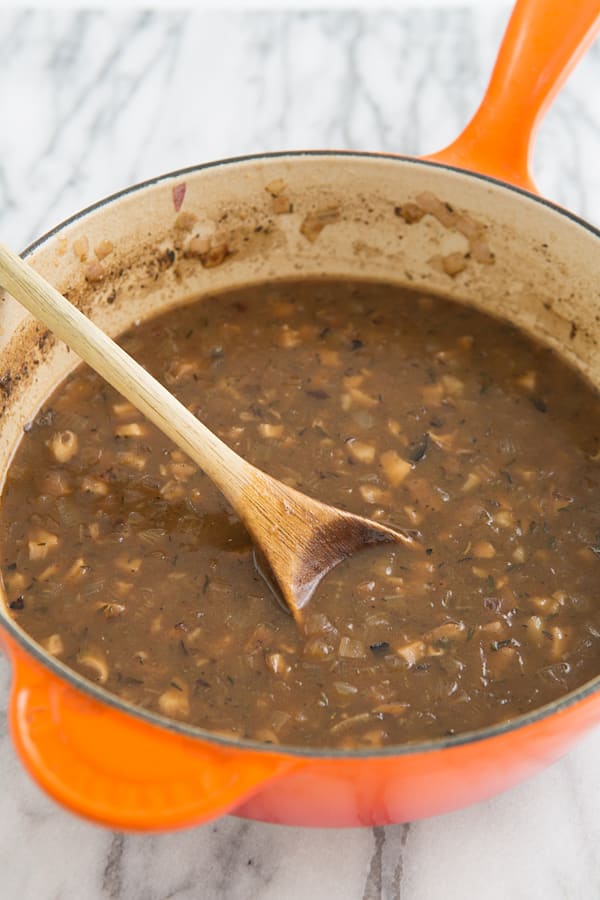 Mashed potatoes are an important part of holiday meals like Thanksgiving. And as I always say, you just can't have mashed potatoes without gravy. It would be a Thanksgiving travesty.
This Shallot and Shiitake Gravy can be made in advance and reheated later, so if you're going to someone else's house for dinner, you can bring it with you.
Which is the second thing I always say! If you want to make sure you can eat your Thanksgiving dinner, offer to bring a vegetarian dish or two. Your host will love you! And your fellow guests will probably steal your gravy.
It's really that good.
When you cook down the mushroom stock, the flavor gets concentrated, so you end up with a gravy boat (or water pitcher) full of savory deliciousness that will rival any turkey gravy.
This is perfect for serving over mashed potatoes, but is also wonderful over homemade vegetarian biscuits.
And if you love this recipe, be sure to check out these other tasty vegetarian gravy recipes.
Recipe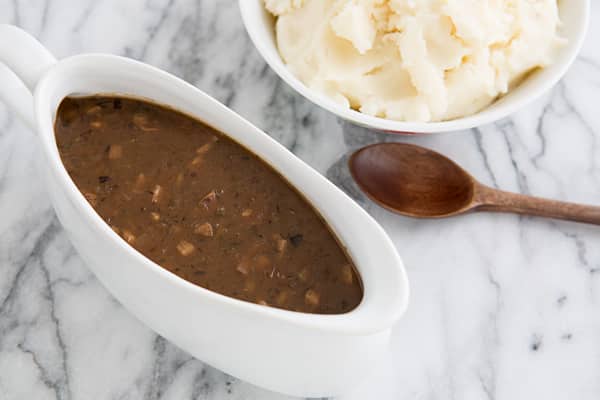 Instructions
Heat the oil in a medium saucepan over medium heat. Add the shallots and cook until browned, 7-10 minutes. Add the mushrooms and thyme and cook until the mushrooms release their juices, 2-5 minutes more. Pour in the wine and increase the heat to high. Once the wine has evaporated (1-2 minutes), pour in the mushroom stock. Bring to a boil, then continue to boil for 8-10 minutes, until the stock has reduced and thickened slightly.

Whisk the water and flour in a small bowl. Pour the flour mixture into the gravy and reduce the heat to low. Simmer until the gravy thickens, about 2 minutes. The gravy will thicken even more as it cools. Season to taste with salt and pepper.
Nutrition
Calories:
146
kcal
Carbohydrates:
14
g
Protein:
2
g
Fat:
7
g
Saturated Fat:
1
g
Polyunsaturated Fat:
1
g
Monounsaturated Fat:
5
g
Sodium:
1183
mg
Potassium:
176
mg
Fiber:
2
g
Sugar:
6
g
Vitamin A:
646
IU
Vitamin C:
3
mg
Calcium:
27
mg
Iron:
1
mg
Craving more veg-friendly recipes?
Shop our collection of vegetarian and vegan cookbooks, including our new Vegan Thanksgiving and Vegan Christmas cookbooks!