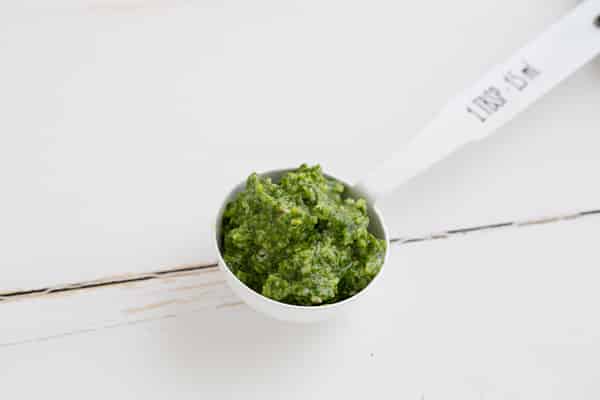 Protein can be a touchy subject for vegetarians and it's easy to see why -- when someone questions you about the fact that you don't eat meat, usually the first thing they ask is, "How do you get your protein?"
Sometimes it's a legitimate question, but sometimes it's a question that's meant to undermine our diets or trip us up. For a long time, my response was always, "There's protein in broccoli! You can get protein from a lot of sources besides meat!" and that was that.
But then I started counting how many grams of protein I was getting each day and I realized that it wasn't always enough.
This felt weird to me -- like, oh, huh, does this mean the haters are right? If I acknowledge that they had a point, does that make me a bad vegetarian?
But really, it's okay -- it is really easy to get enough protein in a vegetarian diet and for many vegetarians, if not most, it probably doesn't even require counting the grams you're eating.
But because of my eating habits, I realized that I do need to keep track and when I get at least 50 grams of protein a day, I feel less hungry throughout the day.
My main problem was that I ate mostly muffins or granola bars for breakfast, getting almost no protein. So even though I made a point to have a protein with lunch and dinner, skipping it for breakfast was causing a deficit almost every day.
Now, I make sure I have a breakfast that has at least 10 grams of protein and I try to add additional protein to my meals and snacks throughout the rest of the day where I can. One of my favorite sources is hemp seeds.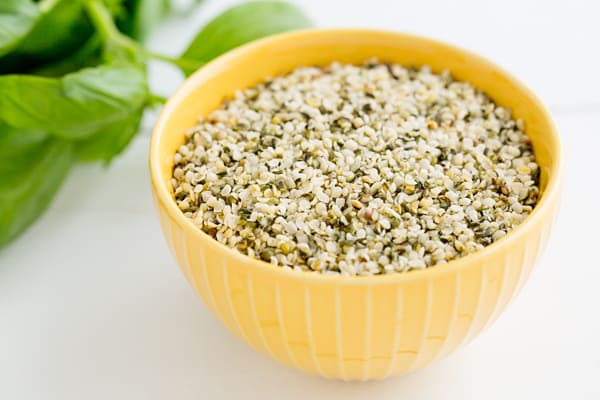 We've shared 4 ways to use hemp seeds in the past; they are seriously versatile and they also happen to be high in protein. It's really easy to toss a tablespoon or two into your morning smoothie or oatmeal, add some to your lunchtime salad, etc. Hemp seeds on everything!
I always make a big batch of pesto at the end of the summer with our basil plants and this year, I decided to use hemp seeds instead of pine nuts. This adds over 3 additional grams of protein per ¼ cup (about 8.5 grams total), but the pesto really tastes just like any other pesto you'd whip up with pine nuts or walnuts -- you wouldn't guess it's made with hemp.
I froze some of the pesto in mini muffin tins for future use, and used the rest of it to make naan pizzas topped with the freshly made hemp seed pesto, zucchini slices, heirloom tomatoes, and sweet corn.
The awesome thing about this freezing pesto is that you can get a little taste of summer all through fall and winter -- and a bonus boost of protein too.
Recipe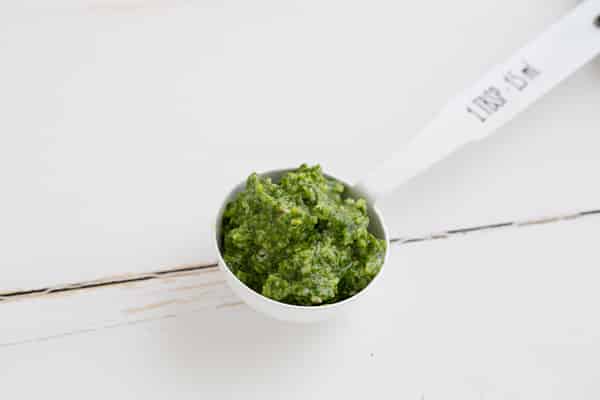 Ingredients
2

cups

fresh basil leaves

loosely packed

¼

cup

shelled hemp seeds

also called hemp hearts

¼

cup

shredded parmesan cheese

2-3

tablespoons

olive oil

1

clove

garlic

Kosher salt to taste

about ¼-1/2 teaspoon is a good amount
Instructions
Combine all of the ingredients in the bowl of a food processor and process until smooth, stopping to scrape down the sides with a rubber spatula if necessary.
Notes
I don't like my pesto very oily, so I usually don't use more than 3 tablespoons, but if you like a smoother pesto, add more oil until it reaches a consistency you like.
Nutrition
Calories:
651
kcal
Carbohydrates:
7
g
Protein:
29
g
Fat:
57
g
Saturated Fat:
9
g
Polyunsaturated Fat:
21
g
Monounsaturated Fat:
25
g
Cholesterol:
17
mg
Sodium:
403
mg
Potassium:
177
mg
Fiber:
2
g
Sugar:
1
g
Vitamin A:
2987
IU
Vitamin C:
10
mg
Calcium:
456
mg
Iron:
9
mg
Craving more veg-friendly recipes?
Shop our collection of vegetarian and vegan cookbooks, including our new Vegan Thanksgiving and Vegan Christmas cookbooks!