Looking for a fantastic make-ahead vegetarian canape for your next dinner party? Look not further than my Mushroom and Caramelised Onion Polenta Bites. Want to make them vegan? Swap the cheese for nutritional yeast for a fantastic vegan-friendly canape.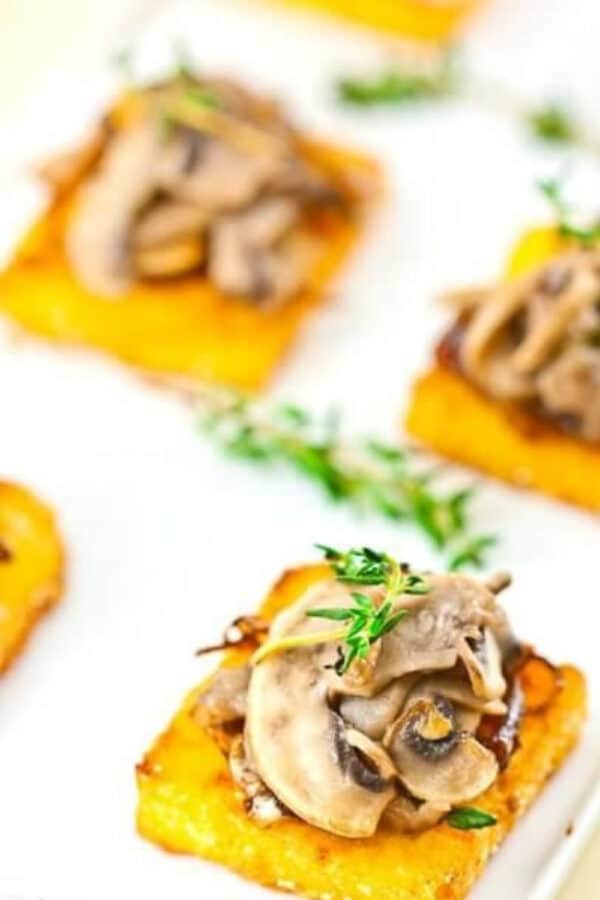 Mushrooms are such a versatile vegetable and a wonderful inclusion on your festive menu, particularly for vegetarians.  They are delicious and are just the thing to satisfy meat eaters and vegetarians alike, and a great party snack idea.  So, when I was approached by Australian Mushroom Growers to collaborate with them as part of their Summer Mushroom campaign I was excited as I love cooking with mushrooms.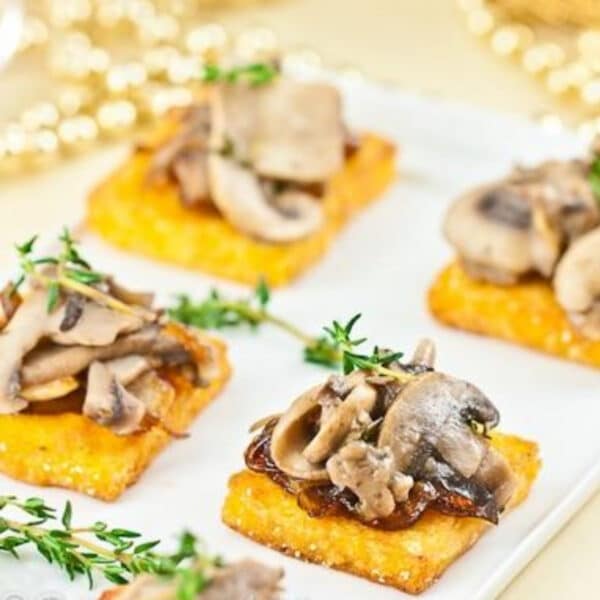 Summer Mushroom dishes can range from delicious salads, bbq recipes or something a little more substantial.  They can be quick and easy or a little more intricate, so in the spirit of Summer Mushrooms, and daring to be different, I came up with a vegetarian canape of Mushroom and Caramelised Onion Polenta Bites.  Deliciously crispy fried polenta topped with caramelised onions and mushrooms.  Honestly, these are so addictive we struggled not to eat the plate of mushroom polenta bites I prepared to photograph.
The great thing about these Mushroom and Caramelised Onion Polenta Bites, apart from how amazingly delicious and addictive they are, is you can prepare all of the ingredients the day before and simply fry the polenta and assemble on the day.  Even better, by omitting the parmesan cheese and replacing the butter with oil they are vegan-friendly, and by dusting the polenta squares in more polenta instead of flour they are gluten free too!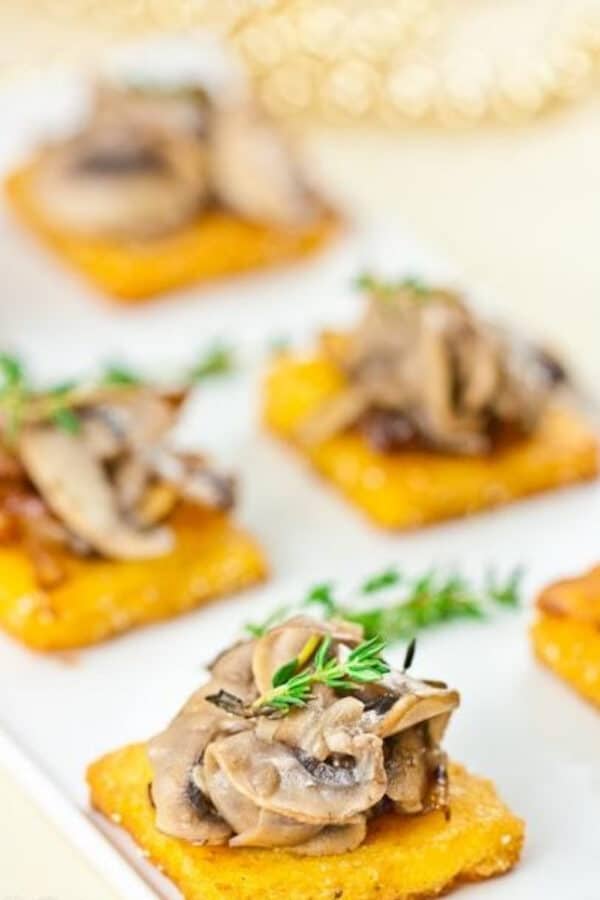 If you are looking for more mushroom inspiration why not check out the Summer Mushrooms website or the Mushroom Wellington I came up with last time I worked with Australian Mushroom Growers when I participated in the Mushroom Masters which would be at home as the centrepiece to your Christmas table.
So tell me, what vegetarian canapes will you be serving this Christmas and will Mushrooms feature on your Christmas menu?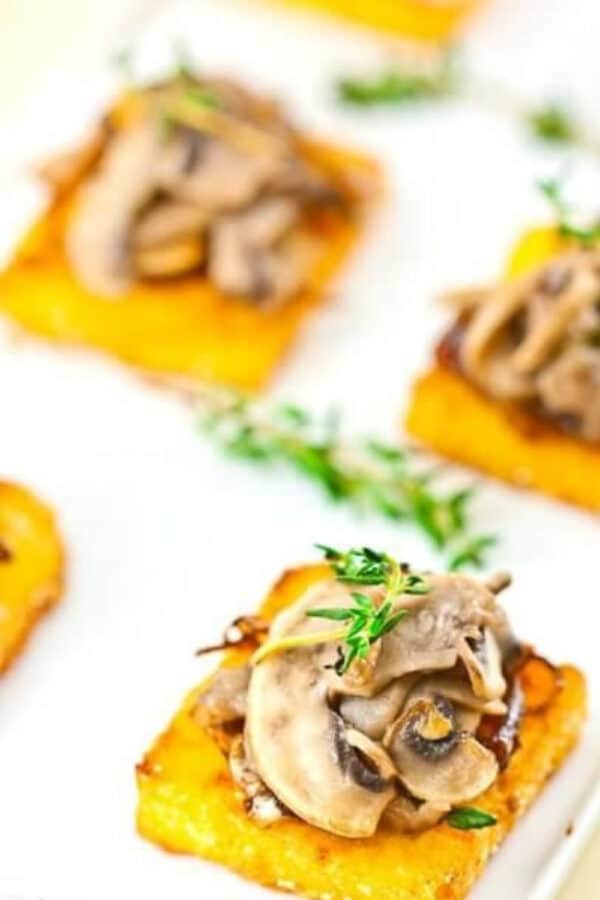 Did you make this recipe?
I'd love to see! Share your photo on Instagram and use the hashtag #deliciouseveryday for a chance to be featured or share it on my Facebook page. 
And don't forget to follow Oh My Veggies on Pinterest, Facebook and Instagram for all of the latest news and competitions.
Want more delicious recipes?
Subscribe to the Delicious Everyday weekly newsletter. It's FREE! As a subscriber bonus, I'll also send you my guide to pantry essentials for delicious everyday meals.
Recipe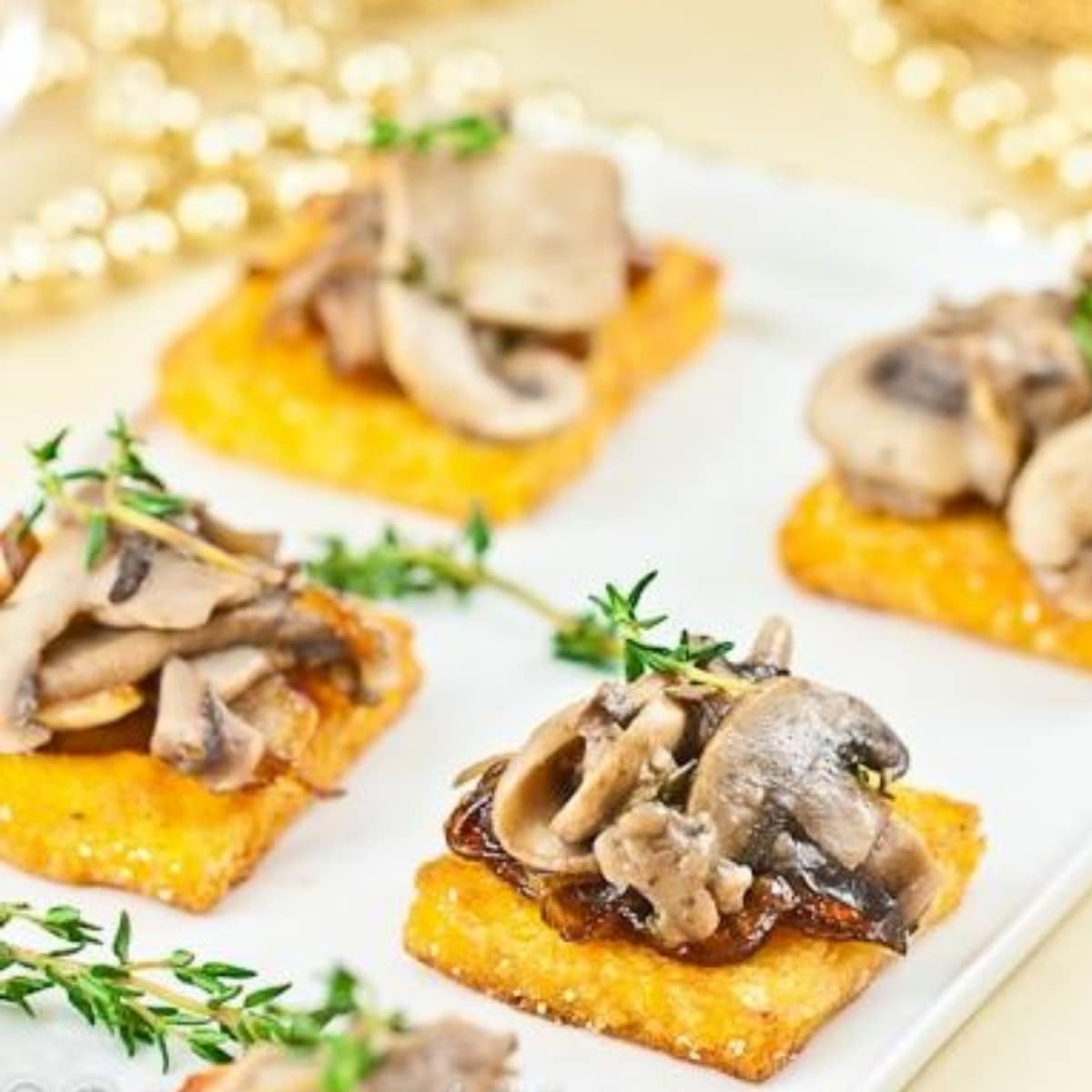 Ingredients
POLENTA:
2

cups

of vegetable stock

½

cup

of instant polenta

⅓

cup

of grated parmesan

1

tbsp

of butter

1

tsp

of salt
CARAMELISED ONIONS:
2

large onions

peeled and chopped

1

tbsp

of balsamic vinegar

1

tbsp

of brown sugar

2

tsp

of olive oil
THYME MUSHROOMS:
400

g

of mushrooms

cleaned and chopped

1

tsp

of fresh thyme leaves

3

tbsp

of rose or red wine

2

tsp

of olive oil

1

clove

large of garlic

minced

salt to taste
Instructions
Start by making the polenta. Grease a baking tray (I used a 30cm x 20cm tray) and set aside. Then in a medium saucepan bring the vegetable stock and butter to the boil. Gradually whisk in the polenta and reduce the heat to medium low. Continue whisking the polenta until it becomes thick and creamy, around 10 minutes. Remove from the heat and whisk in the parmesan. Pour the polenta into the prepared tray and cover and set aside for 15 to 20 minutes to set.

To make the caramelised onions, heat a large frying pan over a medium low heat and add the olive oil before adding the onions and reduce the heat to low. Cook for 10 minutes before adding the balsamic and brown sugar. Cook for a further 10 minutes until caramelised. Set aside.

For the mushrooms, heat a large frying pan over a medium heat and add the olive oil. Add the mushrooms and season with salt and pepper. Cook for 10 minutes before adding the garlic and cook for 2 minutes before adding the rose or red wine and thyme leaves. Simmer for a further 10 minutes, or until the wine has all but evaporated. Set aside.

Cut the polenta into bite size squares and coat in flour or uncooked polenta (the polenta will provide extra crunch). Heat a large frying pan over a medium heat and add oil. Once the pan has come to heat add the polenta squares and fry for 2 to 3 minutes on each side or until golden. Drain on paper towel.

To assemble the Mushroom Polenta Bites top the polenta squares with a small amount of caramelised onion (too much will overpower the mushrooms) and top with the mushroom mixture.
Notes
To make the Mushroom and Caramelised Onion Polenta Bites vegan omit the parmesan cheese and substitute the butter for olive oil. If you would like to make the canapés gluten free dust the polenta squares in uncooked polenta instead of flour. The individual components can be prepared the day before.
Nutrition
Calories:
83
kcal
Carbohydrates:
10
g
Protein:
2
g
Fat:
3
g
Saturated Fat:
1
g
Cholesterol:
4
mg
Sodium:
404
mg
Potassium:
150
mg
Sugar:
3
g
Vitamin A:
150
IU
Vitamin C:
2.2
mg
Calcium:
36
mg
Iron:
0.3
mg
Craving more veg-friendly recipes?
Shop our collection of vegetarian and vegan cookbooks, including our new Vegan Thanksgiving and Vegan Christmas cookbooks!

This recipe is proudly sponsored by the Australian Mushroom Growers Association who compensated me for creating the recipe as part of the Summer Mushrooms campaign. For more details check out their My Mushrooms blog.