There are a lot of meal delivery services out there, but Purple Carrot is our favorite—not only are all the recipes plant-based, but they're delicious too! We're sharing one of their kid-friendly sandwich recipes below.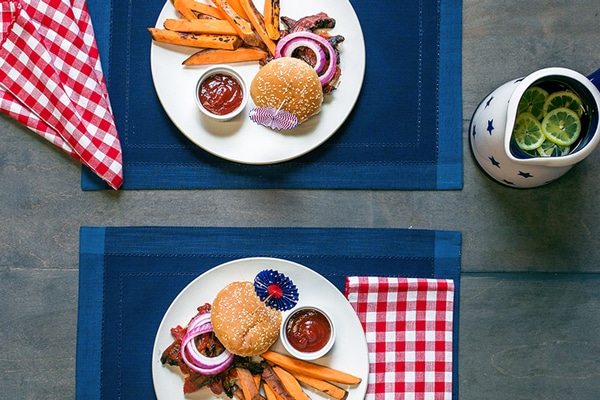 Ingredients
8

oz

sweet potatoes

Parchment paper

4

T

extra virgin olive oil

2

t

cornstarch

10

oz

Portobello mushroom caps

¼

t

smoked paprika

Salt & pepper

Garlic

¼

cup

ketchup

1

T

cider vinegar

2

t

turbinado sugar

1

onion

½

cup

rice vinegar

2

buns
Instructions
Bake the fries
Heat the oven to 425°F. Scrub the potatoes and trim away any dark spots; halve them lengthwise and cut each half into ¼-inch sticks. Line a large rimmed baking sheet with parchment paper and coat with 1 tablespoon oil. Put the fries in a plastic bag or bowl with the cornstarch and toss to coat. Add 1 tablespoon oil and toss to coat again. Spread the fries out in a single layer on the pan. Roast until they brown and sizzle, 20 to 25 minutes; turn and continue roasting until the other side is golden, 5 to 10 minutes more. Remove the pan from the oven and immediately salt the fries.
Prepare the mushrooms
Meanwhile, wipe the mushrooms with a damp towel; cut the caps into ¼-inch slices and put them on another rimmed baking sheet. Drizzle the mushrooms with 1 tablespoon oil and sprinkle with the smoked paprika, salt, and pepper; toss to coat and spread them out in a single layer on the pan. Roast, stirring once, until they're slightly browned, 7 to 10 minutes.
Make the sauce
Chop the garlic. Put 1 tablespoon olive oil in a large skillet over medium-high heat. When it's hot, add the garlic and cook until it's fragrant, about a minute. Add the ketchup and cook, stirring constantly, for 30 seconds. Add the cider vinegar, sugar, and a pinch each of salt and pepper. Turn the heat down to low and cook, stirring occasionally, until the sauce is slightly thickened, 3 or 4 minutes. Trim and peel the onion; slice it into ¼-inch rounds.
Pickle the onions
Put a small saucepan over medium heat. Add the onions, rice vinegar, a large pinch of salt, and 1 cup water and bring it to a boil; remove the pan from the heat.
Cook the mushrooms
Add the mushrooms to the sauce and toss well to coat. To serve, heap the barbecued mushrooms onto the buns and top with the pickled onions; pass the sweet potato fries alongside.
Nutrition
Calories:
321
kcal
Carbohydrates:
40
g
Protein:
6
g
Fat:
15
g
Saturated Fat:
2
g
Polyunsaturated Fat:
2
g
Monounsaturated Fat:
10
g
Trans Fat:
1
g
Sodium:
322
mg
Potassium:
543
mg
Fiber:
4
g
Sugar:
13
g
Vitamin A:
8183
IU
Vitamin C:
4
mg
Calcium:
34
mg
Iron:
6
mg