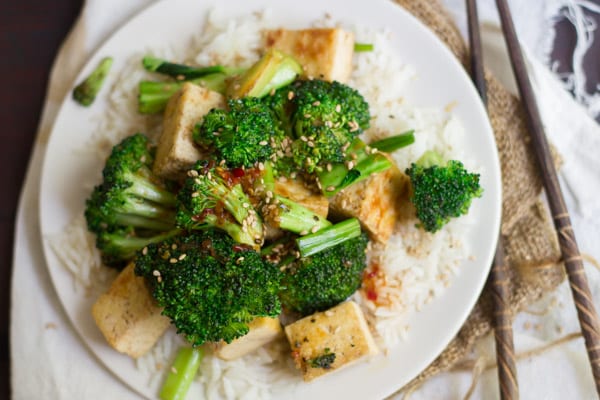 One of my prouder moments as a cook was when, a few years back, I talked my younger brother through the process of making a stir-fry, over the phone. Not being able to taste-test and all, this felt like a big deal to me.
Really though, stir-frying is super easy, so I shouldn't have been all that surprised. This is convenient, because stir-fry is one of my favorite healthy weeknight meals, they're always tasty, and you can usually throw one together with ingredients you've got on hand.
So now, for anyone else that's interested, I'll be talking you guys through the process, but instead of by phone, we'll go through this by internet. It works out a bit better this way, because you can read through everything ahead of time, look at the photos, and all that good stuff.
Equipment
Traditionally, a wok is what you'd use for stir frying. The curved sides make it easy to flip your veggies and gives you control by providing different temperature zones for cooking, with the bottom being the hottest. If you don't have one, it's definitely a worthwhile investment, but you can use a large skillet too. You'll also need a spatula, for flipping.
Make the Sauce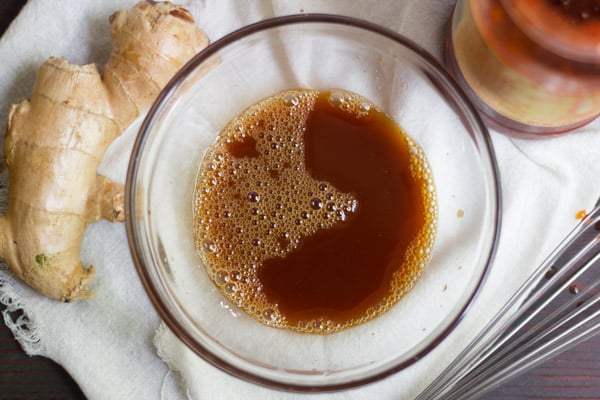 The sauce goes into your stir-fry at the very end of cooking, but you'll want to mix it up before getting started, so it's ready to go when you need it. I always start with a few tablespoons of soy sauce. Tamari works for anyone avoiding gluten and liquid aminos for anyone avoiding soy. You'll also need an acidic ingredient to balance out the saltiness. Rice vinegar is my go-to for this, but you can use another neutral flavored-vinegar, as well as citrus juice, like lemon or lime. Start with an amount equal to the amount of soy sauce you used.
Those are the only two ingredients I consider absolutely essential to a stir-fry sauce, but most of the time I like to sweeten it up as well. You can use all kinds of sweeteners for this, but brown sugar and maple syrup are two of my favorites. Start with a small amount, maybe a teaspoon or two. Taste-test your sauce and add more of any of the three ingredients as needed until the flavor is balanced.
From there, you can customize your sauce with whatever seasonings you like. You'll almost certainly want some aromatics, like garlic, freshly grated ginger, and maybe some chili paste or hot sauce. Have a look through your spice cabinet as well. Chinese five-spice and white pepper are a couple of my favorites, but you can experiment to see what you like best. Whatever you do, taste test and add ingredients a bit at a time. The sauce is what will give your final product its flavor, so keep at it until you're happy with the taste. Don't worry about making too much - you can freeze whatever you don't use for later.
Finally, I like to add some cornstarch, so the sauce thickens up during cooking. A teaspoon or so will give you a little bit of thickening, and a tablespoon will result in a very thick sauce. You can use arrowroot for this instead if you prefer.
Cook Your Protein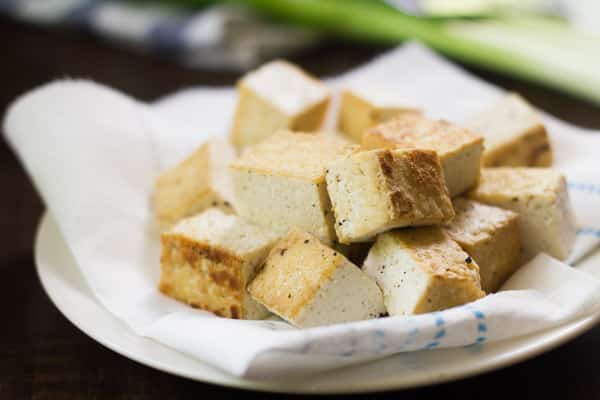 If you're just stir-frying veggies you can skip this step, but I always like to include some protein when I'm making a meal of my stir-fry. Tofu, tempeh and seitan all work, and you'll want to cook these first, before the veggies. The one exception to this might be if you're going adventurous and using (precooked or canned) beans as your protein, in which case, I'd just throw them in at the end.
You'll want to use an oil with a high smoke point, like peanut or canola oil, because you'll be using a lot of heat in the next step. A tablespoon of oil should be plenty to cook up two to four servings of protein. Stir-frying doesn't work so well for large quantities, so if you're feeding more than that I'd suggest cooking in batches. Coat the bottom of your wok with oil, place it over medium heat and add your protein, which should be cut into bite-sized pieces. Cook a few minutes on each side until you get some nice browning. Once it's done, take it out of the wok and let it drain onto a paper towel while you cook your veggies.
Stir-Fry Your Veggies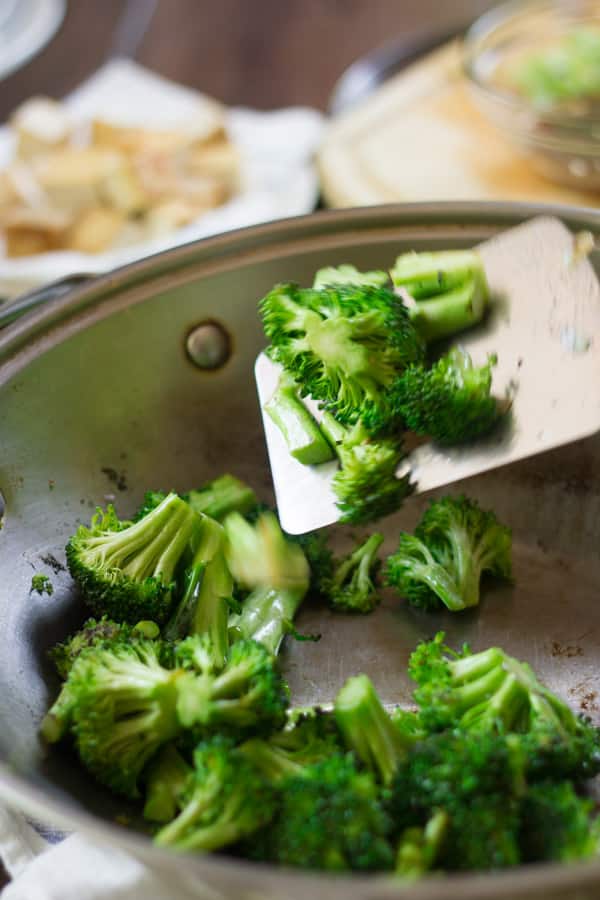 Now for the fun part! Like I mentioned, you don't want to stir-fry a ton of food at once. One crown of broccoli, or a couple of cups of chopped up veggies is plenty. Whatever it is, you'll want it in bite-sized pieces.
Some people will tell you that only one type of veggie should go into a stir-fry. I'm not that much of a purist, but it's definitely important to separate your veggies by type. Harder veggies, like green beans, take longer to cook, so they go in first, followed by softer veggies that take less time, like zucchini. If you're totally new to stir-frying, you may want to start with one veggie per batch, until you get an idea of how long things take to cook.
If you already cooked up some protein, you should have some leftover oil in the wok, but you can add a dash more if it seems dry. Turn up the burner to high heat and give the oil a moment to come to temperature. When it starts to shimmer, add your veggies and start flipping. You'll want to continue flipping, almost constantly, throughout the entire cooking process, and keep at it until they've turned bright colors and are tender-crisp and heated throughout. This should take anywhere between two and eight minutes, depending on the types of vegetables you're using.
Sauce it Up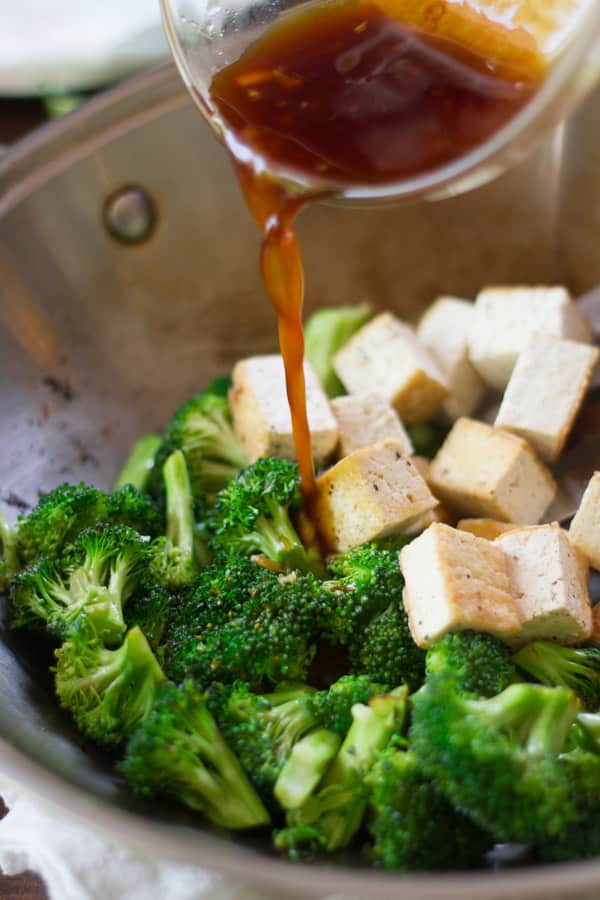 Once your veggies are cooked, add your protein back into the wok, along with the sauce. Continue flipping until the sauce thickens up and coats everything nicely, just another minute or so.
Serve
Serve your stir-fry over rice, noodles, wrapped up in lettuce leaves, or however you like. Feel free to sprinkle on your favorite stir-fry toppings, like chopped peanuts, sesame seeds, scallions or fresh cilantro.
If you'd like to start with a recipe, or at least check out a few for further guidance, here's a few of our favorites to try:
Sichuan Green Bean Noodle Stir-Fry - Floating Kitchen
Thai Basil Tofu Stir-Fry - Connoisseurus Veg
Tempeh and Broccoli Stir-Fry - Dietitian Debbie Dishes
Jamaican Jerk Tofu Stir-Fry - Healthy Nibbles & Bits