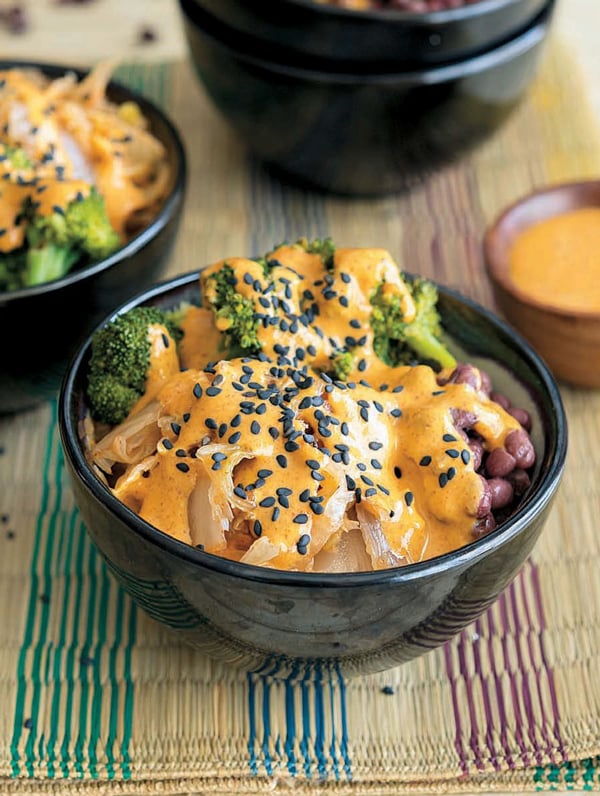 At least once a week, I make a meal in a bowl for dinner. I don't know what it is about meal bowls, but I always look forward to those nights. Is it the convenience of serving everything in a bowl? Is it the way you can stir all the ingredients together and get a little bit of everything in each bite? Is it the ease of having one thing to make for dinner rather than planning a protein, veggie and grain? I guess it's probably all those things.
If you're also a bowl person, I have good news: there's a new cookbook by Jackie Sobon of Vegan Yack Attack that's all about meal bowls. Yes! Vegan Bowl Attack! is packed with more than 100 one-dish plant-based recipes, ranging from breakfast to dessert. Some of my favorites include Mushroom Wild Rice Slow Cooker Stew, Orange Cauliflower Soba Chow Mein Bowls, and Seitan Satay Bowls. I find myself making the same meal bowls over and over again and this book has given me dozens of new ideas to help mix things up a little bit.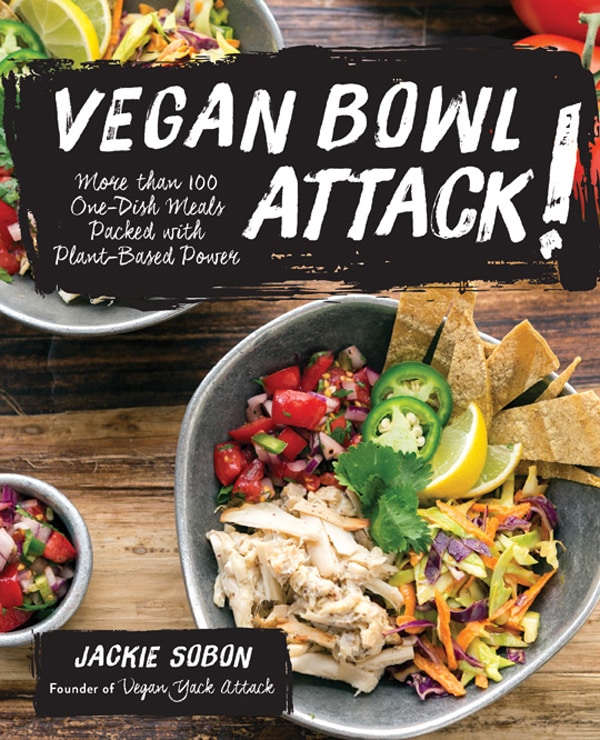 This Kimchi Bowl recipe is a perfect example of what you'll find in this book—it's an easy recipe that's full of flavor and healthy ingredients. You can make each component of the bowl in advance and assemble later for work lunches or quick dinners.
Purchase Vegan Bowl Attack!: More Than 100 One-Dish Meals Packed with Plant-Based Power on Amazon.com.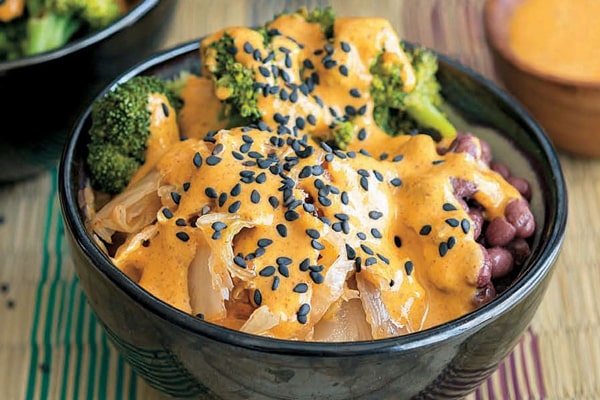 Ingredients
For the bowl:
1

cup

184 g long-grain brown rice

2

cups

245 ml water

½

pound

225 g broccoli florets

1

can

15 ounces, or 425 g adzuki beans, rinsed and drained

1

tablespoon

15 ml liquid aminos
For the red curry almond sauce:
2½

tablespoons

38 ml water

2

tablespoons

32 g almond butter

2

teaspoons

red curry paste

1 to 2

tablespoons

15 to 20 ml

lime juice
For the assembly:
1

cup

170 g store-bought vegan kimchi

2

tablespoons

16 g black sesame seeds
Instructions
To make the bowl:
Place the rice and water in a rice cooker (that has a steamer basket) and cook for 20 minutes or until the rice is soft. For the last 5 minutes of the rice cooking, place the broccoli florets in the steamer basket and cook until bright green and slightly crunchy. In a small pot over medium heat, mix the adzuki beans with the liquid aminos and cook for 2 to 3 minutes.
To make the red curry almond sauce:
Whisk all of the ingredients together until smooth.
To assemble:
Divide the rice and broccoli among 4 bowls. Divide the adzuki beans among the bowls. Place one-quarter of the kimchi in each bowl and drizzle the red curry almond sauce over the top. Garnish with the black sesame seeds and serve.