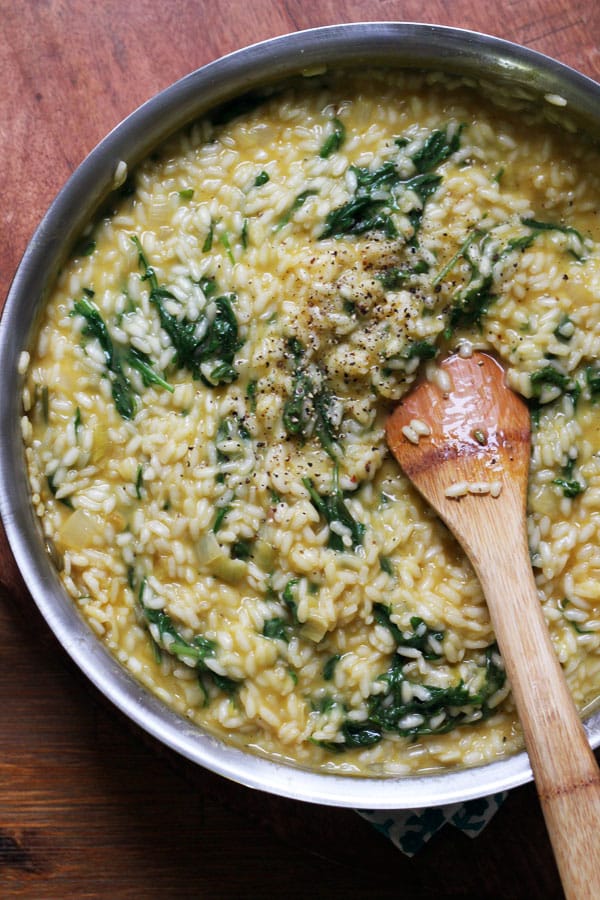 When I was first teaching myself how to cook, one of my goals was to get to the point where I was comfortable enough that I could just go into the kitchen without a recipe or a cookbook and make something. Preferably of the edible variety.
Of course, not every type of food lends itself to this freeform style of cooking (macarons, I'm looking at you), but for the most part, at least with savory food, once you have a few basic techniques under your belt, you can usually wing it. To me, making risotto is one of those techniques. Not only can you make it with just about any grain, but it can take on any flavor profile, and works for every season -- it really is a jack-of-all-trades kind of meal.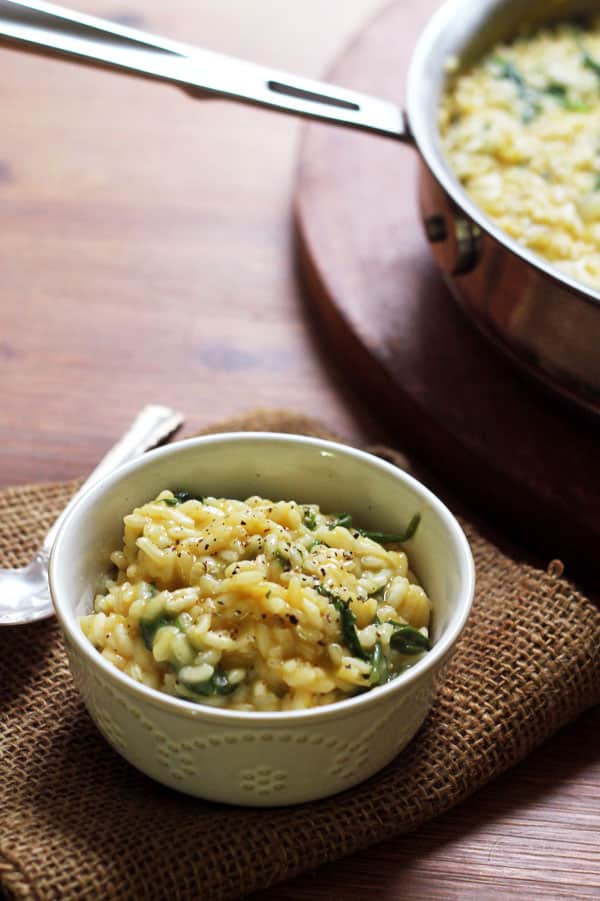 At it's heart, risotto is really a very simple dish made of very basic ingredients. It hails from northern Italy and is a classic dish in which rice gets cooked slowly in broth. Traditionally, the broth is added in small increments, while the rice is stirred almost constantly so that the starch it releases turns into a creamy sauce. Unfortunately, it has a bit of a reputation as being hard to make, likely due to a few seasons of Top Chef in which every contestant who attempted it got sent home. Now, I can't promise that my version would satisfy Tom and Padma, but it comes together in around 30 minutes and never fails to be a hit at the dinner table -- that's good enough for me.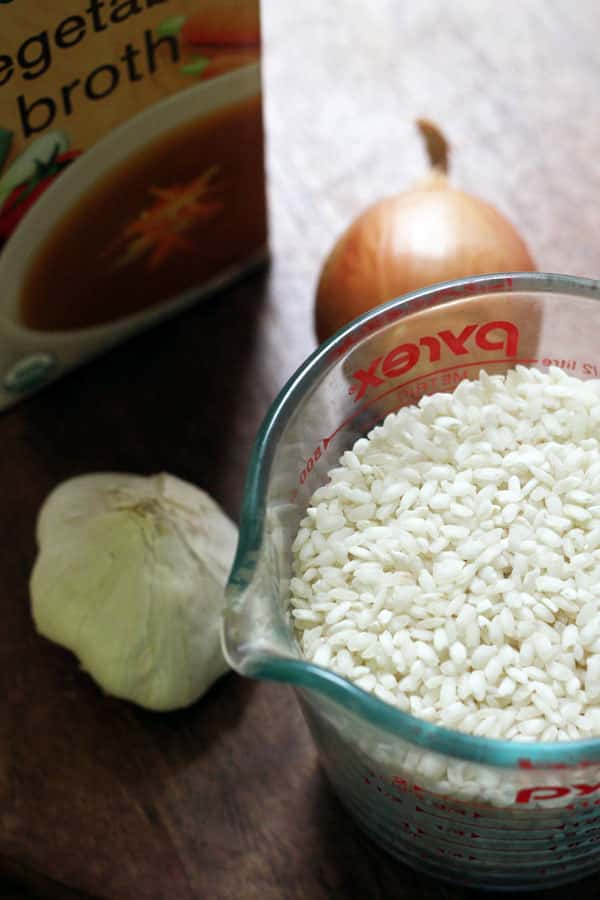 Risotto starts with only a few key ingredients -- arborio rice, a few garlic cloves, a diced onion, vegetable broth, and olive oil. Arborio rice is a round, medium-grain variety of rice that gives off a lot of starch as it cooks. This property is what will make your risotto creamy without having to add any extra cream, so if you can find it, definitely use it. That being said, I've made risotto successfully with a variety of grains, including brown rice, barley, farro, and even orzo, so feel free to mix it up and use what you have on hand.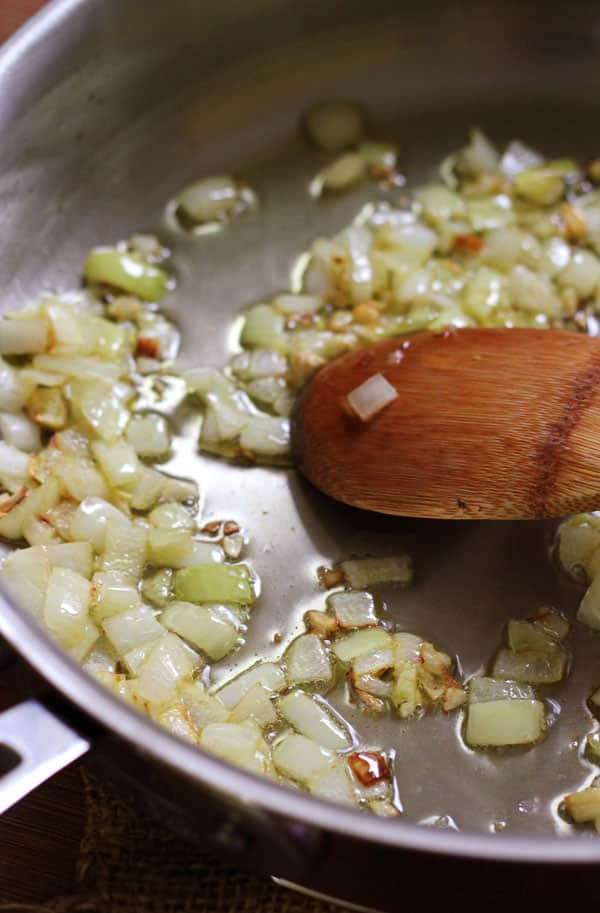 The olive oil, garlic, and onion are sauteed in a large saucepan until the onions are tender and just start to brown.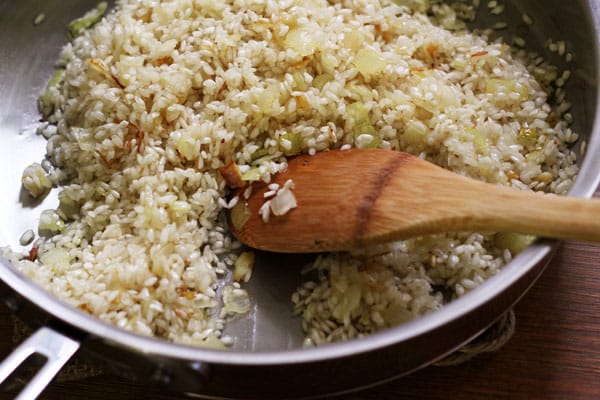 Then, the rice is added and sautéed for one minute while being stirred constantly. This makes the rice nice and toasty, which adds a great nutty flavor to the risotto. I usually make ½ cup of dried rice for every person who will be eating.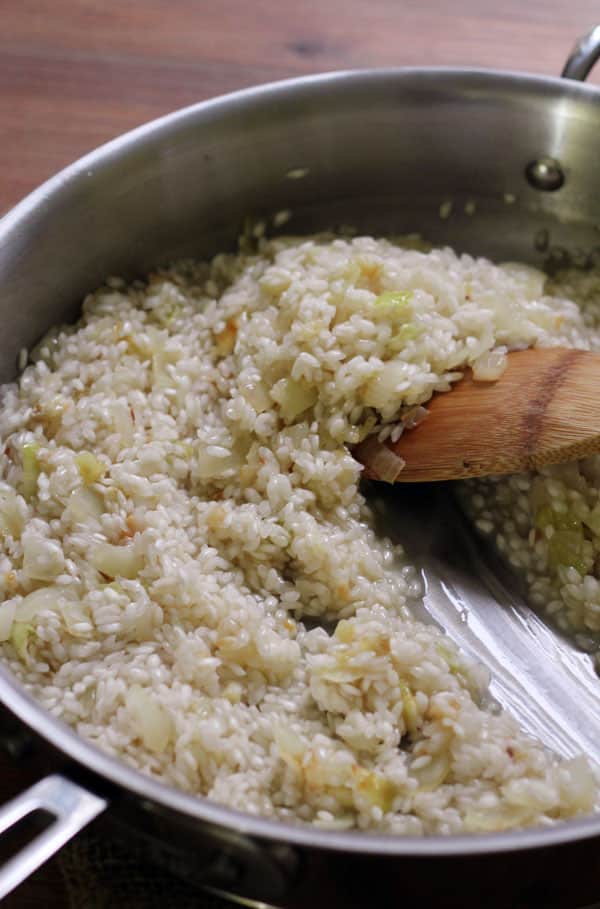 Next, wine is used to deglaze the pan. This adds just a hint of boozy flavor to the meal, and though you could omit it, I would advise against it as that hint of extra flavor really does end up adding a lot. For most risottos, you want to use a white wine or champagne -- something crisp. The wine is simmered off until it has almost completely evaporated, while you stir it constantly. This should take no more than 2-3 minutes.
Then, the broth is added in 1 cup increments, with the next cup being added only after the previous one has almost completely evaporated. Throughout this whole cooking process, you should be stirring. A lot. Many people will tell you that you have to stir constantly to get the perfect consistency, but that's not really true. I tend to stir on the more frequent side of frequently, and I definitely keep a close eye on it so that nothing starts to stick to the pan or burn as the broth simmers off, but I don't worry too much if I have to step away for a minute.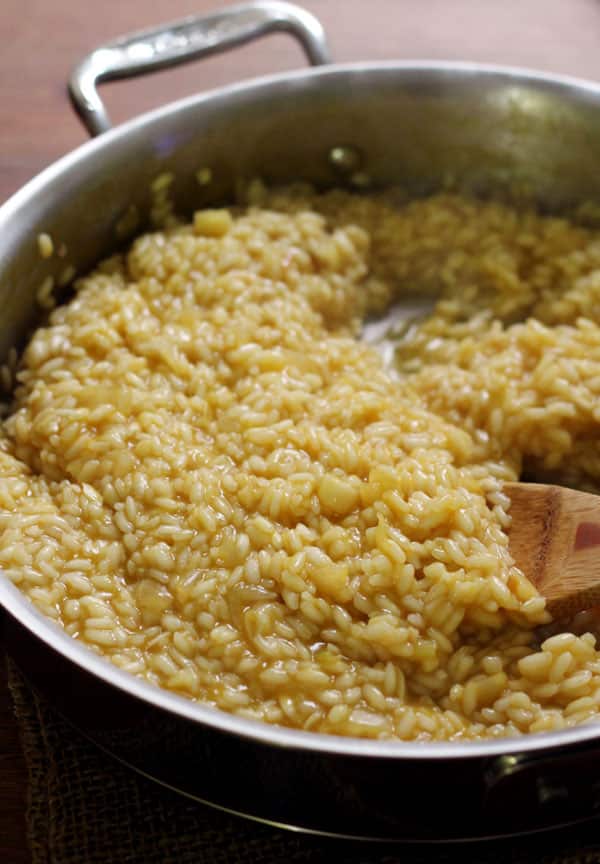 About 4-6 cups of broth later, you'll notice that the rice has expanded in volume and become tender, while the starch has mixed with the broth to form a thick and creamy sauce that coats every grain. Guess what? You're done! And you've successfully made risotto!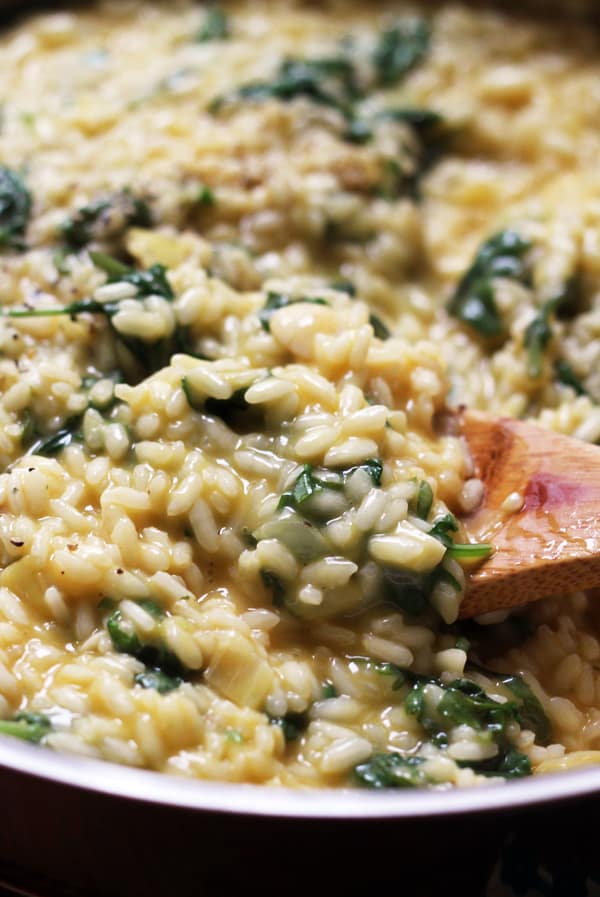 From here, you can flavor your risotto pretty much however you want. I usually add in some veggies and a bit of cheese -- whatever I have in the fridge. Here, I've stirred in some baby kale and creme fraiche during the last few minutes of cooking so that the kale cooks down as the risotto simmers away. In the past, I've also mixed in roasted vegetables, fresh herbs, pumpkin puree -- the sky is the limit!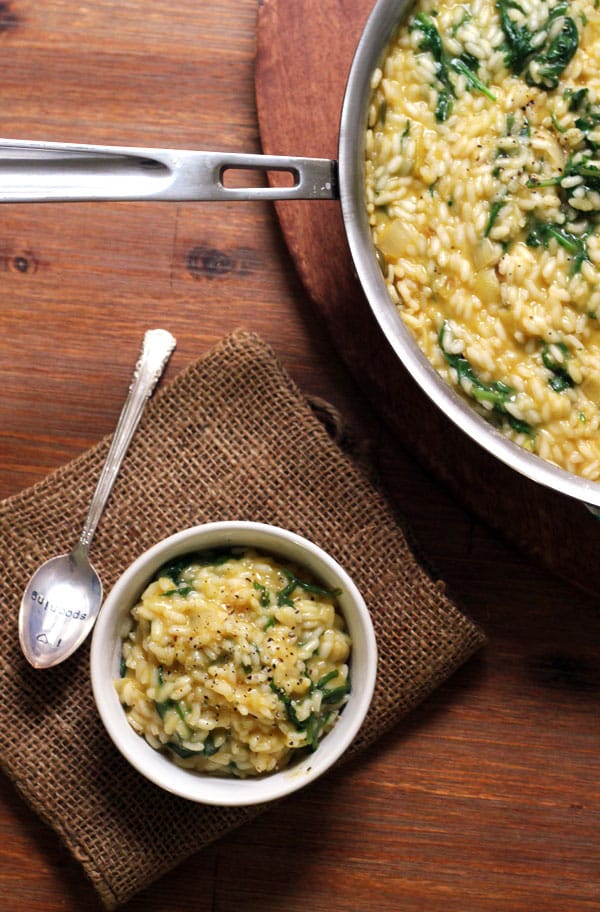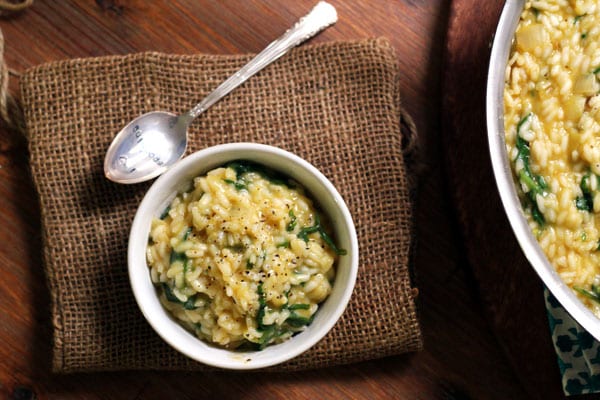 Ingredients
2

tablespoons

olive oil

1

onion

diced

3

cloves

garlic

minced

2

cups

arborio rice

1

cup

champagne or white wine

4-6

cups

vegetable broth

Salt and black pepper

to taste

4

cups

baby kale

4

ounces

creme fraiche
Instructions
In a large saucepan, heat the olive oil over medium heat. When it starts to shimmer, add the onion and garlic to the pan. Sauté for 3-4 minutes, or until the onion is translucent and starting to brown, stirring frequently. Stir in the rice and cook for 1 minute, stirring constantly.

Pour in the wine to deglaze the pan (or a cup of broth if you're not using the wine), making sure to scrape the bottom of the pan with a wooden spoon to release any brown bits. Simmer until the wine has just evaporated, stirring constantly.

In 1 cup increments, add the vegetable broth to the pan, only adding the next cup after the previous one has evaporated. Make sure to stir almost constantly. Continue doing this until the rice has expanded in volume and is tender. Season to taste with salt and black pepper.

During the last few minutes of cooking, stir in the baby kale, allowing it to cook down and wilt. Remove from the heat and stir in the creme fraiche. Serve warm.
Nutrition
Calories:
574
kcal
Carbohydrates:
94
g
Protein:
11
g
Fat:
12
g
Saturated Fat:
4
g
Polyunsaturated Fat:
1
g
Monounsaturated Fat:
5
g
Sodium:
999
mg
Potassium:
497
mg
Fiber:
3
g
Sugar:
5
g
Vitamin A:
7195
IU
Vitamin C:
83
mg
Calcium:
119
mg
Iron:
6
mg
Craving more veg-friendly recipes?
Shop our collection of vegetarian and vegan cookbooks, including our new Vegan Thanksgiving and Vegan Christmas cookbooks!