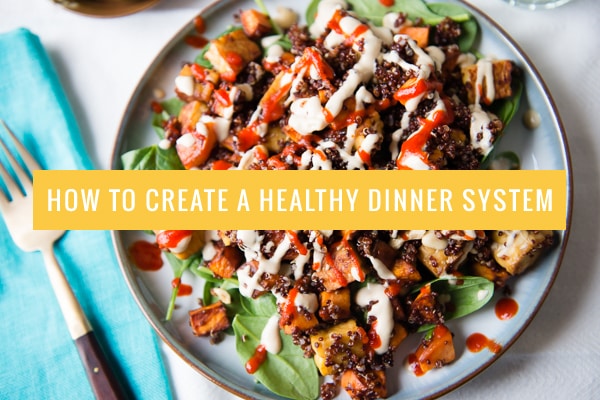 Photos by Lindsey Johnson
Given the choice between a healthy dinner and a not-so-healthy one, in theory most people will choose healthy. In practice however, usually after a long day, it can be hard to muster up the wherewithal to steam veggies, cook quinoa and track down a perfect protein. Sometimes all you can do is make "dinner" out of a bowl of cereal—or, you know, leftover holiday candy. (No judgment.)
There's definitely a light at the end of the weeknight dinner-fail tunnel; it will simply cost you a little bit of time on the weekend. But if you can commit to a few hours of prep, low-maintenance cooking and cleanup on Saturday or Sunday, Weeknight You will be so grateful Weekend You came to her dinner rescue.
This is a tried-and-true plan of attack I've found to be pretty sustainable. Of course there are nights where the siren song of not-so-healthy convenience food is just too overpowering, but having a contingency plan for busy nights makes choosing the healthy option infinitely easier. When meals are already waiting in the fridge or freezer, it makes the occasional cereal (or pizza delivery) dinner more of a once-in-a-blue-moon splurge than the norm.
Step 1: Kitchen Inventory
What healthy ingredients do you already have in the house? A bag of bulk beans, a couple servings worth of grains? Do you have a stockpile of frozen veggies, or some CSA produce to use up? Make a list of what you have on hand.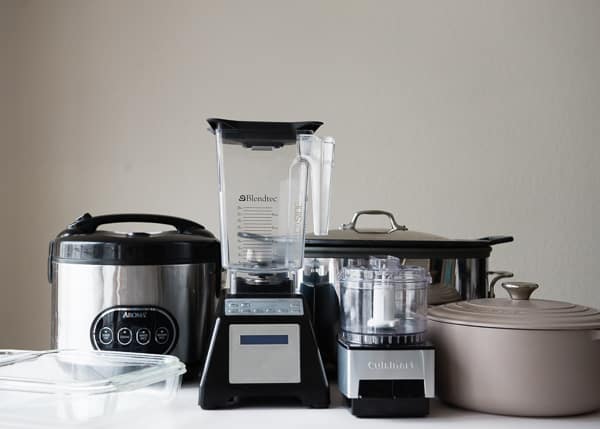 Also consider what equipment you have. Prepping ahead of time is much easier if you have at least one of or two of these:
Slow cooker
Rice cooker
High-quality blender (I use a Ninja to puree/mash vegetables and beans)
Roasting pans
Baking dish
Stock pots
Food processor
Electric mixer
If you don't have some of those things, not to worry. Just keep in mind that making beans and rice, for example, will take longer and use up two stove burners if you don't have a slow cooker and rice cooker.
Glass or BPA-free plastic containers will also help you keep your meals organized, portioned and easy to track down in the fridge or freezer. Plus, you can heat them up right in the storage container if you want.
Step 2: Make a Plan
How many nights will you be home this week? How many people are you feeding? Figure out how many meals you need to create, and what you can feasibly do with the ingredients you already have on hand—or what you have some of the makings of. Plan to make at least three different dishes, ideally ones you can mix and match in different configurations, and aim for different textures and flavors. If you have an abundance of something—or just want to simplify your shopping—think of different ways you can use one ingredient. Have a bounty of carrots from the farmers market? Make a pureed soup with some and use the rest in a roasted-veggie salad.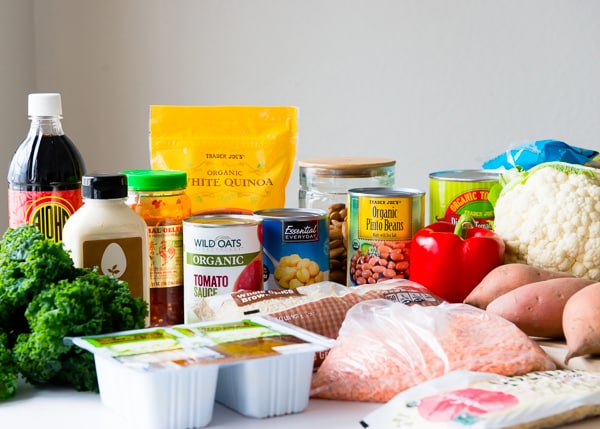 Here are some essentials that lend themselves to making ahead and ideas for how to use them.
Grains: brown rice, quinoa, millet, wheat berries, whole wheat pasta
Tip: I've never had good luck freezing pasta, but grains do nicely
Use in: salads, tacos, casseroles, meal bowls, soups
Whole or pureed legumes/pulses (dried or canned): kidney beans, chickpeas, black beans, adzuki beans, white beans, pinto beans, lentils
Tip: If you don't have a pressure cooker, you can prepare dried beans in a slow cooker and freeze them for later
Use in: salads, tacos, meal bowls, soups
Other proteins: Sliced tempeh or tofu (roasted/baked), non-meat loaves, seitan
Tip: You can purchase baked tofu or use our recipe to make your own
Use in: sandwiches, salads, tacos, meal bowls
Roasted or sautéed veggies: carrots, beets, sweet potatoes, potatoes, kale, squash, cauliflower, mushrooms, green beans, etc.
Tip: I don't recommend preparing broccoli in advance as it gets a little soggy and smelly in the fridge; delicate veggies like pea pods may get soggy as well
Use in: sandwiches, salads, casseroles, meal bowls, soups
Pureed or mashed cooked veggies: cauliflower, potatoes, sweet potatoes, carrots, squash, rutabagas, turnips
Use in: casseroles, meal bowls
Nuts and seeds (raw, quickly sautéed or roasted): walnuts, pecans, almonds, cashews, sunflower, sesame
Use in: salads, meal bowls, tacos
Sauces and condiments (homemade or store-bought): marinara (or use canned diced tomatoes), vinaigrettes, salsa, tahini, hummus, cashew cream, hot sauce, mustard, pesto, curry sauce
Tip: I like to make some simple dressings in mason jars ahead of time. Go with healthier store-bought sauces or dressings, or just make your own using olive oil and vinegar or lemon juice.
Use on: everything!
Step 3: Go Shopping
After you've figured out what you want to make, put together a list of ingredients you need to supplement what you have at home. If you're afraid of veggies spoiling before you can get to them, or if you want to simplify your prep even more, stock up on some frozen ones you can quickly add to your dinners while heating them up. Or grab sweet potatoes (they have a long shelf life and can be easily baked or microwaved) and/or an inexpensive bag of hearty greens you can stir or toss into meals throughout the week.
Step 4: Cook Like Crazy
I usually set aside a Saturday or Sunday afternoon (my "take care of stuff around the house" time) to do prep and advance cooking. If you're making something in the slow cooker, it should be started earlier, but it can mostly just do its thing while you're enjoying your weekend.
Normally I'll have quinoa or rice in the rice cooker, veggies or tempeh roasting in the oven, beans (which I've soaked overnight) in the slow cooker, and perhaps a simple soup on the stove or a casserole in the oven. While everything's cooking, start cleaning up, get your storage containers ready, and make room in the fridge! (Put anything you think you might not eat in the next few days in the freezer, just to be safe.)
The more you do this, the faster the whole process will go. You might even end up with enough overflow meals in the freezer to tide you over an extra week.
Step 5: Time to Eat!
What a busy day! Good thing you have all this healthy food ready to go. You can assemble your meals when you store them, or separate things out and mix and match as you go. Throw some roasted mushrooms and tempeh on mashed rutabaga; toss pesto into pasta with sautéed veggies, heat up a bowl of chili with a side of quinoa, quickly simmer garbanzos and roasted cauliflower in a curry sauce...you get the idea.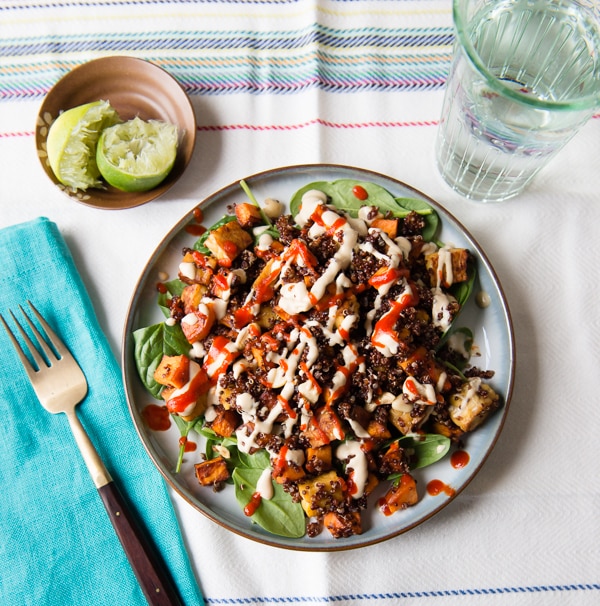 Consider keeping a few of these items on hand to tie your pre-prepped meal together.
Bread, tortillas or lettuce leaves for sandwiches and wraps
Fresh herbs for garnish and seasoning
Lemon or lime juice
Cheese or nutritional yeast
Vinegar and oil
Sour cream, yogurt or cashew cream
Slaw mix for a fresh, crunchy veggie topping or an easy side salad
Extra greens for side salads, or to throw into soups, sandwiches or meal bowls
Avocados
Eggs
Dinner is done! How amazing does that feel? And if you need a little more inspiration, here's a meal idea made with this healthy dinner system. Over the weekend, you'll want to prepare the quinoa and dressing, marinate the tempeh and cube the sweet potatoes. When you're ready to eat, all you'll have to do is spend a few minutes cooking the sweet potatoes and tempeh and dinner is done!
Recipe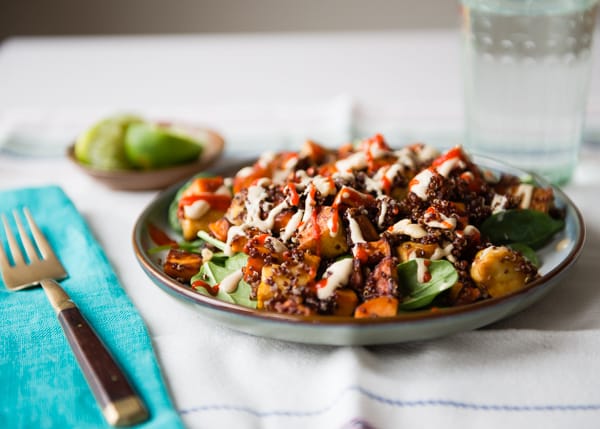 Ingredients
Instructions
Whisk together the lime juice, soy sauce, and sesame oil in a shallow dish; add the tempeh cubes to the dish and toss to coat. Set aside.

Heat a non-stick skillet to medium-high, then add the avocado oil. Add the cubed sweet potato. Cook, turning the sweet potatoes often, until golden brown and tender, 5-10 minutes. Transfer the sweet potatoes to a medium bowl, along with the quinoa, and keep warm.

To the same skillet, add the tempeh cubes and any liquid from the marinade that wasn't absorbed. Cook the tempeh on all sides until golden brown and crispy. Add the quinoa and sweet potatoes back to the skillet and fold in the cashews. Remove from heat.

In a small bowl, whisk together the tahini, miso, and water until smooth. Add vinegar to taste. Set aside.

To serve, arrange the baby spinach on two plates and divide the quinoa mixture onto the spinach. Drizzle with the Tahini-Miso Sauce and Sriracha.
Nutrition
Calories:
392
kcal
Carbohydrates:
59
g
Protein:
12
g
Fat:
13
g
Saturated Fat:
2
g
Polyunsaturated Fat:
4
g
Monounsaturated Fat:
6
g
Sodium:
714
mg
Potassium:
886
mg
Fiber:
9
g
Sugar:
7
g
Vitamin A:
18857
IU
Vitamin C:
11
mg
Calcium:
103
mg
Iron:
5
mg
Craving more veg-friendly recipes?
Shop our collection of vegetarian and vegan cookbooks, including our new Vegan Thanksgiving and Vegan Christmas cookbooks!