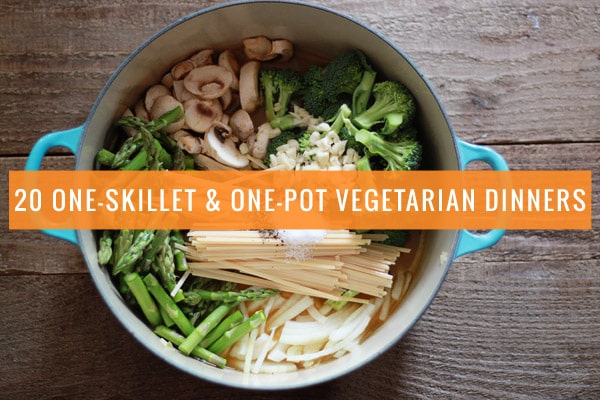 One-pan pasta is hot right now, and it's no wonder. Throw everything in the pot, cook it all together for a few minutes, and voila! Dinner is served (and dish-washing is a cinch!) Loads of meatless dishes lend themselves perfectly to the one-pot treatment--and they don't have to be limited to pasta, either. Here are 20 of our favorite one-skillet and one-pot vegetarian dinners.
One-Pot Pasta Primavera
Go green! This creamy primavera features gobs of the glorious veggies swimming alongside tender linguine goodness - and it cooks up in less than 10 minutes.
One-Skillet Tomato Casserole with White Beans & Parmesan Croutons
This one-skillet wonder starts with homemade croutons, then The Law Student's Wife piles in garden-fresh tomatoes, garlic, hearty white beans, and a sprinkle of Parmesan.
Zucchini Noodle Shakshuka
Tasty Yummies presents the perfect hybrid dish: zucchini noodles meets baked eggs in tomato sauce. All kinds of goodness in just one pan.
One-Pot Spinach and Artichoke Pasta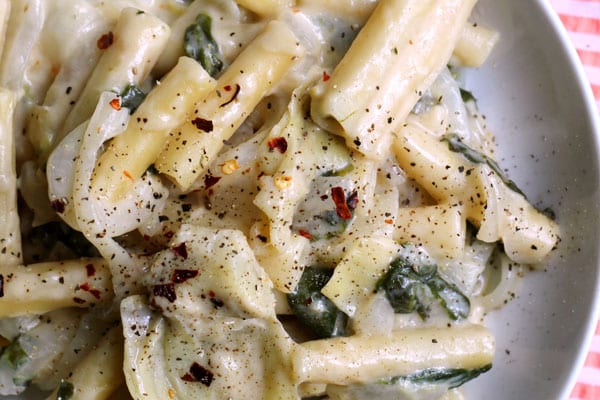 This particular rendition is a play on everyone's favorite spinach and artichoke dip.
One-Pot Pasta Primavera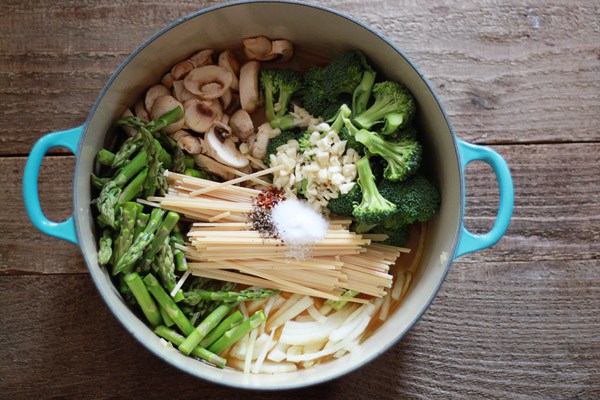 True to classic Pasta Primavera form, we make it a tad creamy by ending with a bit of cream (just a splash!) and a sprinkle of grated Parmesan.
One-Pot Curried Quinoa with Butternut Squash and Chickpeas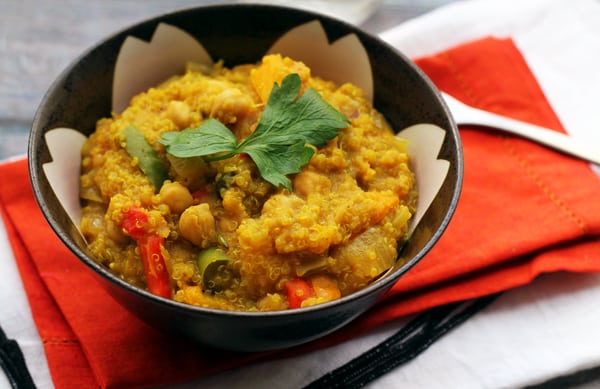 One-pot meals don't have to be limited to pastas or heavy stews! This one-skillet curried quinoa is a light and richly flavorful meal, made even easier by the use of frozen veggies.
Mushroom, White Bean, and Tomato Stew
Kalyn's Kitchen presents this warm and comforting stew that comes together in minutes. Just use the veggie broth option and you're good to go!
One-Pan Orecchiette with Chickpeas & Olives
Yum! This hearty number from Martha Stewart boasts chickpeas, briny olives and heady rosemary.
One-Pot Caprese Pasta Dinner
If you like the fresh summer flavors of tomato, basil and mozzarella, you'll love this gorgeous one-pot bowtie pasta from Diethood.
One-Skillet Southwestern Quinoa
Fit for a fiesta! Tex-mex flavors meet quinoa in this one-skillet feast from A Cedar Spoon.
Vegetable Frittata
When you hear about one pan meals these days, you might think of pasta. But frittata recipes have used one pan all along! Jelly Toast shows you how to put your own spin on the classic.
Southwest Sweet Potato Breakfast Skillet
Spiced sweet potatoes sauteed and then topped with eggs. Cookie Monster Cooking brings us the perfect breakfast-for-dinner one-pot dish.
One-Pot Sesame Noodles & Veggies
Craving something with a little Asian flair? This veggie-filled one-pot pasta with sesame oil, Tamari, fresh ginger and crunchy peanuts has you covered.
One-Pot Curried Quinoa
Quinoa gets more well-deserved time in the one-pot spotlight in this aromatic, protein-rich dish that's also chock full of butternut squash and chickpeas.
One-Pot Farmers Market Pasta
Quite possibly the prettiest one-pot pasta we've seen yet! The View From Great Island used inspiration from the farmer's market for this delicious dinner.
Easy Cheesy Veggie Skillet Lasagna
Lasagna prepped in a single skillet? It's possible! Kitchen Treaty gets cheesy with this easy veggie version.
One-Pan Farro with Sun-Dried Tomatoes and Arugula
Chewy wonder-grain farro gets the star treatment in this simple and quick one-pan dinner from Craving Something Healthy.
Summer Vegetable Paella
Eats Well With Others piles her pan high with summer veggies in this end-of-the-season paella. Bonus: it'll help clean out your crisper drawer too!
Braised Lentils & Vegetables
Lentils and veggies simmer low and slow for the ultimate flavor in this satisfying supper from Cafe Johnsonia.
One-Pot Creamy Pumpkin Pasta
One-pot pasta goes seasonal in this creamy pumpkin version from Kitchen Treaty.