These healthy stuffed zucchini are oven baked and filled with fluffy quinoa and coarsely chopped walnuts and raisins. Served with a creamy, vegan puree, these stuffed zucchinis make for an elegant main course or a simple side salad.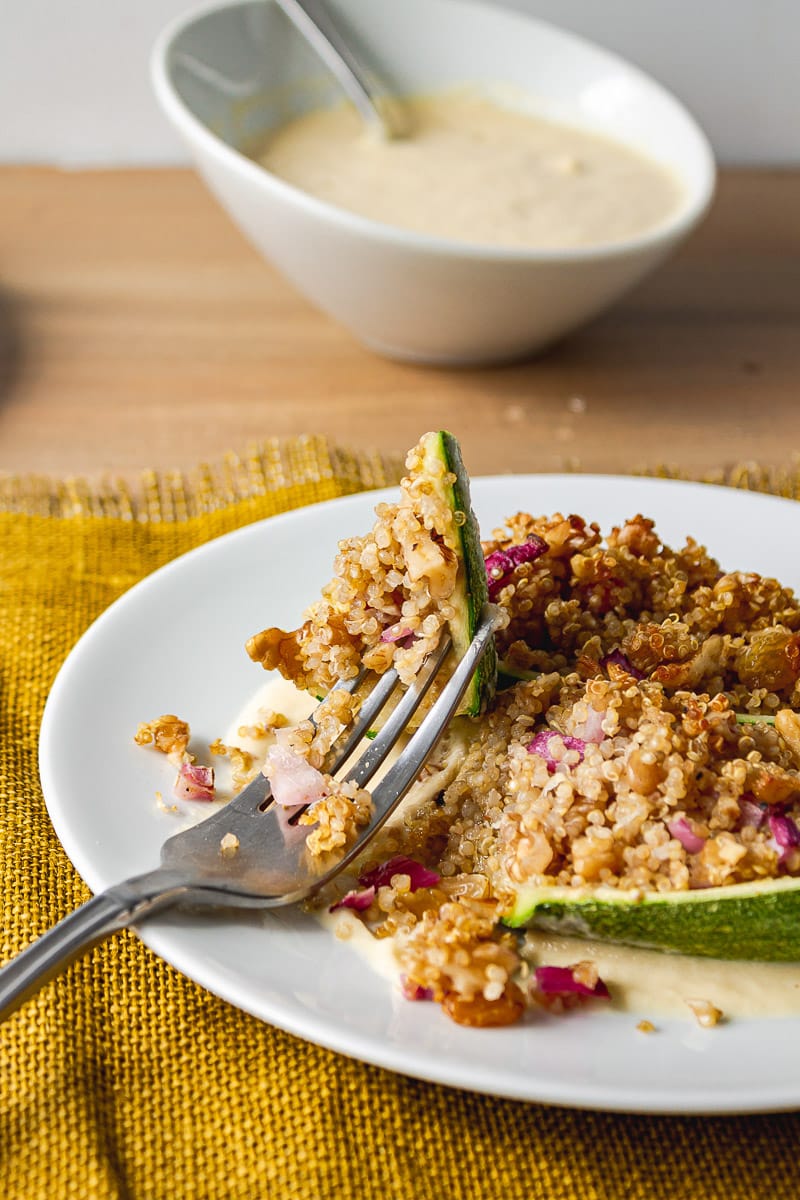 These quinoa stuffed zucchinis are completely vegan and super versatile! You can easily switch out the filling ingredients with other vegetables and spices and have a completely new meal!
All you do to make these vegetarian stuffed zucchinis is to hollow out the zucchini, fill them with your favorite vegetables and grains, and pop them in the oven to bake.
Then you combine the zucchini filling with lemon juice, garlic, salt, and onion, and you have your creamy zucchini sauce! It's super simple, and super delicious!
This healthy stuffed zucchini recipe is...
vegan
vegetarian
plant-based
gluten-free
soy-free
ready in 45 minutes
an easy main course
How to Make Healthy Stuffed Zucchini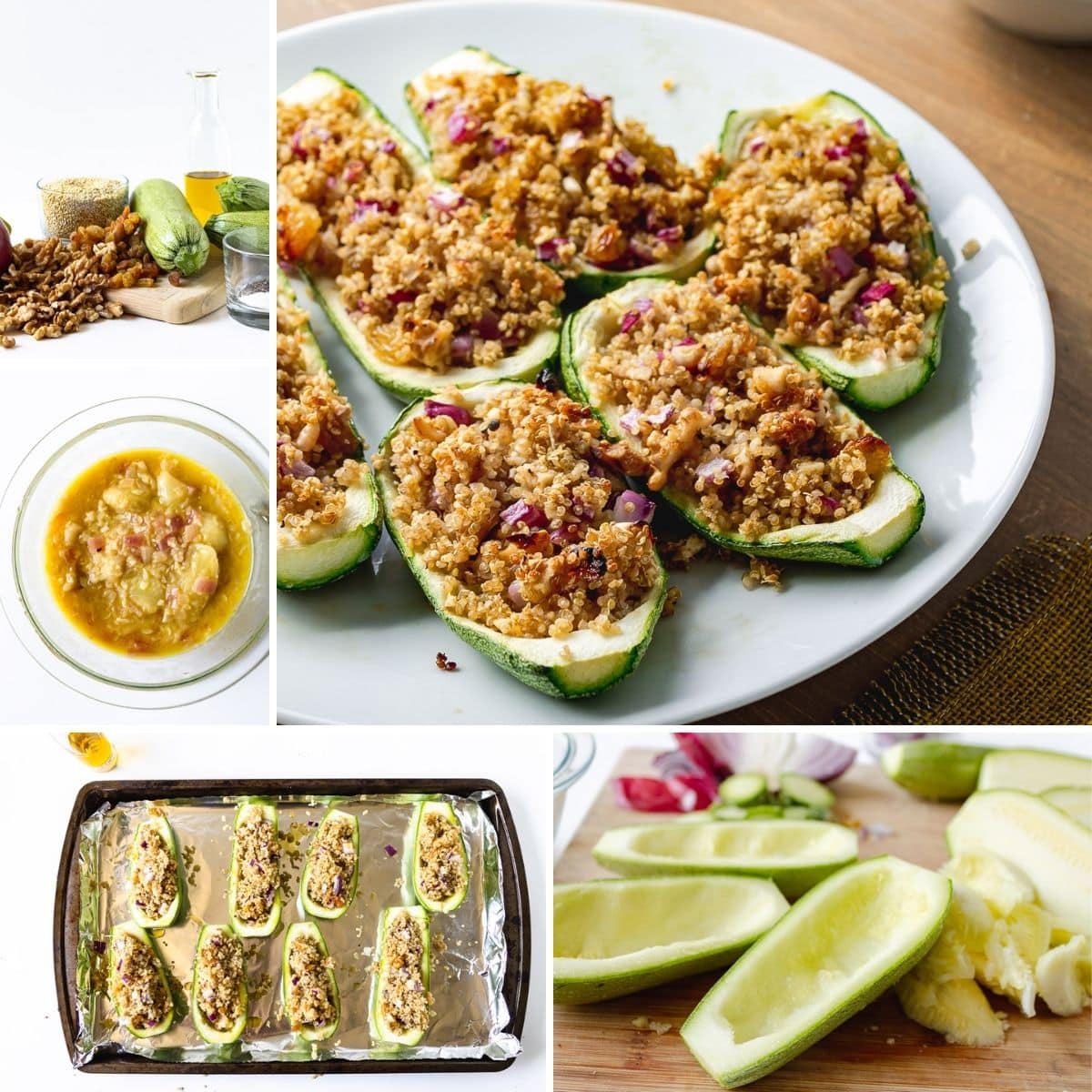 Cook the quinoa according to the package instructions and set aside.
Preheat the oven and line a baking sheet with aluminum.
Wash and dry the zucchinis. Slice of both ends off and cut them in half lengthwise.
Scoop out the zucchini flesh so that the zucchini looks like a boat.
Set aside the extra flesh for later.
Place the zucchini boats open side up on the baking sheet.
Chop the raisins and the walnuts.
In a medium bowl, combine the raisins and walnuts with the quinoa and diced onions.
Then add the coriander, pepper, lemon zest, and salt to the medium bowl.
Mix the filling thoroughly.
Scoop the filling into the hollowed-out zucchini, packing it as tightly as possible.
Drizzle olive oil over the zucchinis.
Bake the vegetarian stuffed zucchini until it is slightly soft, and the quinoa mixture is browned on top.
While the quinoa stuffed zucchini is in the oven, prepare the puree.
Heat olive oil in a saucepan over the stove.
Caramelize the onions in the oil, stirring it frequently so as not to burn.
Reduce the heat, and add the minced garlic, salt, and the scooped-out zucchini. Then stir in the lemon juice.
Cook this over the stove while stirring regularly until the mixture becomes soft.
Use an immersion blender or a regular blender to puree the mixture until it is light and creamy.
When the zucchinis are done baking, serve them with the puree.
Scroll down for the full recipe with measurements and detailed instructions.
Tips & Tricks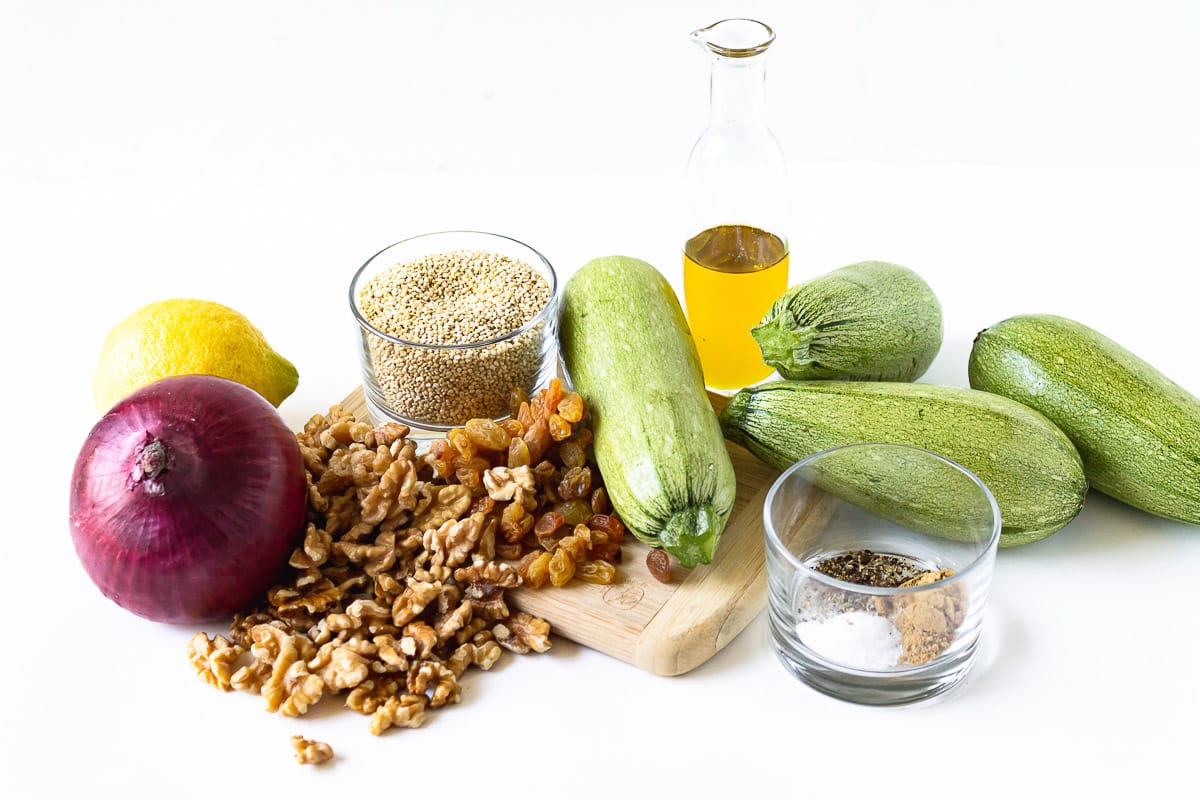 Immersion Blender
An immersion blender is like a hand mixer, but it acts more as a regular blender. It's often used to blend soups and sauces while they're still in the pot.
Variations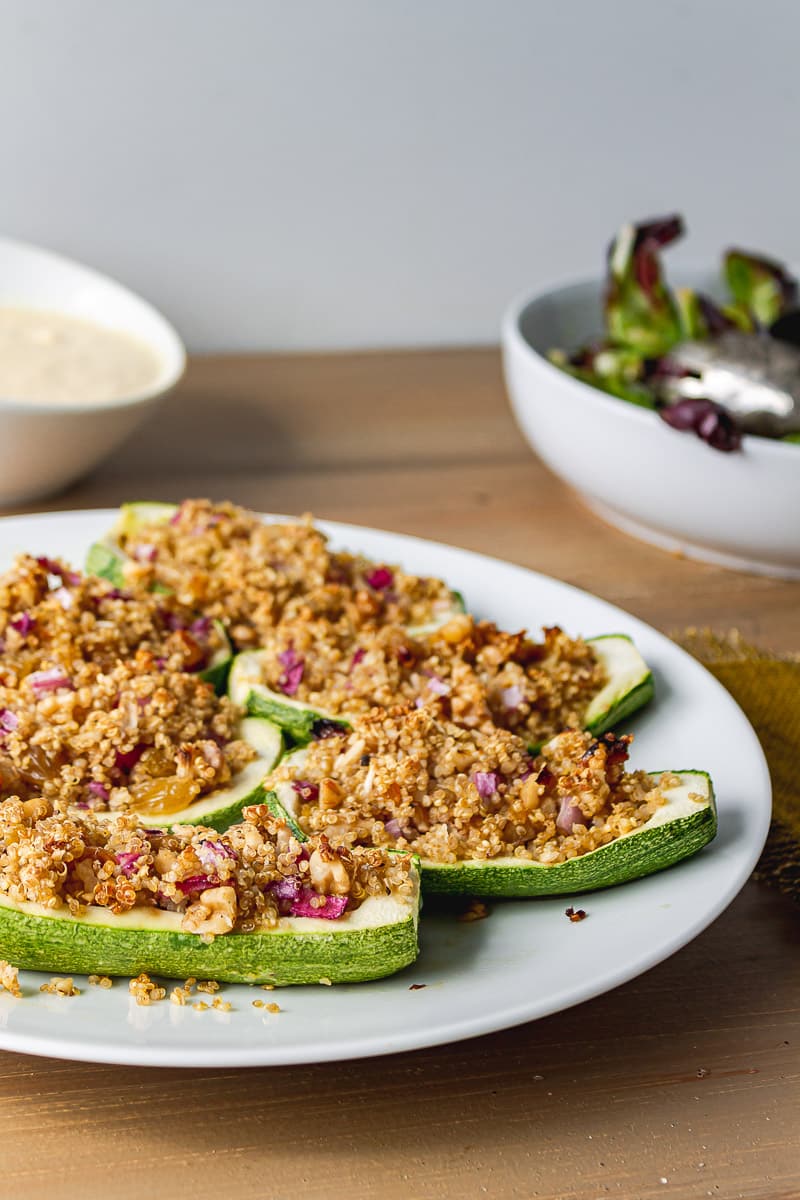 Sprinkle with Vegan Cheese
If you want to make your filling a little creamy, after you've filled the healthy, stuffed zucchini boats, top them with some vegan cheese.
If you want to add a little crunch, sprinkle the top of the cheese with Panko Japanese breadcrumbs.
Experiment with Flavors
If you don't like any of the ingredients in this vegetarian stuffed zucchini recipe, you can switch them out for some other options. Try cherry tomatoes, pine nuts, pesto, or olives.
FAQs About Healthy Stuffed Zucchini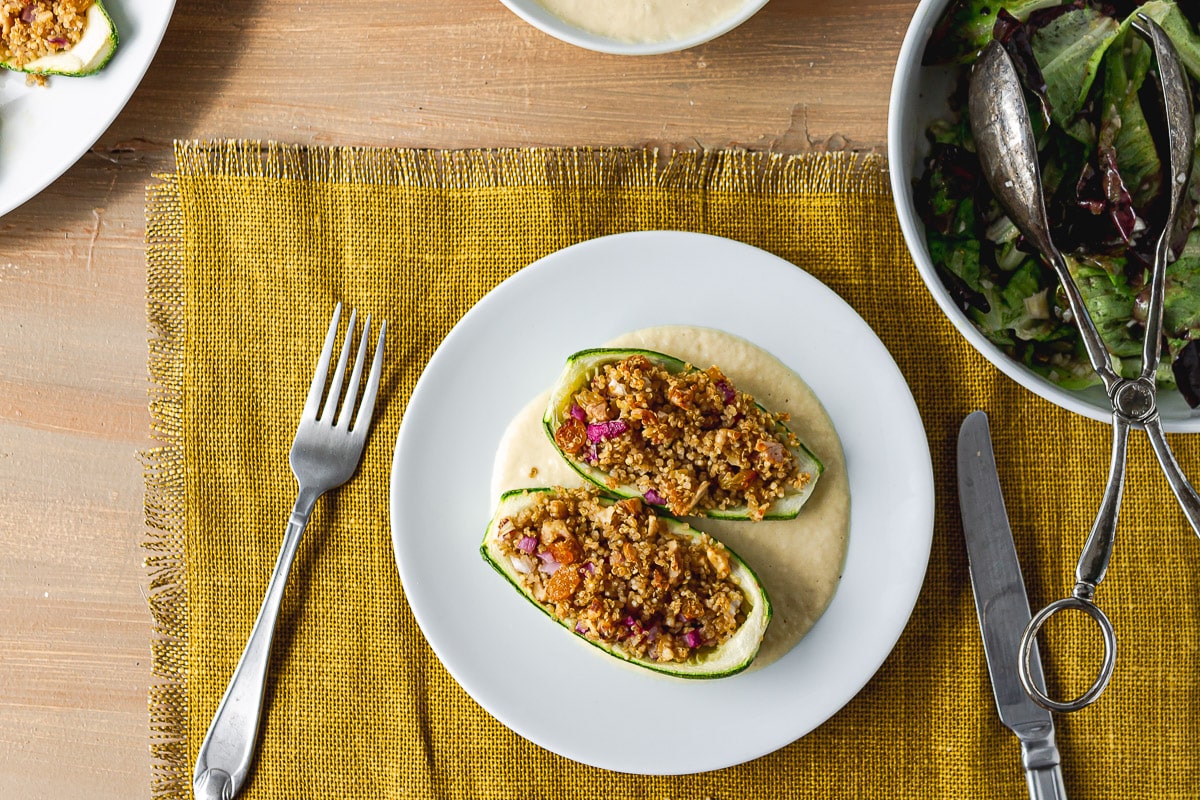 Do you eat the skin on zucchini boats?
Yes! You can eat the skin on the zucchini boats. Just make sure you clean the skin properly.
Just keep in mind that the larger zucchinis may have tougher skin and bitter taste. So, lean toward use medium-sized zucchinis for these healthy, stuffed zucchinis.
Should I peel zucchini before cooking?
No need! The zucchini skin will make it so that your quinoa stuffed zucchini holds together better as it cooks.
More Zucchini Recipes
If you love these stuffed zucchini, then you must try out these other recipes.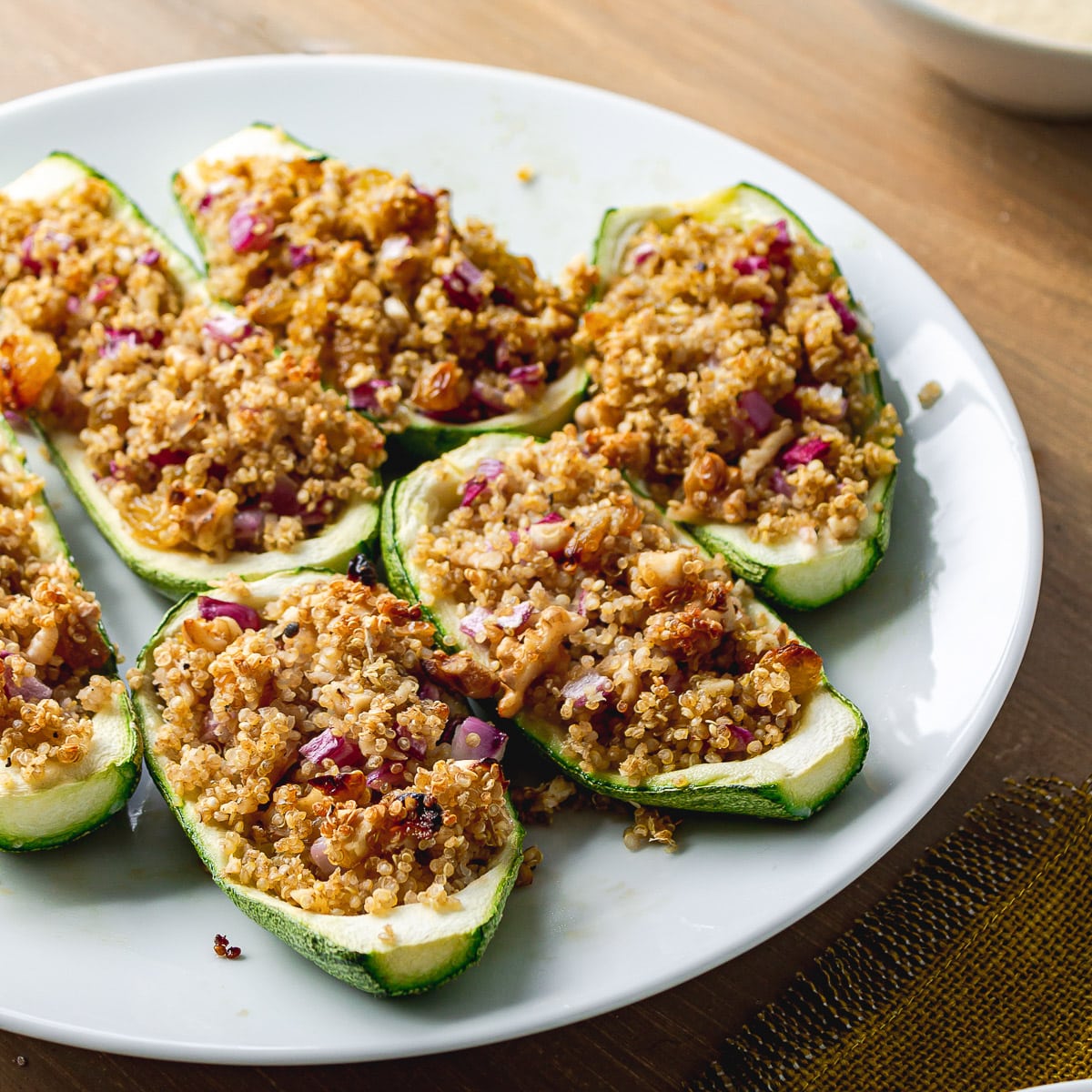 Ingredients
½

cup

quinoa

4

large

zucchini

or summer squash

½

cup

walnuts

¼

cup

golden raisins

1

red onion

diced

½

tsp

ground coriander

1

tsp

salt

¼

tsp

ground pepper

lemon zest

from one lemon

lemon juice

from one lemon

2

cloves

garlic

minced

¼

cup

olive oil

divided
Instructions
Preheat oven to 375°F. Line a baking sheet with aluminum foil.

Cook quinoa according to package instructions. Set aside.

Wash and dry zucchini. Slice off both ends and cut in half lengthwise.

Scoop about 1 - 1 ½" deep out of the zucchini flesh. Set extra flesh aside for later. Place zucchini boats open side up on baking sheet.

Coarsely chop raisins and walnuts.

In a medium bowl, combine quinoa, walnuts, raisins, and ½ cup diced onions. Add coriander, pepper, lemon zest, and ½ tsp salt.

Mix the filling thoroughly. Scoop into the hollowed-out zucchini, packing in as tightly as possible. Drizzle 2 tbsp of olive oil over the zucchini.

Bake for 25 minutes until zucchini is slightly soft and quinoa mixture looks lightly browned on top.

While zucchini is baking, prepare puree.

Heat 2 tbsp olive oil in a medium saucepan over medium heat. Caramelize ½ cup diced onion in oil for 4-5 minutes, stirring frequently.

Reduce heat to med-low. Add minced garlic, ¼ tsp salt, and scooped out zucchini insides. Stir in lemon juice.

Cook for 10 minutes, stirring regularly, until very soft. Using an immersion blender or transfer too a regular blender and puree until light and creamy.

When zucchini are baked, serve immediately with the puree on the side as a sauce.
Nutrition
Calories:
386
kcal
Carbohydrates:
36
g
Protein:
9
g
Fat:
25
g
Saturated Fat:
3
g
Sodium:
507
mg
Potassium:
881
mg
Fiber:
6
g
Sugar:
13
g
Vitamin A:
425
IU
Vitamin C:
47
mg
Calcium:
79
mg
Iron:
3
mg
Craving more veg-friendly recipes?
Shop our collection of vegetarian and vegan cookbooks, including our new Vegan Thanksgiving and Vegan Christmas cookbooks!