This vegan pumpkin pie is a dairy free version of the Thanksgiving favorite. Packed with flavor from a rich, creamy pumpkin filling - all wrapped up in a perfectly flaky homemade pie crust and topped with whipped coconut cream.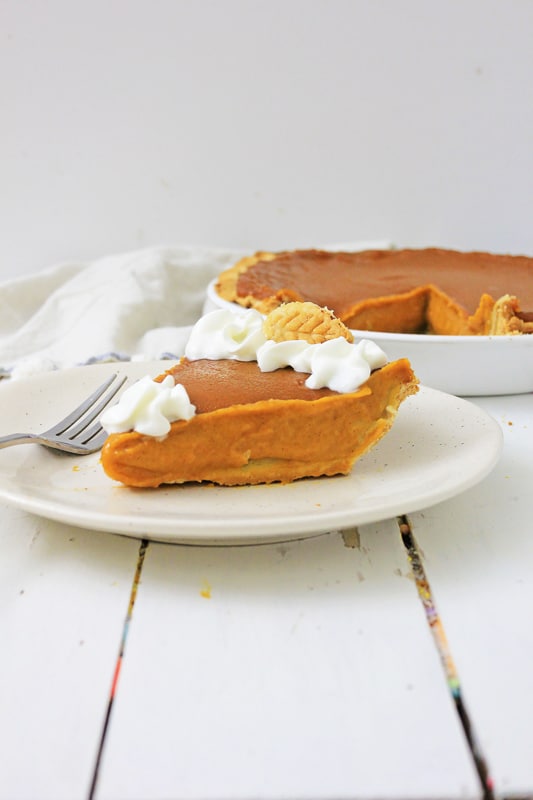 Jump to:
I've been perfecting this vegan pumpkin pie recipe for months and I'm so excited that I finally have something extra special for Thanksgiving dessert.
It is so rich and creamy with the perfect custard texture, and no eggs, and no dairy, which means I can have a really … really … really … large slice. And feel perfectly fine about it. Let's go make a vegan pumpkin pie!
Making the Vegan Pie Crust
If you'd like to cut the work down a bunch, you can go ahead and use a store bought vegan pie crust.
I do this sometimes too, and it works just as well. But there's something special about making your own for the holidays.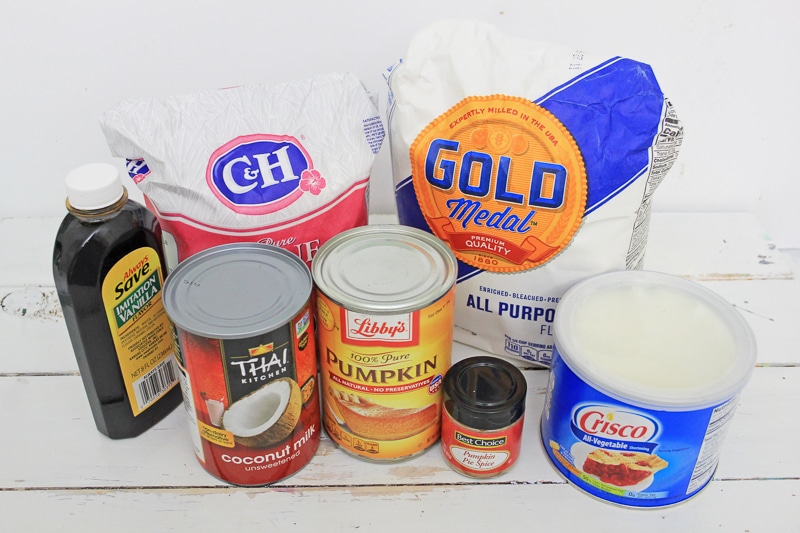 Making pie crust dairy-free can be very tricky because butter can be hard to replace.
However, I've been integrating Crisco into my dessert makeovers lately and I've been wonderfully surprised at how it always gives my pies that perfect tender, flaky texture.
Cisco is a vegetable shortening that is completely vegan and the best vegan butter substitute you can use when making non-dairy pies. It acts similarly to lard in baked goods and it's known for giving pies a fantastic flaky crust.
So now that the butter is out of the way …
Combine the flour and sugar in a large bowl. Cut in the Crisco shortening with a pastry cutter, or use 2 knives or your fingertips, until mixture is the size of green peas - it should look like coarse crumbs.
Add hot water, toss gently with a fork to mix until the dough forms into a ball. Flatten your ball of dough and make one ball for one crust for this recipe (make two balls for a double-crust pie).
Wrap it tightly with plastic wrap and refrigerate for 30 minutes or overnight.
Remove the dough from the refrigerator and place this in between two pieces of parchment paper that have been lightly sprinkled with flour, and with a rolling pin, roll the dough gently until you have it about 2 to 3 inches larger than the pie pan you're using. So, for a 9 inch pie, roll to 11 or 12 inches in diameter.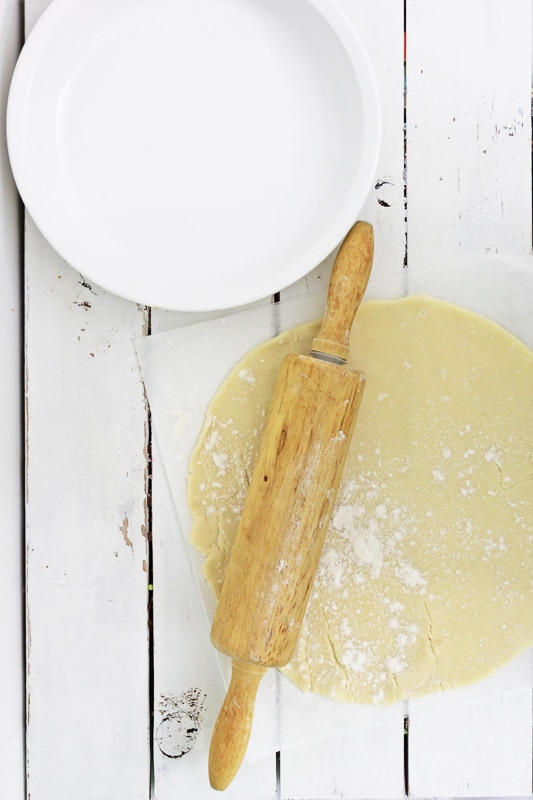 When transferring the dough to a pie plate, be careful not to stretch the pastry. Trim any hanging pastry about ½ to ¾ inch beyond edge of the pie plate before crimping the edges.
Crimp the edges by pinching the dough using your forefinger and thumb until you get around the pie. See the picture below for an example.
Now you have a tender and flaky pie crust ready for your favorite filling!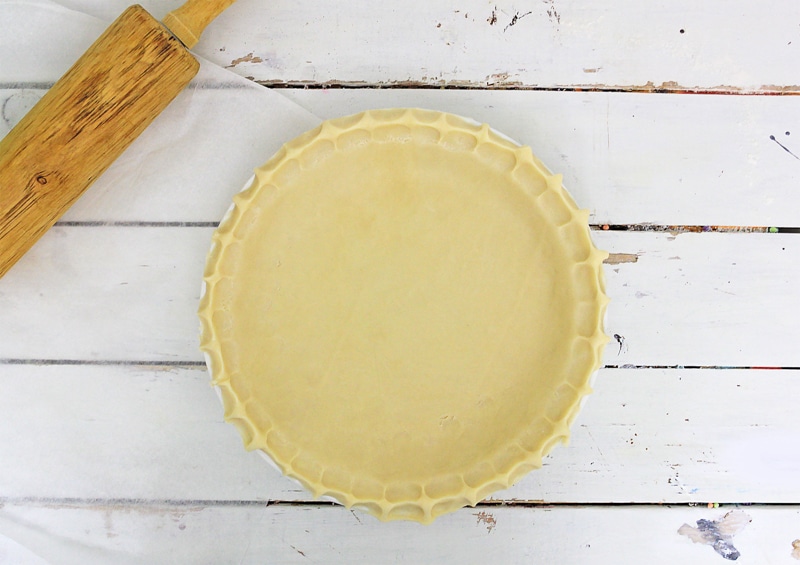 And if you want to get really fancy, you can make some adorable fall-themed shapes from your extra pie crust dough to decorate the edges. Check out my traditional pumpkin pie recipe for instructions.
Making Vegan Pumpkin Pie Filling
Making the filling is super easy! Just put all the ingredients in a large bowl - pumpkin, coconut milk, brown sugar, maple syrup, sugar, pumpkin pie spice, cinnamon, and cornstarch - and combine until everything is well mixed.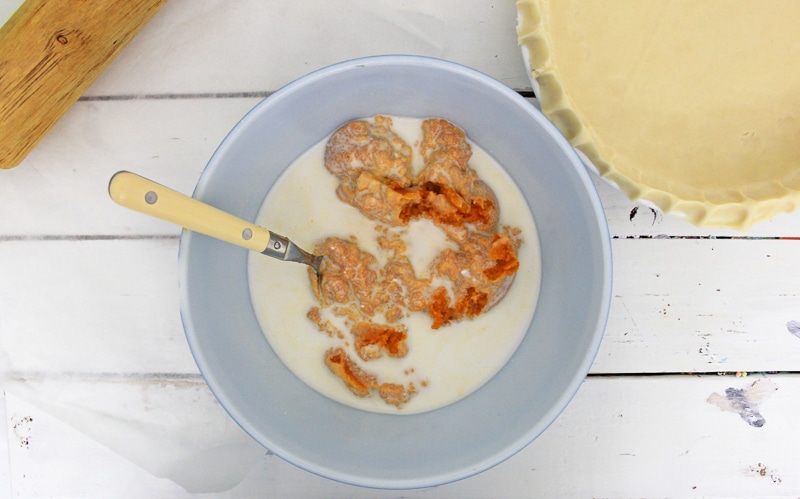 Then, pour this in your prepared pie crust. You first bake this in a 425°F oven for 15 minutes. Then, turn down the oven to 350 and bake for another 45 - 50 minutes.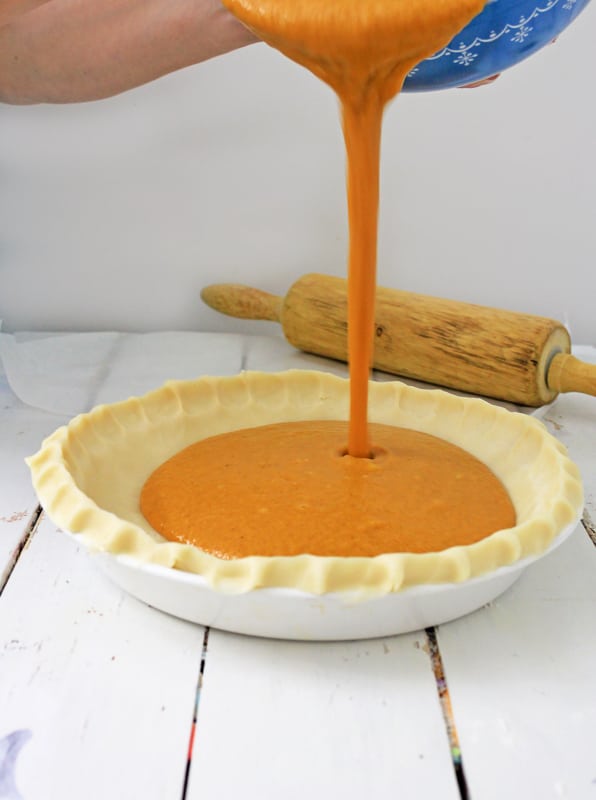 A Few Tips
Pumpkin pie is a custard and like any custard it has to be baked slowly so that it cooks through evenly. Here are a few secrets to getting a silky smooth pie.
2-stage baking - We bake the pie in 2 stages. First in a 425°F high temperature to set the structure of the crust, then on a 350°F lower oven temperature to gently finish cooking the custard filling without cracking it.
The jiggle factor - Give your pumpkin pie a little shake and the center should still be slightly jiggly.
If you're not confident about jiggling to check if it's really done, you can use an instant-read thermometer, like a Thermapen, to check the internal temperature. When it reads at 175°F when you insert it into the center of the custard, pull the pie out of the oven immediately.
Chilling - Allow the vegan pumpkin pie to cool completely at room temperature before putting it in the refrigerator to chill. This prevents the custard from cracking. Chill overnight or at least 4 hours.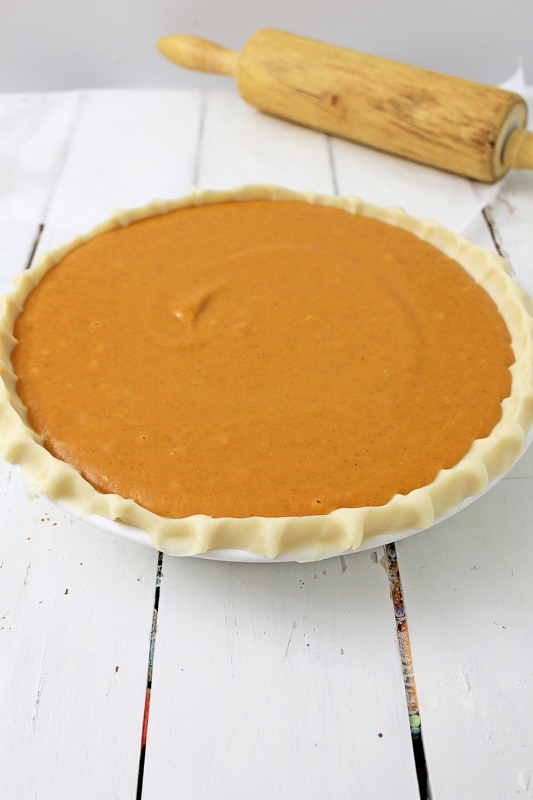 You can use canned pumpkin as a healthy substitute for eggs in many baked goods. They're perfect for adding moisture to cakes, cookies, muffins, breads and brownies. Just add ¼ cup canned pumpkin for each egg called for in the recipe. (Like these healthy pumpkin muffins.)
And checkout my vegan baking cheat sheet if you're looking for other vegan substitutions. It's a handy reference to have on hand if you need to veganize anything.
Coconut Whipped Cream Topping
There are many dairy-free and vegan whipped cream products you can buy in the market these days, but be aware that some of them actually do contain milk-based ingredients.
It's easy to make this dairy-free, vegan-friendly version of the classic whipped cream. I just swapped a good quality full fat coconut milk in its place!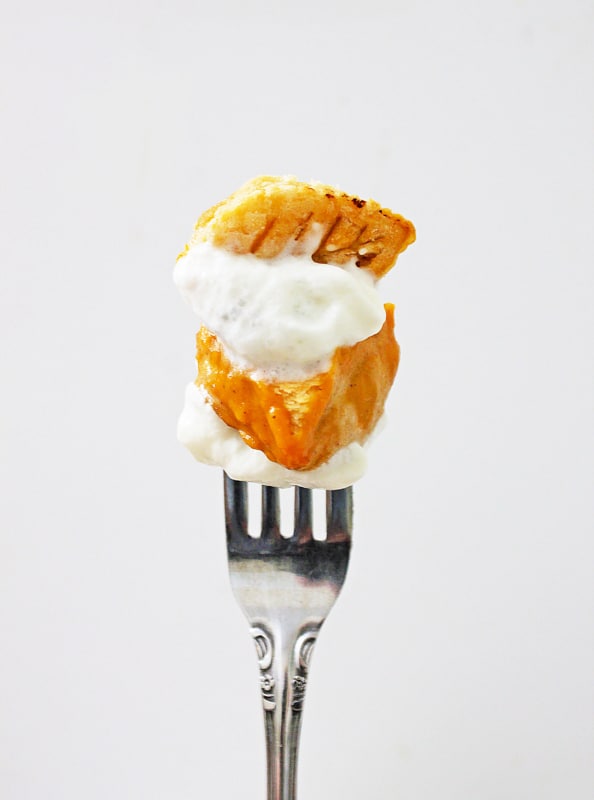 Put the unopened can of coconut milk in the refrigerator for at least 4 hours. (I usually leave it in overnight.) Grab the can out of the refrigerator, be careful not to shake it, open the can and scoop out only the cream that is now solid and floating on top. You can throw away the remaining liquid or use it in a smoothie.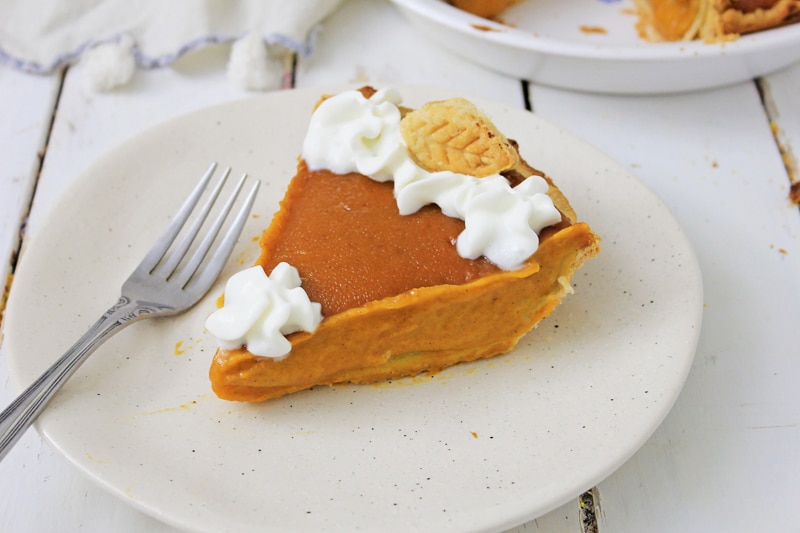 Beat the coconut cream in a large bowl until smooth. Add the sugar, vanilla, and corn starch which stabilizes the whipped cream so that it holds up longer.
Continue beating until creamy … and there you have it -- perfect coconut whipped cream at your fingertips. Now, pile it up on top of your Thanksgiving vegan pumpkin pie!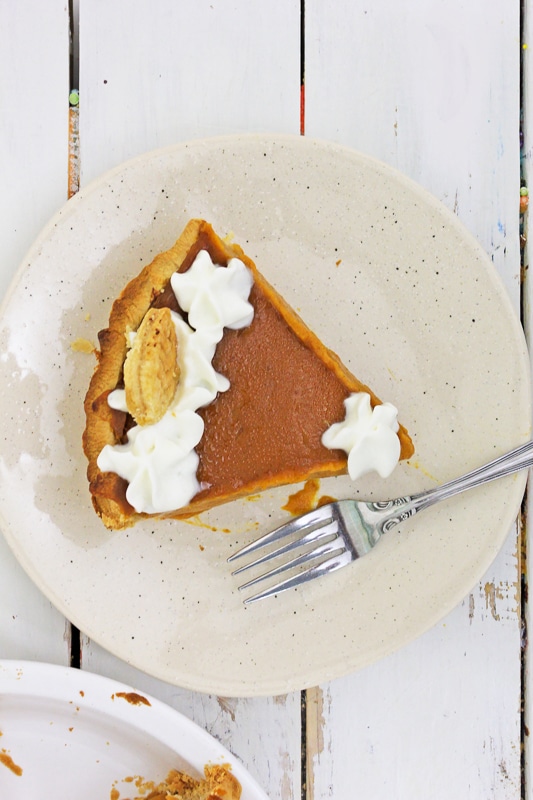 More Recipes
If you love this vegan pumpkin pie, be sure to check out these other tasty ideas too:
Recipe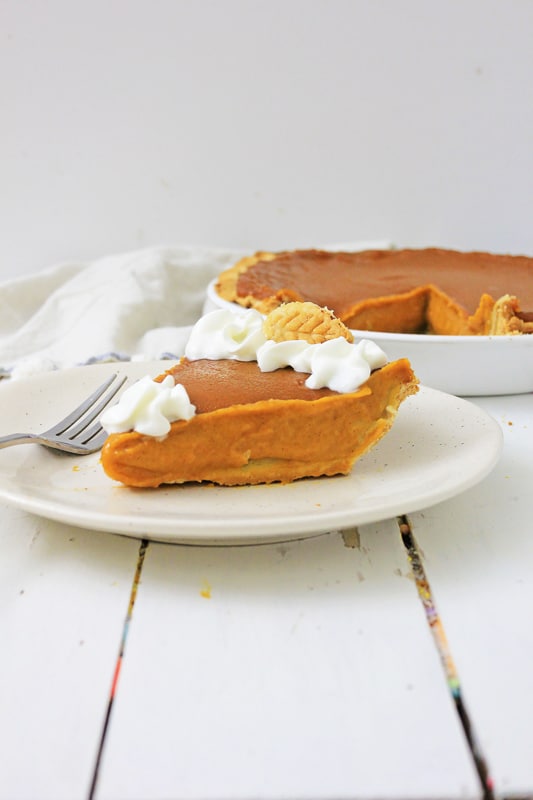 Ingredients
Instructions
FOR THE PIE CRUST
In a mixing bowl, add the flour, pinch of sugar, and Crisco, and mix well, cutting the Crisco into the flour with a pastry cutter, or knife, until pea size particles form.

Add the hot water, and mix until the dough forms a ball. Place the ball of dough between two pieces of parchment paper sprinkled with flour, and roll with a rolling pin until you have the crust rolled about 2 inches larger than the pie pan you're using.

When the crust is rolled out, place it in the pie pan, and crimp the top around the edge, with fingers.
FOR THE PIE FILLING
In a large bowl, add the Pumpkin, coconut milk, brown sugar, maple syrup, sugar, Pumpkin pie spice, cinnamon, and corn starch, and stir well until all ingredients are completely blended. Pour filling into crust in pie pan.

Bake at 425 for 15 minutes, and then turn oven down to 350, and bake for an additional 45 - 50 minutes, or until a toothpick inserted in the center comes out clean.

When pie is done, remove it to a wire rack and allow to completely cool. If you are not serving the pie within 4 hours of baking, place pie in an airtight container and refrigerate until time to serve.
FOR THE COCONUT WHIPPED CREAM
While pie is cooling, remove the can of coconut milk from the refrigerator, and do not shake the can.

Open the can, and remove the solid cream on top that has separated from the water, and place in the mixing bowl of a stand mixer.

Mix the sugar and cornstarch together, and add to the coconut cream, and add the vanilla. Mix on high with the whisk attachment until peaks form. Serve immediately on top of pie. Enjoy!
Nutrition
Calories:
5007
kcal
Carbohydrates:
517
g
Protein:
39
g
Fat:
312
g
Saturated Fat:
78
g
Sodium:
60
mg
Potassium:
680
mg
Fiber:
12
g
Sugar:
195
g
Vitamin A:
156
IU
Calcium:
254
mg
Iron:
19
mg
Craving more veg-friendly recipes?
Shop our collection of vegetarian and vegan cookbooks, including our new Vegan Thanksgiving and Vegan Christmas cookbooks!