This is the best pumpkin pie ever -- and I can't wait to make it this year! It's the star of our Thanksgiving dessert buffet every holiday season - creamy, rich pumpkin custard wrapped in flaky pastry crust. So simple and delicious!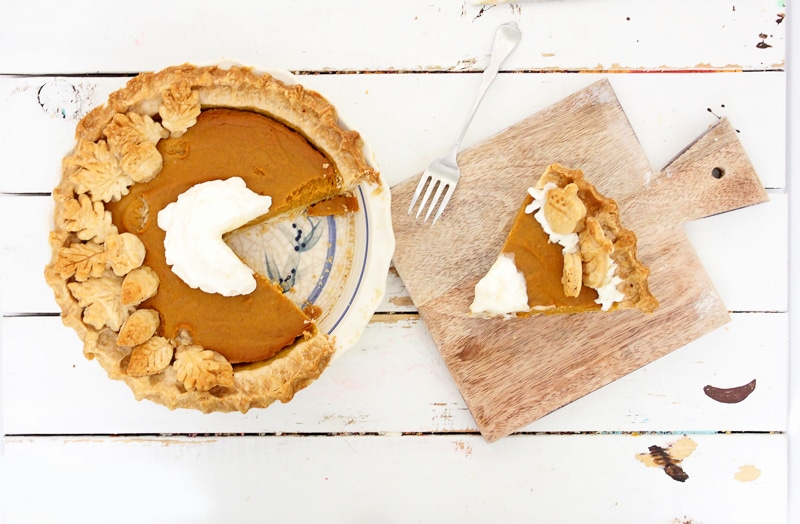 Jump to:
The Pumpkin Pie Crust
Let's start with the crust!
Of course you can use a store-bought pie crust if you prefer. But c'mon it's the holidays, so it's better to make this with my homemade pie crust. It's much easier than you think, I promise!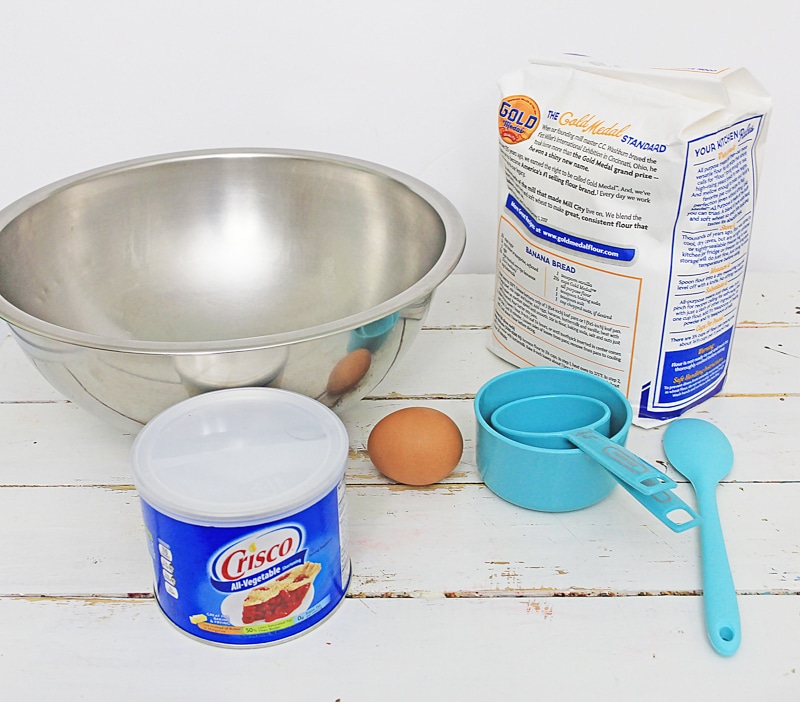 Just mix the flour, salt, sugar, and Crisco in a large bowl. Using a pastry cutter, cut the Crisco into the flour mixture or use two forks to cut the fat into the flour mixture until it resembles pea size pieces..
Don't worry when your cutting the Crisco into the dry ingredients, you're really only breaking it into small pieces.
It's a technique to quickly combine the ingredients together so that the shortening or fat does not melt. This is what gives you a beautiful flaky crust.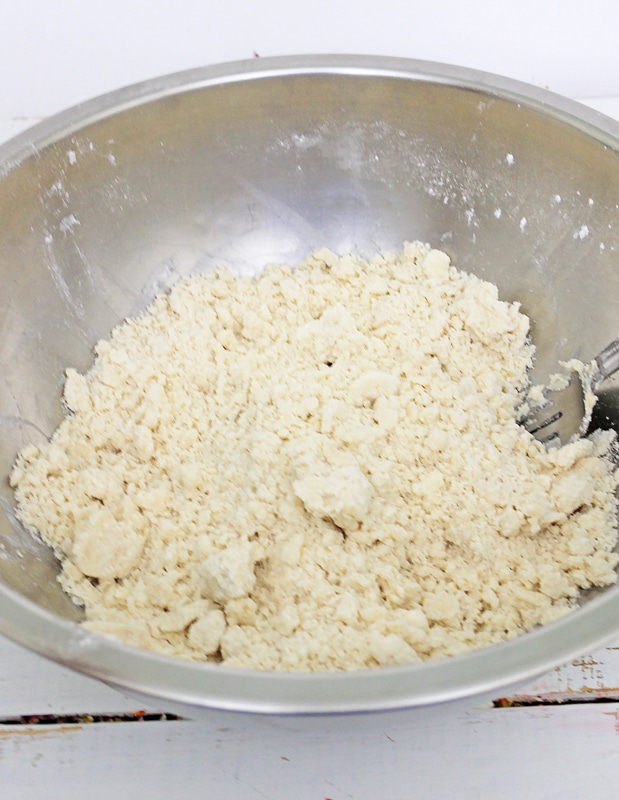 Next, in a 1 cup measuring cup, beat the egg until lightly colored and frothy. Add in the white vinegar and stir. Add water until you fill the measuring cup, stir well and pour into the flour and Crisco mixture.
Mix the dough just until it comes together and forms into a ball when you squeeze it in your hand.
Use a large spoon to mix, try not to use your hands too much when making the dough.
Your hands can be warm and will quickly melt the shortening. Add more flour if the dough is too sticky.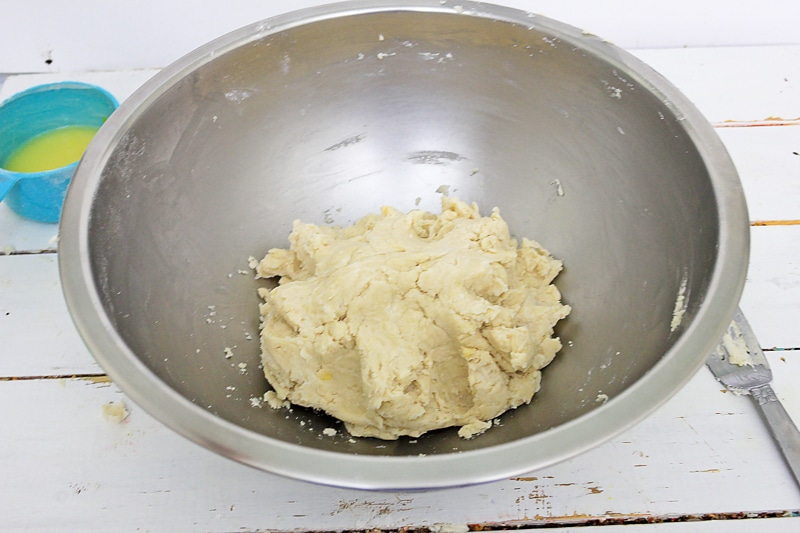 Cut the dough in half and flatten each into two discs. Wrap the dough in plastic wrap and refrigerate for at least one hour to allow it to rest.
Remove them from the refrigerator, when you're ready to roll out your dough. Lightly flour a large piece of parchment paper and your rolling.
Place the dough on the parchment paper and gently roll it from the center out, applying even pressure and turning the dough a quarter turn after a few rolls. Sprinkle more flour on your surface to prevent the dough from sticking.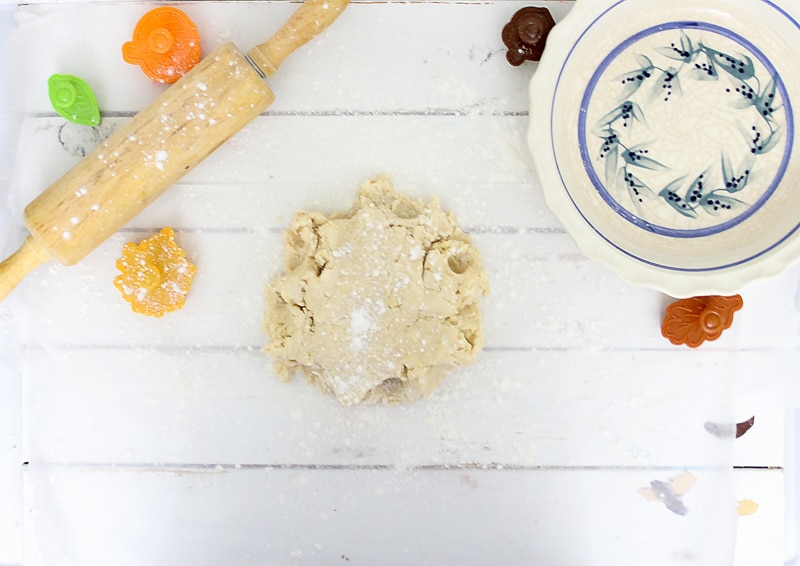 You'd want to roll until the dough is about three or four inches bigger than your pie pan, this will leave you with enough dough to crimp edges.
Here's a video for different ways to decorate the edges of the dough.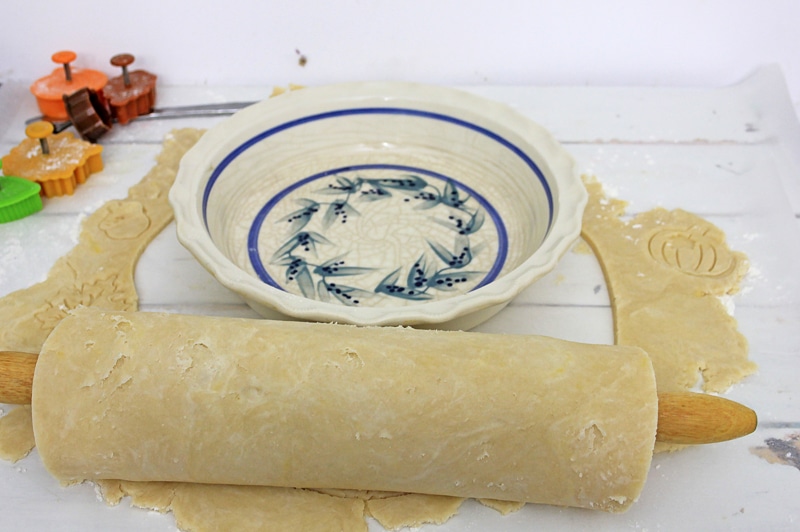 After rolling out the pie crust, transfer it into your pie pan, then trim and crimp the edges. Set aside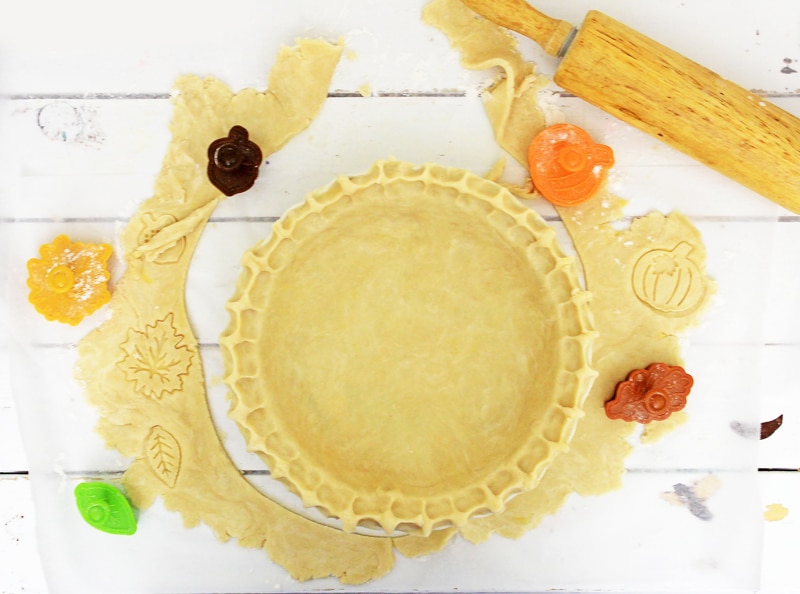 This pie crust recipe will make two 9-inch double crusts or four 9-inch single crusts.
The Pumpkin Pie Filling
As for the pumpkin pie filling, it's as easy as combining the wet and dry ingredients in one bowl, then mixing it all together.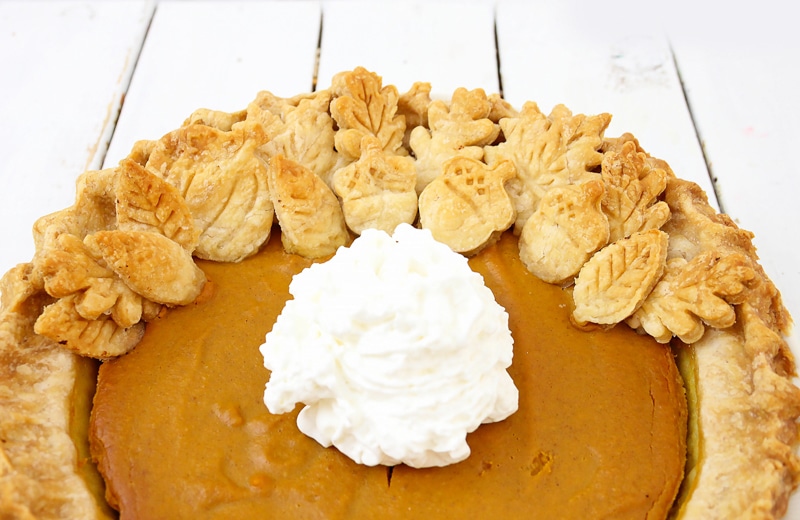 For the pumpkin pie custard, I always make sure to use a plain pureed pumpkin as my base - the only ingredient on the can should be pumpkin.
This is so I can control the flavor and how sweet I want the filing to be, rather than relying on a pre-seasoned pie filling.
I add a tad of cinnamon as my spice of choice to give the pie that traditional pumpkin pie flavor. Feel free to use the spices you love, like nutmeg, ginger and cloves.
For just a touch of sweetness with less added sugar, you can use brown sugar or molasses in the recipe instead of granulated sugar to add a little extra caramel-y flavor.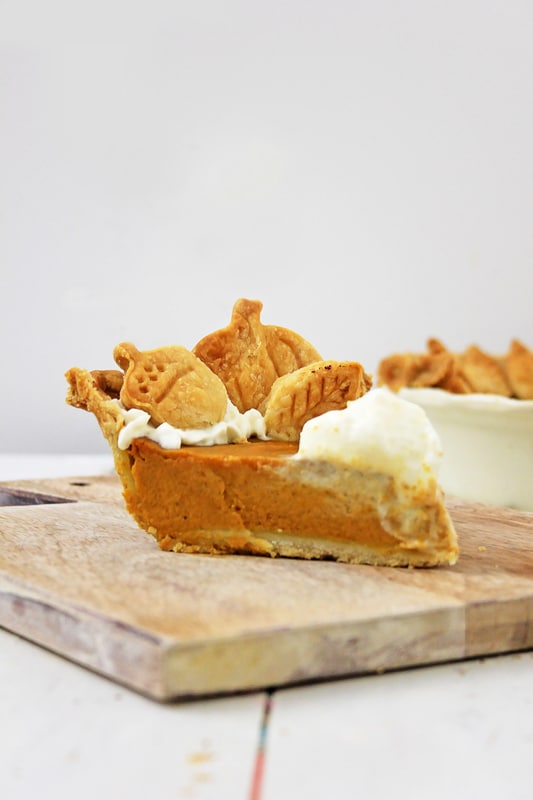 The eggs and half and half will help to thicken the filling a bit.
Bake the pie at 425°F for about 20 minutes, then lower the oven temperature to 350°F and bake for another 45 minutes.
Reducing the oven temperature will avoid over baking the custard and prevent cracks in your pumpkin pie.
It's best to remove the pie while the center is still a little wobbly. The heat will continue to cook the pie when it's out of the oven and the center will finish cooking and firm up as you let it set and cool down.
FAQs
What is the difference between canned pumpkin puree and pumpkin pie filling?
Canned pumpkin is nothing more than plain cooked, pureed pumpkin. The only ingredient on the label should be pumpkin.
Pumpkin pie filling, on the other hand, has spices like cinnamon, clove, allspice and ginger added for extra flavor and often sugar to sweeten.
Why is my pumpkin pie mushy?
It can happen to us all! You followed the recipe to the letter but when you checked with a toothpick, the inside wasn't set at all. It's mushy! What did you do wrong? Why didn't the filling set?
There are many reasons why your pumpkin pie might be mushy:
You used the wrong pumpkin - fresh pumpkin has a lot more moisture than canned pumpkin .
You need to add more eggs.
You docked (poked holes in) your pie and let the liquid filling seep on the bottom of the crust.
Undercooking or overcooking the pie.
These are my recommendations to saving a mushy pumpkin pie:
To firm up an already baked pumpkin pie, leave it to set in the fridge for about 12 hours. The pumpkin custard will firm up and become cold.
For not yet baked pumpkin pies, adding more eggs to the recipe is a good idea. Pumpkin pie filling is a custard and like all custards, eggs are essential to help it hold its shape. Whatever the recipe calls for, increase by one egg if you're having trouble.
Don't dock the dough. You want to avoid adding numerous small holes in the dough which will cause the uncooked pie filling to seep on the bottom and create a soggy crust.
Make sure you bake it just enough. Remove the pumpkin pie from the oven while there is still a little jiggle in the center. The filling will continue to cook after removing it from the oven.
Decorating the Pie Crust
You can simply top the pie with heaping piles of whipped cream and serve immediately, but if you have extra dough which you rolled out earlier, you can use them to make little crust cookies to add something special.
Just grab some pie crust cutters (like this set), cut out as many leaves, acorns and pumpkin shapes that you need.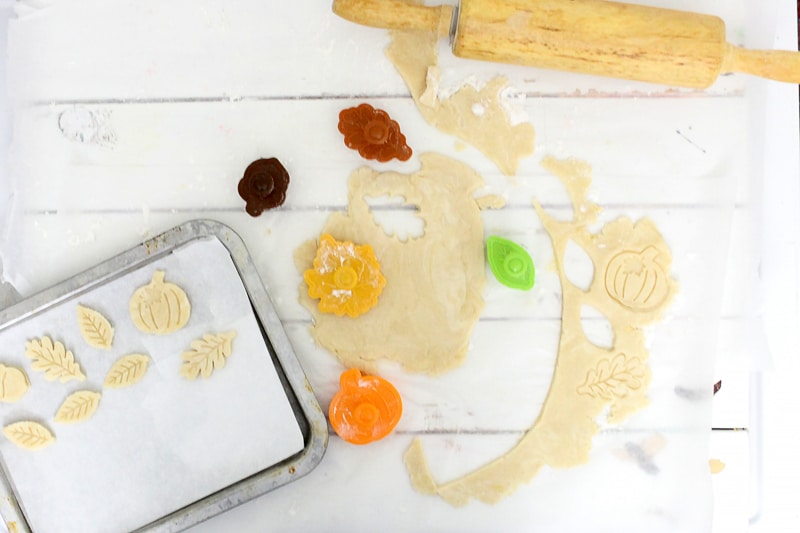 You'll want to bake these crust cookies separately as they cook quicker than the actual pumpkin pie. Pop them into a 350°F for about 10-12 minutes or until golden in color.
Brush with melted butter or sprinkle with colored or cinnamon sugar or dip in white chocolate tinted with various food coloring gels for a burst of fall colors.
Tip: These are a great way to hide that crack or two in your pumpkin pie filling, but also a nice way to make your pumpkin pie look extra special!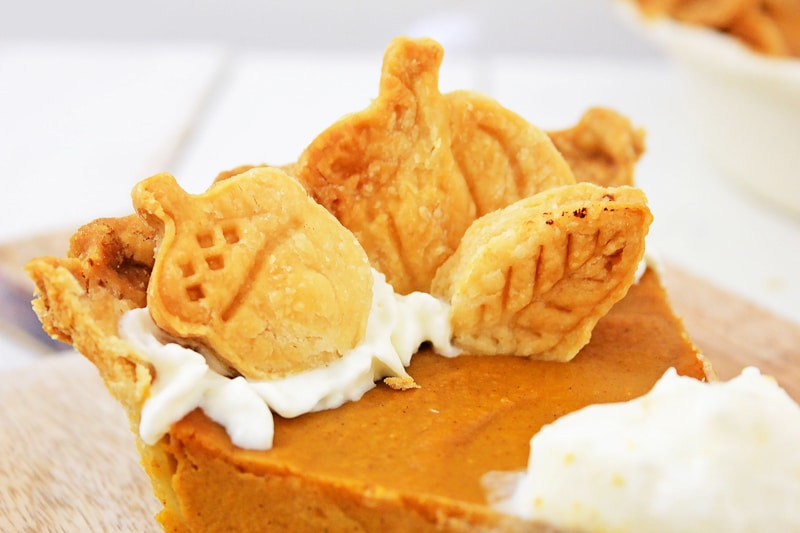 More Recipes
If you love this pumpkin pie recipe, be sure to check out these other tasty treats:
If you're here planning your holiday menu, don't miss our new Vegan Christmas and Vegan Thanksgiving cookbooks. They're packed with all my favorite holiday-worthy recipes for a plant-based feast.
Recipe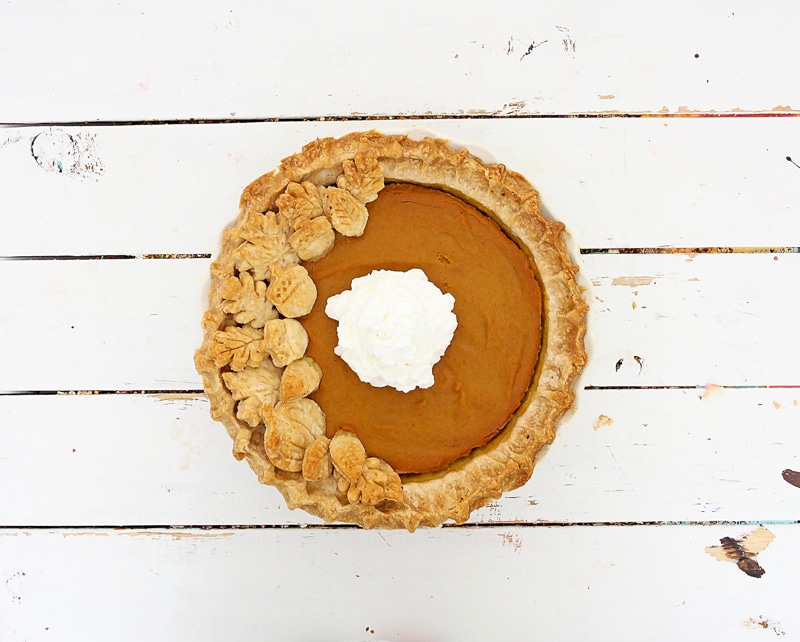 Equipment
2 large mixing bowls

1 wooden rolling pin

Pastry cutter

Waxed paper

A wire rack for cooling

Fall pie crust cutters - Optional

Colored sugars - Optional
Instructions
MAKING THE CRUST:
In a large bowl, mix the flour, salt, sugar, and Crisco, and cut the Crisco into the flour mixture with a pastry cutter, (like you would with any pie crust) until it resembles pea size pieces.

Add the Egg to a 1 cup measuring cup, and beat it with a fork until it's light colored and frothy. Add the white vinegar to the egg, and stir. Fill the measuring cup with water, stir, and pour into the flour mixture. Mix the flour and egg mixture, until a ball forms. You can use your hands to do this, or a large spoon. You may need to sprinkle with a small amount of flour if the pie crust is too sticky.

Place the ball of crust on a large piece of parchment paper, and roll with a flour covered rolling pin, until your crust is large enough to fit in your pie pan, and come up the edges with enough to crimp; you'll want about to roll your crust about three or four inches bigger than your pie pan. If the crust sticks to your rolling pin, sprinkle a little more flour on the crust.

Once the crust is rolled, turn in into your pie pan while it's still on the parchment paper, and remove paper, leaving crust in pie pan. Smooth your crust into the pan with your fingers, making sure there are no tears in the crust. Trim off rough edges, but leave enough to put a nice crimped edge around the top of your crust/pan. Crimp the edges with fingers, and set aside.

This recipe makes approximately 4 9-inch pie crusts. Any crust that you don't use right away can be frozen.
FOR THE FILLING:
In a large mixing bowl of a stand mixer, add the Pumpkin, sugar, cinnamon, and salt, and mix until all ingredients are blended. Add the eggs, and blend well. Add the half n half, and mix until filling is completely blended.

Pour filling into prepared pie crust.
BAKE THE PIE
Bake at 425 for 20 minutes, then reduce the oven temperature to 350, and bake for another 45 minutes, or until a knife inserted in the center comes out clean.

When the pie is done, remove from oven to a wire rack to cool. When pie is completely cool, serve immediately, topped with whipped cream. If you're making the pie ahead, cover with waxed paper and them Aluminum foil, and refrigerate until time to serve.
FOR THE DECORATIVE EDGES (optional):
Roll out your additional crust on parchment paper to about ¼ thick, and with the pie crust cutters (see links in article above), press the cutter down onto the crust, and then push the leaf, or acorn out with the little button on top, onto a parchment lined cookie sheet, until you have as many as you want.

Bake the decorative leaves and acorns at 350 for about 10 - 12 minutes, or until golden in color. These burn really fast, so you have to watch them while in the oven. You can also sprinkle them with colored sugars, or cinnamon sugar before baking for a little extra touch.

You can make a whole tray of these with the colored sugars or cinnamon sugar, or dip them in chocolate after baking for a pretty tray on your dessert table. Butter the leaves or acorns with melted butter when they come out of the oven if you don't sprinkle with sugars.
Notes
The Pie Filling recipe makes one 9 inch pie - double the recipe for 2 pies, triple it for 3.
The Crust recipe will make enough crust for 4 single rolled pies - the crust makes plenty to cut out the leaves and acorns to decorate your pie(s).
Craving more veg-friendly recipes?
Shop our collection of vegetarian and vegan cookbooks, including our new Vegan Thanksgiving and Vegan Christmas cookbooks!