This vegan pea and avocado pesto pasta is a vibrant, fresh lunch or dinner that's ready in 15 minutes. It's so easy to make, perfect for beginner cooks, and requires just a handful of simple, wholesome ingredients!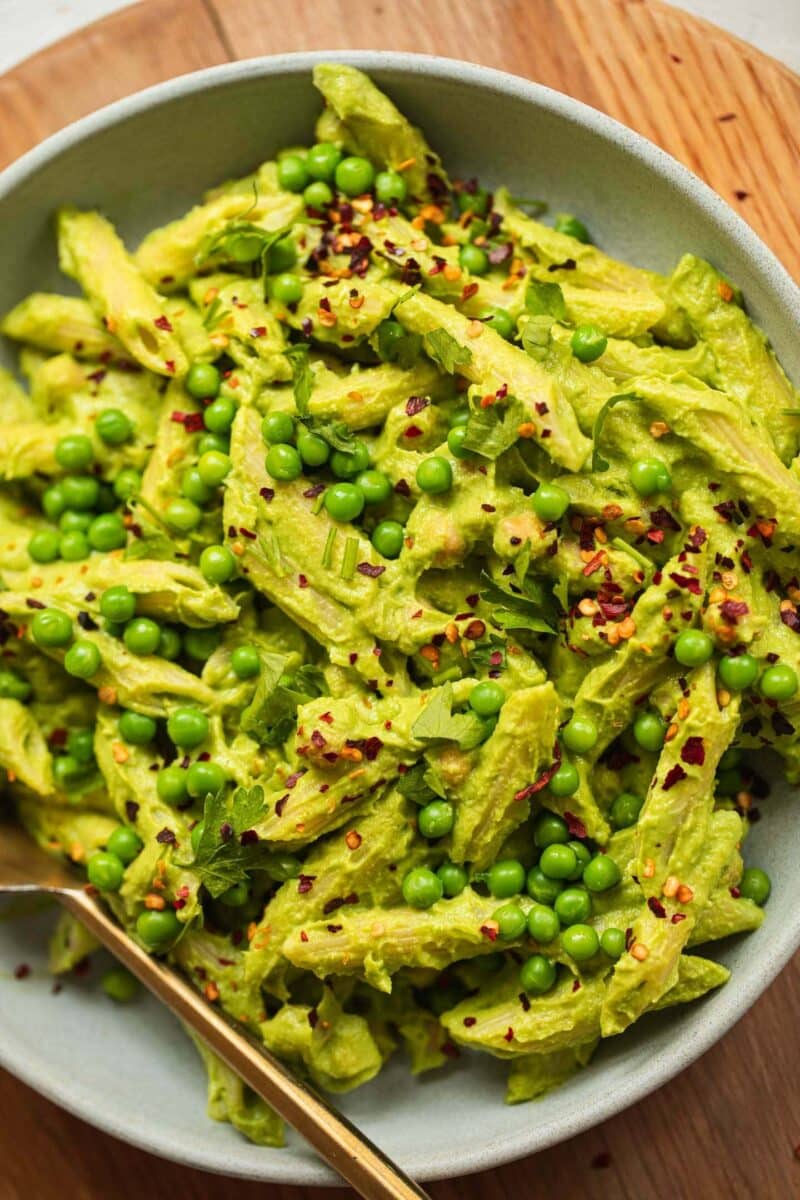 I love easy meals that taste delicious despite their short preparation time. Sometimes, that involves boiling some potatoes and beans, and throwing whatever vegetables I have in the fridge into a bowl. Another likely scenario involves some sort of pasta dish with a delicious sauce. Whether I'm making roasted red pepper pasta or a dairy-free Alfredo sauce, it simply never gets boring.
Today's amazing pasta dish is a vegan pesto pasta made with a pea and avocado pesto, and it's exactly the sort of plant based meal I could never get bored of. I'm sure that you will love it just as much as I do!
Vegan pesto pasta
Pesto pasta is a go-to recipe for many people for numerous reasons. First of all, it's incredibly delicious. Secondly, it's so easy to put together, whether using a store-bought pesto or making one from scratch. When you don't quite know what to cook but still want something that tastes amazing, you just can't go wrong with chewy pasta with a rich, flavorful sauce!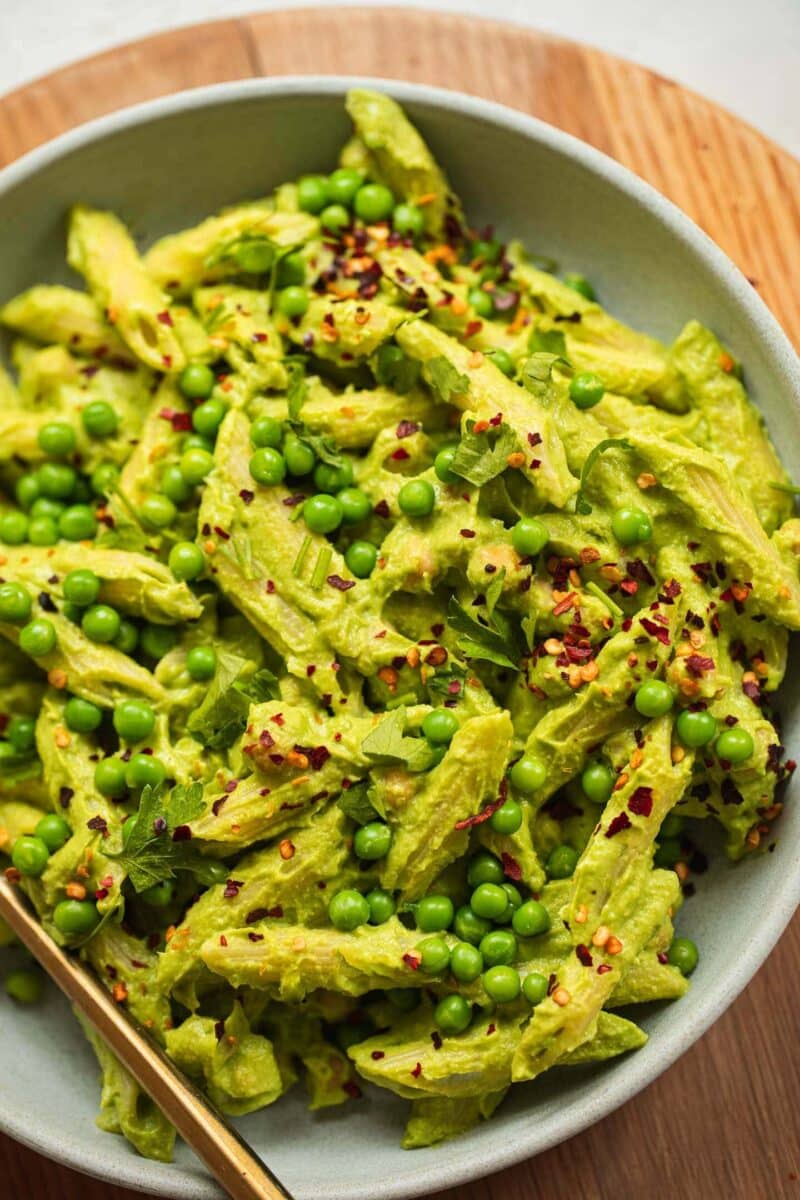 The pesto used for this recipe is slightly unconventional, because it uses avocado and peas as a base. Normally, pesto is made with pine nuts, or another nut variety like macadamia. However, I wanted to keep this recipe nut-free in order to make it as allergy-friendly as possible. The addition of mustard also helps to add a cheesy flavor without any actual cheese. And of course, a handful of fresh basil makes a great addition to any pesto recipe!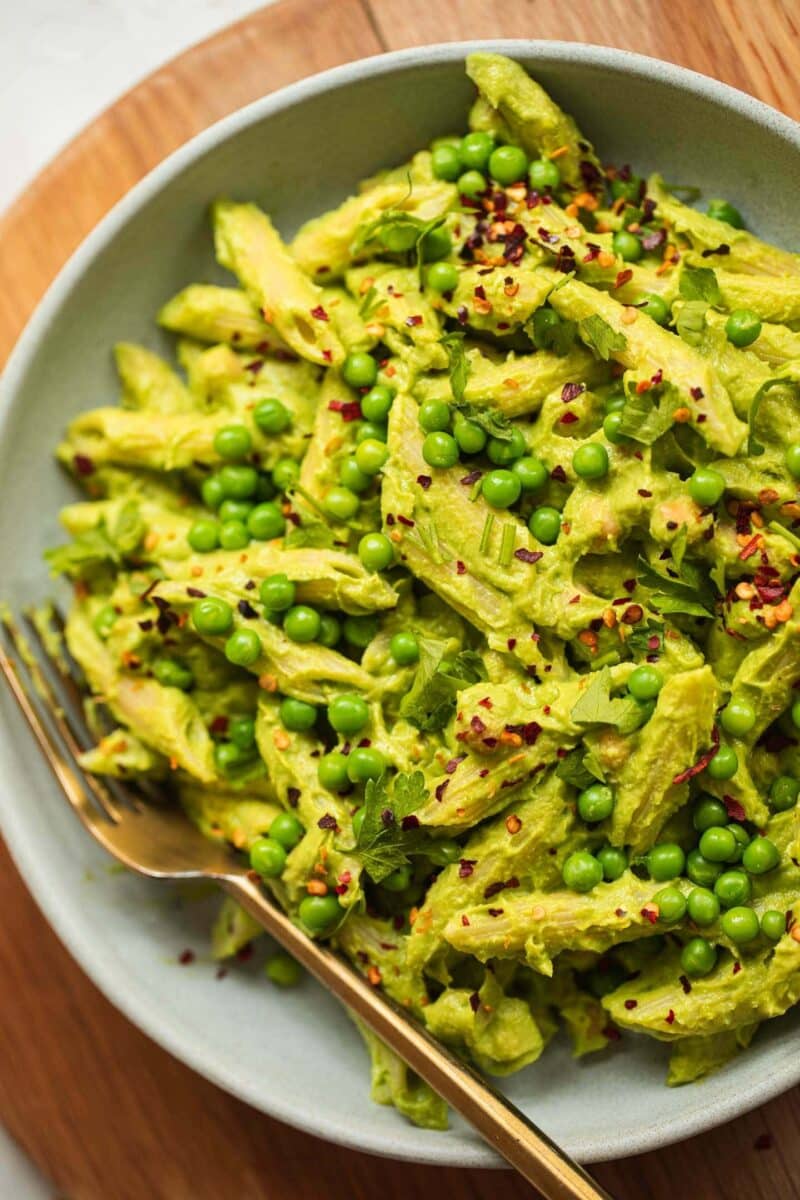 While the avocado makes a creamy texture, the peas bring in a refreshing flavor as well as plant based protein. The overall flavour is memorable, refreshing and summery. It goes so well with the pasta, and makes a perfect lunch or dinner that anyone can enjoy, whether vegan or non-vegan!
Pea and avocado pesto ingredients
You need just a handful of simple ingredients to make this amazing pesto: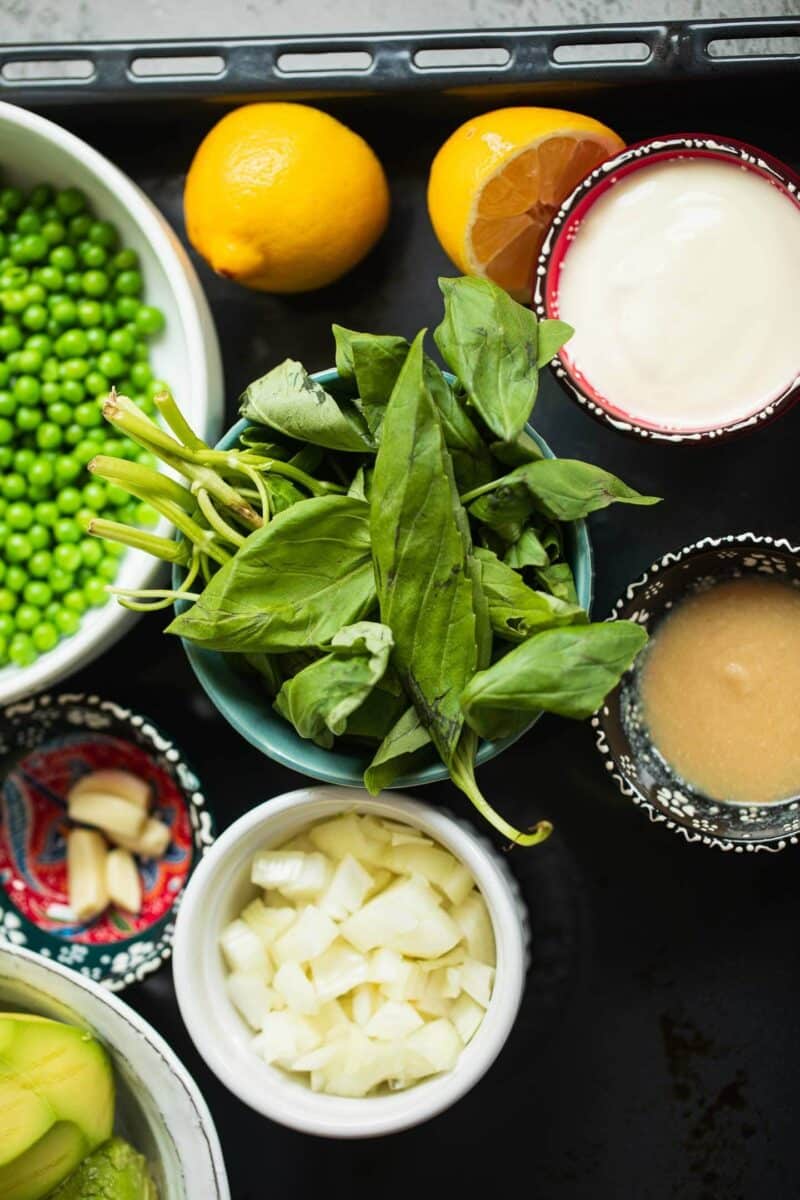 Avocado. Using perfectly ripe avocado is always the way to go!
Onion and garlic. These are great for adding freshness and tanginess.
Fresh basil. You could use other fresh herbs of your choice, but it's basil that gives pesto its unique flavor.
Mustard. Ensure vegan and gluten-free. This helps to add a cheesy flavor to vegan pesto. You can also use nutritional yeast.
Soy yoghurt. This helps to create a creamy and smooth texture.
Good quality sea salt. Using a quality salt is essential for the best, most refreshing flavor.
Green peas. You can use either tinned, or thawed from frozen.
Lemon juice. Lime juice also works. I would recommend using freshly-squeezed.
How to make easy vegan pesto pasta
It's so easy! Start by cooking any pasta variety of your choice according to instructions on packaging. Drain when done.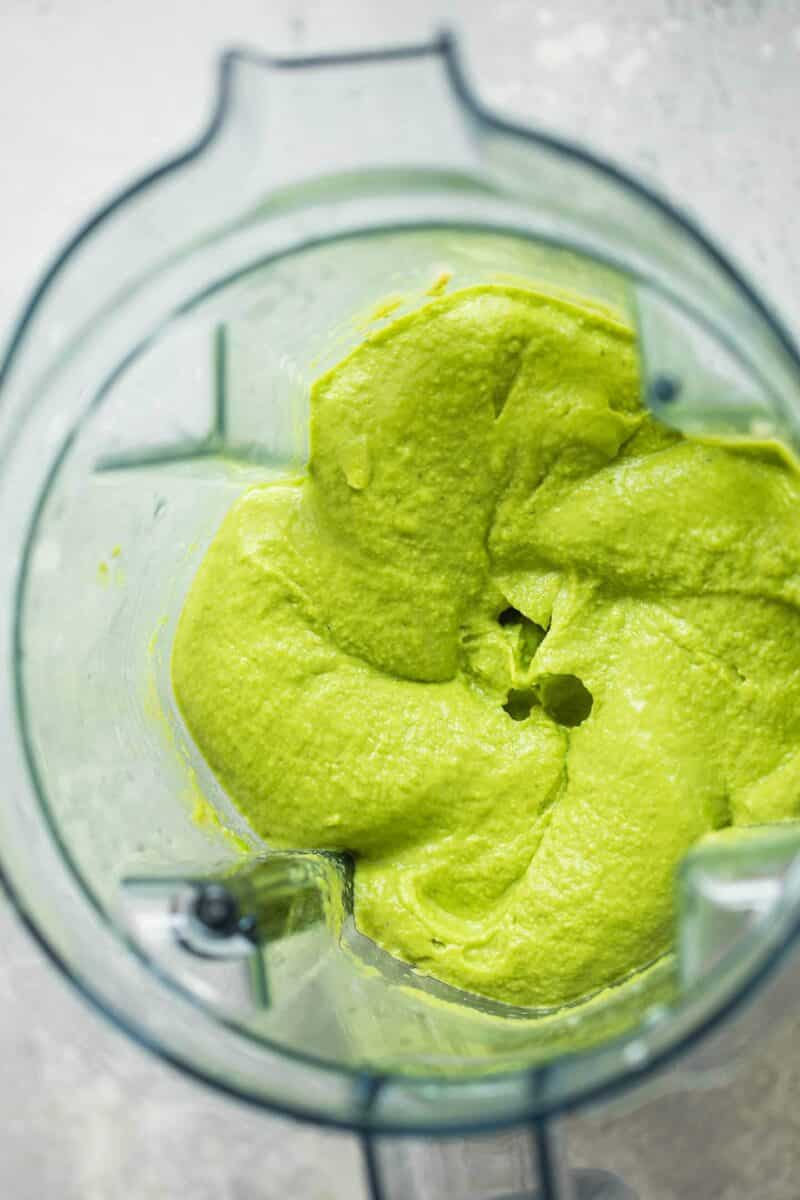 Meanwhile, make the pesto by adding the avocado, onion, garlic, basil, mustard, soy yoghurt, salt, peas and lemon juice to a blender or food processor. Blend until very smooth.
Next, mix together the pasta and pesto. Add any other ingredients, such as chickpeas, more green peas and vegetables of your choice if you want, or serve it as it is.
Frequently-asked questions
Can I store or freeze this recipe for later?
Vegan pesto pasta keeps well in the fridge for 2-3 days in an airtight container, but keep in mind that the color may change slightly. I would not, however, recommend freezing it as pasta typically doesn't freeze well, and the texture of the pesto will become gritty.
What else can I add to this meal?
As you can see, I added chickpeas and extra green peas. You can also add other vegetables of your choice, or other bean or lentil variety. Crispy tofu also makes a great addition.
Can I make this recipe gluten-free?
The pesto is gluten-free as it is, so as long as you use gluten-free pasta, the whole recipe will be gluten-free too.
Other ways to use avocado pesto
Once you make it, this avocado pesto has a variety of uses, as well as using it in vegan pesto pasta. For example, you can also: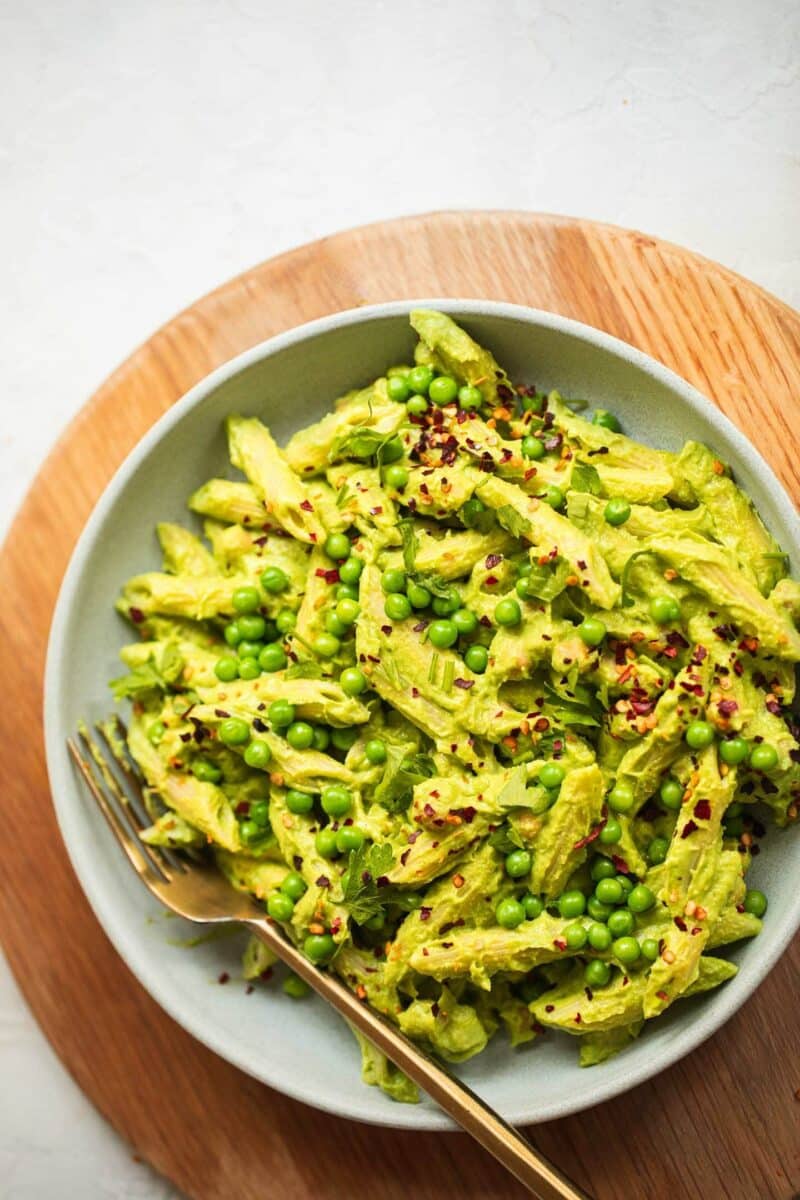 Eat it by yourself, or bring it along to parties as an appetizer or side dish! Everyone's gonna love it.
Other quick vegan meals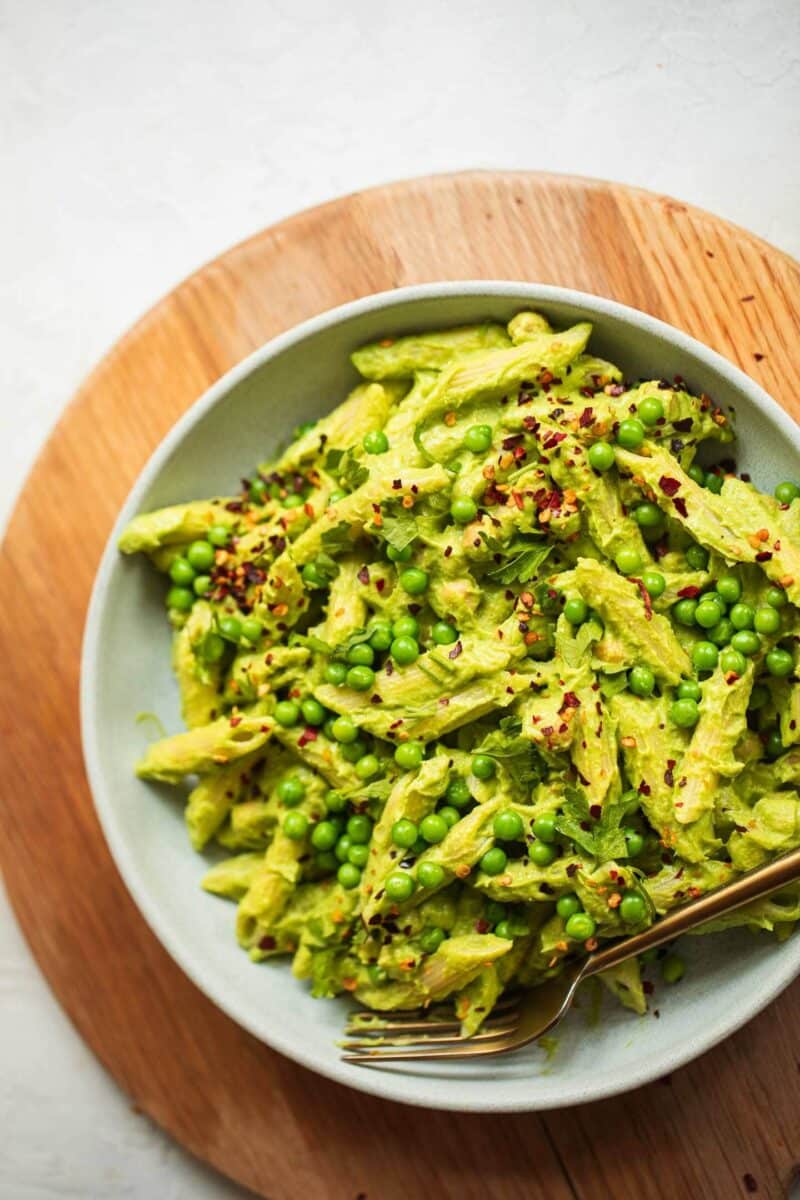 Let me know in the comments: do you like making your own pesto? What is your favourite way to use it? If you give this recipe a go, be sure to tag me on Instagram (@ohmyveggies) and leave your feedback in the comments below together with a star rating!
Recipe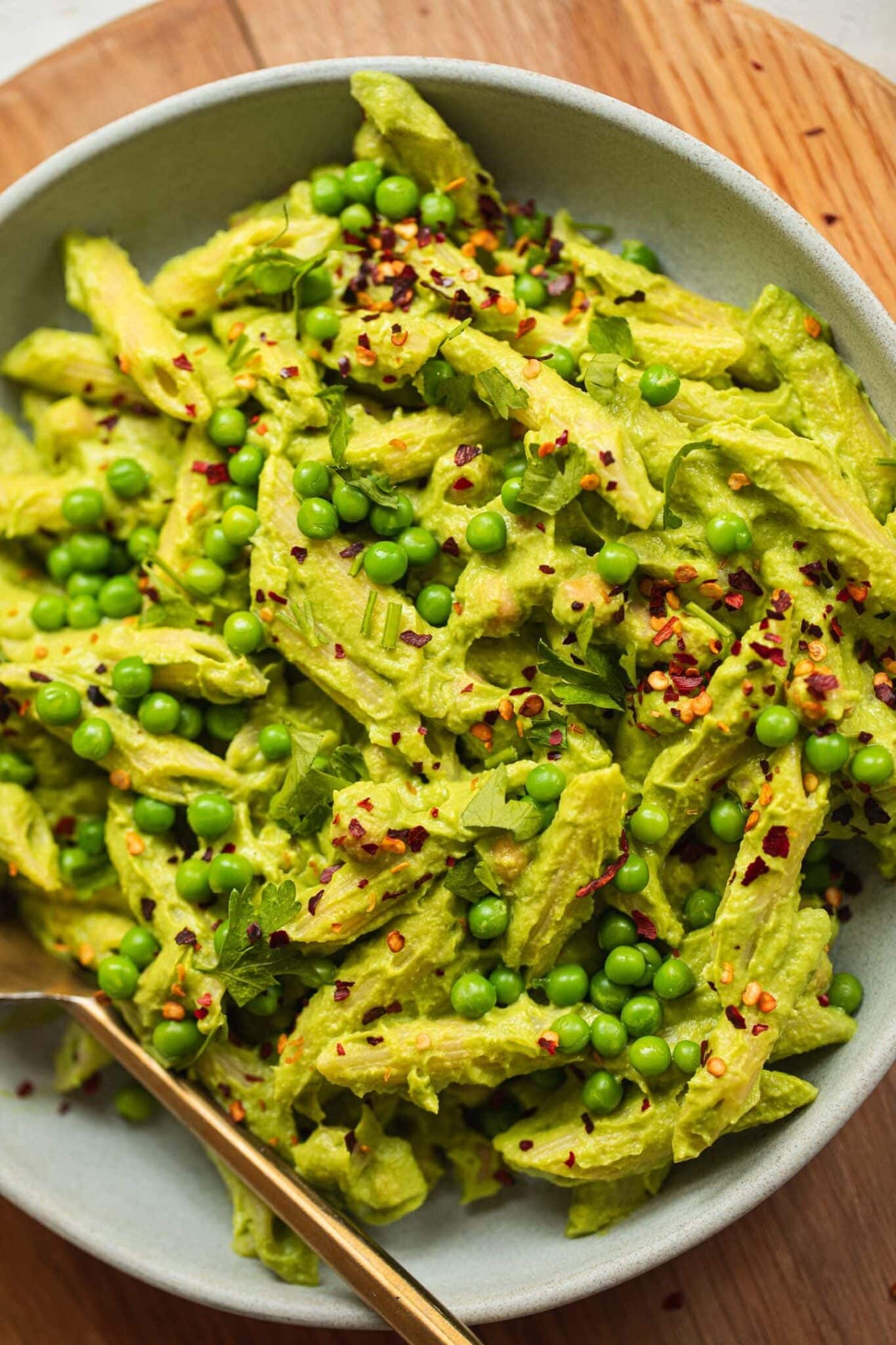 Ingredients
Instructions
Cook the pasta according to to instructions on packaging. Drain when done.

Make the pesto by adding the avocado, onion, garlic, basil, mustard, soy yoghurt, salt, peas and lemon juice to a blender or food processor. Blend until very smooth.

3 large avocados,

1 large onion,

3 cloves garlic,

2 cups basil,

1 tbsp mustard,

⅓ cup soy yoghurt,

1 ½ cups green peas,

1 lemon

Mix together the pasta and pesto. Add chickpeas and extra green peas if using.

1 ½ cups green peas,

1 can chickpeas
Nutrition
Calories:
372
kcal
Carbohydrates:
40
g
Protein:
10
g
Fat:
23
g
Saturated Fat:
3
g
Sodium:
1031
mg
Potassium:
1624
mg
Fiber:
18
g
Sugar:
16
g
Vitamin A:
2115
IU
Vitamin C:
70
mg
Calcium:
128
mg
Iron:
4
mg
Craving more veg-friendly recipes?
Shop our collection of vegetarian and vegan cookbooks, including our new Vegan Thanksgiving and Vegan Christmas cookbooks!