Gluten-Free Focaccia is a delicious homemade focaccia bread that is topped with cherry tomatoes, rosemary, and salt flakes. This almond-flour focaccia bread is one of our favorites.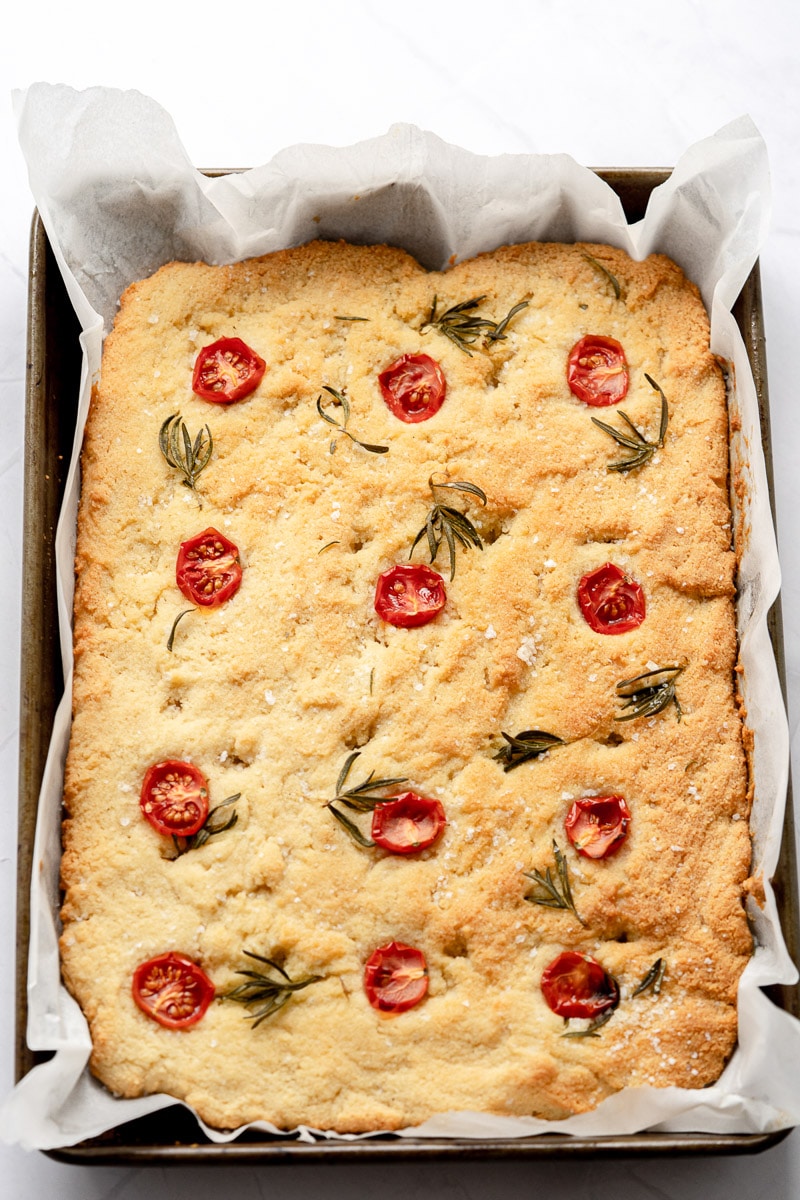 Jump to:
Focaccia bread is light, airy, and bursting with flavor in each bite. It makes a great side dish to dinner, a mid-day treat, or a nice bread to slather up the sauce on your dinner plate.
Pair your focaccia bread with a tasty main dish like Classic Italian Minestrone Soup, Zucchini Noodles with Vegan Bolognese Sauce, or even some yummy, plant-based Lentil Meatballs.
Why You Will Love This Gluten-Free Focaccia Bread...
Gluten-Free
Made with Almond Flour
Simple Ingredients
Stores Well
Homemade Focaccia Bread
No-Yeast Bread
If you love vegan baking, make sure you grab a copy of my free vegan baking cheat sheet while you're here. It's packed with all my favorite plant-based substitutions to help you vegan-ize any recipe!
How to Make Gluten-Free Focaccia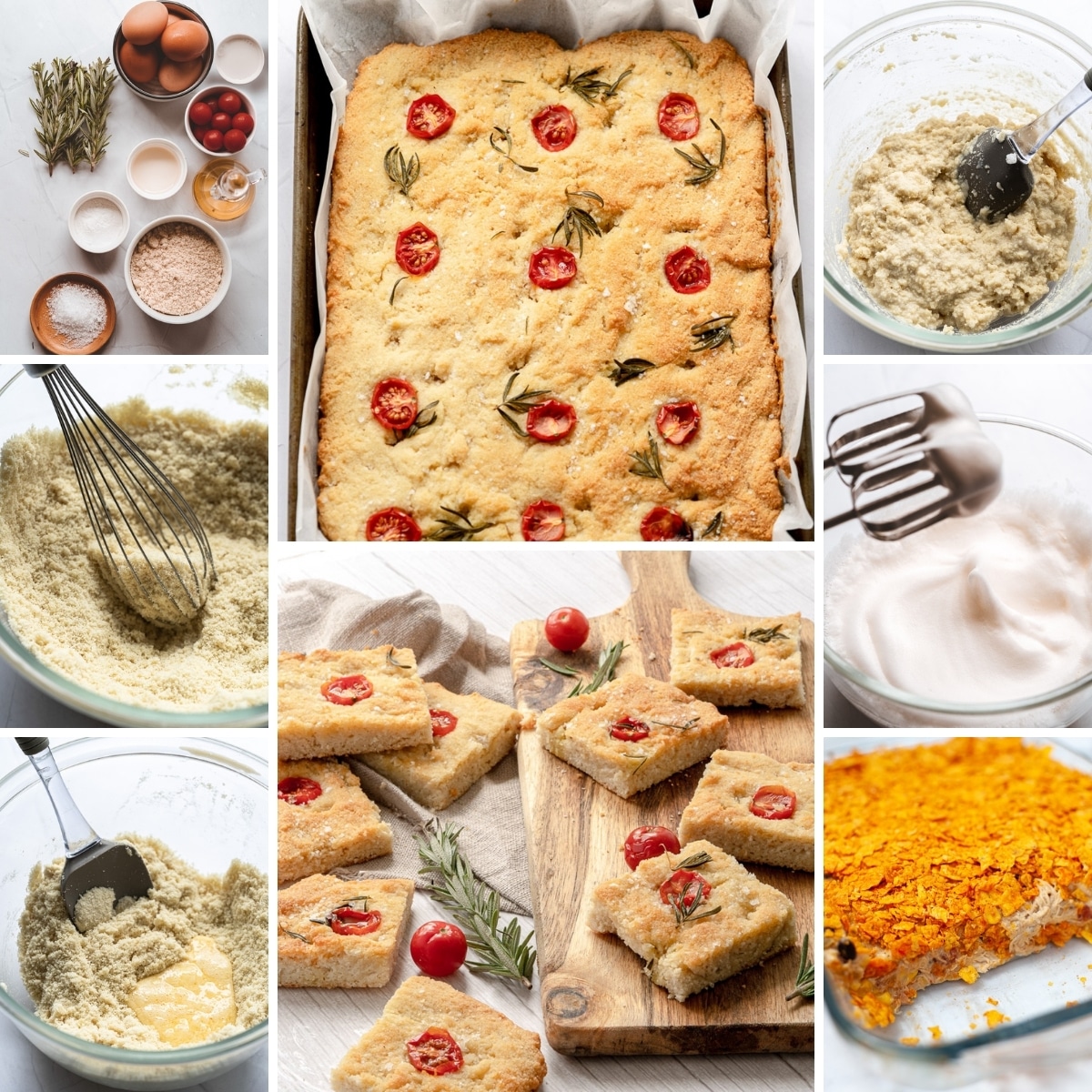 Preheat oven and grease pan as directed.
In a bowl, add your dry ingredients and mix to combine.
In a smaller bowl, mix one egg, almond milk, and cider vinegar.
Once mixed, stir in the dry ingredients. Set aside.
Now, beat your egg whites in a bowl till they form soft peaks.
Incorporate the egg whites into the batter.
Spread the batter in the pan. Then brush with topping, arrange tomatoes, etc.
Bake as directed.
Tips and Tricks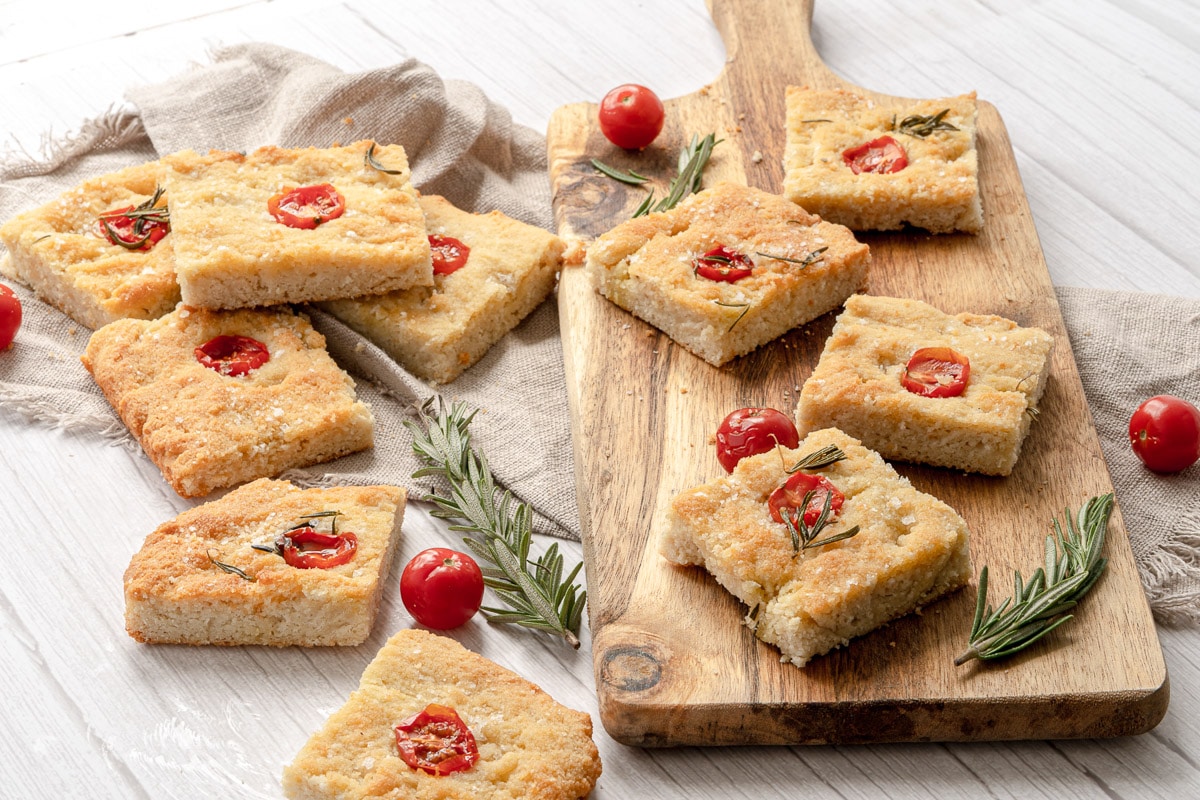 Reheating the Bread
Warm up in the microwave or heat on the oven to give your focaccia that fresh out-of-the-oven flavor. The oven will provide the best texture for the reheated bread.
Egg Whites
Making sure you get soft peaks with the egg whites is important. The whipped egg whites will ensure your bread is soft and fluffy. If you skip the egg whites, your bread will not be fluffy the way you expect it to be. So don't skip this step!
Quality Olive Oil
Use good quality, cold-pressed, extra virgin olive oil for the best results. You will find that olive oil is a stand out flavor, so buying and using good-quality oil is key to the overall flavor of the bread.
Variations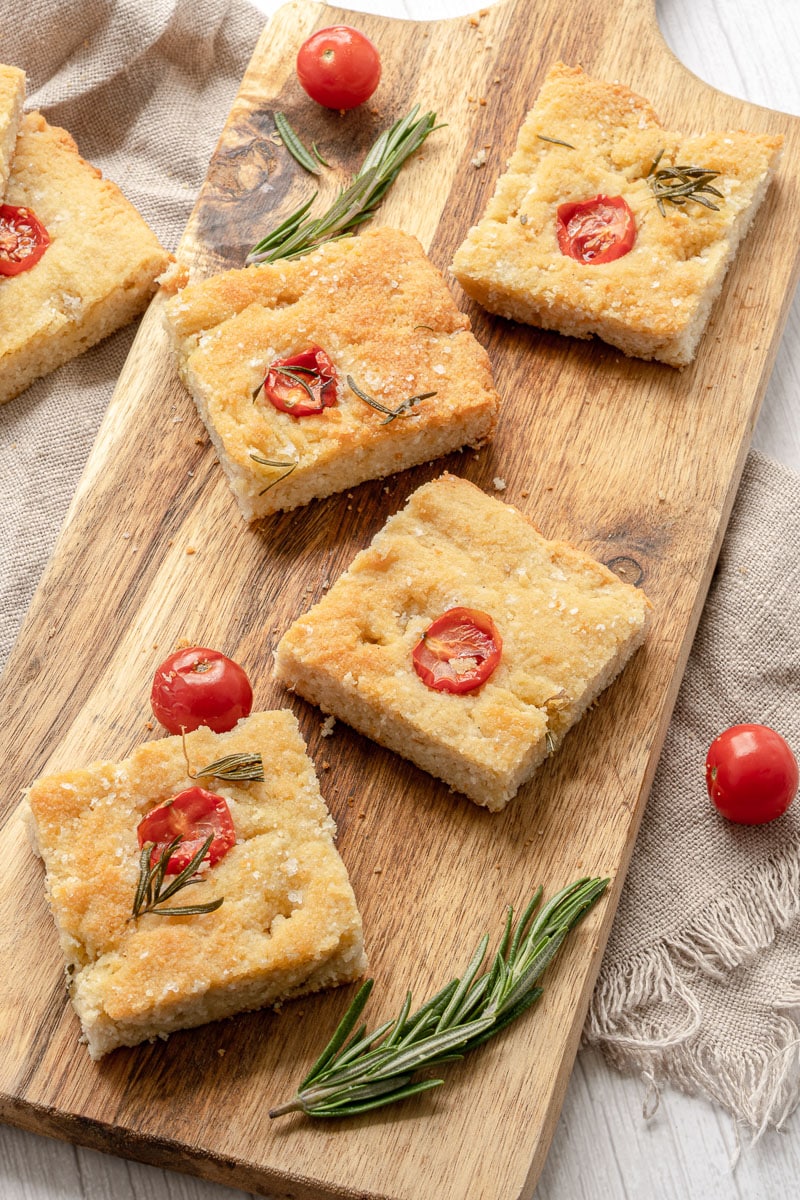 Toppings
Feel free to leave out the rosemary if you would like. Or swap with other herbs or spices. Garlic and caramelized onions are also great alternatives. You could even try a sprinkle of parmesan cheese.
Gluten-Free Flour Blend
If you don't want to use just almond flour, that is okay. Go ahead and reach for your favorite gluten-free flour mix, and use that in place of the almond flour.
Just make sure if the flour amounts needs to converted, you do so.
Gluten-Free Focaccia FAQs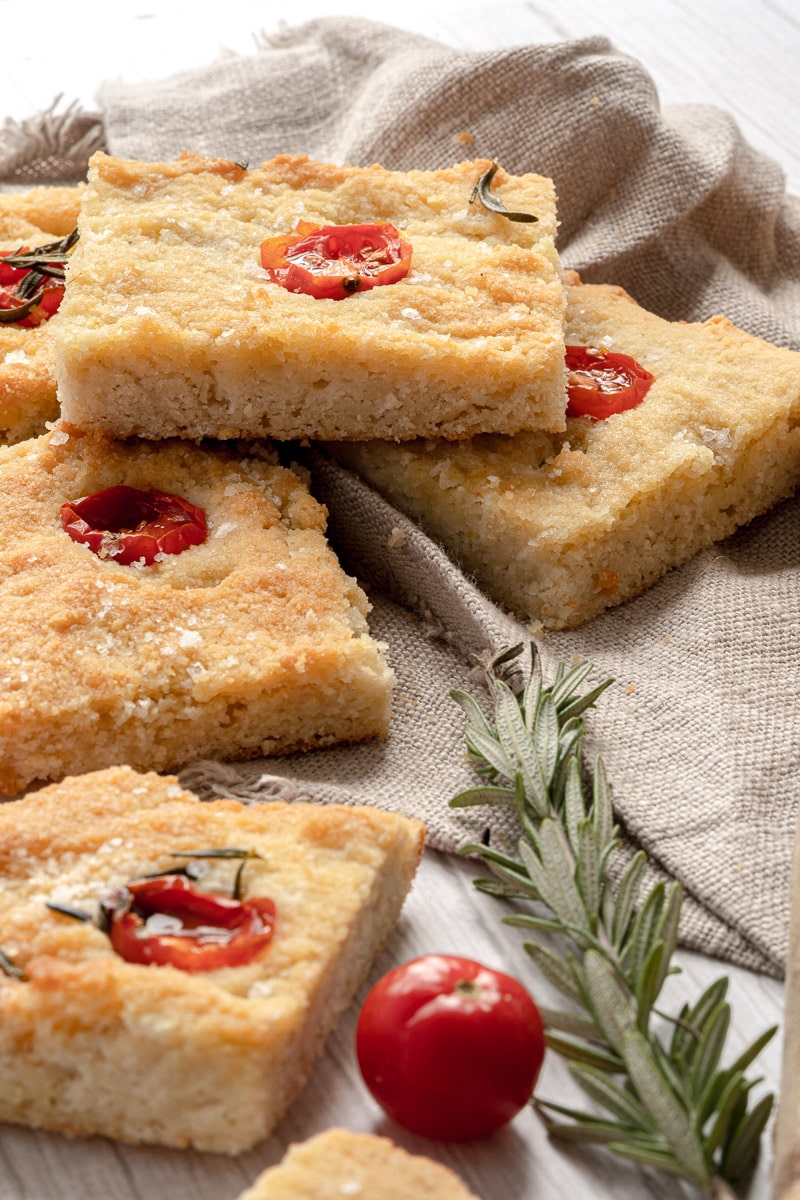 What is Focaccia bread?
Focaccia is a thin Italian bread that is similar to a pizza crust. You will find that the herbs and spices on top of the bread change up the flavor!
How to serve Focaccia bread?
Serve this tasty bread next to a salad, soup, or even a favorite pasta dish. You will find you can slice the focaccia like a breadstick, cut it into triangles, etc.
Depending on where you live, you will find that the serving of this bread varies.
How to store Focaccia bread?
Your bread will need to be stored in the refrigerator for up to 7 days. You will find it can dry out as the days pass.
Can you freeze focaccia bread?
Yes, this bread freezes well. First, allow the bread to fully cool. Then transfer to an airtight freezer bag or container.
Freeze for 3–4 months. Then when you want to eat, thaw your bread in the fridge, and then reheat.
While you're here, be sure to grab our FREE 5-Day Meatless Meal Plan. It's packed with tasty recipes to make vegetarian cooking easy and delicious!
Recipe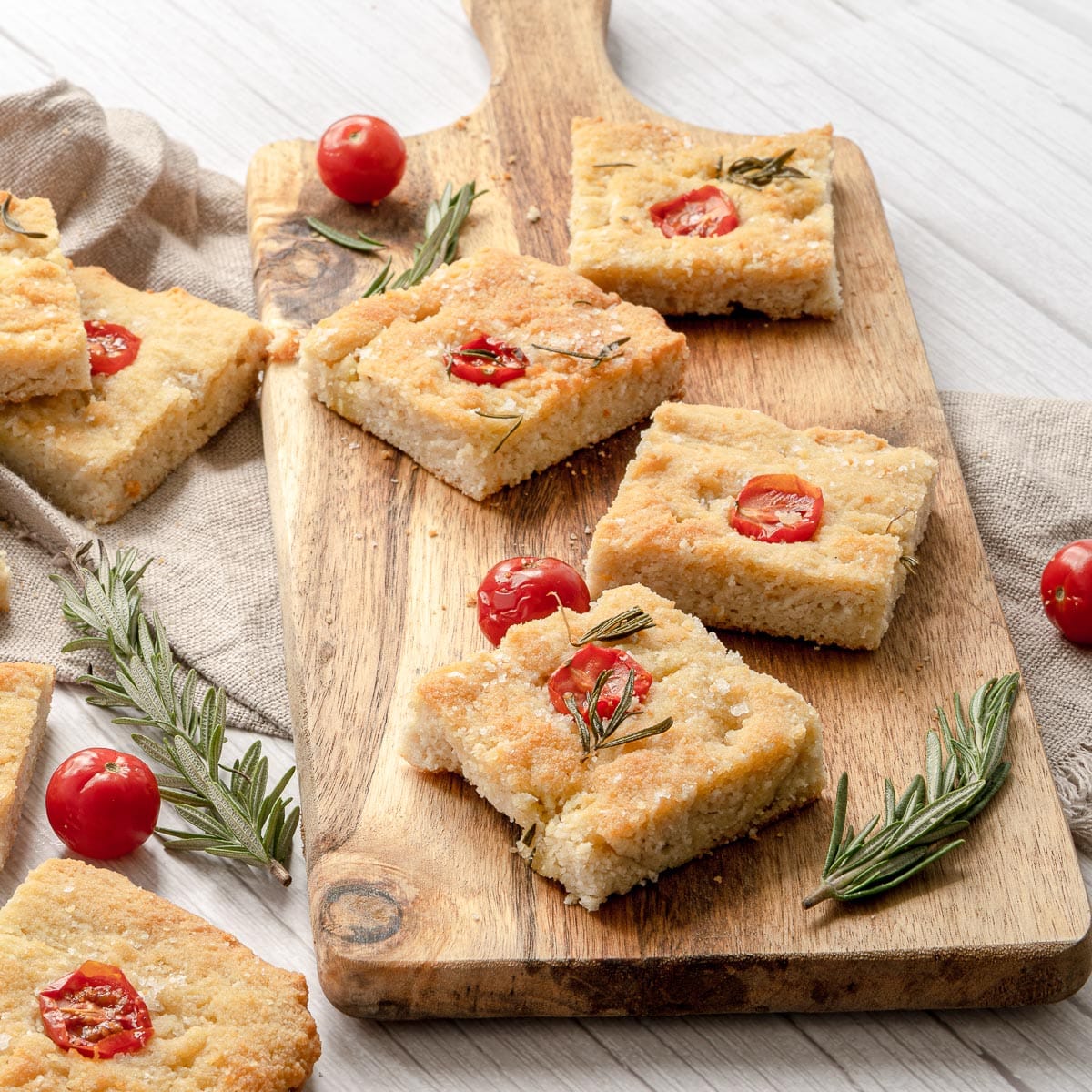 Servings:
1
9'' x 13'' bread
Instructions
Preheat oven to 350°F. Prepare a 9x13 inch baking tray with baking paper.

Add almond flour, baking powder, and salt to a large mixing bowl. Stir to combine.

Beat one egg with a whisk in a small bowl. Add the beaten egg, almond milk, and apple cider vinegar to the flour mixture.

Stir very well until a smooth batter is formed. Set aside.

Separate the whites of the four remaining eggs and place them in a medium bowl. Beat the egg whites with an electric mixer until soft peaks form.

Add the beaten egg whites to the dough and slowly stir to incorporate. It will lose a lot of air, but some will remain, making the focaccia very fluffy.

Place the batter in the prepared baking tray. Spread it evenly. It doesn't need to go up to the edges as it'll spread a bit once in the oven.

In a small bowl, mix the olive oil with rosemary leaves and let it sit for 5 minutes.

Brush the rosemary oil all over the focaccia. Arrange some halved cherry tomatoes and salt flakes on the top.

Bake for 20–25 minutes or until a toothpick inserted comes out clean.

Let the focaccia cool before serving or transferring to another container.

Keep the leftovers in an airtight container in the fridge for up to 7 days.
Notes
If reheating later, warming in the oven provides the best texture.
Rosemary is the most traditional herb when making focaccia, but there are other delicious alternatives. You can top your focaccia with crushed garlic and parmesan or caramelized onion and arugula (add the arugula after baking the focaccia).
Use good quality, cold-pressed, extra virgin olive oil for the best results.
Nutrition
Calories:
2733
kcal
Carbohydrates:
81
g
Protein:
100
g
Fat:
243
g
Saturated Fat:
26
g
Trans Fat:
1
g
Cholesterol:
818
mg
Sodium:
5143
mg
Potassium:
1293
mg
Fiber:
37
g
Sugar:
15
g
Vitamin A:
1611
IU
Vitamin C:
17
mg
Calcium:
1344
mg
Iron:
18
mg
Craving more veg-friendly recipes?
Shop our collection of vegetarian and vegan cookbooks, including our new Vegan Thanksgiving and Vegan Christmas cookbooks!