What's better than making homemade baked arancini balls? Making Easy Baked Arancini from your leftover risotto! This baked arancini recipe is easy to make and a bit healthier than the usual fried version.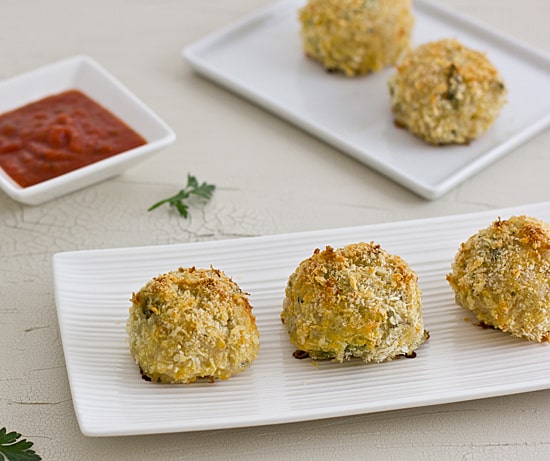 Jump to:

Last Thursday I shared my Lemony Asparagus Risotto recipe with you and I promised that there was a part two coming soon. Well, guess what?
It's time for Lemony Asparagus Risotto Part 2: The Reckoning. (That sounds more ominous and vaguely threatening than delicious, huh?) Here comes Easy Baked Arancini.
Using Up Leftovers
Every risotto recipe I've ever made yielded a lot of risotto. A lot. Since it's just my husband and me in our household, that means there's always leftovers. But leftover risotto is kind of an abomination.
It's never as creamy as the first day you make it and it's just kind of off and disappointing and even a little bit depressing. So here's what you need to do when you have leftover risotto: you need to make baked arancini.
So next time you have leftover risotto, for the love of all things holy, don't microwave it and eat it as is. Make these easy arancini balls instead!
You can form your arancini into smaller balls and serve them as an appetizer or use them as an entree or side dish. Arancini is versatile like that! I like to serve mine with marinara sauce—nice and easy.
Is it healthy?
Traditionally, arancini is fried in a skillet or deep-fryer. But risotto is a little on the heavy side, so adding even more fat from frying isn't the best idea. Arancini is often stuffed with cheese too, but I've omitted this as well.
That doesn't mean this baked arancini recipe is healthy, but it's a little more virtuous than its deep-fried, cheese-stuffed counterpart. Done correctly, baked arancini balls have the same crunchy exterior and creamy interior as the fried variety, without the greasiness.
This Easy Baked Arancini recipe is...
Easy to make
Good for using up leftovers
Healthier than the fried version
Great for an appetizer or main dish
Super versatile
If you're on your way to a more plant based lifestyle, be sure to check out our Veggie Kickstart Kit. It's packed with easy and tasty vegetarian dinners, effortless packable lunches, and easy grab-and-go breakfasts. And they're so good - you'll never miss the meat again!
How to Make Easy Baked Arancini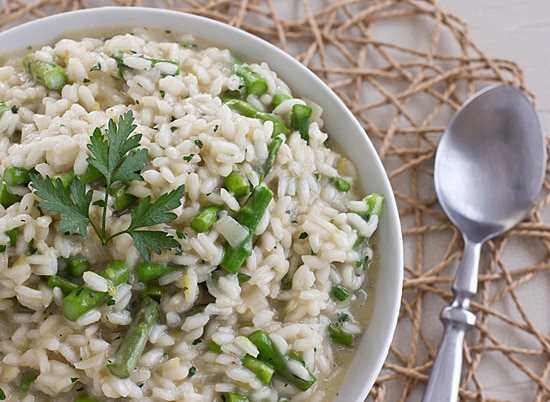 Preheat oven.
Prep flour and panko breadcrumbs for dipping.
Roll risotto into balls.
Coat each ball in flour, egg, and breadcrumbs.
Place on baking sheet and spray with olive oil.
Bake arancini balls.
Serve with more marinara sauce!
Full directions for how to make Easy Baked Arancini are in the printable recipe card at the bottom of the post.
Variations to Easy Baked Arancini
Add Cheese
I didn't include cheese centers in my arancini balls, but you can easily add cheese to yours! Simply stuff a few shreds of your desired cheese into the center of each risotto ball—make sure the cheese is completely surrounded by rice!
Mozzarella is a great choice, but you can use any kind of cheese that you prefer.
Adjust Seasoning
These arancini balls are pretty basic, but you can easily switch up the flavoring. Just mix in your desired spices with the flour before dipping your balls.
Easy Baked Arancini FAQs
What is arancini?
Arancini are rice balls from Italy. They are usually deep fried and stuffed with ragu, cheese, or peas. The shape is not always a sphere, but they are always delicious!
Can you freeze baked arancini balls?
These risotto balls are great to freeze and save for an easy dinner later! Follow the recipe as normal, but stop before preheating the oven and baking the balls.
Once you've formed your arancini balls, place them on a baking sheet and pop them in the freezer. Once frozen, you can relocate your risotto balls to a freezer-friendly bag or container until you're ready to reheat and eat them!
While you're here, be sure to check out our Vegetarian Freezer Cooking Cookbook. We take the guesswork out of freezer cooking with these meatless recipes that were specifically developed to be prepared, frozen, and reheated later. Talk about easy dinners!
Recipe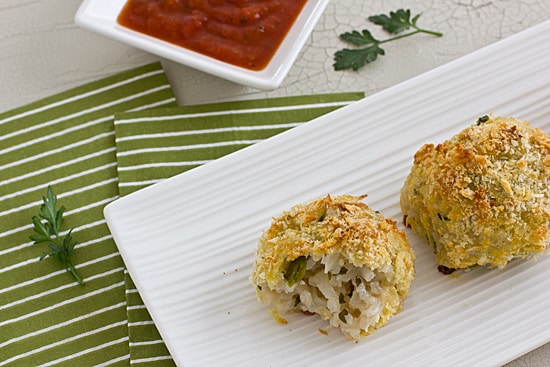 Instructions
Put flour and panko onto two plates, and spray a rimmed baking sheet with olive oil.

Roll risotto into ¼ cup-sized balls.

Coat with flour, then egg, and roll in panko until completely coated.

Transfer arancini to baking sheet and spray with additional olive oil, being sure to coat all sides as best as you can.

Bake for 25 minutes, or until golden and heated through.

Serve with warm marinara sauce.
Nutrition
Serving:
3
arancini
Calories:
223
kcal
Carbohydrates:
47
g
Protein:
5
g
Fat:
1
g
Saturated Fat:
1
g
Polyunsaturated Fat:
1
g
Monounsaturated Fat:
1
g
Trans Fat:
1
g
Cholesterol:
14
mg
Sodium:
42
mg
Potassium:
58
mg
Fiber:
2
g
Sugar:
1
g
Vitamin A:
20
IU
Calcium:
13
mg
Iron:
3
mg
Craving more veg-friendly recipes?
Shop our collection of vegetarian and vegan cookbooks, including our new Vegan Thanksgiving and Vegan Christmas cookbooks!