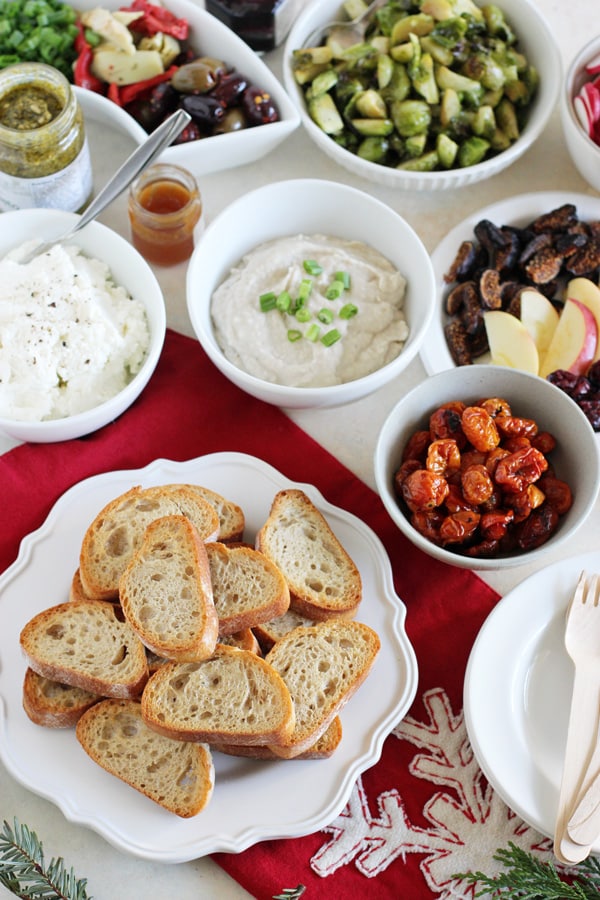 I am one of those people who absolutely love to entertain. However, I hate being stuck in the kitchen - I want to be out there mingling with our family and friends! Which is where the DIY crostini bar comes in. You can have everything prepped and set up before your guests arrive, they can serve themselves and you can actually relax and enjoy once the party starts!
Plus, it's also just kind of fun. There are so many different toppings that you can include as part of the spread, and your guests can pick and choose based on their own tastes. It's a win-win. With New Year's Eve and the Super Bowl both around the corner, it's the perfect time to give it a try.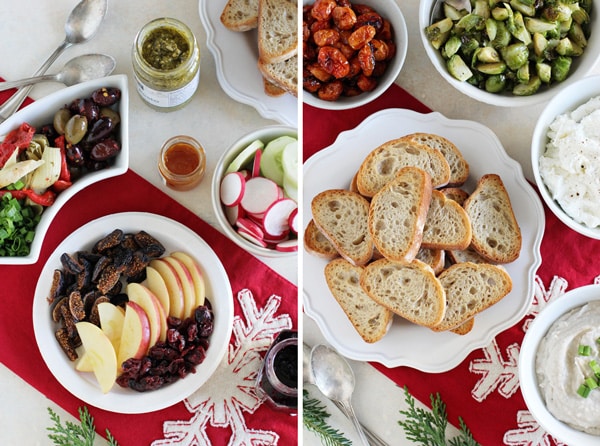 Now, you can really get creative with your ideas for a crostini bar, but here are our suggestions to help get you started.
What You'll Need:
Toasted Bread // A lot of stores do sell pre-made crostini, but you can make it yourself as well. Slice a baguette into ½- to ¾- inch thick slices, arrange in a single layer on a large baking sheet lined with parchment paper and lightly brush or spray each with some olive oil. Bake for about 10 to 15 minutes in a 400ºF oven, until toasted and golden brown (keeping an eye on them so they don't burn).
Spreadable Mild Bases // These are helpful so that the rest of the toppings all have a place to sit. I like to offer at least two options for the bases. A few ideas - ricotta cheese mixed with a little olive oil, salt and pepper, white bean spread or even plain hummus.
A Variety of Toppings // The sky's the limit with topping ideas, but I like to have at least one or two options from each of the following categories:
Roasted Veggies - such as Brussels sprouts, tomatoes, or even a medley based on the season
Sliced Raw Veggies - such as green onions, radishes, cucumber or even fresh herbs
Jams or Chutneys - anything goes, both sweet or savory
Fresh and Dried Fruit - such as sliced apple, sliced pear, dried figs or dried cranberries
Cheese - such as crumbled goat cheese or grated parmesan
Nuts - such as sliced almonds, pine nuts or even smoked or candied nuts
Briny/Salty Options - such as sliced roasted red peppers, pickled veggies, olive tapenade, or pesto
Garnishes to Drizzle - such as honey, maple syrup or balsamic glaze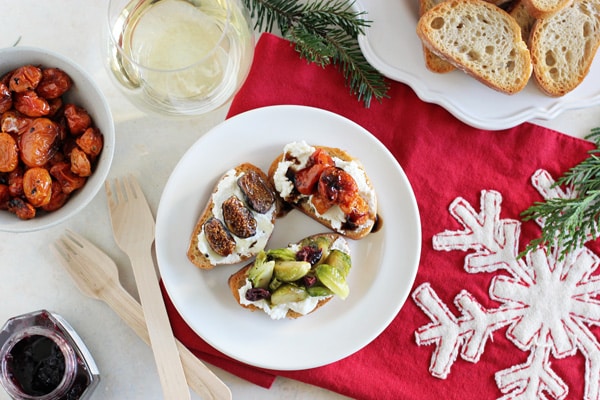 One of the other perks to a crostini bar is that the whole spread can be as homemade (or not) as you like. So many of the components can be bought at the store or you can go the total DIY route and make it all yourself. Completely up to you!