Until Simple Green Smoothies came along, healthy smoothies were still considered sort of on the fringe. Now, of course, we know better—a smoothie packed with leafy greens and nutrients isn't just for hardcore detoxers, and it doesn't have to taste like dirt. In fact, if it does taste like dirt you're doing something very, very wrong.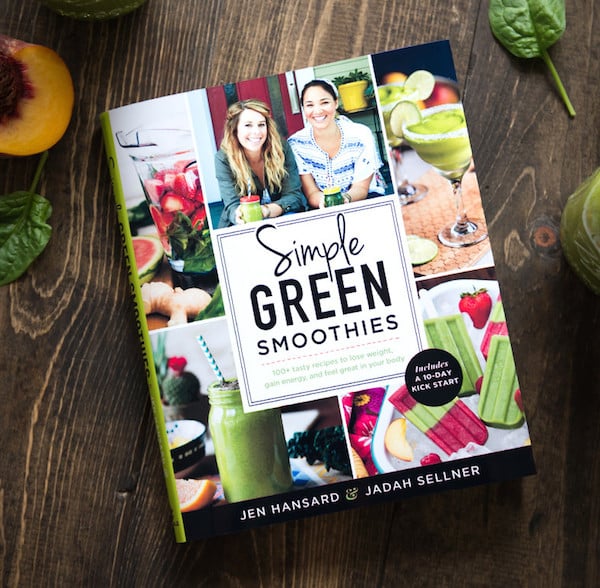 The SGS blog helped bring the smoothie trend to the mainstream, and Jen Hansard and Jadah Sellner's new Simple Green Smoothies book is a handy tactile version of all the goodness from their blog. Whether you find yourself in the occasional smoothie rut, or just need some guidance to kickstart a healthy eating plan, their easy and delicious recipes will become mainstays of your kitchen.
The 10-Day Kickstart Game Plan has been especially helpful for me to get back on track as I slowly fall off the healthy-food wagon every time I attend a family holiday function (the last one culminated in a Pringles binge, ugh). Even though I've been making smoothies for years, it's nice to have a plan and shopping list all laid out for me, so all I have to do is shop and blend. Most of the recipes are pretty basic, focusing on different combinations for different flavors or health goals. There's even a whole kid-friendly section, with recipes for smoothie pops and "milkshakes." We love that the book isn't a detox plan per se, and it's not all about losing weight, either. Jen and Jadah are all about feeling better, increasing energy and improving your immune system (especially important this time of year!). Oh, and we really love the amazing food photos shot by Lindsey Johnson, who has contributed a ton to Oh My Veggies 🙂
This Citrus Cold Recovery Smoothie from the Simple Green Smoothies book is definitely a winner. It's citrusy without being too sweet, and the flaxseed oil makes it feel a little more substantial.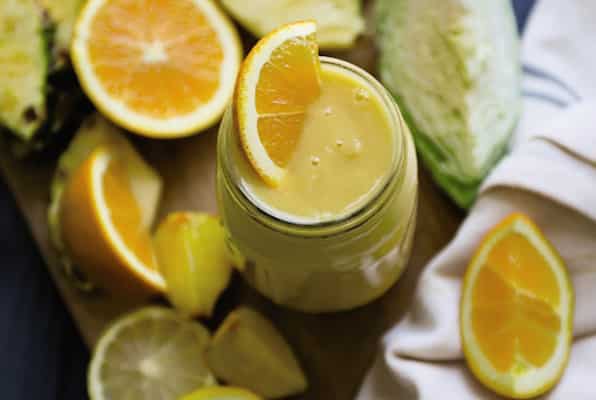 Ingredients
2

cups

green cabbage

1

cup

water

2

oranges

peeled

2

cups

chopped pineapple

¼

cup

peeled and cubed raw golden beet

Juice of ½ lemon

2

tablespoons

flaxseed oil
Instructions
1. Blend the cabbage, water and oranges until smooth.

2. Add the pineapple, beet, lemon juice and flaxseed oil and blend again.
Notes
Reprinted from Simple Green Smoothies by Jen Hansard & Jadah Sellner. Copyright (c) 2015 by Jen Hansard and Jadah Sellner. By permission of Rodale Books. Available wherever books are sold.