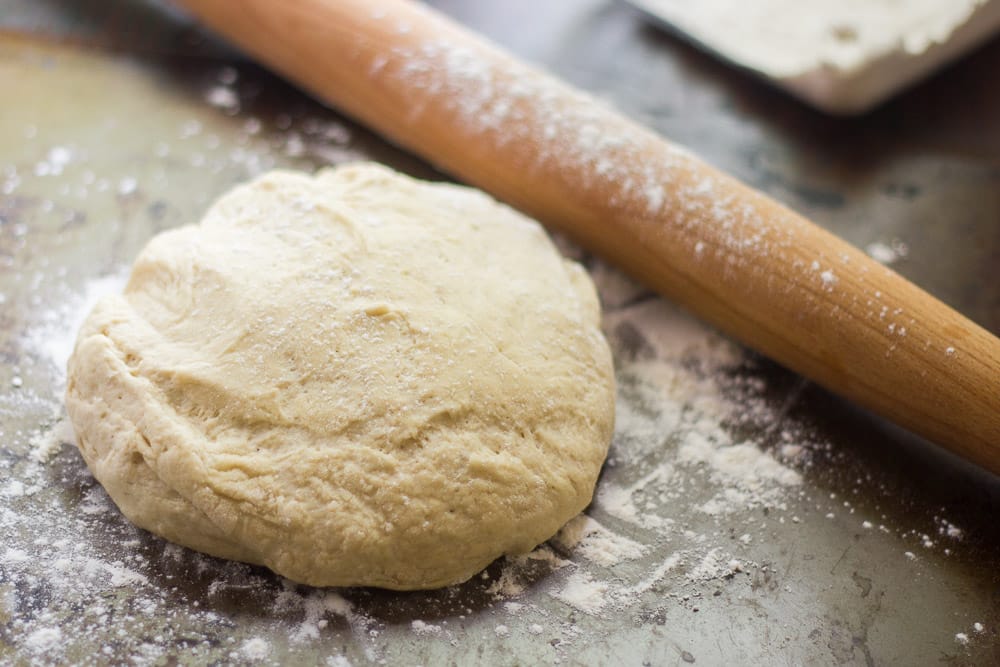 Does the idea of making your own pizza dough intimidate you just a bit? It did that to me for the longest time! I'm here to tell you that homemade pizza dough is way easy and worth the little bit of time investment. I'm a big fan of the quick and easy approach to most things. I'm not a baker. I'm certainly not one of those people who bakes their own bread. And I'm really not a fan of kneading. But I am a pizza lover and for a long time I would buy the frozen dough at the store. That had some challenges. Like sometimes I could only find brands that weren't vegan. Or sometimes I'd forget to buy it, or thaw it (it takes longer to thaw frozen pizza dough than it does to let your homemade dough rise). Or the dough at the store would be loaded with additives, and certainly wasn't into that.
So I took to making my own, and you know what? It's super easy, and quite a bit tastier than the stuff from the store. Plus, you can customize your homemade pizza dough to your liking and you can even freeze it if you'd like to keep a stash on hand.
Here's my easy method for making homemade pizza dough!
Getting Started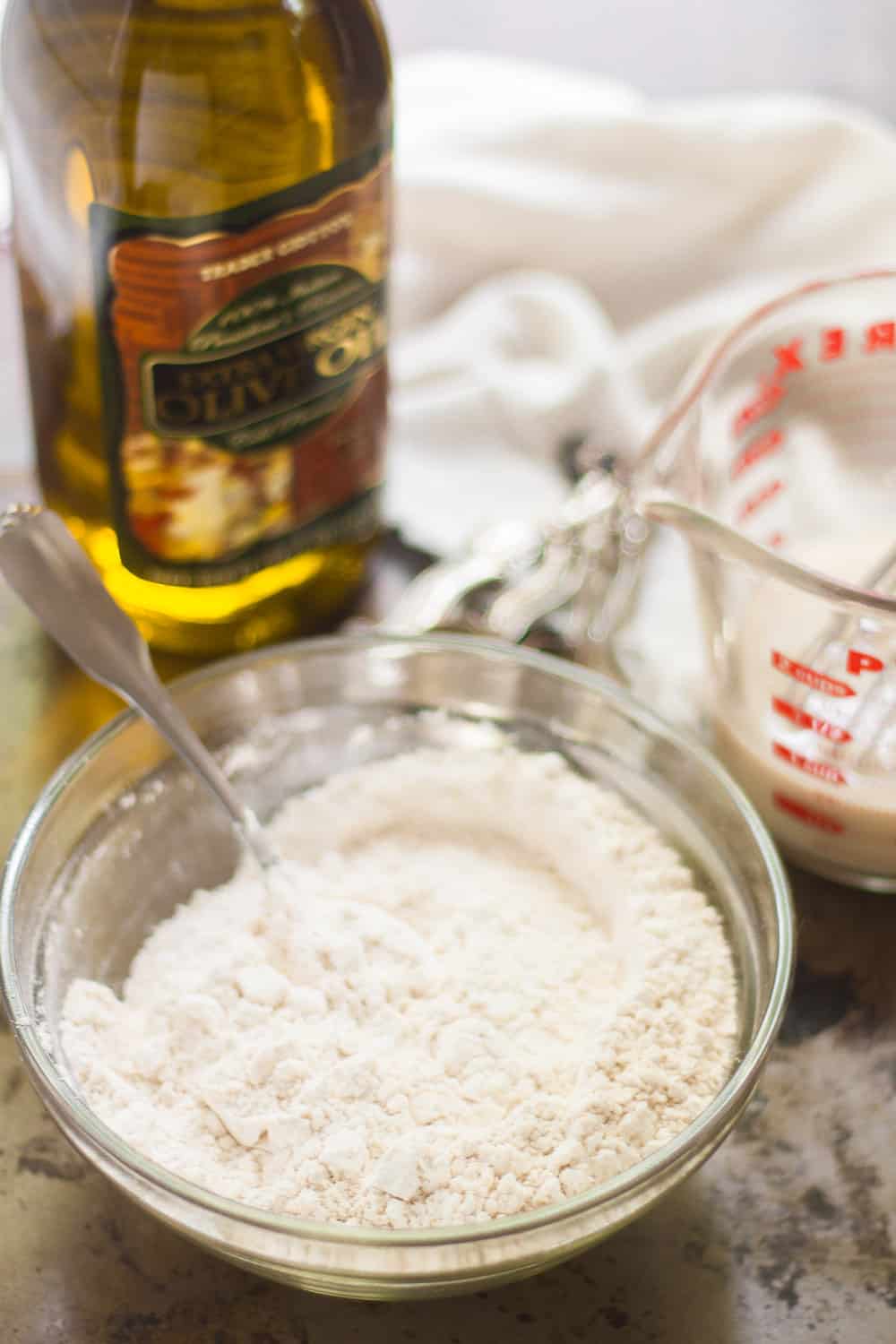 You'll need to get started an hour and a half or so before serving time. Keep in mind that most of this time is inactive, and it's less than the 4 or 5 hours it takes to thaw frozen pizza dough.
Gather your ingredients. You'll need the following for one large pizza:
¾ cup water
1 packet (or 2 ¼ teaspoons) active dry yeast
1 teaspoon granulated sugar
2 cups flour (see below for types!), plus a little extra
½ teaspoon salt
2 tablespoons olive oil, plus a little extra
For the flour, you can use all-purpose, whole wheat, or a mix of the two! I'm a big fan of using half all-purpose and half whole wheat pastry flour. Other types of wheat flour will work too, but with varying results. Some people swear by bread flour for a super crispy crust. Experiment with different types to see what you like best!
Mixing the Pizza Dough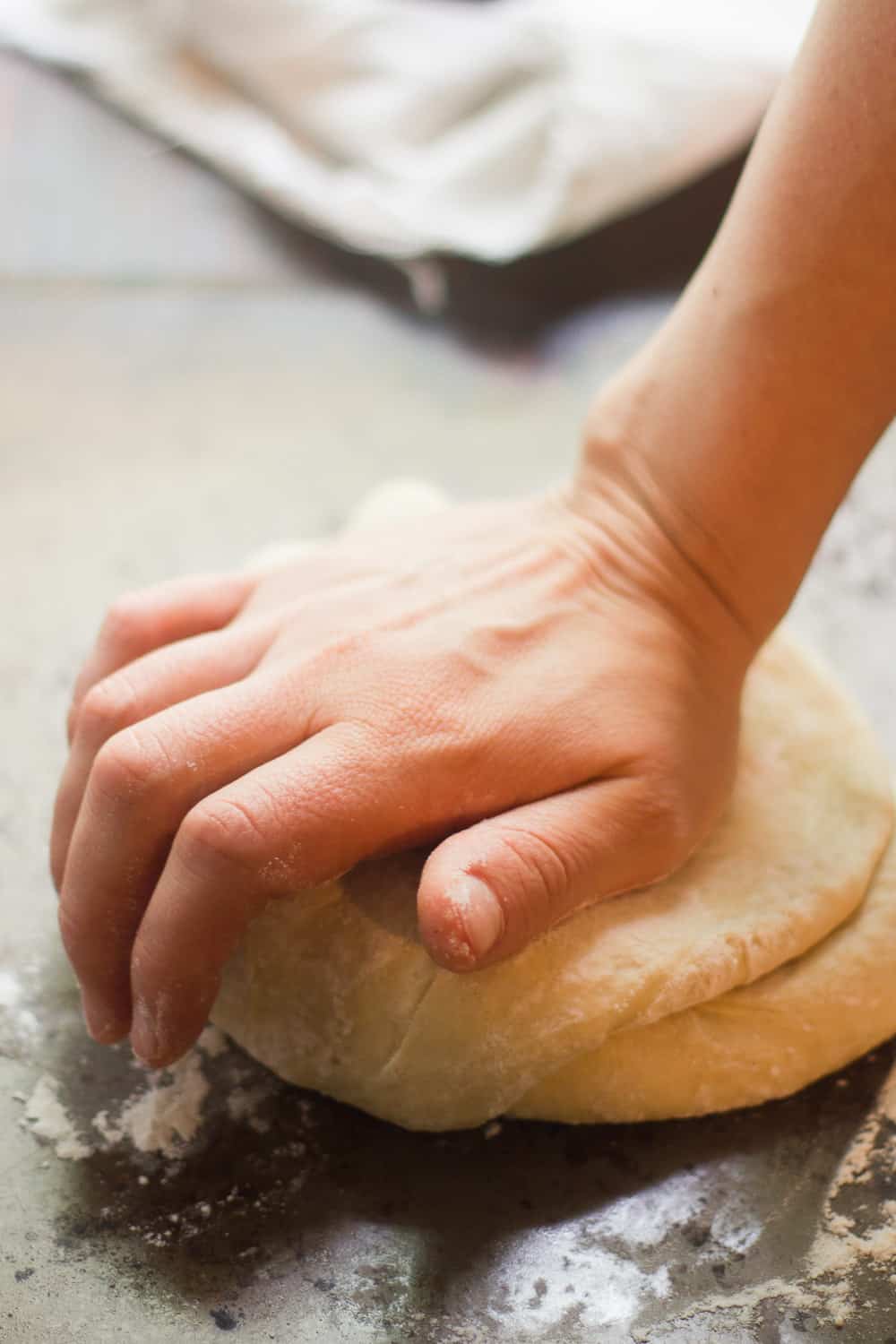 Start by heating your water to about 110°F. If you don't have a thermometer just test it with your finger — it should be like very hot bath water, but not so hot you burn yourself. Whisk the water, yeast, and sugar together in a small bowl or liquid measuring cup and let it sit for a few minutes, until it gets foamy. This means the yeast is starting to work.
While the yeast  mixture sits, stir the flour and salt together in a medium bowl. Add the yeast mixture and the olive oil and stir everything together. You should get a nice soft dough.
Sprinkle some flour onto a clean countertop and knead the dough just until it's nice and elastic. This should take about 3 minutes — see, just a little bit of kneading! If I can do it, so can you.
Let It Rise
Lightly oil a medium mixing bowl and place your dough into it. Cover it with a clean dish towel and place it in a warm place to rise until it doubles in size — about an hour. Once this is done your dough is ready to use, or you can seal it up and freeze it for later.
Using Your Pizza Dough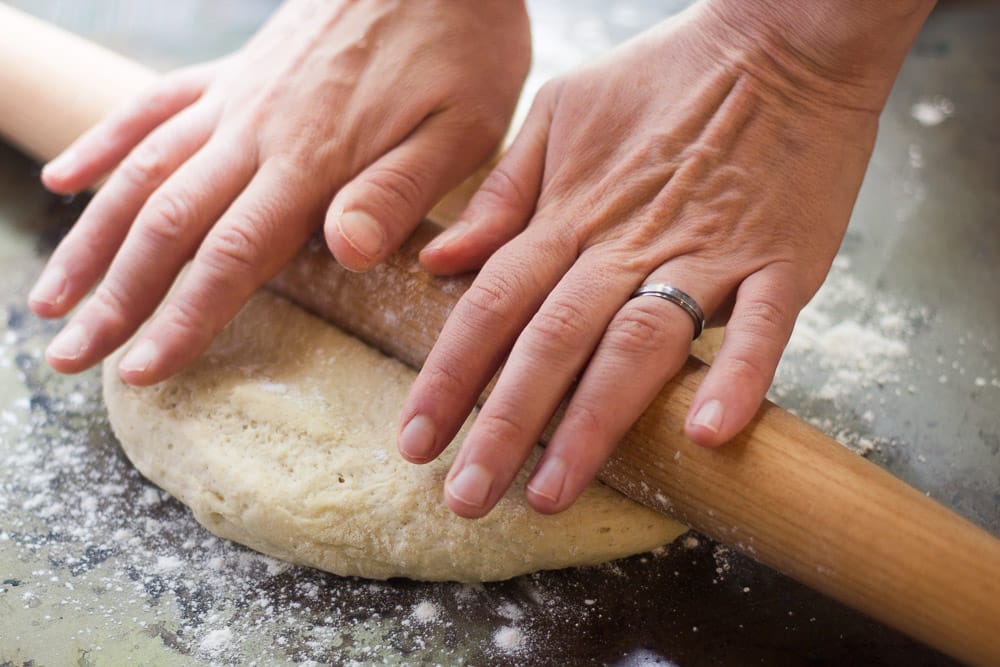 After your dough rises you'll want to punch it down a bit to let some of the air out. To make a pizza, preheat the oven to 400°F. Place the dough onto a lightly floured surface and roll it into a 12 to 14 inch circle. Transfer the dough to a pizza stone or parchment-lined baking sheet. I like to brush the top of my crust with a little olive oil and sprinkle it with some cornmeal, but that's totally up to you. Pile on your pizza fixings and bake the dough until it's lightly browned, about 18 to 20 minutes.