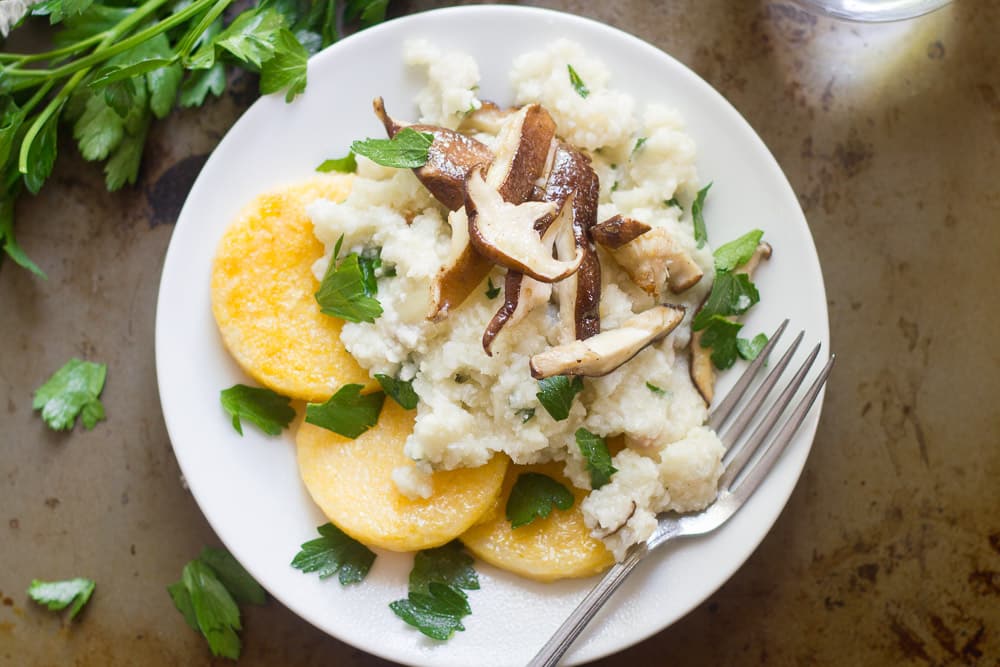 Discovering cauliflower rice was a huge deal for me. I love carbs! And I never thought I could manage a meal where I swap out veggies for carbs (even though I totally love veggies too). What I found with cauliflower rice though is that veggies can be just as delicious and satisfying as carbs, so much so, that I don't feel like I'm missing anything.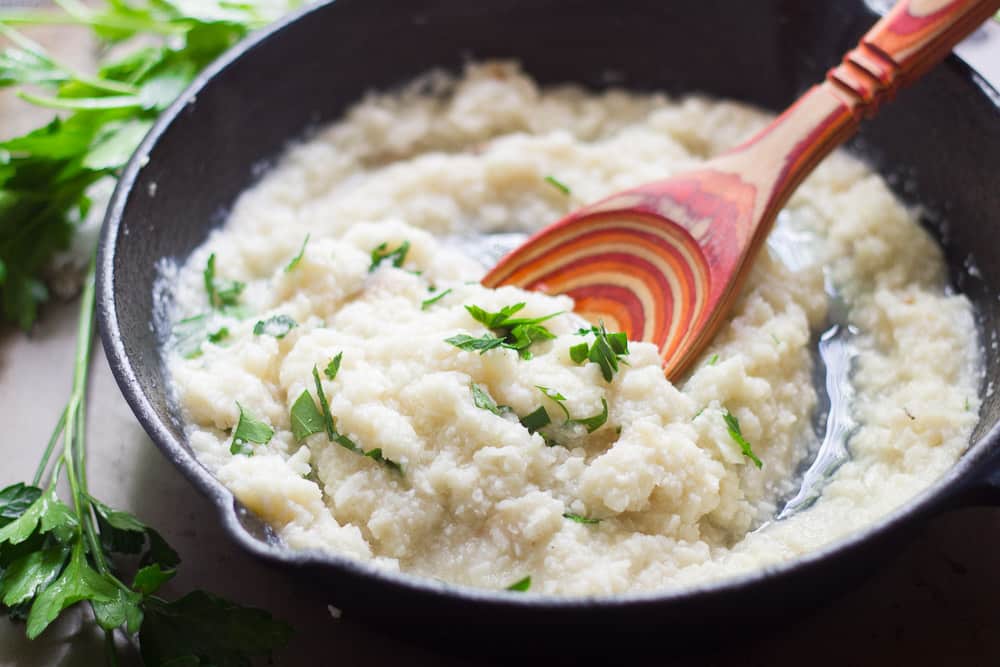 These days I'll actually eat cauliflower rice just for the fun of it. These occasions are especially fun when I can come up with some new way to enjoy cauliflower rice. Cauliflower risotto was totally unheard of to me until just a few weeks ago, but now it's one of my favorite spins on cauliflower rice.
I discovered cauliflower risotto while perusing The Blossom Cookbook by Ronen Seri and Pamela Elizabeth, and instantly knew I had to give it a try. I was not disappointed! Cauliflower gets pulsed up in the food processor and then cooked up in a creamy sauce that's made with white wine and more cauliflower. This recipe is kind of amazing in that it doesn't use any kind of milk—all of the texture and creaminess comes from cauliflower. Oh, and just in case you are one of those people who can't manage without carbs, it's served over pan-fried polenta, so it still feels pretty darn indulgent.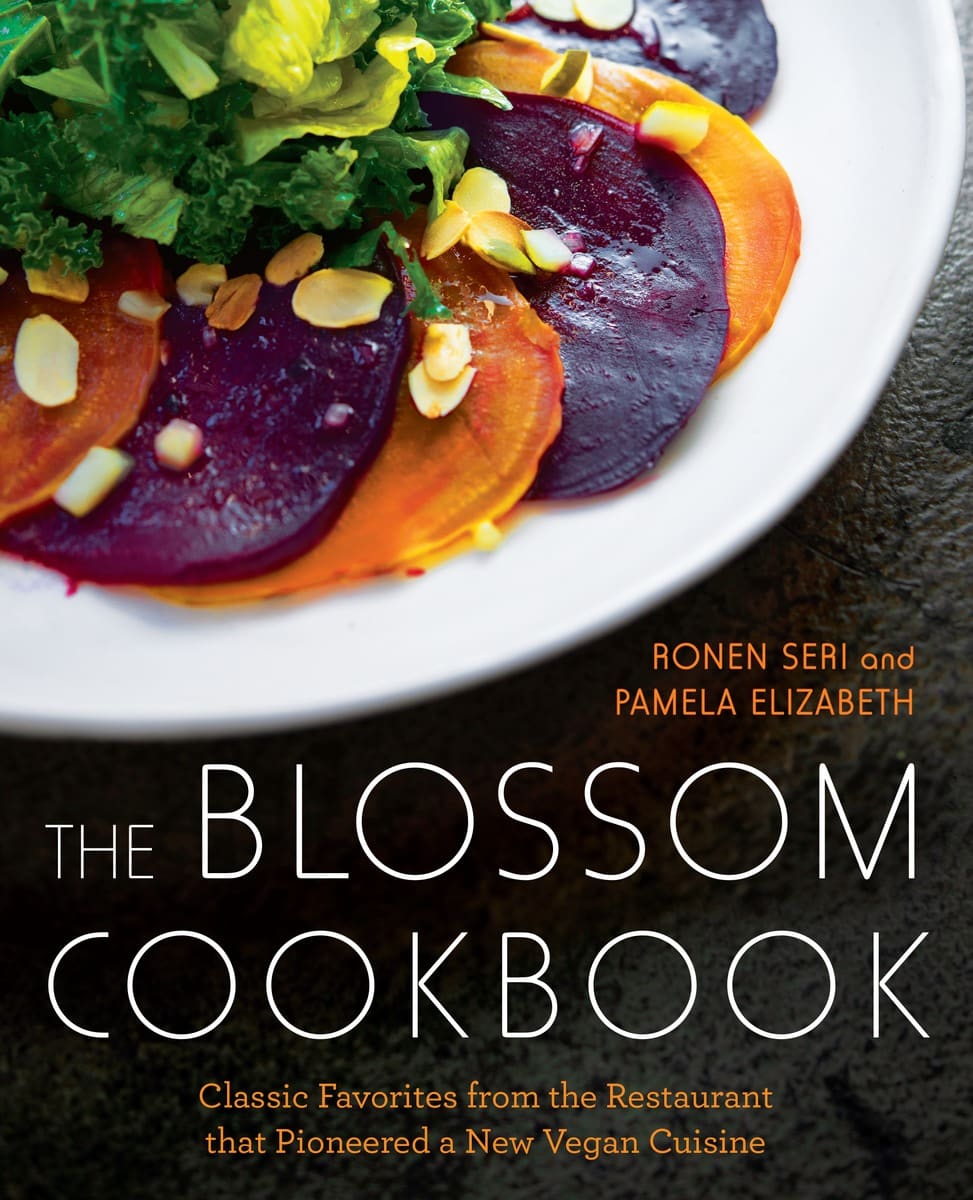 The Blossom Cookbook is filled with recipes from the Blossom Restaurant in New York, so it's no surprise that so many of them feel super indulgent while being completely vegan and loaded with veggies. There are lots of comfort food dishes that look like they'd impress any omnivore (check out the Fettuccine with Alfredo Cashew Cream, Seitan Piccata, and German Chocolate Cake), and you'll probably learn a trick or two, like how to transform trumpet mushrooms into scallops!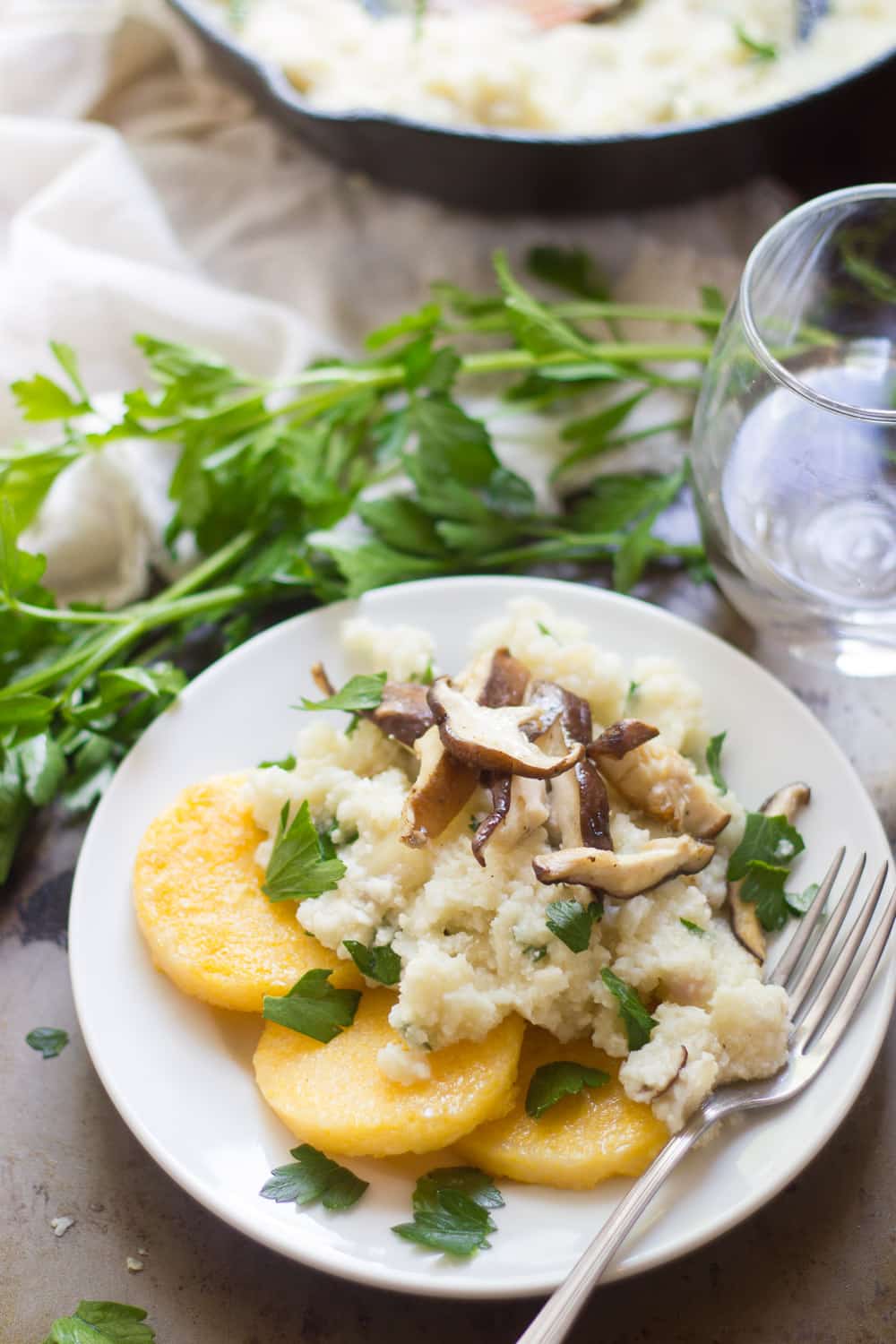 You can buy The Blossom Cookbook on Amazon.
Recipe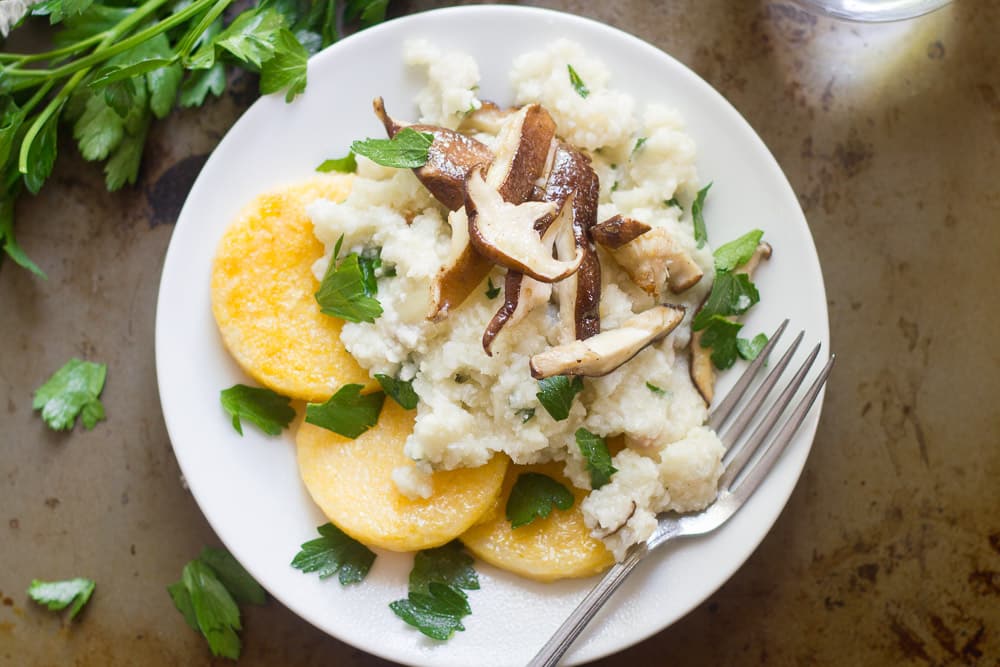 Ingredients
5

tablespoons

vegan butter

1

tablespoon

minced garlic

plus 1 garlic clove

1

teaspoon

salt

plus more as needed

½

teaspoon

black pepper

plus more as needed

1¼

cups

polenta

1

medium head cauliflower

2

whole shallots plus 2 tablespoons chopped shallot

5

tablespoons

olive oil

½

cup

white wine

½

teaspoon

salt

3

tablespoons

chopped fresh parsley

2

cups

sliced shiitake mushrooms
Instructions
In a large pot, combine 1 tablespoon of the vegan butter, the minced garlic, 1 teaspoon of the salt, ½ teaspoon of the pepper, and 3 cups water. Bring to a boil. Add the polenta and stir until the water has been absorbed, 1 to 2 minutes. Remove from the pan and spread the polenta over a baking sheet; let cool in the refrigerator.

Remove the cauliflower stem, coarsely chop it, and place it in a food processor. Pulse seven or eight times, or until it is finely minced, similar to the size and consistency of grains of rice. Divide the cauliflower into two equal portions.

Fill a large pot with water and add half the cauliflower, the whole shallots, and the garlic clove. Bring to a boil, and boil for 20 to 25 minutes, or until the cauliflower is soft. Drain the water and transfer the boiled cauliflower, shallots, and garlic to high-speed blender. Blend until smooth.

In a large sauté pan, heat 2 tablespoons of the olive oil over medium-high heat. Add the chopped shallot and sauté for 1 to 2 minutes, then add the rest of the minced cauliflower and stir well. Add the white wine and sauté for 1 to 2 minutes, then add the pureed cauliflower and stir. Add 1 cup water, ½ teaspoon salt, and 2 tablespoons of the vegan butter and stir. Add the parsley and stir to combine.

In a medium skillet, heat 2 tablespoons of the olive oil over medium-high heat. Add the mushrooms and a pinch each of salt and pepper. Sauté until the mushrooms begin to brown. Set aside.

Remove the polenta from the refrigerator and use a large thin-rimmed glass or a cookie cutter to cut it into rounds.

In a separate medium sauté pan, heat the remaining 1 tablespoon of olive oil over medium heat. Add the polenta cakes and sauté for 1 to 2 minutes on each side, or until golden brown on both sides.

To assemble, divide the polenta cakes between two plates, then top with the cauliflower risotto and finally the sautéed mushrooms.
Notes
Reprinted from THE BLOSSOM COOKBOOK by arrangement with Avery Books, a member of Penguin Group (USA) LLC, A Penguin Random House Company. Copyright © 2017, Ronen Seri and Pamela Elizabeth
Nutrition
Calories:
1107
kcal
Carbohydrates:
117
g
Protein:
21
g
Fat:
61
g
Saturated Fat:
11
g
Polyunsaturated Fat:
11
g
Monounsaturated Fat:
35
g
Trans Fat:
1
g
Sodium:
2089
mg
Potassium:
1875
mg
Fiber:
14
g
Sugar:
14
g
Vitamin A:
2059
IU
Vitamin C:
150
mg
Calcium:
104
mg
Iron:
4
mg
Craving more veg-friendly recipes?
Shop our collection of vegetarian and vegan cookbooks, including our new Vegan Thanksgiving and Vegan Christmas cookbooks!