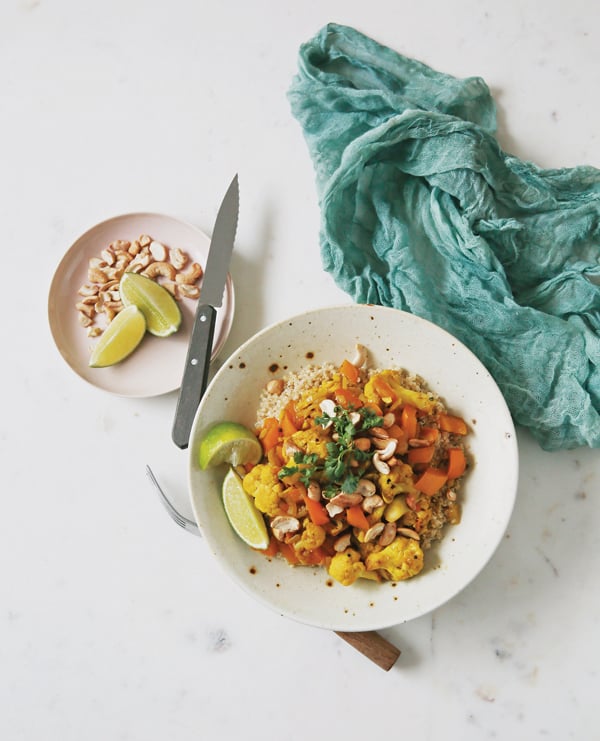 There are so many reasons to include nuts and seeds in your diet—not only are they packed with protein, but they're full of healthy oils and a variety of other essential nutrients. They're also a little bit magical—cashews can be whipped up into dairy-free mayo, peanut butter makes a silky broth for soups or stews, blended almonds become the perfect vegan gravy.
Vegans Go Nuts is a cookbook that will inspire you to get cooking with nuts and seeds. With more than 100 plant-based recipes, you'll never be at a loss for what to do with that bag of cashews sitting in your pantry. The best part is that these aren't the same recipes you've seen over and over again—they're innovative recipes like Walnut, Arugula and Grape Tacos and Buffalo Peanut Inside-Out Rolls.
With a well-stocked pantry, most of the ingredients in this curry are things you probably have on hand. Cashews are used two ways here: in milk, to create a creamy curry sauce, and toasted, to add crunch and texture to the finished product. It's a quick weeknight meal that's healthy and filling too.
Purchase Vegans Go Nuts: Celebrate Protein-Packed Nuts and Seeds with More Than 100 Delicious Plant-Based Recipes on Amazon.com.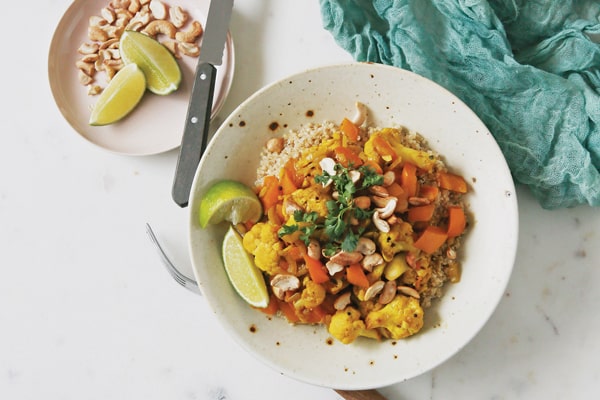 Ingredients
½

cup

70 g raw whole cashews

1

tablespoon

15 ml grapeseed, melted coconut, or olive oil

½

teaspoon

black mustard seeds

see headnote

3

cups

300 g small cauliflower florets

1

bell pepper

any color, trimmed and cored, chopped

½

or 1 whole small habañero or other medium to hot pepper

seeded and minced, to taste (wear gloves)

2

small shallots

trimmed, peeled, and chopped

3

cloves

garlic

minced

1

teaspoon

mild to medium curry powder

1

teaspoon

garam masala

½

teaspoon

ginger powder or

1½

teaspoons

grated fresh ginger

½

teaspoon

ground cumin

½

teaspoon

ground coriander

½

teaspoon

fine sea salt

to taste

½

teaspoon

ground turmeric

Juice of a quarter lime

½

cup

120 ml unsweetened plain cashew milk (or other nut milk)

1¾

cups

324 g cooked quinoa

Chopped fresh cilantro or parsley

to taste
Instructions
Preheat the oven to 300°F (150°C, or gas mark 2). Place the cashews on a baking sheet. Bake until golden brown and fragrant, checking and stirring occasionally to prevent burning, about 10 to 15 minutes total. Set aside to cool.

Heat the oil in a large skillet over medium-high heat. Add the mustard seeds and cover with a lid. Be careful not to burn and carefully shake the pan occasionally, adjusting the heat if needed. After about 30 seconds, the sputtering will slow. Remove the lid. Add the cauliflower, and cook 6 minutes, until lightly browned. Add the peppers, shallots, and garlic, and cook uncovered for another 2 minutes.

Add the curry powder, garam masala, ginger, cumin, coriander, salt, turmeric, and lime juice. Cook for another minute. Add the milk. Stir to combine, and cover with a lid. Cook for another 4 to 6 minutes, or until the cauliflower is tender. Remove the lid occasionally to stir. If the vegetables stick to the pan, or if the curry isn't very saucy, add extra milk or vegetable broth as needed.

Serve on the quinoa, and sprinkle the cashews and herbs on top.