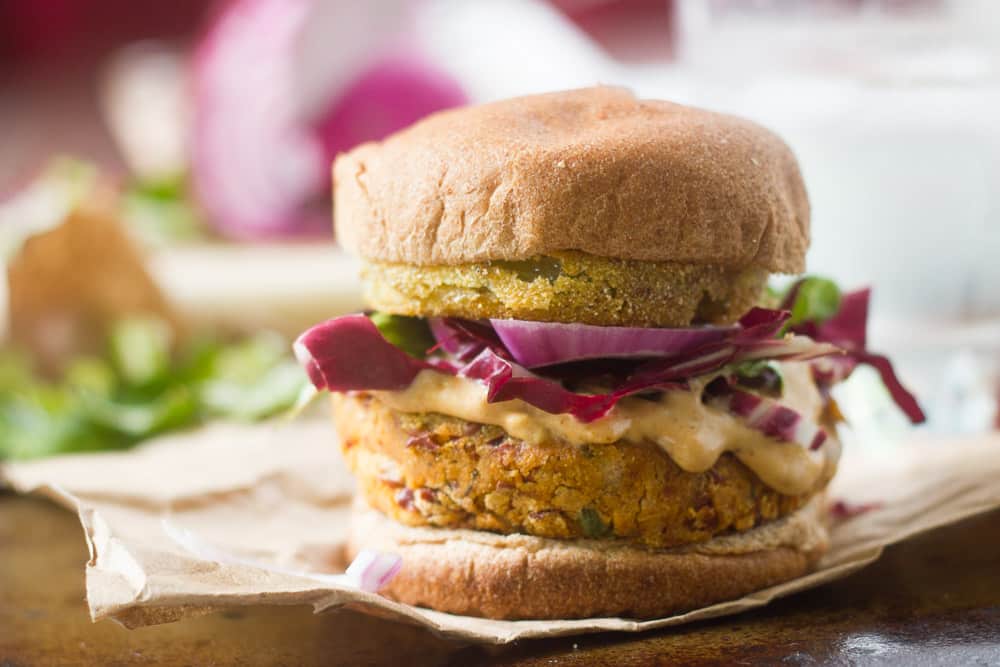 For the past five or so summers I've planted a vegetable garden in my backyard. I'm kind of a terrible gardener though! Every year it's something different that costs me my precious veggie crop, be it bugs or rabbits or just my inability to select plants that actually grow well in my home climate. Last year I thought I did a pretty good job, but after a quick takeoff in June and July, everything abruptly stopped growing in its tracks. Stuff withered, some veggies never showed up, and my tomatoes, which looked so promising, never made it past green.
This year I decided I would be ready for anything. I equipped myself well in advance with the ability to cook up some vegan fried green tomatoes.
Regular old fried green tomatoes are dipped in eggs or buttermilk, dredged in cornmeal, and deep-fried. Well that's not very suitable for a vegan diet, and the whole deep-frying thing just doesn't do it for me. I opted for a simple batter made from soy milk thickened up with flax seeds and flour, kept the cornmeal coating, and switched up the deep-frying with shallow frying — it worked really well for these tacos!
If my vegan fried green tomatoes are anything like authentic southern non-vegan fried green tomatoes, well, I guess I can see what all the fuss is about. These suckers are juicy on the inside, crispy and delicious on the outside. I immediately knew they belonged on a burger, and what better burger to pile some vegan fried green tomatoes atop than a Cajun-inspired veggie burger? That's just what I did!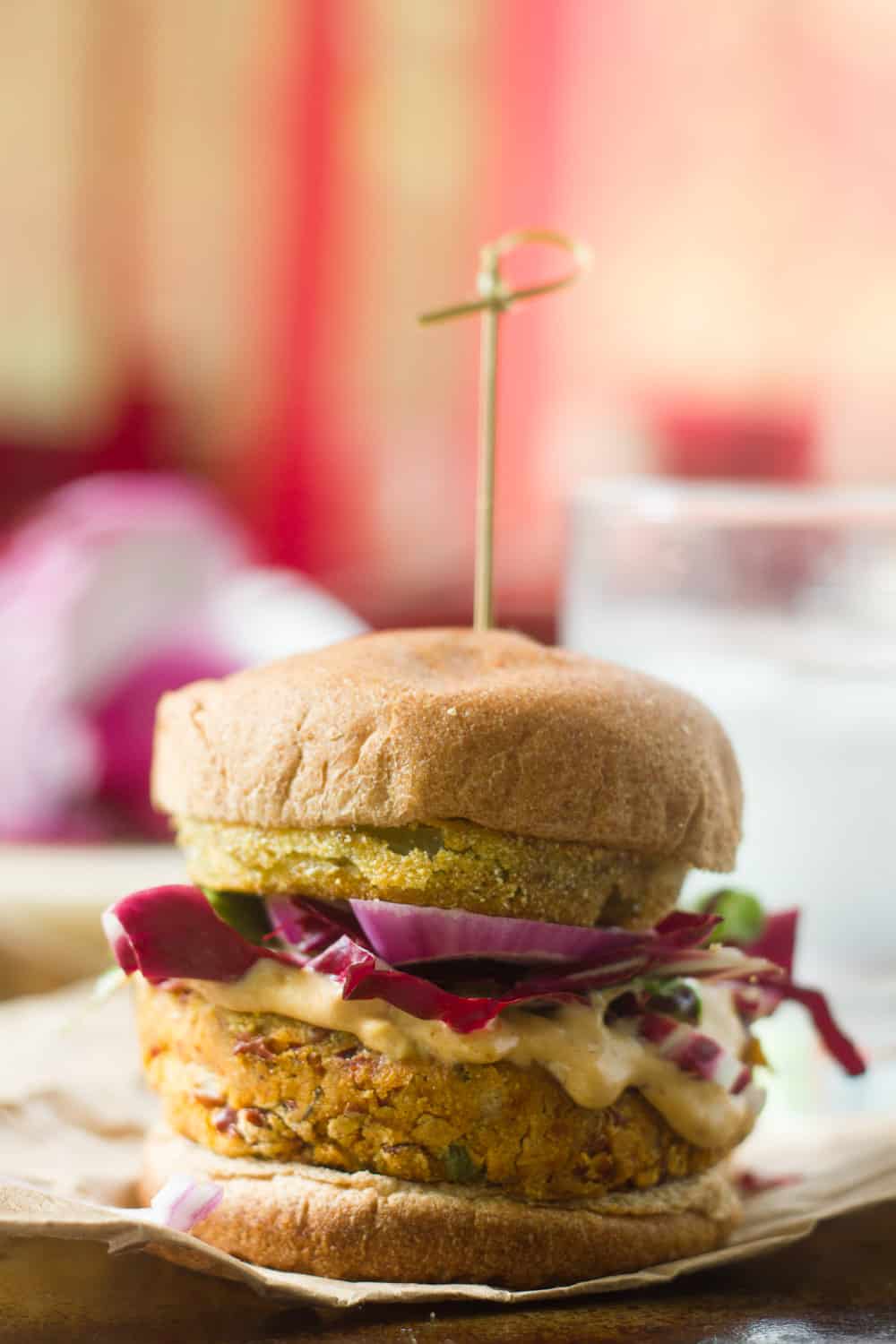 These red bean burgers are seasoned up with Cajun spices and hot sauce, then topped off with a zippy vegan remoulade sauce that I adapted from this vegan po' boy recipe. They're loaded with flavor and might just be my all-time favorite veggie burgers (that's saying a lot). This year's backyard garden appears to be doing well, with my tomatoes ripening nicely. I guess the challenge will be to catch my tomatoes while they're green so I can keep enjoying my new Cajun burger recipe.
Recipe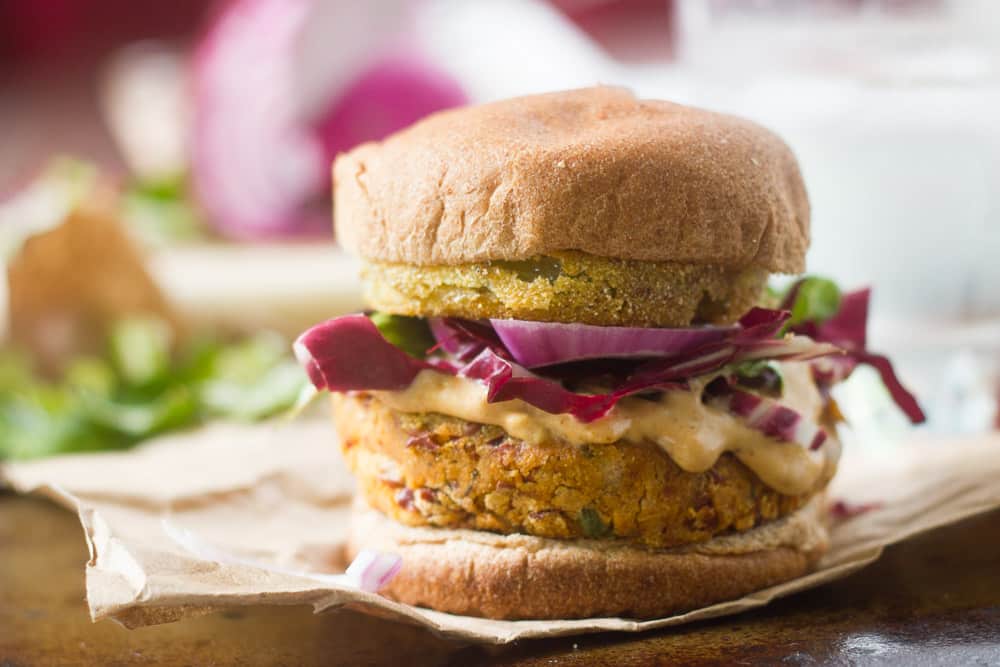 Ingredients
For the vegan remoulade:
⅓

cup

vegan mayonnaise

2

tablespoons

horseradish mustard

2-4

teaspoon

cayenne pepper hot sauce

or to taste

1

garlic clove

minced
For the vegan fried green tomatoes:
2

tablespoons

ground flaxseed

2

tablespsoons all-purpose flour

1

large or 2 medium green tomatoes

½

cup

cornmeal

½

teaspoon

paprkia

2-4

tablespoons

canola oil

or another high heat oil
For the Cajun red bean patties:
1

14 ounce can red kidney beans, drained and rinsed

1

cup

chopped red onion

3

garlic cloves

minced

2

scallions

chopped

¾

cup

cornmeal

2-4

tablespoons

cayenne pepper hot sauce

to taste

2

teaspoons

paprika

1

teaspoon

dried thyme

½

teaspoon

black pepper

½

teaspoon

salt

or to taste

Canola oil

or another high heat oil, for grilling
For serving:
4

burger buns

Shredded lettuce and/or radicchio

Sliced red onion
Instructions
Make the vegan remoulade:
Stir all ingredients together in a small bowl. Taste-test and add more hot sauce if needed.
Make the vegan fried green tomatoes:
In a shallow dish, whisk together the milk, flaxseed, and flour. Set aside for 5-10 minutes to thicken up. Meanwhile, slice the tomatoes about ½-inch thick. Arrange the slices on a plate and sprinkle with salt. Stir the cornmeal and paprika together in a shallow dish.

Generously coat the bottom of a large skillet with oil and place it over medium heat. When the oil is hot, grab a tomato slice and dip both sides into the flaxseed batter. Transfer the slice to the dish with the cornmeal and dredge both sides, then transfer the slice to the skillet. Repeat with as many additional slices as you can fit into the skillet without crowding. Cook the slices until browned and crisp, about 5 minutes on each side, then transfer them to a paper towel-lined plate. Repeat until all of the tomato slices are cooked, adding oil to the skillet as needed between batches.
Make the Cajun red bean patties:
Place all ingredients except the oil into the bowl of a food processor and pulse until well chopped and incorporated, stopping to scrape down the sides of the bowl as needed. Taste-test and adjust the amount of hot sauce and salt if needed. Shape the mixture into 4 patties.

Cook the patties in the same skillet as the tomatoes, adding oil if needed so the bottom is lightly coated. Place the skillet over medium heat and add the patties in an even layer. Cook about 4 minutes on each side, until lightly browned. Work in batches if needed and add oil to the skillet between batches if it dries up.
Serve:
Slather the buns with vegan remoulade. Stuff with patties, fried green tomatoes, and top with lettuce, radicchio, and red onion. Serve.
Nutrition
Calories:
564
kcal
Carbohydrates:
69
g
Protein:
12
g
Fat:
26
g
Saturated Fat:
3
g
Polyunsaturated Fat:
5
g
Monounsaturated Fat:
6
g
Trans Fat:
1
g
Sodium:
948
mg
Potassium:
470
mg
Fiber:
8
g
Sugar:
8
g
Vitamin A:
501
IU
Vitamin C:
25
mg
Calcium:
162
mg
Iron:
4
mg
Craving more veg-friendly recipes?
Shop our collection of vegetarian and vegan cookbooks, including our new Vegan Thanksgiving and Vegan Christmas cookbooks!