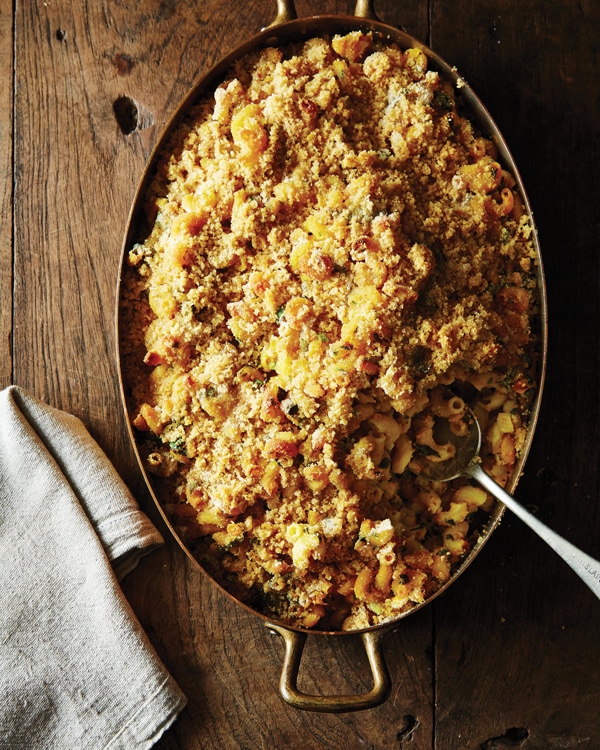 I often think about how much my horizons have broadened over the years when it comes to vegetables. Part of it probably has to do with growing up—most people become less picky as they get older—but I also think there's more of a variety of vegetables available at grocery stores and restaurants than there was 20 years ago. Fifteen years ago, I probably couldn't pick a butternut squash out of a lineup, but now? Butternut squash is everywhere. And that's a good thing!
This Butternut Squash Mac and Cheese from Gena Hamshaw's Food52 Vegan

capitalizes on the veggie's smooth texture, golden color, and sweet flavor to turn it into a creamy "cheese" sauce with the addition of nutritional yeast, miso, and lemon juice. Round out the meal by adding cooked vegetables like broccoli florets or spinach and you have the perfect fall comfort food dinner, with an added bonus: it's healthy too.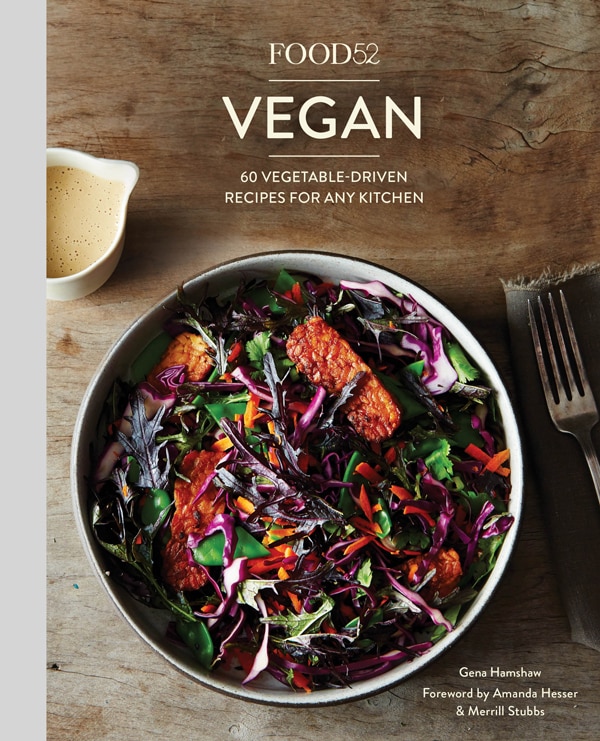 I absolutely love the subtitle for this cookbook: "60 Vegetable-Driven Recipes for Any Kitchen." How perfect is that? It's not about using meat substitutes (because anyone can make chicken tetrazzini and throw in some chunks of frozen chicken substitute, right?!), it's not about recipes your non-vegan friends would give the side-eye to. It's about broadening your vegetable horizons. Using butternut squash as a cheese sauce! Trying golden beets in panzanella and oyster mushrooms in tacos! Making parsnips into fries! The recipes aren't forced or trying too hard, they don't have cutesy names, they're recipes for people who love vegetables and if you're reading a blog named Oh My Veggies, I kind of think these recipes might just be for you.
Get a Copy of Food52 Vegan!
You can purchase Food52 Vegan: 60 Vegetable-Driven Recipes for Any Kitchen (Food52 Works)
on Amazon.com or you can enter to win a copy on the Marketplace through November 7th.
Recipe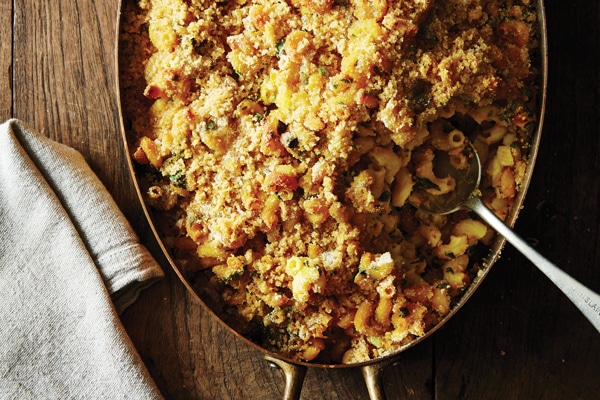 Ingredients
1 ½ to 2

pounds

680 to 900g butternut squash (about 1 medium squash), peeled and cubed

2

tablespoons

olive oil

3

cloves

garlic

coarsely chopped

½

cup

120ml coconut milk

1 ¼

cups

300ml unsweetened almond milk, homemade or store-bought

½

cup

plus 2 tablespoons

45g large-flake nutritional yeast

1

tablespoon

arrowroot powder

¼

teaspoon

smoked paprika

2

tablespoons

freshly squeezed lemon juice

1

tablespoon

white miso

1

pound

450g elbow pasta

2

cups

about 475ml cooked vegetables (optional), such as steamed chopped spinach, blanched peas, or lightly steamed broccoli florets

½

cup

55g dry breadcrumbs
Instructions
Preheat the oven to 400°F (230°C). Oil a 7 by 11-inch (18 by 28cm) pan.

Coat the squash with 1 tablespoon of the olive oil, then spread it evenly on a rimmed baking sheet. Sprinkle with salt and pepper.

Bake for 30 to 35 minutes, until very tender and just starting to brown. Remove from the oven. Decrease the oven temperature to 350°F (175°C).

Meanwhile, heat the remaining tablespoon of olive oil in a small saucepan over medium-low heat. Add the garlic and sauté for 2 to 3 minutes, until just starting to brown. Add the coconut milk and ¾ cup (175ml) of the almond milk. Whisk in the nutritional yeast and arrowroot powder. Cook, whisking constantly, until nice and thick, about 5 minutes. Transfer the sauce to a large bowl and add the remaining ½ cup (120ml) of almond milk, the butternut squash, 1 teaspoon of salt, ¼ teaspoon of pepper, and the paprika, lemon juice, and miso. Stir to distribute the ingredients somewhat evenly. Working in batches, transfer to a blender or food processor and process until totally smooth and creamy.

Bring a pot of salted water to boil over high heat. Add a drizzle of olive oil to prevent sticking. Stir in the pasta and adjust the heat to maintain a low boil. Cook, stirring occasionally, until the pasta is al dente. Drain well and let cool briefly.

Put the pasta in a large bowl and add the vegetables. Add the sauce, using only 2 cups (475ml) of it if not adding the optional vegetables. Stir gently until thoroughly combined. Spread the mixture evenly in the prepared pan and scatter the breadcrumbs evenly over the top.

Bake for 20 minutes, until the top is golden. Serve right away.
Nutrition
Calories:
491
kcal
Carbohydrates:
83
g
Protein:
16
g
Fat:
12
g
Saturated Fat:
5
g
Polyunsaturated Fat:
2
g
Monounsaturated Fat:
4
g
Sodium:
261
mg
Potassium:
815
mg
Fiber:
7
g
Sugar:
6
g
Vitamin A:
12287
IU
Vitamin C:
53
mg
Calcium:
172
mg
Iron:
3
mg
Craving more veg-friendly recipes?
Shop our collection of vegetarian and vegan cookbooks, including our new Vegan Thanksgiving and Vegan Christmas cookbooks!
Photographs copyright © 2015 by James Ransom