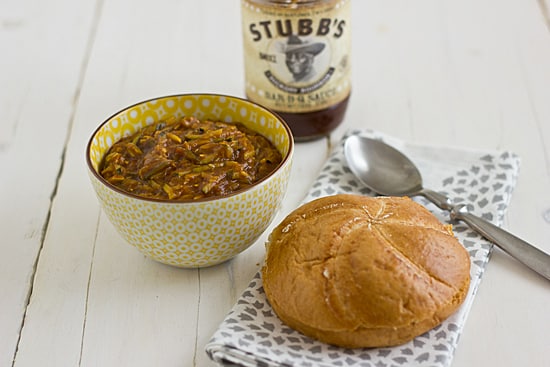 A vegetarian version of pulled pork, the filling in this Bourbon Mango Pulled Summer Squash Sandwiches recipe is also great as a side dish.
My Inspiration
Most of my worst ideas come to me in the middle of the night. The cats will wake me up or something else will startle me out of my sleep, and suddenly I'm thinking that I should really just quit my job and sell macaroons for a living.
Or that it would be a good idea to pepper my thesis with hair metal lyrics just to see if my advisor notices. (Yes, these are real ideas that I had—and in the hours between midnight and 7am, somehow those ideas seemed really good.)
The idea for this recipe popped into my head during one of these times—vegetarian pulled pork sandwiches!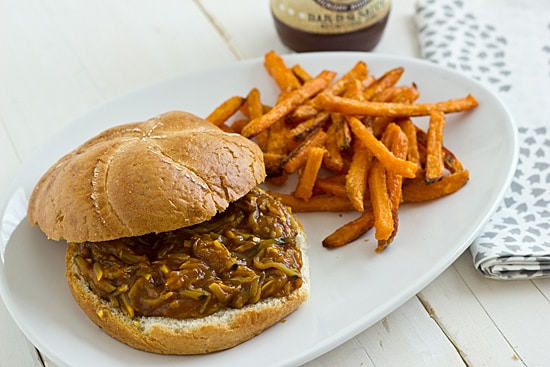 When I woke up the next morning, I had to figure out a way to execute this idea. I thought that seitan would be a good substitute for pork, but I realized that they don't sell it at our local grocery store and it hardly seemed worth it to drive to Raleigh just for that. So somehow the seitan became julienned summer squash.
I found a recipe for Bourbon-Mango Pulled Pork that piqued my interest, so I adapted that using yellow squash and zucchini instead of pork to make Bourbon Mango Summer Squash Sandwiches.
I was unsure of how this would turn out and as I made it, I started feeling more and more like this idea should have been shelved, like the macaroons and hair metal lyrics in my thesis.
Luckily, apart from the end result being a little on the spicy side, this worked out just as I had hoped. It would make a great side dish too or, if you're feeling really adventurous, burger topping.
And if you love the concept, you will probably also loved this pulled mushroom sandwich and this pulled jackfruit sandwich.
About the Recipe
I've reduced the amount of chipotle powder in this recipe. I made it with ½ teaspoon more and it was a little much for me. If you like a lot of heat, add ½ teaspoon to the sauce instead of ¼.
Recipe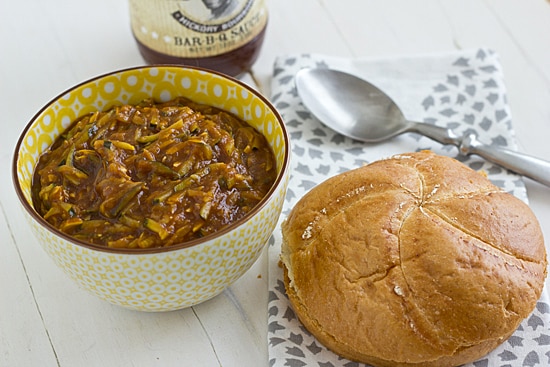 Instructions
Puree chopped mango in a blender or food processor. In a medium saucepan over medium-low heat, add puree, bourbon, and chipotle powder. Stirring frequently, heat until mango has thickened and darkened in color, about 8-10 minutes. Stir in barbecue sauce and remove from heat.

Coat a large Dutch oven with olive oil spray and heat at medium-high. Add yellow squash and zucchini. Cook until softened, about 7-8 minutes, stirring occasionally. Stir in vinegar and cook for 5 minutes, or until liquid evaporates. Add barbecue sauce mixture to Dutch oven; reduce heat to low and simmer until thickened, about 10 minutes (the amount of time depends on how thick your barbecue sauce is), stirring often. Season with salt and pepper to taste.

Divide squash onto hamburger rolls and serve.
Nutrition
Serving:
1
sandwich
Calories:
261
kcal
Carbohydrates:
52
g
Protein:
7
g
Fat:
2
g
Saturated Fat:
1
g
Polyunsaturated Fat:
1
g
Monounsaturated Fat:
1
g
Sodium:
715
mg
Potassium:
626
mg
Fiber:
4
g
Sugar:
28
g
Vitamin A:
808
IU
Vitamin C:
40
mg
Calcium:
119
mg
Iron:
2
mg
Craving more veg-friendly recipes?
Shop our collection of vegetarian and vegan cookbooks, including our new Vegan Thanksgiving and Vegan Christmas cookbooks!