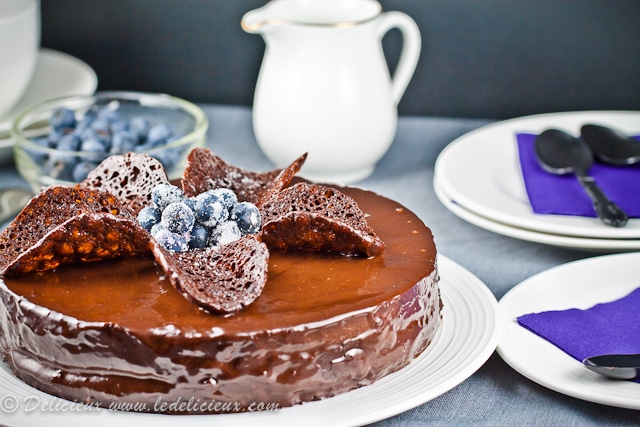 I was excited when my fellow Sweet Adventurers (84th & 3rd, The Capers of the Kitchen Crusader, Dining With a Stud, and this months host, Christina from The Hungry Australian) and I settled on the theme of Death By Chocolate for this months blog hop.  Chocolate would easily have to be one of my favourite indulgences, as I am sure you can tell by all of the chocolate recipes featured here ( such as Mint Slice Cookies, Chocolate Orange Cake, Chocolate Pots de Creme, Wicked Chocolate Orange Cookies, Black Forest Cake and Cherry Ripe Cake, to name a few) so I couldn't wait to explore this months theme.
Despite my excitement it took me some time to settle on what I actually wanted to make....and well, what you see here, my creation which I've called my "Black Dahlia Cake", evolved while I was in the kitchen. What started from a simple super rich chocolate cake evolved into a multi layered chocolate creation.
When I think of the words Death By Chocolate I think of chocolate, chocolate and more chocolate.  I think we all do. So I flicked through my library of cookbooks for inspiration, and searched online, but I couldn't really find anything that fit my vision. Eventually, at a loss for ideas, I settled on the "Little Black Dress Cake" from Valli Little's delicious Simply The Best. I had my on making this cake for some time, and given this months blog hop theme I felt it was the perfect excuse....but at the back of my mind I couldn't help but feel it didn't really say death by chocolate to me.
Add to this the fact that the cake needed an extra 20 minutes cooking time in my oven, and came out looking like the site of a meteor landing, complete with crunchy edges, I had visions of having to start all over again!  After some careful knife work, the top half of the crater was removed to reveal a flat, and insanely rich and moist cake.  So rich because it includes half a kilogram of chocolate!!!!  Now that's my type of chocolate cake!!!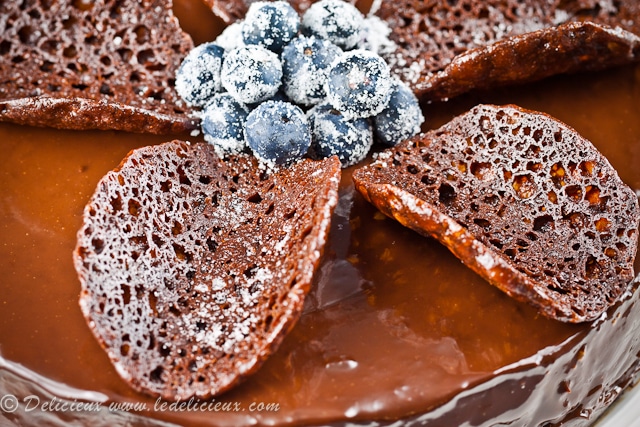 After staring at the cake for some time knowing my vision wasn't fulfilled I decided to add a chocolate mousse layer on top.  Why have one layer of chocolate when you can have two?!  For the chocolate mousse layer l used a recipe from Raymond Blanc.  After the chocolate mousse had set overnight I then smothered the whole cake in a chocolate glaze.  Third layer of chocolate done!
As much as I love meltingly soft cakes and desserts, I also love texture, and I felt my creation needed some crunch.  For the crunch factor I settled on the idea of chocolate lace cookies, and as the cookies cooled I wrapped them around my rolling pin to provide some curl.  The funny thing was I wasn't quite sure how I would incorporate the cookies into my final creation yet!!  After playing with the lace cookies trying to work out what I could do I placed the cookies in a circle and thought they looked like the petals of a flower.  The center of my flower was then formed with sugared blueberries and my Death by Chocolate Black Dahlia Cake was born.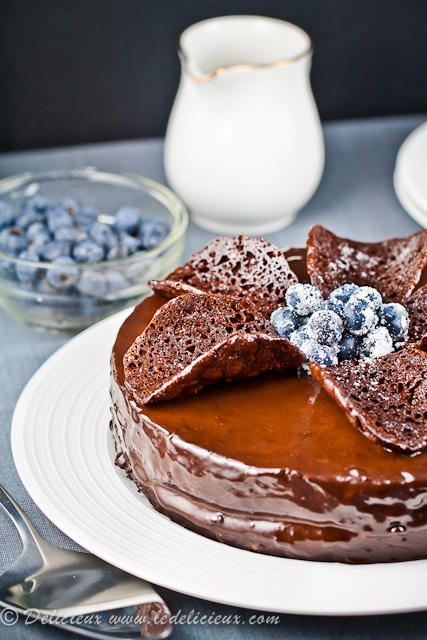 So, after all of this how does it taste?  Well, in a word...AMAZING!!! Even if I do say so myself.  Deliciously rich and moist chocolate cake topped with chocolate mousse and smothered in chocolate glaze....it was all of my chocolate fantasies come true!  Don't get me wrong, it's rich, INSANELY rich....but isn't that what Death By Chocolate Cake is all about?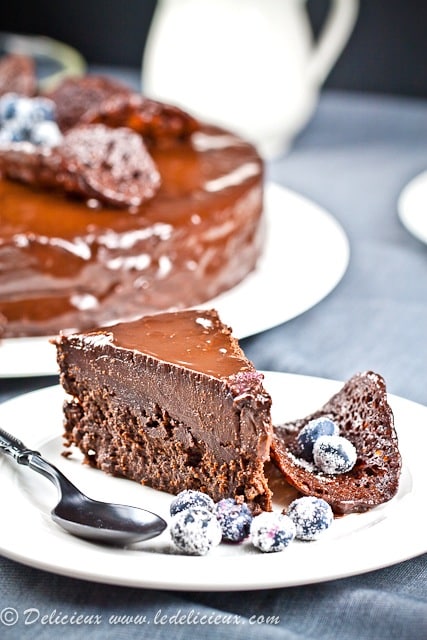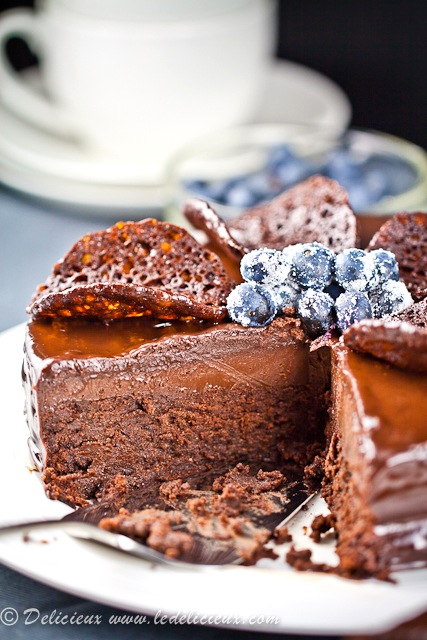 Recipe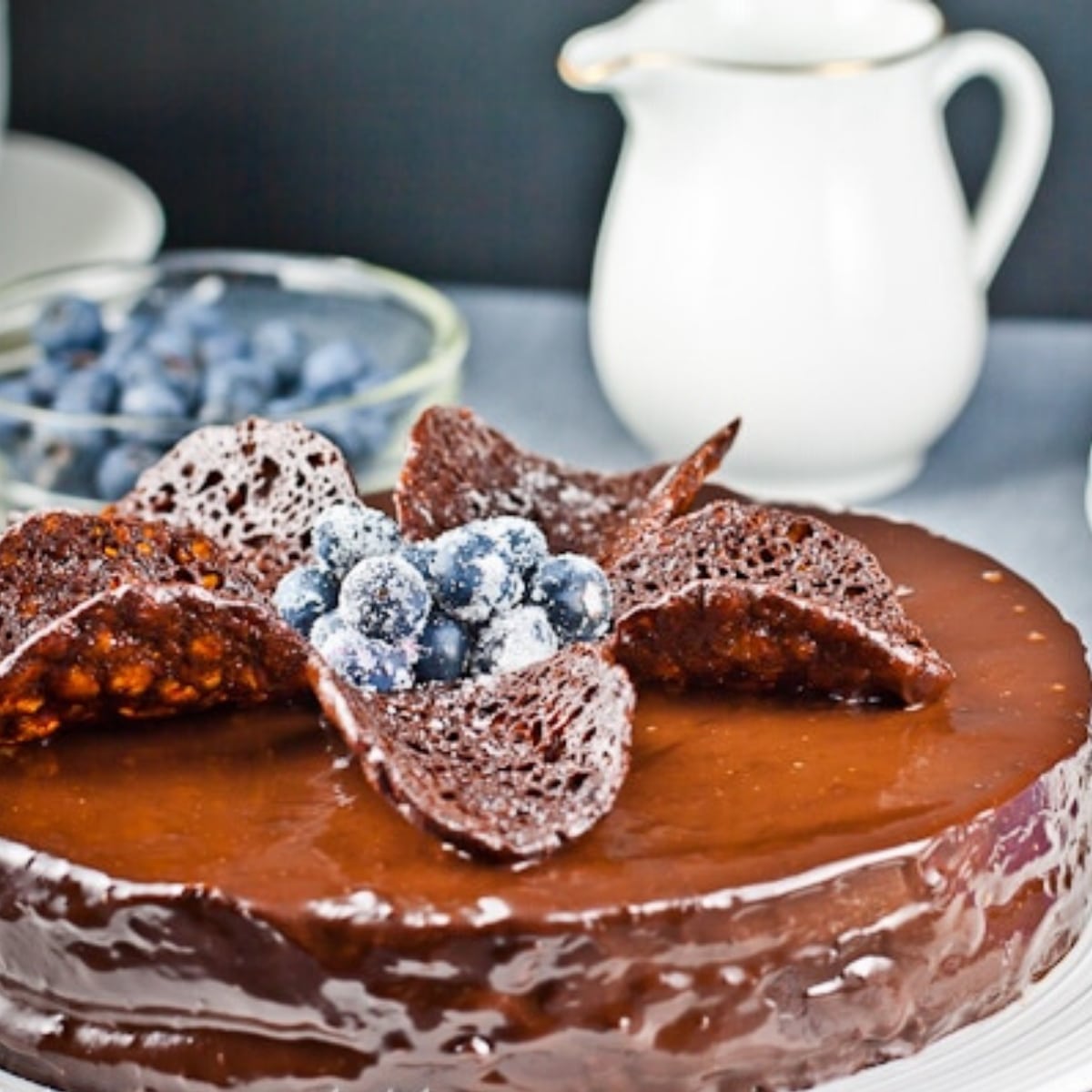 Ingredients
CAKE:

500

g

of dark chocolate

chopped

125

g

of unsalted butter

chopped into cubes

6

eggs

separated

90

g

of caster sugar

150

ml

of cream

3

tbs

of Chambord liqueur

½

tsp

of cream of tartar

MOUSSE:

70

ml

of full cream milk

160

ml

of double cream

1

egg

170

g

of 70% cocoa chocolate

3

tsp

of Chambord liqueur

CHOCOLATE GLAZE:

6

oz

of dark chocolate

chopped

1

cup

of cream

CHOCOLATE LACE COOKIES:

2

tbsp

plus 1 tsp packed light-brown sugar

15

grams

unsalted butter

2

tbsp

glucose syrup

1

tbsp

of cocoa

1

tbsp

of flour

¼

cup

of almond meal

DECORATION:

1

tbsp

of blueberries

1

tsp

of cater sugar
Instructions
To make the cake, preheat the oven to 180 celsius (355 Fahrenheit) and grease and line a 24cm spring form tin with baking paper.

Combine the chocolate and butter in a heat proof bowl and sit over a saucepan of simmering water and stir until smooth. Remove from the heat and set aside to cool slightly.

In the bowl of an electric mixer whisk the egg yolks until very thick and pale and then gently fold in the cream, Chambord or other berry liqueur and cooled chocolate. Set aside.

In a separate bowl whisk the egg whites and cream of tartar until it forms stiff peaks. Add ⅓ of the egg whites to the chocolate and egg yolk mixture and gently fold through. Repeat with remaining ⅔ until combined.

Pour into the prepared cake tin and bake for 35 to 45 minutes, or until a skewer inserted into the center comes out with a few moist crumbs. Set aside to cool completely in the tin on a wire wrack.

To make the mousse heat the milk and cream in a saucepan. As you are doing this whisk the egg in the bowl of an electric mixer until it is frothy and then pour in the milk and cream mixture. Continue to whisk for a minute before returning to the heat (turn the heat down to low). When the mixture is thick enough to coat the back of the spoon add the chocolate and Chambord and stir until smooth. With the cake still in the tine, pour over the top of the cooled cake and leave in the refrigerator overnight to set.

To make the lace cookies preheat the oven to 175 degrees celsius (350 Fahrenheit) and line a baking tray with baking paper. Combine the sugar, butter and glucose syrup in a saucepan over a medium heat until the sugar is dissolved and the butter is melted. Add the cocoa, flour and almond meal and stir to combine.

Drop teaspoon sized dollops of the mixture onto the prepared baking tray and bake for 7 to 8 minutes. Let the cookies sit for a minute before removing from the tray with a spatula and rolling over a rolling pin to achieve the curved shape. Leave the cookies to set (this will only take a couple of minutes).

For the chocolate glaze place the cream in a saucepan and bring to a boil. Place the chocolate in a separate bowl and pour the cream over the top and set aside for 5 minutes. Then stir until smooth.

Un-mould the cake and sit it on a wire wrack and line underneath the wrack with baking paper. Using an instant read thermometer check the temperature of the glaze. When it is between 95 to 104 degrees Fahrenheit pour over the top of the cake.

Combine the blueberries and caster sugar in a bowl and swirl to coat the blueberries in the sugar. Place the sugared blueberries in a circle in the center of the cake and surround with the lace cookie petals.
Notes
The cake will puff up dramatically in the oven and when removed will collapse in the center. Using a sharp knife trim the edges to achieve a flat surface for the cake. When making the chocolate glaze try not to over stir the mixture as this will cause the glaze to lose it's shine. To easily glaze the cake the temperature of the glaze should be between 95 to 104 degrees farenheit as this glaze will flow easily and glide over the top of the cake.
Nutrition
Calories:
866
kcal
Carbohydrates:
59
g
Protein:
14
g
Fat:
67
g
Saturated Fat:
38
g
Cholesterol:
222
mg
Sodium:
178
mg
Potassium:
864
mg
Fiber:
13
g
Sugar:
29
g
Vitamin A:
1360
IU
Vitamin C:
0.5
mg
Calcium:
140
mg
Iron:
11.1
mg
Craving more veg-friendly recipes?
Shop our collection of vegetarian and vegan cookbooks, including our new Vegan Thanksgiving and Vegan Christmas cookbooks!