This chocolate pots de creme recipe will hit the spot for any true chocolate lover! It's everything that makes a sinful dessert. Just top it off with some whipped cream or fresh fruit, and you've got yourself a restaurant-worthy chocolate dessert!
If you are having friends over for dinner, these little beauties would make a wonderful dessert, topped with fresh fruit such as strawberries, blueberries, bananas or even pears along with a dollop of whipped cream.
Calling All Chocolate Lovers
I have a major sweet tooth, and I need a chocolate fix on the regular. This recipe may take a little longer to make with its three hour chill time, but it's totally worth it.
My normal go-to is this chocolate cake, but sometimes I'm just in the mood to shake things up a bit.
This chocolate pots de creme is cool and refreshing, with just the right amount of chocolatey sweetness. Plus, the wait almost makes it more delicious.
I much prefer dark chocolate to sweeter chocolate. See these dark chocolate chip cookies and these chocolate macarons as evidence!
Dark chocolate has a magical quality - wonderful chocolate flavors that aren't smothered with too much sugar. But don't worry!
For this recipe I used Lindt 70% cocoa chocolate, but you could use whatever chocolate you prefer. Just make sure it's good quality chocolate. You want it to taste luxurious!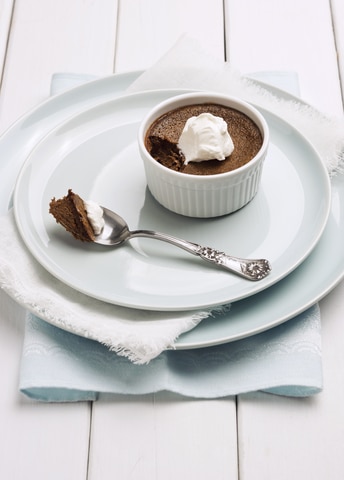 How to Make Chocolate Pots de Creme
Start out by preheating the oven to 300 degrees Fahrenheit (150 degrees Celsius). Then get 4 to 6 ramekins and place them on a roasting pan.
If you want more per serving of chocolate pots de creme, then use 4 ramekins; if you want to share it with more people or spread it out over a couple days, use 6 ramekins. The recipe works either way!
What's a ramekin? Imagine creme brulee. Are you picturing it in a little white porcelain bowl? One that has a flat bottom and is cylindrical? That's a ramekin.
It's usually ceramic, porcelain, or glass and is able to withstand high temperatures—perfect for the oven and perfect for this chocolate pots de creme recipe!
Place your roasting pan and ramekins aside for later.
Now we'll start making the yummy chocolate goodness!
Put your saucepan on the stove over medium heat and add the milk, cream and vanilla extract. Bring this to a boil. Once it's boiling, remove it from the heat and stir in the chopped up chocolate.
I use the 70% Lindt cocoa chocolate, but feel free to mix it up with different types. If you want something just a little healthier, you can even try making this recipe with carob chips.
If you've never had carob chips, they are vegan-friendly chocolate substitutes that come from little fruit pods that grow on carob trees.
It's caffeine free (which means your pups can eat it too!), low on fat and sugar and high in fiber. To make things easier, it's a 1-to-1 substitute for chocolate.
Side Note: If you want more ideas for vegan baking substitutions, make sure you grab a copy of this vegan baking cheat sheet.
Stir the chocolate into the cream mixture until the consistency is smooth and the chocolate is completely melted. Set this aside.
In a bowl, add the egg yolks, salt, and sugar. The salt will really bring out the flavor in the chocolate, so don't forget it!
Using an electric mixer with a whisk attachment, whisk the ingredients in the bowl. Don't let the yolks become foamy! All you are trying to do here is combine the ingredients together.
Keep the mixer going slowly while you pour the chocolate creme mixture in. Continue mixing until the two are well combined.
Then, using a fine mesh sieve, strain the final product into a jug. I've found it's easier to use the jug to pour the mixture into the ramekins. You don't want any of that goodness going to waste on the counter after all!
Pour the mixture into the ramekins. Then fill the roasting pan with hot water until it comes halfway up the sides of the ramekins. Make sure it's not too little and not too much! You wouldn't want watery chocolate pots de creme.
Finally, cover the tray with aluminum foil and pop it into the oven. Let it bake for 45 to 50 minutes or until the custard is lightly set. It should still jiggle when moved though.
Remove the roasting pan from the oven. Now you can move the ramekins to the fridge to chill. If you have no patience, you can eat it right away, but I suggest you chill it for at least three hours so it can set.
After it's done chilling, add a dollop of cream on top of your chocolate pots de creme, and garnish with your favorite fresh fruit or a spoonful of whipped cream.
Let me know how yours turned out—especially if you tried something different. I'd love to try out your variations too!
And if you're in need for some more fancy chocolate desserts, don't miss these chocolate fondants or vegan chocolate mousse!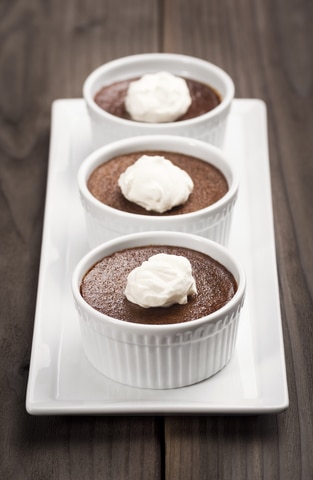 Recipe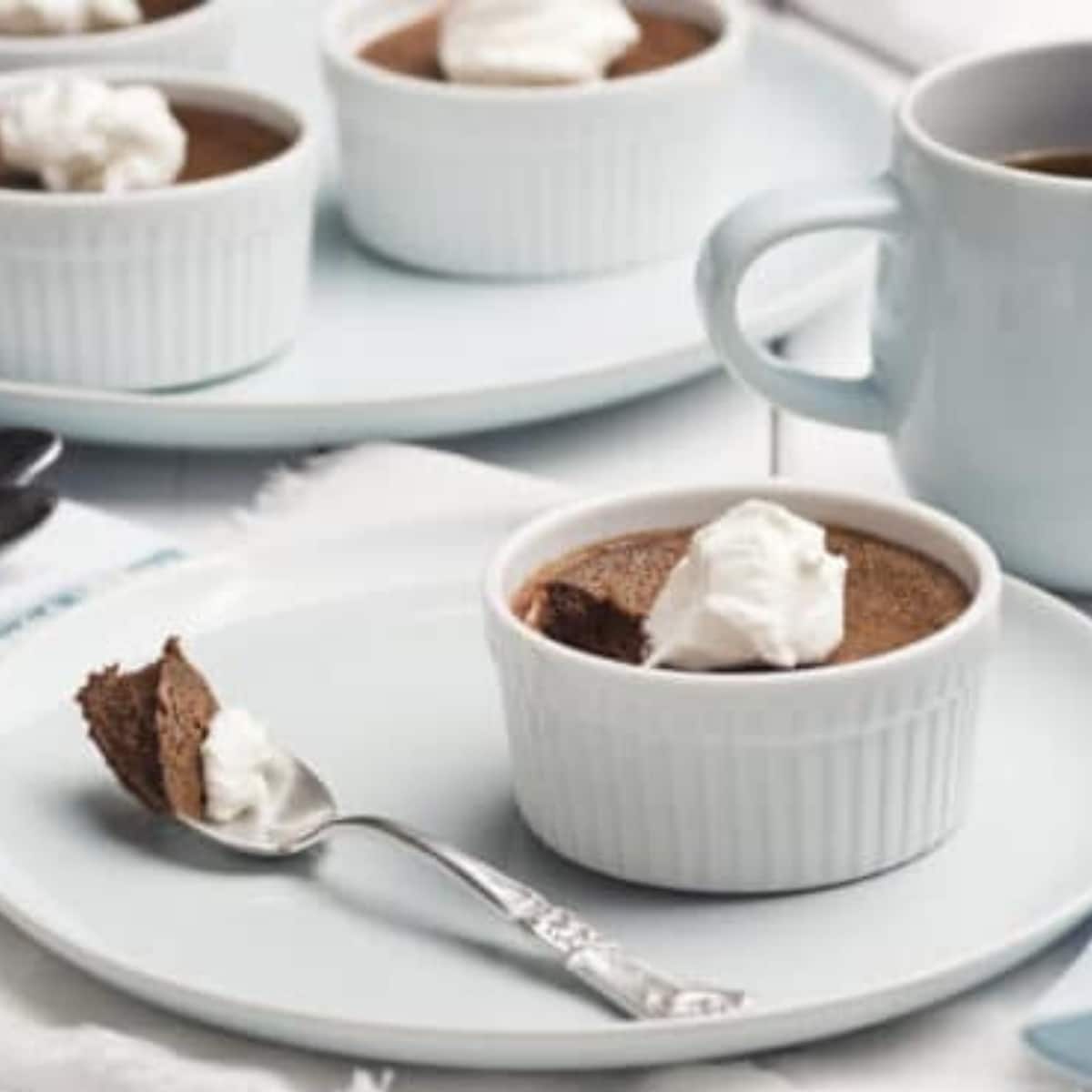 Ingredients
140

grams

Lindt 70% Cocoa chocolate or other good quality chocolate of your choice

chopped

1

tsp

vanilla extract

400

ml

thickened (heavy) cream

125

ml

full fat milk

6

egg yolks

¼

cup

caster sugar

pinch of salt

I learned from the lovely Ina Garten that a touch of salt really brings out the flavour in chocolate.
Instructions
Preheat your oven to 150 celsius (300 farenheit) and place 4 to 6 ramekins (depending on the serving size you want) into a roasting pan.

Place the milk, cream and vanilla extract into a saucepan and bring to a boil over a medium heat.  Remove from the heat and stir in the chopped chocolate and stir until smooth.  You might like to use a whisk here to ensure a smooth consistency.  Set aside.

In an electric mixer fitted with a whisk attachment whisk the egg yolks, salt and sugar together.  The egg yolks should not be foamy, all you are aiming to do is combine the egg yolks, sugar and salt.

With the mixer still running slowly pour in the chocolate, milk and cream mixture and mix until combined.  Strain through a fine mesh sieve into a jug.  A jug will make it easier to pour the mixture into the ramekins.

Pour the mixture into the ramekins.  Fill the roasting pan with hot tap water until it comes halfway up the side of the ramekins.

Cover the tray with foil and bake for 45 to 50 minutes or until the custard is lightly set but jiggles when moved.  Chill for at least 3 hours before serving.

Serve with a dollop of cream and fresh fruit.
Nutrition
Calories:
453
kcal
Carbohydrates:
26
g
Protein:
6
g
Fat:
38
g
Saturated Fat:
22
g
Cholesterol:
289
mg
Sodium:
47
mg
Potassium:
165
mg
Fiber:
1
g
Sugar:
22
g
Vitamin A:
1273
IU
Vitamin C:
1
mg
Calcium:
96
mg
Iron:
1
mg
Craving more veg-friendly recipes?
Shop our collection of vegetarian and vegan cookbooks, including our new Vegan Thanksgiving and Vegan Christmas cookbooks!