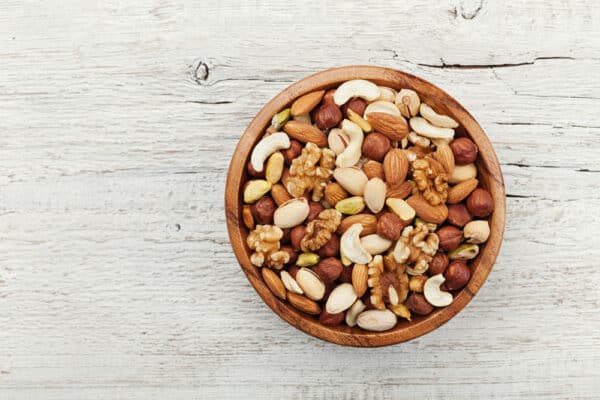 Heading out to the great outdoors? Camping usually carries images of sitting around eating hot dogs, burgers and brats, so it might be hard to think of things besides roasted marshmallows you can eat around the campfire. But there are tons of ways to get creative with meatless camping meals. From kabobs to oatmeal, there are lots of vegetarian camping meals. Read on to learn how to camp and keep it meat-free. Here are the best vegetarian camping meals.
Breakfast
When speaking of best vegetarian camping meals, we can't skip breakfast! Not eating sausage and bacon doesn't exclude you from a delicious camping breakfast. Oatmeal is a favorite out on the trail, since it packs dry. Some hot water makes it a fast, nutritious and filling whole grain. You also have options like pancakes, which are a favorite to make over portable cooking surfaces.
Also, don't forget the tofu scramble as an egg substitute. This can work well if you're on a camping trip that has easily accessible refrigerators, like if you're camping in an RV. And if you eat eggs, that opens up options for French toast.
Main meals
Lunch and dinner adds considerably more wiggle room than the more limited, traditional foods at breakfast. For starters, try to find the dry grains that work as a good base of any meal. These will travel well and cook easily with some hot water. Options include couscous, brown rice and quinoa.
Adding some simple canned beans and raw veggies to basic grains can pack flavor and substance into the meal. Of course, this can also be an excuse to fire up the grill and cook some of your favorite veggies on open flame. Popular veggies to make over the grill include zucchini, asparagus, eggplant, carrots, onions, tomatoes, peppers and large Portobello mushrooms.
Also, don't forget your vegetarian grilling options. Pack up the tofu dogs and the veggie burgers. Kabobs also make a great camping meal for vegetarians, as they are usually loaded with potatoes as a starch base and veggies. Some added tofu and you have yourself an easy vegetarian option you can roast right over the fire.
Potatoes are also great for cooking over open flame. And as long as you leave the skin on, you're keeping a good dose of quality iron. You can make simple fried potatoes by just bringing the sack of potatoes, a skillet and some vegetable oil along.
Snacks
When it comes to best vegetarian camping meals, snacks are pretty easy. The easiest way to stay protein packed on the trail is to bring your own protein bars. You can make your own, or buy them pre-packaged. That way, you're most likely getting your protein and nutrients from a soy and/or whey-based product.
An often overlooked food, don't forget your popcorn. You can pop it from those tin trays right over the fire, and they pack filling amounts of fiber. Plus, popcorn is another whole grain that easily travels dry.
And, for course, don't forget the trail mix. We're talking protein from nuts and fiber from dried fruits, and nutrients from the whole thing. When you're out hiking, it can basically fit as a whole meal itself. Plus, it's a great excuse to add chocolate pieces to your day.