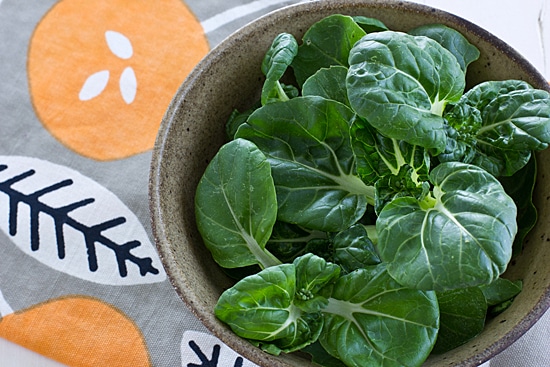 Often found in Asian cuisine, bok choy is low-calorie, easy to handle and rich in antioxidants. Packed with vitamins A, C and K, this leafy 'Chinese cabbage' is available in most grocery stores year-round (although some say it's best in the winter), as well as optimally nutritious and adds a hearty consistency to foods like soup. Let's take a look at what the best recipes of bok choy soup are:
Vegans everywhere can celebrate this one - this hot and sour soup recipe takes only 30 minutes from prep to serve and can integrate all sorts of veggies once you have the basics down. Delicious!
This is a gorgeous soup incorporating golden turmeric, lots of garlic, ginger and five full stalks of bok choy (or the full package of the recommended pre-sorted blend). You'll want to serve this in pretty bowls.
Super easy to make. Ten minutes to prep, ten minutes to cook, and voila - you've got four full servings or two with second helpings.
This quick Asian-style vegetable soup, combining crunchy bok choy with high-protein tofu, is perfect to team with a rice dish or a cold noodle dish.
This one might take a little longer but we're sure it's worth it. Homemade vegan-style wontons and tasty grilled bok choy make this a dish great for serving when guests come over.
This one's simple as well, especially if you've got any leftover ramen packages around.  A spicy and fragrant broth simmers while you sautee your bok choy - and you can feel free to substitute egg noodles (or homemade ramen) if you'd prefer them over store-bought processed ramen (some don't consider processed 
ramen
'healthy' regardless of what it's served alongside.) Enjoy!
Aromatic and broth, this mushroom-filled, Asian-flavored soup can be enjoyed any time of the year when you can find good bok choy. Generally, bok choy is a spring vegetable, but in some areas the season is extended. This is an excellent way to whet the appetite for a vegetable stir-fry or a simple tofu dish. It's best served the moment it comes off the heat.
Simple to assemble, good for either vegetarians or vegans, and this site walks you through each step with pictures of the ingredients used along the way. Flavorful with a variety of textures, this tasty blend is best when served together.
This tasty soup uses five whole stalks of baby bok choy alongside several other aromatic elements to make a perfect blend for easing congestion or cold-fighting.