After many years without a pantry, I finally got one when we moved last year. You know what's nice? Having a pantry! It's great to be able to keep staple foods on hand (and stock up when they're on sale). And having staples on hand really helps when you need to put together a quick and/or easy meal.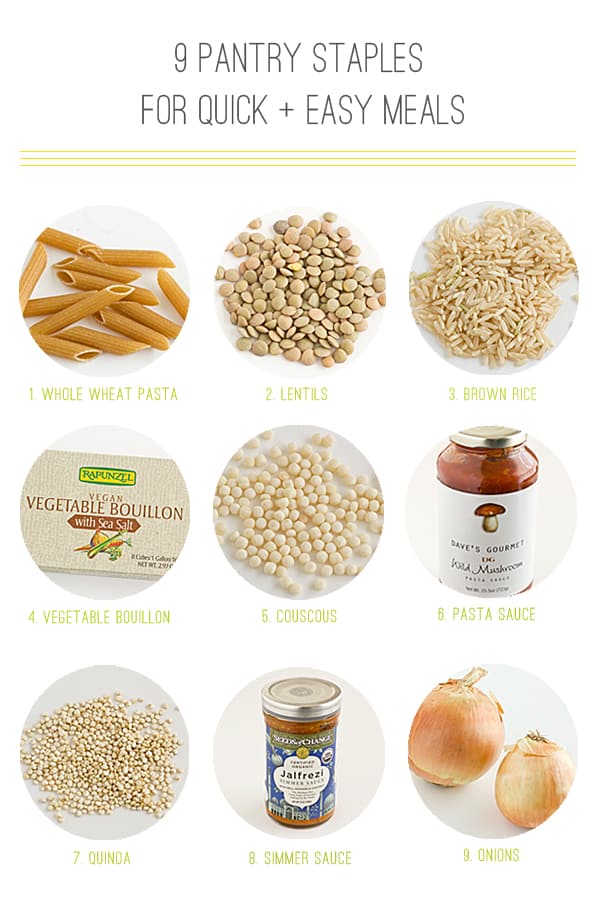 Brown Rice
Why I Love It: I admit, I do like white rice better than brown rice and when we go out to eat, I often order white rice as a treat. But at home, we only eat the brown kind because it's much more nutritious. Brown rice has the bran and germ intact, leaving it with more vitamins and minerals (although calorie and carb wise, it's not much different from white rice).
How To Use It: I use brown rice in place of white rice in everything I make--from casseroles to curries. Stir fry some veggies and tofu and serve it over quick-cook brown rice for a 15 minute dinner.
Make This: Sweet Onion Casserole
Couscous
Why I Love It: Yes, I just wrote about couscous yesterday! I'm partial to the Israeli variety lately, but regular couscous is a staple in my pantry too. It's a quicker alternative to pasta and rice.
How To Use It: Over the past few years I've cut down on boxed food and mixes, but I do keep some of those flavored boxed couscous dealies on hand for quick meals. I doctor them up by adding roasted vegetables, caramelized onions, or marinated tofu. For unflavored couscous, try making it with broth instead of water, then add fresh veggies, herbs, roasted chickpeas--the world is your oyster!
Make This: Warm Cauliflower & Israeli Couscous Salad
Quinoa
Why I Love It: I love quinoa because it's got the personality of a grain, but it's a protein!
How To Use It: You can use quinoa in place of rice or couscous in many recipes. When I was in grad school, I think we had quinoa once a week with frozen veggies to bulk it up a little--it is so easy! It's great as a stuffing for vegetables and makes a mean burger too.
Make This: Stuffed Pattypan Squash with Quinoa & Fresh Corn
Lentils
Why I Love It: Lentils are my favorite legume to cook with because unlike beans, there's no soaking or long cooking times required. Just rinse the lentils (and pick out any pebbles--they always say this, but I've yet to find a pebble in my lentils), combine them with water in a saucepan, bring to a boil, then reduce heat and simmer for 20-30 minutes.
How To Use It: Use lentils to make a quick salad or add them to pasta sauce. Lentils are also a great base for vegetarian burgers and meatballs. And you can't beat lentil soup on a chilly autumn night!
Make This: Herbed French Lentil Salad
Pasta Sauce
Why I Love It: I stock up on good pasta sauces when they're on sale. Get home late from work? Planning on making a salad for dinner and the lettuce went bad? Break out the pasta sauce!
How To Use It: One of my frequent busy day meals is whole-wheat pasta tossed with sauce, veggies (usually roasted broccoli or eggplant or sauteed zucchini, mushrooms, and onions), and a little cheese. If you have a little more time, you can use jarred pasta sauce to make a pasta bake. It also doubles as a pizza sauce!
Make This: Vegetable Baked Ziti
Simmer Sauce
Why I Love It: As much as I try, I can never seem to get Indian dishes right when I try to make them myself. Simmer sauces? So much easier!
How To Use It: Indian simmer sauces are great with cubed tempeh or canned chickpeas for protein and veggies like roasted cauliflower and eggplant. Serve them over brown rice or with packaged naan.
Make This: Indian Coconut Curry with Roasted Potatoes, Cauliflower & Broccoli
Onions
Why I Love It: Onions are good in just about anything! Especially when they're caramelized.
How To Use It: I put onions on pizza, in pasta, and we often use them as a topping for veggie burgers. They're a great way to add flavor to a meal without adding a lot of extra calories.
Make This: French Onion Soup Sandwiches
Whole-Wheat Pasta
Why I Love It: This kind of goes without saying, but pasta is one of those versatile ingredients that belongs in every pantry. When you're stuck for a meal idea, look no further than pasta!
How To Use It: You can pair your whole-wheat pasta with a quick homemade pesto or pasta sauce or experiment with something a little different--lately I've been tossing pasta with a little olive oil, some fresh chopped herbs, toasted walnuts, and Parmesan cheese. Delicious! If all else fails, there's always buttered noodles, right?
Make This: Mediterranean-Style Rotini with Toasted Garlic Panko
Bouillon Cubes
Why I Love It: Yes, it's best to make your own broth, but who has homemade broth on hand at all times? I like the Rapunzel brand of bouillon because it's lower in sodium and is made without MSG.
How To Use It: You can use bouillon as the base for a quick soup! Add a little miso paste, cubed tofu, and spinach for an easy miso soup. By using broth instead of water to cook lentils, quinoa, or rice, you can add more flavor to the finished product too.
Make This: Vegetarian Chicken Noodle Soup
What are your favorite pantry staples?