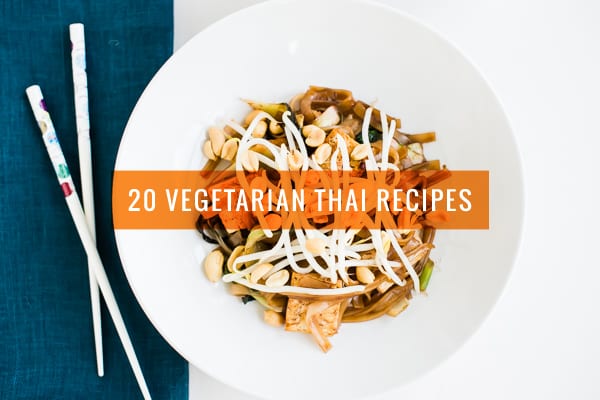 A lot of Thai dishes seem like they'd be vegetarian-friendly, but the liberal use of fish sauce means that for strict vegetarians, Thai menus can be difficult to navigate. Luckily, if you don't mind cooking at home, there's an abundance of vegetarian Thai recipes available online that you can make yourself. Hooray! We've rounded up 20 of our favorite authentic and totally-not-authentic Thai dishes below.
Thai Panang Vegetable Curry
Panang curry--for those who can't decide between curry and peanut sauce. We love this meatless version from Eats Well With Others!
Thai Peanut Empowered Noodle Bowl
This light noodle-and-veggie bowl is perfect for a work lunch.
Thai Pomelo Salad
A lot of Thai recipes aren't vegetarian because they include fish sauce, but Gratitude and Greens has you covered with a vegan fish sauce recipe--and a Thai Pomelo Salad.
Thai Red Curry Soup
Customize this red curry soup with your favorite vegetables.
Thai-Style Sweet Corn Fritters
The Circus Gardener's Kitchen brings us these crispy little corn fritters, served with a sweet chili dipping sauce.
Thai Veggie Burgers
These veggie burgers are infused with Thai flavors and topped with quick pickled carrot ribbons.
Rainbow Carrot Summer Rolls
Rainbow carrots add color to these veggie summer rolls from The View from Great Island. Don't forget the peanut sauce!
Peanut Udon Noodles with Snow Peas
And speaking of peanut sauce! These peanut noodles couldn't be easier and the homemade sauce is sure to become a staple in your kitchen.
Tom Yum Coconut Noodles
This recipe from Style Nectar packs the hot-and-spicy flavor of Tom Yum Soup into a big bowl of noodles!
Veggie Pad Thai
It would be impossible to do a round-up of Thai recipes and not include Pad Thai!
Massaman Curry
This massaman curry recipe from Connoisseurus Veg uses butternut squash, kale and chickpeas, so it's perfect for winter.
Thai Sweet Potato Nachos
It's true, they're not exactly authentic, but they are delicious!
Thai Barley Salad
Cookie Monster Cooking combines the goodness of whole grains with homemade peanut sauce in this Thai-inspired salad.
Thai Kabocha Squash Curry with Kale and Cauliflower
This hearty Thai curry makes a big batch, so you'll have lots of leftovers--which is good news because it freezes beautifully!
Sweet and Sour Thai Cucumber Pasta Salad
If you like the little cups of sweet and sour cucumbers you get with Thai takeout, you'll love this recipe from Peas and Crayons!
Thai Red Curry with Asparagus and Tofu
The chewy tofu triangles are the best part of this easy red curry recipe.
Thai Peanut Soup
This creamy Thai Peanut Soup from Soup Addict is definitely worthy of a meal.
Thai Tofu and Noodle Salad
Noodles, tofu and lots of fresh vegetables make this salad filling and delicious.
Red Curry Vegetable Lentils
Not a fan of tofu? Not a problem! Running to the Kitchen shares a recipe for curry made with lentils instead.
Thai Iced Tea Pops
You can't forget about dessert, right? These Thai iced tea pops are made with coconut milk, so they're vegan.