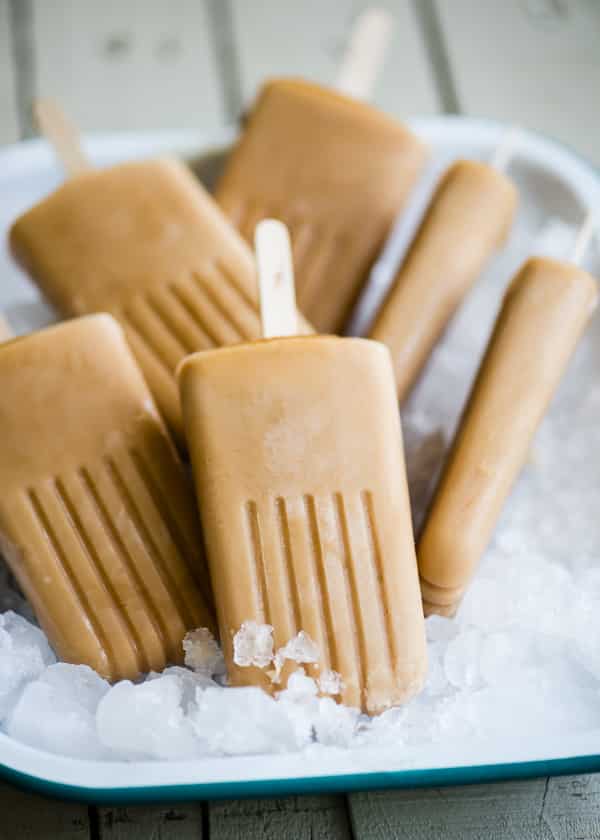 Photos by Lindsey Johnson
If you've ever ordered Thai iced tea while dining out, a few things probably occurred to you. First off, you probably noticed that it tastes more like a dessert than a simple dinner-accompanying beverage. Secondly, you were probably floored at the drink's deliciousness and wished you could make it at home, all the while figuring you couldn't make it at home because it's full of exotic Thai secrets that you could never access. Thirdly, and this goes along with my point under "secondly," you probably noticed that it was orange, attributing that fact to all those exotic Thai secrets.
Today I'm here to unlock the mystery of Thai tea for you. That, and to give you a recipe for a killer summertime sweet.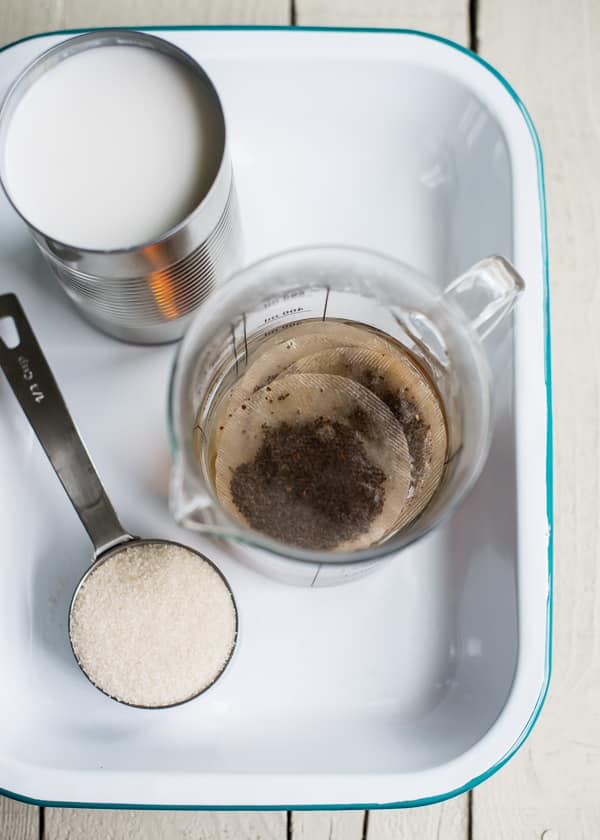 So, what exactly is it that gives Thai tea its distinct flavor? Well, there's the tea for starters. It's strong, so that's one thing. Notice this recipe calls for eight tea bags in six pops. I wouldn't recommend giving these treats to your kids, unless you're into flying kids. Then there's the tea itself, which is black tea of the Ceylon variety. Using Ceylon does seem to add a slight distinctness to the flavor (I tested this), but regular black tea works as well. There's also loads of sugar (higher flying kids?), and in conventional Thai tea, condensed milk. That's it!
"Then why is it orange?" you ask. As it turns out, most restaurants add orange food coloring to their Thai tea. I was a little disappointed to find out that it wasn't exotic Thai magic. So these Thai Iced Tea Pops are not orange. They also contain coconut milk in place of condensed dairy milk, so they're vegan! The coconut milk content is also a bit higher than it might be in Thai tea you drink, because they're dessert. They are also incredibly delicious, which is why I've been eating them like crazy and have been flying Alissa for the last week or so. Thank you Thailand. It's been a VERY productive week.
This post was originally published on July 10, 2014.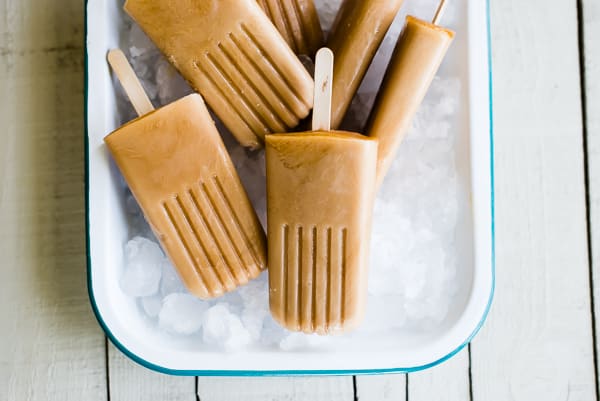 Ingredients
1 ½

cups

water

8

black tea bags

preferably Ceylon or ⅓ cup loose tea leaves

13.5

ounce

can full-fat coconut milk
Instructions
Bring the water to a boil in a small saucepan.

Remove from heat and add the tea bags and sugar. Stir until the sugar dissolves, then let the tea bags steep for 5 minutes. Remove the tea bags from the saucepan, or strain the mixture if you used loose tea.

Stir in the coconut milk. You can heat it back up, if necessary, to dissolve any stubborn chunks.

Transfer the mixture to the refrigerator and chill until it's at room temperature or a little below. About an hour should do it.

Remove the saucepan from the refrigerator and give the mixture a stir. The coconut milk and tea may have separated a bit during refrigeration (or a lot, if you left it in there for a while), so just stir it enough to bring the mixture back to uniformity.

Carefully pour the tea mixture into your popsicle molds and freeze until solid. Remove from molds and serve.
Notes
The refrigeration step helps prevent separation during freezing. Coconut milk typically separates into cream and water during chilling. By refrigerating and then stirring the mixture before freezing, you're essentially shortening the freeze time of the mixture, and in turn its opportunity to separate before freezing solid.
Also, the number of servings here assumes you're using a ½ cup mold. This will obviously vary if your molds are bigger or smaller.
Nutrition
Serving:
1
pop
Calories:
169
kcal
Carbohydrates:
13
g
Protein:
1
g
Fat:
14
g
Saturated Fat:
12
g
Polyunsaturated Fat:
1
g
Monounsaturated Fat:
1
g
Sodium:
11
mg
Potassium:
141
mg
Sugar:
11
g
Vitamin C:
1
mg
Calcium:
13
mg
Iron:
2
mg
Craving more veg-friendly recipes?
Shop our collection of vegetarian and vegan cookbooks, including our new Vegan Thanksgiving and Vegan Christmas cookbooks!