I recently had the opportunity to sample Oregon Chai. Having tried it as a drink, I wanted to attempt to make a recipe with it. I love chai flavored desserts–chai brownies, chai cupcakes, chai anything, really. My idea was to use chai as a poaching liquid for pears. After poaching, I reduced the liquid down to a syrup to drizzle over the pears before serving. To add a little decadence to the whole deal, I folded some of the Oregon Chai concentrate into whipped cream to plate with the pears. Yum.
One sidenote: I'm using a new app called Grocery Server in my recipe posts now. Click on the title of the recipe and you'll find a list of ingredients, local grocery stores where they are on sale, and coupons.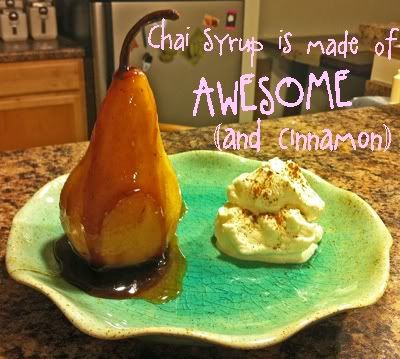 Chai Poached Pears & Chai Whipped Cream
(recipe by The Type A Housewife)
2 Bosc pears, peeled and cored from bottom
1 1/2 cups Oregon Chai + 2 tbs for whipped cream
water to cover
1 tbsp. honey
1 cinnamon stick
1/2 cup heavy whipping cream
ground cinnamon for garnish
Place pears in saucepan with chai. Add honey, cinnamon stick and enough water to cover. Bring to a boil. Lower heat and cook 15 minutes or until pears are tender. Remove from heat and let cool in liquid. Once cool, remove pears and pour liquid through strainer, reserving. Return liquid to saucepan and cook on high heat until reduced to a syrup.
Whip heavy whipping cream in chilled bowl until stiff peaks form. Fold in remaining chai, 1 tablespoon at a time.
Drizzle pears with syrup, serve with a dollop of whipped cream. Sprinkle with cinnamon.